Boedecker Cellars – an Urban Portland Winery
How close to the vineyard does a winery need to be to make great wine? Not close. In fact, Boedecker Cellars makes a strong case for the Urban Winery. There are even a few 100 point scoring wines* made 250 miles from where the grapes grow.

In Oregon, the trend has increased with Portland wineries. The wineries in Portland are actually only about 30 miles from vineyards. Pinot noir is king here. In the video we visit one of the Portland wineries, Boedecker Cellars, to check out the wine scene.


The Story Has Only Just Begun For Portland Wineries
As a traveler in Oregon, it's hard to get over no sales tax and gas attendants. Once you do, you realize that Portland, Oregon is one of the best places on earth to pig out on cheap food and drink heavily.
[superquote]Portland, Oregon is one of the best places on earth to pig out on cheap food and drink heavily[/superquote]To make things more interesting, Portland has a high number of strip clubs and food trucks. Despite the lean towards low-brow culture, Portland does have a fine dining scene worth reckoning. The food-lovers are desperately thirsting for better local wines.
Boedecker Cellars Video Featurette
A List of Portland Wineries
Urban wineries located within Portland. If we're missing one, please leave a comment below to update the Portland Winery listing.
Boedecker Cellars Obsesses Over Oregon Pinot Noir
I used to be a wine snob. I had little faith in urban wineries. When I first tried Pinot Noir from Boedecker Cellars I was impressed by the quality and reasonable price. Little did I know the winery was located in a grungy industrial district of Northwest Portland. Turns out the winemakers, Athena and Stewart, were major geeks in their past professions and that a little 'geekiness' goes a long way if you want to make great wine.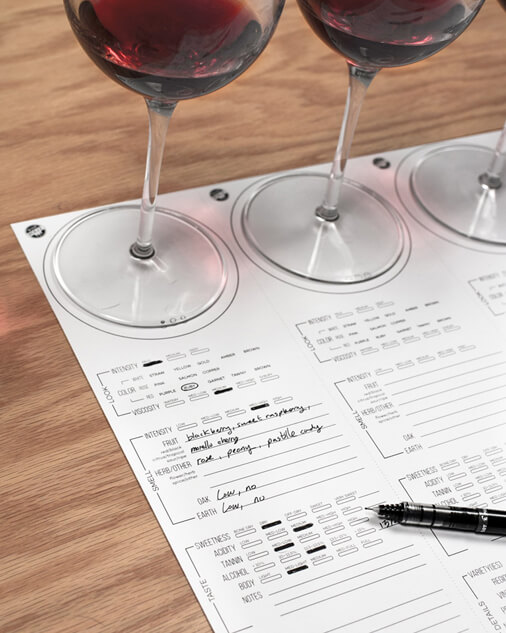 Unlock the Secrets of Tasting
Placemat sets specifically designed to help improve your palate!
Buy Now
Suffering From Split Personalities
Boedecker Cellars appears to be suffering from split personalities. While they have a focus on pinot noir, they make two very different styles. The pinot noir called "Athena" tends to be more muscular, fruity and bold. Opulent. Whereas the pinot noir "Stewart" leans toward being higher acidity, lighter and more delicate. Elegant. What's cool is, when you try them both, you learn something about yourself. Picking a favorite of the two wines helps define what kind of palate preference you have. Can you guess what my favorite is?
Sources
Music by Mikeatgl, Anyways