The best introductory book on wine to come along in years
Washington Post
Learn wine the fun way with the bestselling visual guide to wine.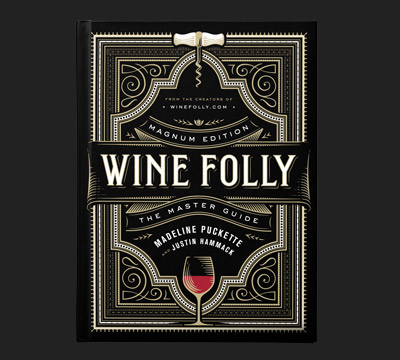 It's Here!
The highly anticipated hardcover Magnum Edition, Wine Folly: Magnum Edition: The Master Guide, is out now.
Wine simplified.
Those first steps into wine feel daunting. Red or white? Cabernet or Merlot? Light or bold? What to pair with food? Learn the basics while you explore new wines with this user-friendly guide.
Wine Folly: The Essential Guide to Wine is small on purpose. It contains practical knowledge that is immediately useful to help you find and enjoy better wine.
Take a look inside…
Everything you need to know to be confident including tasting, handling, and food pairing.
Discover 50 of the world's top wines organized by style.
Learn where the best wines grow in the world's top 12 wine countries featuring 20 maps.
What they said about Wine Folly…
I really love this book! You don't need to know anything about wine to understand this book.
Heidi Cowan
Madeline's respectful but unfussy approach cuts through the mystique and makes wine approachable. I think she's increased our enjoyment of the wine tasting and buying experience about 200% just from information and advice in the book and on the wonderful Wine Folly website.
S. Sloan
Wine Folly is a game changer. As a visual learner, the way this book is written and illustrated, makes wine so much easier to learn–and best of all–fun.
Becca
I purchased this for my work, I manage a restaurant that sells a lot of wine. My staff has been using this book to help themselves learn about wine and increase their knowledge to guide our customers to the right wine. Whether you're a wine snob or amateur this book is fantastic.
McClay
Available Worldwide
Don't want to buy it from us? No problem! Buy it at any of the retailers below:
About The Authors
Wine Folly: The Essential Guide To Wine was written by Madeline Puckette and Justin Hammack. Madeline Puckette is a sommelier, designer, and author. Justin Hammack is a digital strategist, information architect, and entrepreneur.
International Editions
Wine Folly: The Essential Guide to Wine is available in the following languages:
British English:

Bulgarian:

Chinese:

Chinese:

Danish:

Dutch:

French:

German:

Italian:

Japanese:

Hungarian:

Korean:

Lithuanian:

Mongolian:

Polish:

Portuguese:

Portuguese:

Romanian:

Russian:

Slovene:

Turkish:

Ukraine: