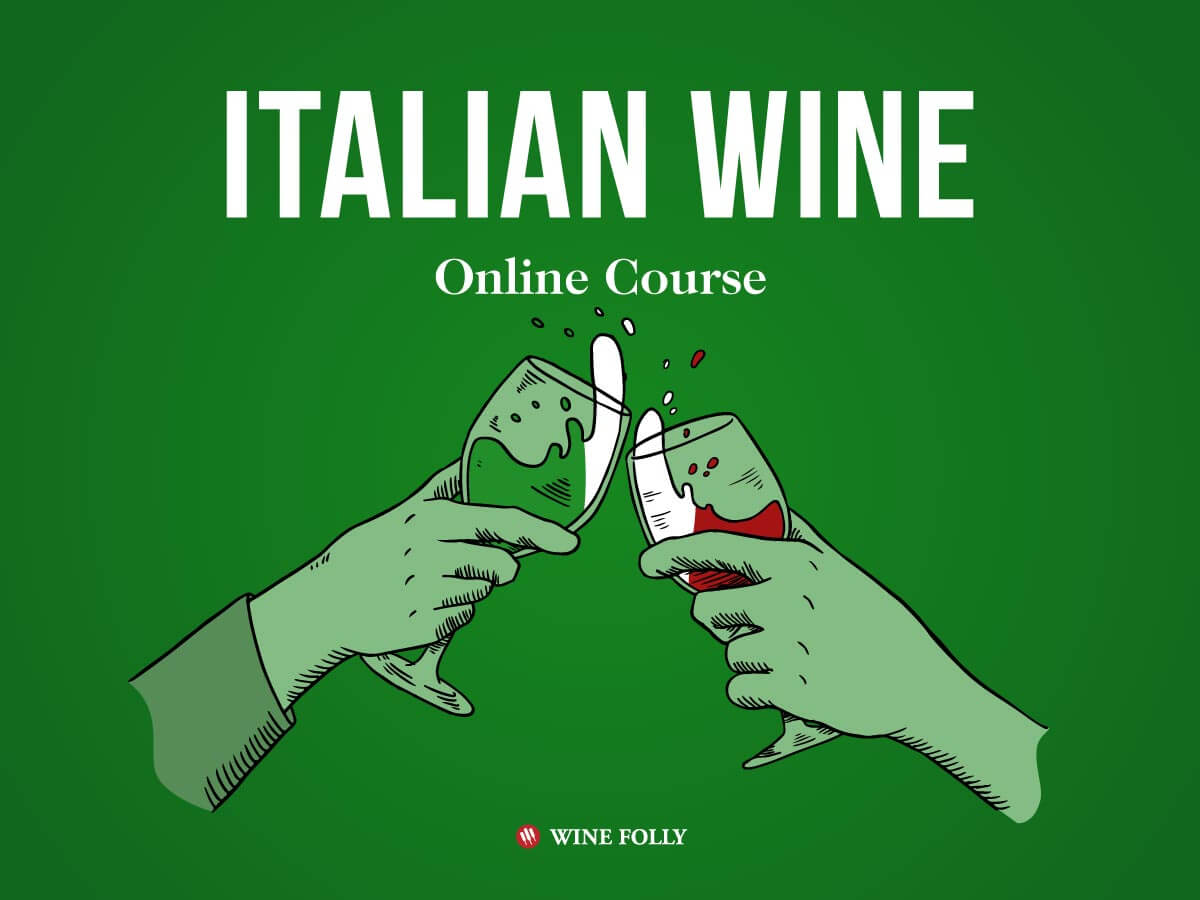 Italian
Wine Course
Become confident with Italian Wine in less than a month. Explore one of the largest and diverse wine regions.
The Goal
Become confident in selecting Italian Wine in any situation
Build Confidence

Learn the wines of Italy's 20 major wine regions with over 5 hours of video and hands-on challenges.

Community

Join the private community to access other students and help from your instructors while you complete each module.

Test your knowledge

Worksheets cover everything you need to know in order to pass the certificate examination.

Learn from the Experts

Learn from a Master of Wine and award-winning wine communicator and author.
Wow, now I can see clearly the difference of France regions and appellations, before this course everything was so blurry. - French Wine Course- ⭐⭐⭐⭐⭐ Gonzalo A. from Germany
Learn
Explore the major regions of Italy
Part 1: Northwest Italy
Easy breakdown of Italian regions
Discover the top 8 wines including the famed Barolo and the intense Moscato Bianco.
Connect tasting notes and aging recommendations with Northwest Italy's most important wines.
Part 2: Northeast Italy
Discover unique landmarks
The great white wines of Northeast Italy including Pinot Grigio and Soave and where to find top quality reds.
Connect the best regions to their best wines and winemaking techniques.
Part 3: Central Italy
Learn marquee wines
Get inside of Tuscany and Italy's top red grape, Sangiovese, while you learn about the best regions in Italy's most iconic growing area.
Dive into the quality classifications of Chianti and identify where to look for great quality and value.
Part 4: Southern Italy, Sicily, and Sardinia
The history of Italian wine
Explore Italy's most ancient wine-growing areas and make sense of the wines historical context and modern style.
Connect each grape to its top appellation and region to solidify your knowledge of no less than 12 top wines.
This course was fantastic. As a true wine-lover, especially a French wine-lover, this course was excellent. There was clearly a ton of work put into it and the content was great. I really appreciate how the information, which was rich and nuanced, was also super-digestible. This course would be perfect for both a novice or an expert. I will be back for more. Highly recommend! - French Wine Course- ⭐⭐⭐⭐⭐ Matt S. from United States
The Team
Your Italian Wine Course Instructors
Wine Folly Founder

Madeline Puckette

Madeline Puckette is the cofounder of WineFolly.com. Since its creation in 2011, Wine Folly has become one of the most popular wine education sites in the world due to its extensive use of insightful articles, detailed infographics, and entertaining videos.

In recognition of these efforts, the International Wine & Spirits Competition awarded Puckette with Wine Blogger of the Year in 2013, and Wine Communicator of the Year in 2019.

Master of Wine

Christine Marsiglio

Wine Folly's head wine educator, Christine Marsiglio is one of 32 Bollinger award-winning Masters of Wine. Before joining Wine Folly, she has worked at the WSET School London where she contributed to the development of materials for the WSET Diploma and teaches all WSET levels.

Before discovering her love of wine education, Christine was a Tastings Executive at Decanter where she ran panel tastings and helped organise the Decanter World Wine Awards.
Pre-Launch Pricing
Start learning Italian wine at your own pace
Buy once, use it forever.
Pre-Launch pricing ends June 30th, 2022. Course launches in July 2022.
Pay in 4 interest-free installments of $62.49 with Shop Pay
Become confident with Italian Wine in less than a month.

Learn the 20 major regions of Italy

Over 5 hours of video
Purchase Course
Pre-launch gifts

$25 Wine Folly Gift Card

Exclusive Launch Party Invite
Italian Wine Course, Map & Journal
Become confident with Italian Wine in less than a month.

Learn the 20 major regions of Italy

Over 5 hours of video

Digital Map of Italy ($25 Value)

2022 Vintage Wine Folly Wine Journal ($25 Value)
Italian Wine Course, Map, Journal & Certification
Become confident with Italian Wine in less than a month.

Learn the 20 major regions of Italy

Over 5 hours of video

Digital Map of Italy ($25 Value)

2022 Vintage Wine Folly Wine Journal ($25 Value)

2x Wine Folly Edition Gabriel-Glas Universal Wine Glasses

12 part formal exam and certification
*Wines are not included
Frequently asked questions