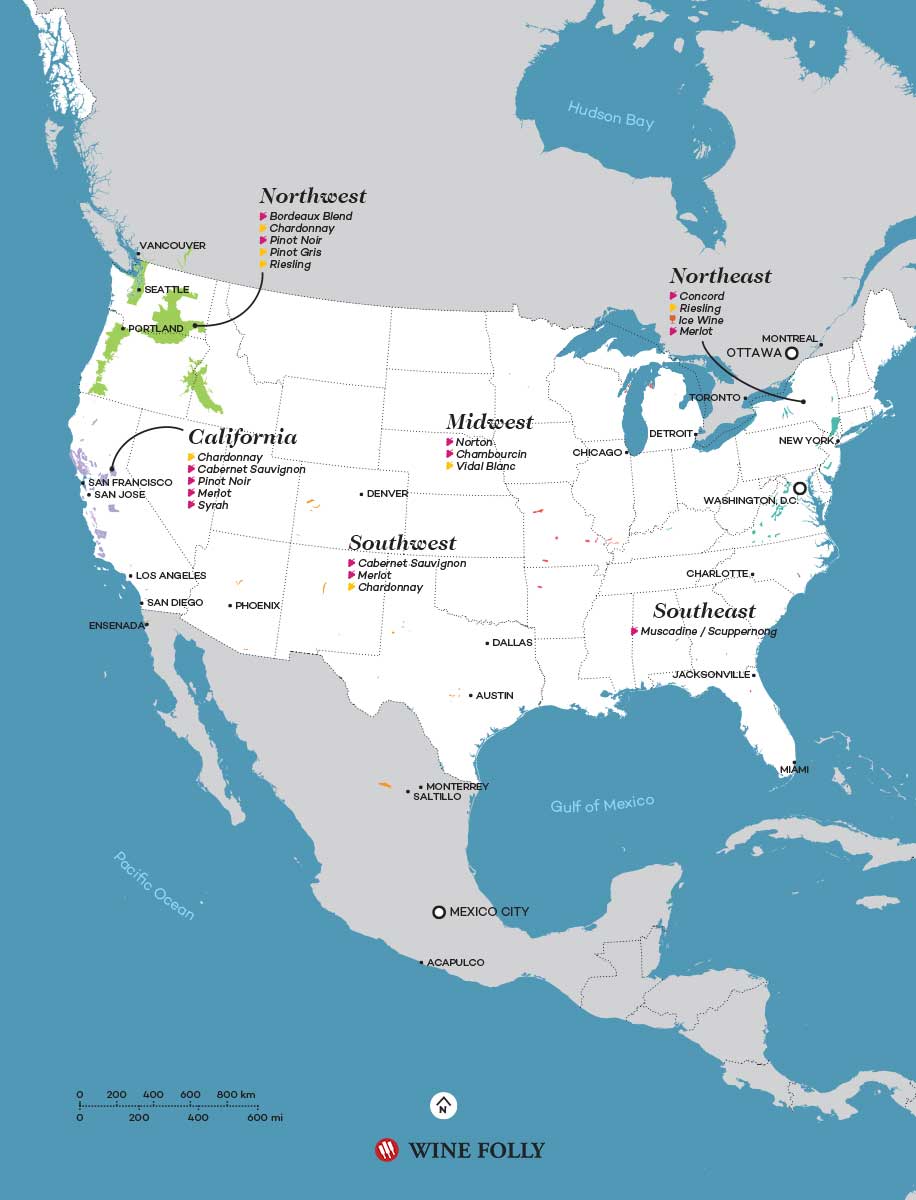 United States
The United States has a short history in winemaking when compared to many other big names, but it's made up for its youth with vigor. The U.S. is 4th worldwide for wine production, and every state has some wineries. Best known for Chardonnay and Cabernet Sauvignon.
Table of Contents:
Introduction
Fruit forward gems.
It's difficult to characterize the wines of the United States given the varied landscape from coast to coast. That said, 80% of US wine is made in California, which is famous for it's bodacious, fruit-forward wines that focus on French varieties, like Cabernet Sauvignon, Merlot, Chardonnay, and Pinot Noir.
Beyond California, Washington (state), Oregon, and New York represent the largest up-and-comers at 17% of US wine. Finally, the last fraction represents the remaining 46 states, notably Arizona, New Mexico, Virginia, Texas, Colorado, Idaho, and Michigan (to name a few) which represent the frontier of US wine.
Wine Regions
California is characterized by a climate similar to the Mediterranean making it ideal for full-bodied red wines. That said, areas closer to the Pacific Ocean receive layers of fog which allows great success with cooler climate varieties including whites and Pinot Noir.
Washington wine grows primarily on the eastern side of the state which is dry and sunny. This area offers fruity red wines with sweet-tart acidity.
Oregon's Willamette Valley is ideal for Pinot Noir, Pinot Gris, and Chardonnay.
New York grows mostly Concord (mostly for juice, not for wine), but the state is quickly becoming known for Riesling, elegant Merlot-based blends, and rosé.
Good to Know
Single-varietal wines must contain 75% of the listed variety. Oregon Pinot Noir/Pinot Gris require 90%.
A wine that labeled as an estate wine must use grapes grown on the winery's property.

Full-Bodied Red Wine
CA Cabernet Sauvignon
California's most famous Cabernet wines come from the North Coast region which includes Sonoma and Napa Valley. At their best, wines offer lush black fruit flavors that unravel into layers of cedar, dusty minerality, and tobacco-laced tannins.
Blackberry, Black Cherry, Cedar, Baking Spices, Green Peppercorn

Full-Bodied Red Wine
CA Zinfandel
In 1994, Zinfandel was shown to share the same DNA as Italian Primitivo and Croatian Tribidrag. Zinfandel bursts with candied fruit and tobacco but is often surprisingly dry with minerally tannins and high alcohol. Sonoma and Lodi offer a fantastic comparison.
Blackberry, Plum Sauce, Asian 5-Spice, Sweet Tobacco, Granite

Full-Bodied Red Wine
CA Petite Sirah
California is the world's top producer of the French grape. Petite Sirah performs particularly well in the state's warmer climates including the Inland Valleys where wines have rich, saucey, black fruit flavors supported by firm, cocoa-like tannin.
Sugarplum, Blueberry, Dark Chocolate, Black Pepper, Herbs

Full-Bodied White Wine
CA Chardonnay
The best Chardonnay grows mostly in coastal regions and valleys up and down the coast that receive cooling breezes and morning fog from the Pacific. Wines offer a richer body with flavors of pineapple and tropical fruits that are often complemented with toasty oak.
Yellow Apple, Pineapple, Creme Brulee, Vanilla, Caramel

Medium-Bodied Red Wine
CA Pinot Noir
The cooler coastal areas in the North and Central Coast produce some of the boldest, fruit-forward examples of Pinot Noir on the planet. That said, more producers are pulling back to produce elegant, almost Burgundy-like wines. Either way, it's not to be missed.
Blackberry, Dried Blueberry, Clove, Rose, Cola

Full-Bodied Red Wine
CA Syrah & GSM Blends
You can find great Syrah all over the state, but the Central Coast is by far the most dedicated to Rhône varieties. The best wines have deep black fruit, peppery flavors and dusty minerality. Santa Barbara and Paso Robles are a great place to start looking.
Blackberry, Blueberry Pie, Cracked Pepper, Mocha, Bay Leaf

Full-Bodied Red Wine
WA Syrah & GSM Blends
Even though Rhône varieties like Syrah and Grenache are not Washington's most popular grapes, they show great potential here. Wines are generous and bold, with sweet-tart red fruit, rich meaty flavors, and spicy alcohol.
Black Currant, Brandied Cherry, Bacon Fat, Dark Chocolate, Graphite
Full-Bodied Red Wine
WA Bordeaux Blends
Even though there is a heavy focus on Cabernet Sauvignon in Washington, the most age worthy wines include a blend of Merlot and other Bordeaux varieties. These wines offer pure black cherry fruit with lovely floral minty and violet-like overtones.
Raspberry, Licorice, Graphite, Exotic Spices, Roast Meat

Light-Bodied Red Wine
OR Pinot Noir
Just over 50% of Oregon's vineyards are planted to Pinot Noir which grows exceptionally well in the Willamette Valley. Wines offer rich, red berry aromas that are complemented by a light body, juicy acidity, and spice flavors often derived from oak aging.
Pomegranate, Red Plum, Allspice, Vanilla, Black Tea

Light-Bodied White Wine
OR Pinot Gris
Pinot Gris is Oregon's most important white wine and grows quite well in the southern Willamette Valley. You'll find these wines to have focused peach and pear flavors, with an oily mid-palate, and a tingly, citrus-driven finish.
Nectarine, Ripe Pear, Citrus Blossom, Lemon Oil, Almond Cream

Light-Bodied White Wine
NY Riesling
New York has great potential for Riesling and minerally white wines but the icy winters make grape growing difficult in most areas except those close to bodies of water (rivers, lakes, and the ocean). This is where you'll find New York's best wines.
Ripe Peach, Yellow Apple, Lime, Lime Peel, Crushed Rocks

Sparkling Wine
Sparkling Wines
There aren't many producers making sparkling wines in the United States but those who do produce great quality. You'll find exceptional producers in the North Coast of California and Oregon and surprising values coming out of New Mexico and Washington State.
Lemon, White Cherry, Orange Blossom, Cream, Raw Almond
Dynamic Wine Region Guides
Notable Regions in the United States
California
Californa wine started quite humbly 240 years ago at the Mission de Alcalá in San Diego. Then, after the gold rush in 1849, wineries began to populate Sonoma and Napa Valley and the industry took off. Today, California makes 80% of US wine. The lion's share is dedicated to just 8 grapes: Cabernet Sauvignon, Chardonnay, Merlot, Zinfandel, Pinot Noir, Pinot Gris, and Sauvignon Blanc. 
North Coast, CA
In 1976, a British wine importer held a blind tasting with several French wine critics that included top Bordeaux and Napa Valley wines. Two Napa Valley wines ended up making top scores and the "Judgement of Paris" went down in California wine history. Since then, Sonoma and Napa Valley have become benchmark regions for fine wines made with French varieties. 
Central Coast, CA
The Central Coast includes Monterey, Paso Robles, and Santa Barbara. The vineyards in ocean-facing valleys receive abundant morning fog and are best for cool climate grapes. Farther inland, it's hotter and better for sun-loving varieties like Syrah. Central Coast has many commercial growers making value wines, but there is also outstanding quality from smaller producers. 
Oregon
Most Oregon vineyards are found in the Northern Willamette Valley which was first planted with Burgundy grapes (Pinot and Chardonnay) starting in the 1960s. The region grew slowly, mostly with small wineries and rigorous standards (Oregon requires varietal wines contain 90% of the listed grape!). Overall, wines can be characterized by their tart fruit and subtle, elegant flavors. 
Washington
Most people think of Washington as a rainy place. However, the Cascade Mountains stop the clouds from going east and the rest of the state is sunny and dry (some areas are as dry as the Gobi Desert!). Most vineyards are found within the Columbia Valley AVA, where bold red wines are becoming known for their great quality and affordable prices. 
Virginia
Halfway between western Europe and California, Virginia is a mix of old world and new world traditions. It's where Southern Grit meets Old World grace.
Recent United States Articles
---
Join Our Newsletter
Jumpstart your wine education and subscribe to the Wine Folly newsletter right now. Always awesome. Always free.