The west coast of the United States offers several pristine climates for producing outstanding Syrah wine. See where they grow best and learn about the unique wines from each region.
Most wine lovers take several years to discover Syrah and for good reason: a great bottle is somewhat hard to come by.
Unlike Cabernet Sauvignon, which can yield up to 5 tons of grapes per acre (and still make distinctly yummy wines), Syrah vineyards strain to produce quality grapes at around 1 ton per acre. This means Syrah is not as profitable to grow, and thus is a less popular choice to farm.
So, if you haven't seen a lot of great Syrah, now you have one explanation why.
For those of us who've been lucky enough to taste a great Syrah wine, we know the depth, the smokiness, the length and the lush fruit that this wine can pack into each voluptuous sip.
Treasure Map of West Coast Syrah
Most connoisseurs believe that the true archetype of Syrah is found in the Northern Rhône of France, however the truth is that this region is now just one of many expressions Syrah has to offer. The vine now thrives in many places around the world (California, South Australia, Spain, South Africa, Greece… the list goes on) and West Coast has several Syrah hotspots that you should explore.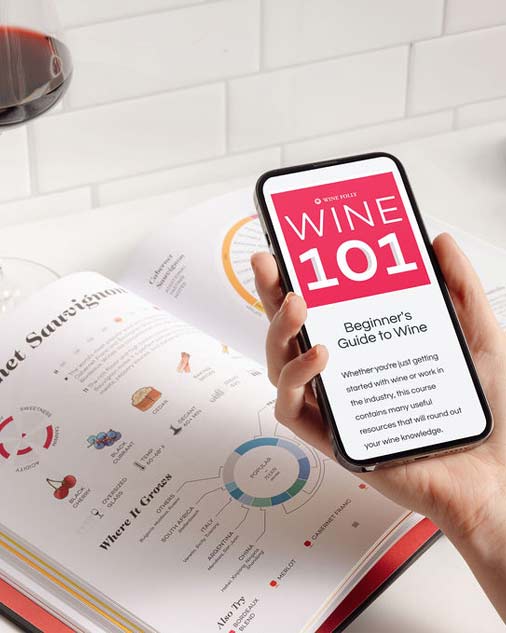 Buy the book, get a course.
Get the Wine 101 Course @ 75% OFF with the purchase of Wine Folly: Magnum Edition.
Shop Now
In order to determine the regions most known for Syrah on the West Coast, we pulled historic critical scores of wines rated in Wine Enthusiast and Wine Spectator magazine.
We also added in a few newer regions based on regional tastings and recent news to show you new potential regions to keep your eye on (including Columbia Gorge AVA and Southern Oregon).
TIP: What's an AVA? An American Viticultural Area (AVA) is an officially designated wine growing region of the United States. Find out more about wine appellations here.
---
Washington (and Oregon)
Walla Walla
Washington has a couple of excellent regions for Syrah on the Eastern side of the state. The most notable is (arguably) Walla Walla – an AVA which spans the Oregon/Washington border. Here you'll find Syrah with ample depth and plenty of black-fruit flavors including plum, blackberry and ripe black olive.
In the sub-appellation of The Rocks at Milton-Freewater, wines take on a meaty note with bacon fat and smoky game-like flavors. Walla Walla is often ranked alongside the top regions for Syrah in the world.
Region Guide: Dive deep into the awesome and beautiful depths with the Wine Folly Walla Walla Region Guide.
Yakima
To the west of Walla Walla is the larger Yakima Valley AVA. Yakima produces Syrah wines that burst with raspberry and herb flavors and slightly lighter, more elegant body than the Syrah wines from Walla Walla.
These wines improve with age and develop deeper dried fruit flavors and subtle notes of coffee, sweet tobacco and plum sauce.
Columbia Gorge
Along the Columbia River, in the stunningly beautiful Columbia Gorge AVA (a must visit retreat!). There are only a couple of wineries here and a few are making Syrah, often added to a GSM blend (Grenache-Syrah-Mourvèdre).
These wines are typically much lighter in style and more funky with notes of red currant, mulberries and resinous herbs. This particular region has an affinity for organic and biodynamically farmed vineyards.
---
Oregon
Southern Oregon is still in the beginning stages of what will be an amazing area for Rhône varieties including reds like Syrah, Grenache and Mourvèdre and whites like Marsanne, Roussanne and Grenache Blanc.
There are several valleys within the Rogue Valley AVA, each with their own distinct climate. In fact, the rainfall in Illinois Valley to the west is 3 times that in Bear Creek Valley to the east.
Thus, you'll find a wide variety of vineyards planted here. For Syrah, the best areas are on the eastern side of the Rogue Valley and Bear Creek Valley where sunshine produces ripe, fruity wines with subtle notes of olive and iron.
In Applegate Valley (which is a cooler area), Syrah takes on a distinctly earthy and rustic profile with notes of tart red fruits, resinous herbs and olives.
---
California
Sierra Foothills
Vineyards grow in clearings in between dense forested areas and mountain vistas. The grapes grow on reddish clay soils and produce an incredibly dense and rich style of Syrah wine.
Syrah from Amador County are often noted for their blackberry sauce, espresso, and cedar notes with bold tannin and smoked spices. This is another area that's still on the up-and-up for Rhône blends.
Russian River Valley
A region that's more famous for Pinot Noir, Russian River Valley is actually a great spot for a plush and peppery style of Syrah wine. Wines lean on the rich and round side with floral notes of blackberry, cocoa, espresso and dried sage. Tannins are bold, giving you the opportunity to age these wines for 7+ years.
You'll find that the Russian River Valley isn't the only area in Sonoma for great Syrah, there's also Bennett Valley, Rockpile, and Dry Creek Valley that have several producers making stand out examples similar to what's happening in Russian River.
Santa Lucia Highlands and Arroyo Seco
The Monterey AVA in the Central Coast of California is a large region that spans the length of the Salinas Valley. The valley fills with fog in the morning which slowly burns off in the afternoon.
While the valley floor is known for large commercial production of decently priced Merlot and Chardonnay, the hillside vineyards get sunshine sooner and are famous for fine Syrah and Pinot Noir. Two regions stand out in particular: Santa Lucia Highlands and Arroyo Seco.
Santa Lucia Highlands: Bold and fresh blackberry and wild berry aromas are complimented by intense flavors of black peppercorn, meaty notes of beefsteak and smoky anise. Wines often have gripping tannin and are best drunk a few years after release.
Arroyo Seco: A much smaller region offering more red fruit notes and herbal flavors of bay leaf.
Paso Robles
One of the world's best expressions of Syrah (and other Rhône varieties) has been growing in the western reaches of the Paso Robles AVA. This area (and most of the US for that matter) can thank the vineyard nursery at Tablas Creek Winery for initiating a partnership with Chateau Beaucastel in France to import high quality Rhône wine varieties into the United States.
The majority of the top ranking wineries are found in the hills in the newly anointed Templeton Gap AVA. Wines are tooth-coating and dense with aromas of blackberry, blueberry, black licorice, black pepper, tobacco and crushed gravel.
Santa Barbara
Last, but definitely not least, is the encompassing AVA of Santa Barbara. Because the region receives more influence from the ocean, it's able to produce a deeply fruity, but still elegant style of Syrah wine.
In fact, some of the areas are so cool (including Ballard Canyon) that Syrah wines will even offer more tart red fruit flavors in a much more savory and herbaceous Northern Rhône style. Expect juicy and fleshy flavors of black cherry, fresh blackberry, and raspberry with subtle notes of black pepper steak, and loam.