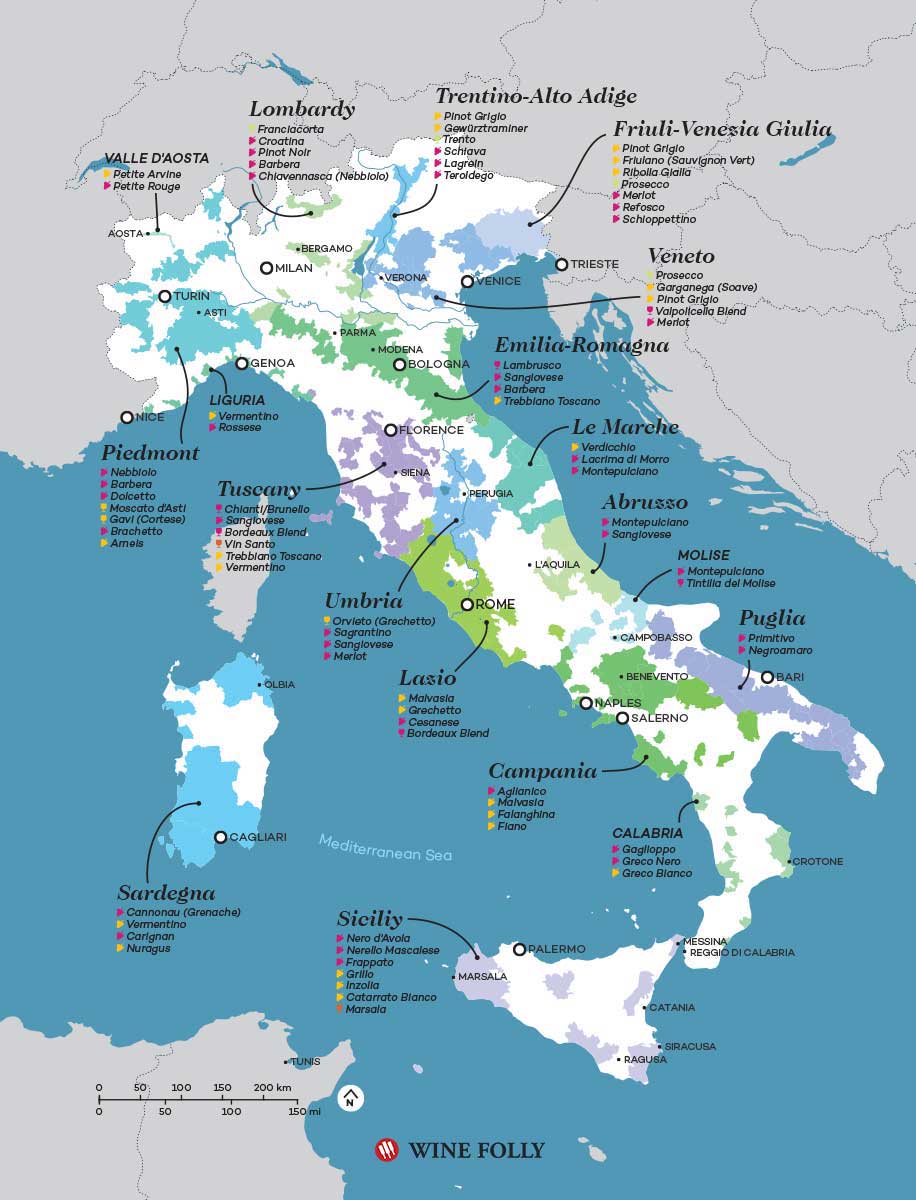 Italy
Explore a legendary wine producing country in Italy, growing on more than 1.7 million acres, producing a staggering amount of diverse wine styles. Italy is known for Chianti, Prosecco, Valpolicella and more.
Table of Contents:
Introduction
Top 10 Varieties
-
377 Common Native Varieties
Covered in vines
There are more than 500 native wine varieties, of which at least 175 make up Italy's everyday wines. Thus, Italy is one of the hardest countries to master! Despite the complexity, if you taste the primary wines from the larger regions of Northwest, Northeast, Central, and Southern Italy, you will gain an understanding of what to expect, and more importantly, what wine regions you'd like to explore more!
Wine Regions
Northwest: The regions of Lombardy, Piedmont, Liguria and Aosta Valley have mostly intermediate to cool climates, meaning, the season is slightly shorter and thus, red wines tend to be more elegant, aromatic, and earthy in style. Whites sparkle with ample acidity.
Northeast: The regions of Veneto, Emilia-Romagna, Trentino-Alto Adige, and Friuli-Venezia Giulia have cooler climates and the warmer areas are influenced by the Adriatic Sea. Reds offer more fruit (although still elegant) and the best white wines are found in the hills, such as the Soave grape, Garganega.
Central: The Mediterranean climate in Tuscany, Umbria, Marche, Lazio, and Abruzzo is why red varieties shine here, including Sangiovese and Montepulciano. 
Southern and Islands: Italy's warmest regions Molise, Campania, Basilicata, Puglia, Calabria, and the islands of Sicily and Sardinia. Reds lean towards more ripe fruit flavors and white wines tend to have a fuller body.
Good to Know
The word "Classico" on labels is most commonly used to signify the original boundaries of a wine region.
Native Grapes of Italy (d'Agata 2014) lists ~500 native grapes and Wine Grapes (Robinson et all 2012) lists 377

Medium-Bodied Red Wine
Chianti Classico
The Classico designation means the wine comes from the historic boundaries of Chianti. Wines are primarily Sangiovese but also may contain Canaiolo, Colorino, Cabernet, and Merlot. The Riserva and Gran Selezione are the area's finest wines and age 2 and 2.5 years respectively.
Preserved Cherry, Aged Balsamic, Espresso, Dry Salami

Medium-Bodied Red Wine
Montepulciano d'Abruzzo
The region of Abruzzo offers some of the finest expressions of Italy's 2nd most planted red wine variety. The best wines age in oak and exhibit deep black-fruit flavors often with grippy tannin so be sure to seek out those aged 4 or more years.
Sweet Plum, Boysenberry, Tobacco, Ash, Dried Marjoram

Full-Bodied Red Wine
Nero d'Avola
The champion red wine of Sicily can have a strikingly similar taste profile to Cabernet Sauvignon with a full body, boisterous black and red fruit notes, and structured tannins ideal for aging. Of course quality varies depending on the producer, so choose wisely.
Grilled Herbs, Black Currant, Dried Herbs

Medium-Bodied Red Wine
Primitivo
Even though Primitivo is genetically identical to Zinfandel, you'll find the wines of Puglia have decidedly more earthiness to counteract the grape's uber-sweet fruit. The finest examples can be found in and around Primitivo di Manduria in Puglia.
Plum Sauce, Leather, Dried Strawberry, Orange Peel, Clove

Full-Bodied Red Wine
Nebbiolo
The variety of the renowned Barolo region in Piedmont smells and looks like a light-bodied red wine until you taste it and are greeted by its intense, mouth-gripping tannins. Outside of Barolo, wines have lighter tannin, and are great introduction to variety.
Cherry, Rose, Leather, Anise, Clay Dust

Full-Bodied Red Wine
Aglianico
A rare grape found growing in the volcanic soils of Campania and Basilicata. Wines have a bold, savory taste with grippy tannins that smooth out slowly over a period of 10 or so years, eventually revealing soft, cured meat, and tobacco flavors.
White Pepper, Leather, Spiced Plum, Cherry, Ash

Medium-Bodied Red Wine
Valpolicella Ripasso
While most people know the star wine, Amarone della Valpolicella, the Ripasso of Valpo offers a similar taste of cherries and chocolate for a fraction of the price. The best wines generally have a higher proportion of Corvina and Corvinone–the area's best grapes.
Sour Cherry Preserves, Dark Chocolate, Dried Herbs, Brown Sugar, White Pepper
Light-Bodied White Wine
Vermentino
A workhorse white grape that grows all over the French and Italian Rivieria as well as in Sardinia. Wines offer more heavy-weight body and flavors that play between ripe fruit and grassy herbs. Seek out an oak-aged version for a full-bodied, nutty style.
Ripe Pear, Pink Grapefruit, Saline, Crushed Rocks, Green Almond

Light-Bodied White Wine
Pinot Grigio
In Northern Italy is where you'll find Italy's top examples of Pinot Grigio (aka Pinot Gris). Wines have subtle tart fruit characteristics supported by delightfully high, tingling acidity. The best regions include Alto Adige and Collio in Friuli-Venezia Giulia.
Green Apple, Unripe Peach, Thyme, Lime Zest, Quince

Light-Bodied White Wine
Soave
The Garganega variety is the primary grape of both Soave ("Swah-vay") and Gambellara. While the wines are lithe and mineral on release, they slowly gain peach, marzipan, and tangerine aromas as they age for 4–6 years.
Honeydew Melon, Tangerine Zest, Fresh Marjoram, Green Almond, Saline

Sparkling Wine
Prosecco Superiore
Italy's most popular bubbly is made with Glera grapes. And, while most Prosecco is mass-produced, beer-like fizz, you can find exceptional quality from the hilly zones of Colli Asolani and Valdobbiadene Superiore (including the sub-zones of Rive and Cartizze).
White Peach, Pear, Orange Blossom, Vanilla Cream, Lager

Dessert Wine
Moscato d'Asti
A frizzante (lightly sparkling), highly aromatic sweet white wine from Piedmont that has some of the lowest alcohol levels of all wine (5.5% ABV). These wines are loved for their outstanding aromas and succulent sweet taste that pairs well with fruity desserts and cake.
Candied Lemon, Mandarin Orange, Asian Pear, Orange Blossom, Honeysuckle
Reading a Label
Italian wine labels are the most challenging to understand because there is no single rule that defines how they're labeled. Additionally, the Italian wine classification system hasn't kept up with the innovations and new quality styles coming out of Italy today. Fortunately, there is a way!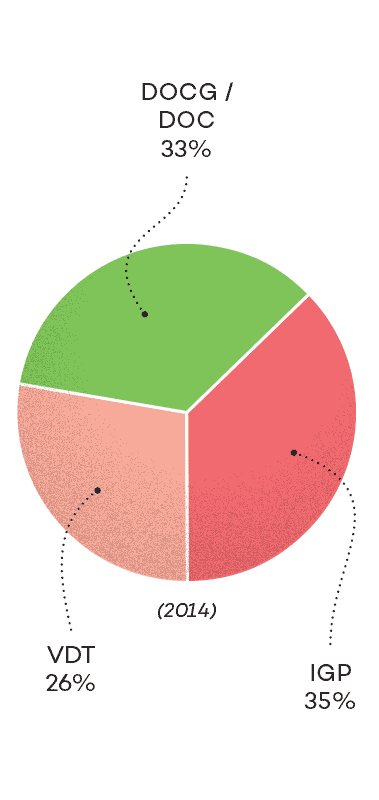 DOCG
Denominazione di Origine Controllata e Garantita. 73 regions are ranked as Italy's top quality tier. DOCG wines meet both basic DOC standards along with more rigorous growing, aging, and quality specifications defined by each region.
DOC
Denominazione di Origine Controllata. 329 officially designated wine regions. Wines must use official grape varieties and have minimum quality standards. Most DOC wines are decent everday drinkers.
IGP / IGT
Indicazione di Geografica Tipica. Most IGP are table wines from larger geographical areas but you'll also find regional wines made with non-Italian grapes including French-origin Merlot, Cabernet Franc and Syrah. These declassified grape wines can be of exceptional quality and often use a made-up name. The "Super Tuscans" from the Bolgheri region of Tuscany are a good example. IGP can offer great value.
VdT
Vino da Tavola. Basic table wines with no regional designation.
Dynamic Wine Region Guides
Alto Adige Guide
Possibly the most beautiful wine region in the world, Alto Adige (aka Südtirol), is where North meets South; in terms of climate, culture, and wine. You'll find both rich, Tuscan-style red wines alongside lean, Germanic white wines.
Sicily Guide
Sicily has everything you could ever imagine when it comes to wines! The native grapes produce various styles that can't really be found anywhere else. Sicily is Italy's largest wine region at 242,000 vineyard acres (98,000 hectares).
Valdobbiadene Guide
Valdobbiadene ("Val-doh-bee-ahhh-deh-nay") is the heartland of Prosecco. The small, 25 km wide jewel is Italy's crown of sparkling wine. If you're looking for an intense-yet-refined aromatic bubbly, you've come to the right place.
Notable Regions in Italy
Northwest Italy
Northwest Italy includes the regions of Piedmont, Lombardy, Liguria and Aosta Valley. For wine collectors, the area is most famed for its robust, high tannin red wines of Nebbiolo, which can age for decades before reaching their prime. For everyday drinkers, you'll find a plethora of earthy reds and minerally, elegant white wines that pair excellently with Italian foods.
Northeastern Italy
Northeastern Italy encompasses the regions of Veneto, Trentino-Alto Adige, Friuli-Venezia Giulia and Emilia Romagna. It's here that you'll find Prosecco, Lambrusco, Italy's best Pinot Grigio, and the well regarded red wines of Valpolicella. Beyond this, there are many delightful wine discoveries made with esoteric varieties as well as common French grapes like Merlot and Sauvignon Blanc.
Central Italy
Central Italy includes the regions of Tuscany, Le Marche, Umbria, Abruzzo and parts of Lazio. This is red wine country. Getting to know the region can be challenging because of the confusing names. For example, Vino Nobile di Montepulciano is made with Sangiovese, not Montepulciano!
Southern Italy/Islands
We may envision Tuscany first for Italian wine but the truth is, the island of Sicily and the region of Puglia are the two largest wine regions of Italy. Red grapes grow well in the hot climate and produce wines with bold, fruit-forward flavors and high alcohol. White grapes are often reserved for rich, dessert wines. One thing is for certain, Southern Italy is a great place for value.
Common Label Terms
Italian wine labels are the most challenging to understand because there is no single rule that defines how they're labeled. Additionally, the Italian wine classification system hasn't kept up with the innovations and new quality styles coming out of Italy today. Fortunately, there is a way!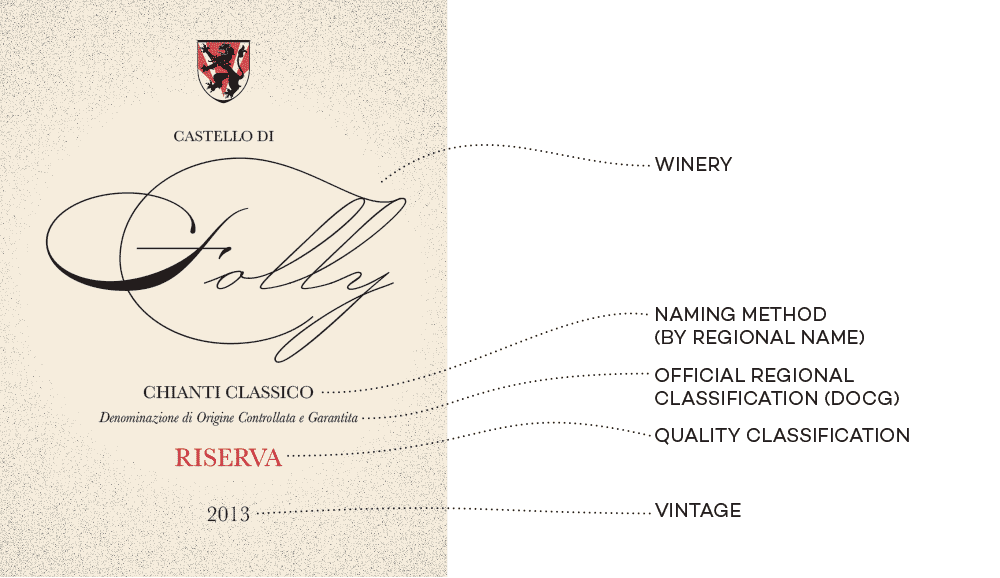 Secco

Dry

Abboccato

Off dry

Amabile

Semi-sweet

Dolce

Sweet

Poggio

Hill or elevated place

Azienda Agricola

Estate winery

Azienda Vinicola

Winery that buys most of it's grapes

Castello

Castle or chateau

Cascina

Winery (farmhouse)

Cantina

Winery (cellar)

Colli

Hills

Fattoria

Wine farm

Podere

Rural wine farm

Tenuta

Estate

Vigneto

Vineyard

Vecchio

Old

Uvaggio

Wine blend

Produttori

"Producers." Usually a cooperative.

Superiore

Usually associated with a regional classification that offers a slight bump in quality. For example, Prosecco Valdobbiadene Superiore.

Classico

A classic or historic wine zone within a region. For example, Soave Classico and Chianti Classico are made within the original boundaries of these two wine regions.

Riserva

A wine that's been aged for longer than the standard denomination. Aging varies from region to region, but generally it's a year or more.
Join Our Newsletter
Jumpstart your wine education and subscribe to the Wine Folly newsletter right now. Always awesome. Always free.