When you're tasting Italian Primitivo, it might be surprising to find out that it comes from the same grape as Zinfandel: a favorite in California.
It might be even crazier to find out that both of these grapes were originally called Tribidrag in their homeland of Croatia.
So what's in a name? With today's tasting challenge, you'll find out what makes Primitivo an Italian wine that you have to try. But more than that, you'll find out what makes it distinct from its many doppelgangers.
What is the Tasting Challenge? The challenge is a way to improve your wine palate each week with 34 wines from 12 countries — The Wine Tasting Challenge.
When it comes to Italian reds, Primitivo has made a name for itself as accessible without becoming as distressingly expensive as some other Italian wines beginning with a B that I could name…
Most popular in Puglia (the heel of Italy's boot), Primitivo is known for lots of dark fruit, high alcohol levels, lower acidity, and less boisterous tannins.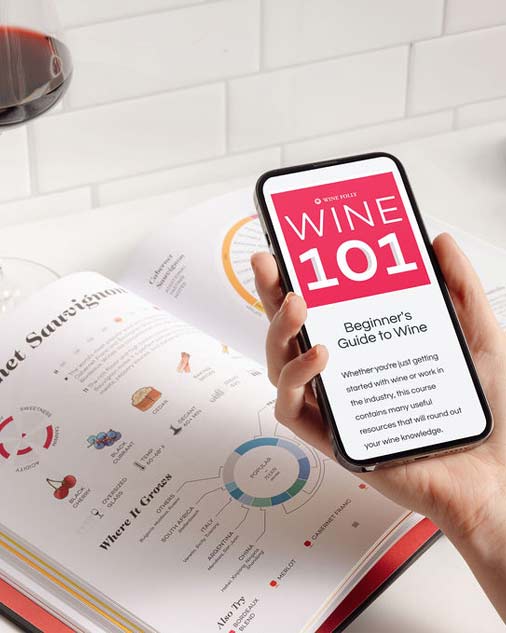 Buy the book, get a course.
Get the Wine 101 Course @ 75% OFF with the purchase of Wine Folly: Magnum Edition.
Shop Now
It's exactly the sort of thing that wine beginners and experts can all appreciate without taking 50 pages of notes.
For this tasting, we chose a Puglian Primitivo from the subregion of Salento: an area well known for coastal winds that cool off grapes in an area otherwise known for its hotter climate. This process ought to slow down the speedy grape growth that Primitivo is known for.
And that might help keep some of those crazy high alcohol levels down: always welcome when you're trying to concentrate on the wine's notes without getting incoherent.
---
2016 Tomaresca Torcicoda Primitivo
Look: Deep garnet.
Aromas: Strawberry, cinnamon, pipe tobacco, raspberry, fruit punch, and a sort of meaty, umami scent. It smells wet and macerated, like the fruit has been crushed for jam.
On The Palate: Velvety, supple tannins, flexible and friendly. Strong, but not mouth-drying at all! Blackberry, brown sugar, and baking spice. A nice, long finish.
Food Pairing: Pulled pork with tangy barbecue sauce. It also seemed like it would pair with eggplant parmesan without overpowering it.
---
What We Learned About Italian Primitivo
For such an accessible and easy-to-love wine, finding out the background on Primitivo can be quite the journey.
Should you look for Primitivo – the name it's known as in Italy? Or should you go with Zinfandel – the moniker it adopted in California and beyond? Or even Tribidrag – the oldest known name for this grape?
The location might be the simplest answer. And that's because of terroir and climate.
While Primitivo does have some universal characteristics like early ripening and dark fruit flavors, where it grows does set it apart: so maybe different names are in order.
California Zinfandel tends toward a sweeter, fruitier style than Primitivo. This is due to areas like Lodi that are hot during the day, and don't really cool off that much at night.
And while Tribidrag in its native Croatia is more obscure, it's recently undergone a bit of a revival due to Zin's popularity.
So it shouldn't be too long before it's easier to see this grape compared to its native land.
One thing's for certain: with its spiciness and supple fruit, Italian Primitivo definitely stands out on its own.
---
Last Impressions
What's in a name? Turns out, just enough to let us know that Primitivo might be our favorite form of a grape that has more aliases than an international art thief.
This wine is smooth and easy to drink without losing any of its more interesting levels of complexity.
It's the sort of thing that you can absolutely take lots of notes on, or you can just enjoy it over a meal with friends. Primitivo takes a lot of roles, so perhaps the extra names are appropriate.
---
What wine did you taste this week? Did you stick to Italian Primitivo? Or did you grab a California Zin? You didn't find a Croatian Tribidrag, did you? Whatever the bottle, let us know in the comments below!