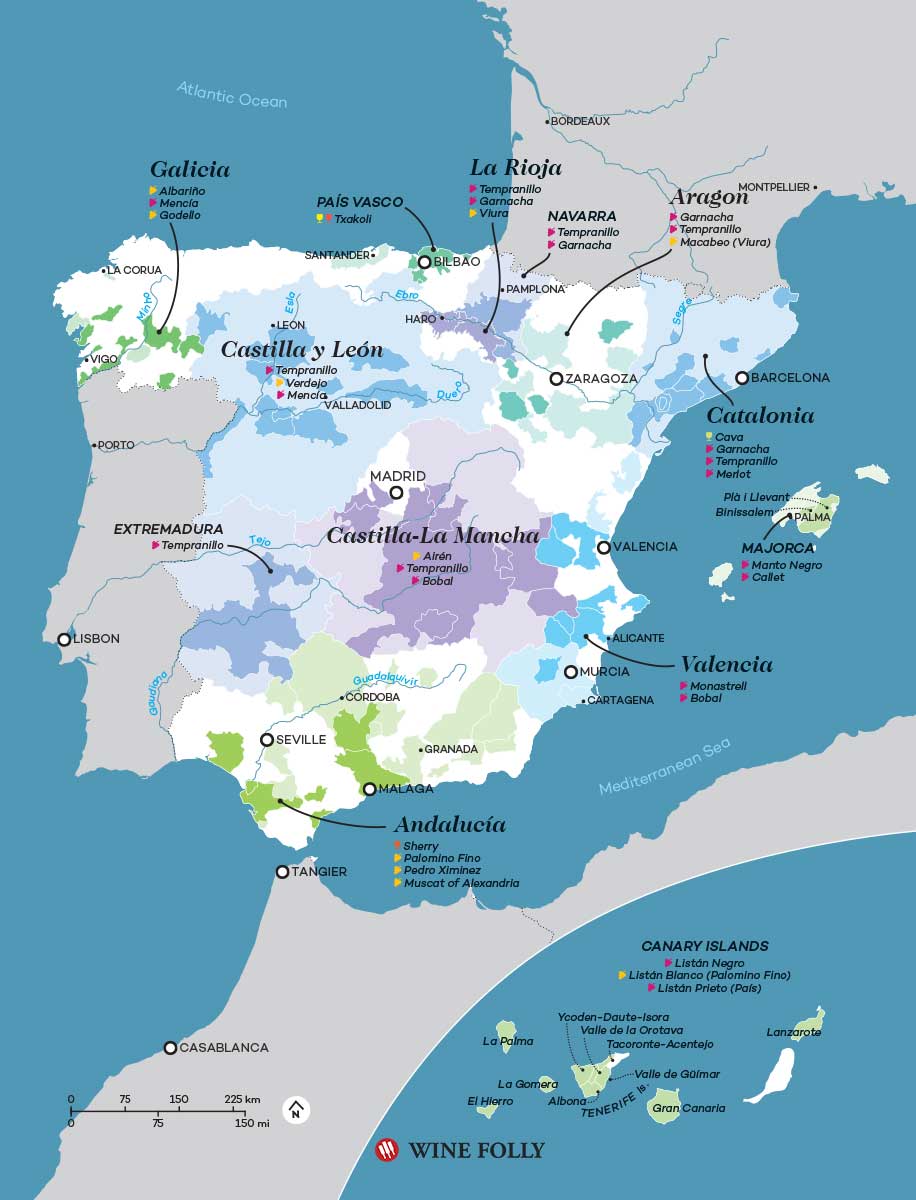 Spain
Spain enjoys a fascinating and diverse landscape, with both Atlantic and Mediterranean coasts, dry plateaus, and the Pyrenees mountains. Every one of Spain's regions produce wine, including Cava, Rioja, and Sherry.
Table of Contents:
Introduction
Gateway to the old world.
Spanish wines feature a dichotomy between bold fruit and dusty minerality that makes them fall between old and new world styles. The country boasts the highest vineyard acreage in the world, but yields are relatively low given the wide vine spacing and limited water use. Spain is the origin country of several top varieties like Tempranillo, Garnacha, and Monastrell. There are other varieties like Petit Verdot, that seem to perform better here than in their country of origin.
Wine Regions
Spain can be organized into 7 overarching areas by climate.
"Green" Spain: The coolest areas include País Vasco and Galicia. Expect minerally, refreshing whites like Albariño, elegant reds like Mencía, and crisp rosado.
Catalonia: Catalonia has two notable specialties: Cava and Spanish GSM / Rhône blends. You must try a red from Priorat at least once in your life.
North Central Spain: The Ebro and Douro River Valleys are famous for Tempranillo wines but you'll also find amazing Garnacha, Viura, and Verdejo.
Central Plateau: Known mostly for bulk production, but there are several surprising finds including old vine Garnacha and Petit Verdot. This area is primed for rediscovery.
Valencia Coast: You must not miss the smoky, bold Monastrell wines from Yecla, Alicante, and Jumilla.
Southern Spain: Sherry country.
The Islands: A tiny area with curious finds like Listán Negro (a fruity, dry red) and Moscatel (an aromatic dessert wine).
Good to Know
Spain champions the use of American oak in the Gran Reserva Rioja (Tempranillo) classification.
We may think of Grenache and Mourvèdre as a French grapes, but the origins are believed to be Spanish.

Full-Bodied Red Wine
Reserva Rioja
(Wree-yo-ha) Tempranillo-based wines that soften and become more complex with aging. The Rioja classifications of Reserva (1 year in oak/2 in bottle) and Gran Reserva (2 years in oak/3 in bottle) are a great way to taste the best of what Rioja has to offer.
Dusty Cherry, Dill, Dried Fig, Graphite, Sweet Tobacco

Full-Bodied Red Wine
Ribera del Duero / Toro
Two growing regions withstand sweltering summers in the Duero river valley to produce rich and tannic Tempranillo wines (called Tinto Fino or Tinta del Toro here) that exude sweet black fruit paired with scorched earthiness. Several of the world's top Tempranillo estates are found here.
Raspberry, Licorice, Graphite, Exotic Spices, Roast Meat

Medium-Bodied Red Wine
Catalonian GSM Blends
The regions close to Barcelona, including Priorat, Montsant, Terra Alta and others produce their own variant of the GSM/Rhône Blend. What makes these wines intriguing is the frequent use of Cabernet and Merlot to add richness.
Leather, Sage, Schist Rocks

Medium-Bodied Red Wine
Garnacha
The true origins of Grenache are Spanish, suggesting we immediately adopt Garnacha as the grape's official name! The regions of Aragon and Navarra produce fruity styles whereas old vine Vinos de Madrid have increased tannin and elegance.
Raspberry, Candied Grapefruit Peel, Grilled Plum, Dried Herbs

Medium-Bodied Red Wine
Bobal
A variety that's planted in vast numbers throughout the Castilla-La Mancha where it's often used in basic bulk "Tinto" blends. That said, a few producers make single-varietal wines that show how delightfully fruity and aromatic this everyday drinker can be.
Blackberry, Pomegranate, Licorice, Darjeeling Tea, Cocoa Powder

Full-Bodied Red Wine
Monastrell
Another Spanish-origin grape that the rest of the world calls by its French name, "Mourvèdre." Incredibly dense, nearly opaque Monastrell wines can found in Southern Valencia, Alicante, Yecla, Jumilla, and Bullas. This Spanish delight is not to be missed!
Grilled Plum, Leather, Camphor, Black Pepper, Clay Pot

Medium-Bodied Red Wine
Mencía
A lighter-bodied, age-worthy red that's grown in cooler, mountainous areas in Northwest Spain. The fruitiest styles are found in Bierzo and wines become more elegant/herbal as you move westward from Bierzo to Valdeorras to Ribera Sacra.
Dried Herbs, Black Plum, Spicy Red Currant, Coffee, Graphite

Rose Wine
Garnacha Rosado
A striking, ruby-colored rosé that's made in a richer and more oily style than the famous onion skinned rosé wines of Provence.  The Garnacha-focused regions within Aragon and Navarra excel at rosado and always offer great value.
Cherry, Candied Grapefruit, Orange Oil, Grapefruit Pith, Citrus

Light-Bodied White Wine
Verdejo
A lean and lithe white that grows mostly in Rueda where sandy soils lend to wines with zesty, citrus aromatics and a highly mineral, saline taste. You'll often find Rueda wines include a blend of Sauvignon Blanc and Verdejo. The perfect taco wine.
Lime, Honeydew Melon, Grapefruit Pith, Fennel, White Peach

Light-Bodied White Wine
Albariño
One of Spain's champion whites that grows best in the cooler climates of Rias Baixas (Rhee-yus By-shus). You'll note wines become richer and more grapefruit-driven (vs. citrus and saline) from the inland areas where there are more clay-based soils.
Lemon Zest, Honeydew Melon, Grapefruit, Beeswax, Saline

Sparkling Wine
Cava
Spain's answer to Champagne is made with the traditional method and includes the Spanish natives of Macabeo (aka Viura), Xarello and Paralleda. Even though the wines are often much more affordable than Champagne, the quality levels are technically similar.
Quince, Lime, Yellow Apple, Chamomile, Almond Cream
Dessert Wine
Sherry
Sherry wines include several special styles that age in partially filled barrels in order to develop a surface yeast called flor. The flor eats the glycerol in the wine and it results in a leaner, more delicate, and salty tasting wine. Manzanilla and Fino Sherry are two flor wines worth exploring.
Jackfruit, Saline, Preserved Lemon, Brazil Nut, Almond
Reading a Label
Today, it's common to find the grape variety listed on a bottle of Spanish wine. There are a few exceptions of course, including the classic regions of Rioja and Ribera del Duero, which are perhaps better characterized by the aging classifications of Crianza, Reserva, or Gran Reserva.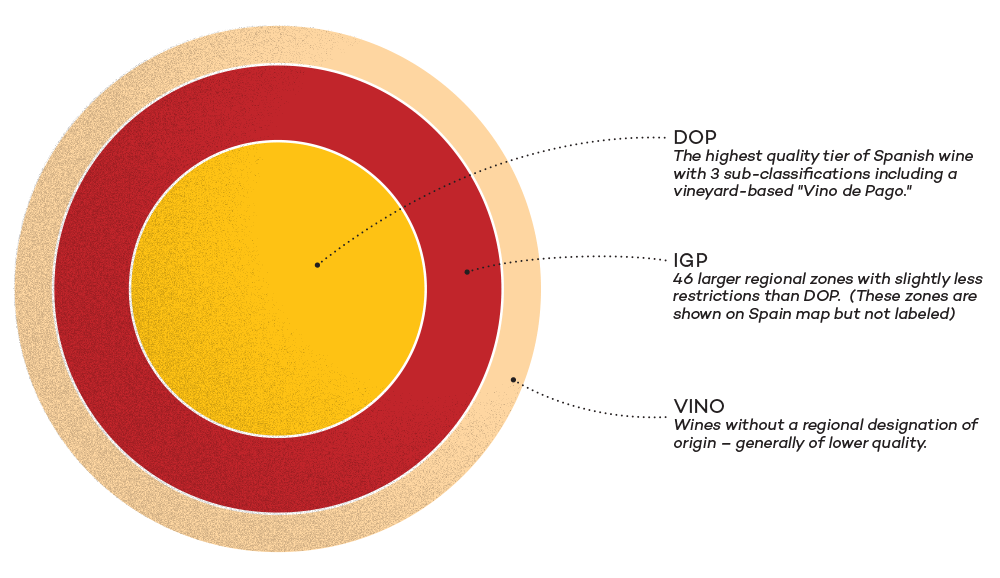 DOP
Denominación de Origen Protegida. The highest quality tier of Spanish wine. There are 3 main sub-classifications of DOP:
Vino de Pago (VP):
("DO Pago") This is a single-vineyard wine. Currently, there are 15 Vino de Pagos mainly in Castilla-La Mancha and Navarra. Be wary, some wineries use "Pago" on the label but are not from an official Vino de Pago.
DOCa / DOQ:
(Denominación de Origen Calificada) A more rigorous quality standard that requires wineries must be located within the region where wines are labeled. Rioja and Priorat are currently the only DOCa.
DO
(Denominación de Origen) Quality wines made in one of the 79 official wine regions.
IGP
Good everyday wines. Wines from larger regional zones with slightly lower requirements than DOP. Wines are labeled Indicación Geográfica Protegida or IGP and sometimes labeled Vino de la Tierra (VdiT). There are 46 IGPs of Spain including the productive Castilla-La Mancha IGP.
Vino
(or Vino de Mesa or "table wine") Basic table wines of Spain with no regional specificity.  Many wines are labeled simply Tinto ("red") or Blanco ("white") and can be off-dry to improve the taste.
Notable Regions in Spain
Northwest Spain
The Northwest region is much cooler than the rest of the Spain. Rias Baixas and País Vasco are the coolest, specializing in zesty whites and lean, elegant reds. Moving south, the Cantabrian mountains stop the Atlantic chill and thus, the Duero river valley experiences both hot summers and icy winters. This combination results in some of the boldest Tempranillo wines of Spain. 
Northeast Spain
Northeastern Spain can be split into two major zones: the Ebro river watershed and the coastal hills that run from Tarragona to the Spanish border. The Ebro River valley is famous for its robust, fruity reds and rosés of Tempranillo, Garnacha, and Carignan. The coastal hills produce Cava and elegant, mineral-laced red blends which often include Cabernet Sauvignon, Syrah, and Merlot.  
Southern Spain
A great deal of Spain's value wine comes from Central Spain from Castilla-La Mancha and parts of Valencia (including Castilla VT). Still, you can find excellent quality reds here, usually at great prices. As you move farther South, you get into dominant plantings of Palomino Fino and Pedro Ximenez which are used for Sherry of all kinds from dry to sweet.  
Common Label Terms
Today, it's common to find the grape variety listed on a bottle of Spanish wine. There are a few exceptions of course, including the classic regions of Rioja and Ribera del Duero, which are perhaps better characterized by the aging classifications of Crianza, Reserva, or Gran Reserva.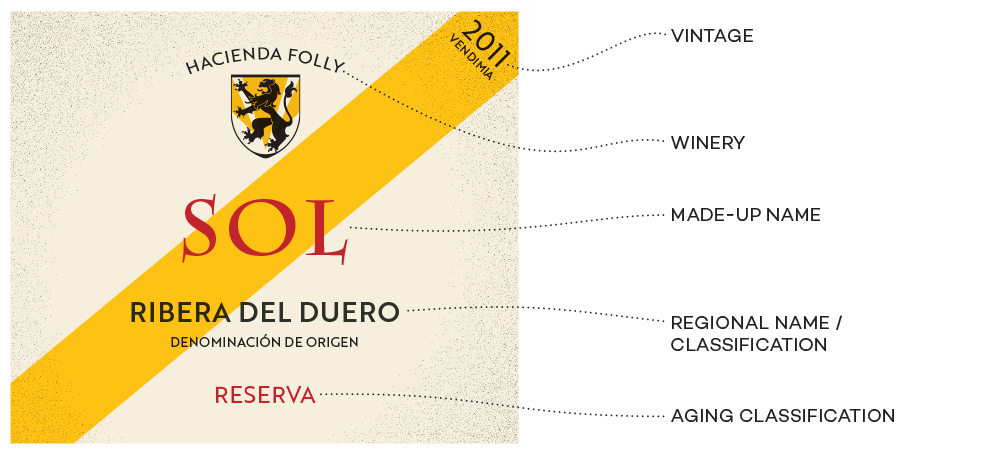 Rioja

Tempranillo-dominant red wines and Viura-dominant white wines.

Ribera del Deuro and Toro

Tempranillo-dominant wines.

Priorat

Red blends with a variety of possible grapes including Garnacha, Carignan, Syrah, Cabernet Sauvignon, Merlot, and others.

Joven

Wine spends little or no time in oak. Applies to DOP wines only and also includes wines without an aging level listed such as basic Rioja.

Crianza

Red: 24 mos. aging with at least 6 mos. (1 year in Rioja and Ribera del Duero) in barrel. White/Rosé: 18 mos. aging with at least 6 mos. in barrel.

Reserva

Red: 36 mos. aging with at least 12 mos. in barrel. White/Rosé: 24 mos. aging with at least 6 mos. in barrel.

Gran Reserva

Red: 60 mos. aging with at least 18 mos. (2 years in Rioja and Ribera del Duero) in barrel. White/Rosé: 48 mos. aging with at least 6 mos. in barrel.

Roble

Means "oak." This term is a bit misleading because it's usually a young wine that's only spent a small amount of time in oak.

Noble

(rare) 18 mos. in barrel.

Añejo

(rare) 24 mos. in barrel.

Viejo

(rare) 36 months aging and must demonstrate oxidative character (tertiary flavors).
Recent Spain Articles
---
This week's challenge tastes Spanish Rosado. Our tasting challenge heads to the finish line with the bubblegum pink wine of Provence.
Read More
Often misunderstood, this week's challenge dives into Dry Sherry. Learn why this fortified wine may be perfect for your palate.
Read More
Spanish Tempranillo will restore your faith in oak-aged wines. Jump in the Wine Tasting Challenge and discover the delicious bounty of Rioja.
Read More
When the Rioja wine commission announced a new classification system, you can bet it was a big deal! Here's what to expect in a bottle of Rioja wine.
Read More
Discover the wines of Tenerife through Master Sommelier, Brian McClintic's, passionate adventure.
Read More
No one goes to Rueda. It's a place where few outsiders will venture even if the region produces some of the most amazing wines along with a plethora of exotic agricultural products
Read More
Wondering where to look for great Spanish wine? As you can imagine, getting into the wines of Spain can be a wee bit intimidating. Instead of giving up, start with this fun list of 16 wines that represent the best of what Spain has to offer.
Read More
Find out what makes Priorat's wines so unique, and what to look for when seeking out a great bottle. This famous red wine region is located just outside of Barcelona in Northeast Spain.
Read More
An advanced article on the different terroirs of Rioja based on the valleys of the ebro river. Understand Rioja's wines through their location within the 3 sub-regions of Rioja Alta, Rioja…
Read More
Get to know the primary Spanish red wines. They range from sub $15 fruit-forward daily drinkers to high tannin wines with subtle fruit.
Read More
If you like wines with intensity and European personality, Spain has you covered. Castilla-La Mancha is a region that will be on your radar for amazing red wine blends.
Read More
There are 4 different styles of Rioja Wine. Learn how to identify the labels and what to look for to get the style of Tempranillo you want.
Read More
Join Our Newsletter
Jumpstart your wine education and subscribe to the Wine Folly newsletter right now. Always awesome. Always free.