When it comes to the great fortified wines of the world, Spain's Sherry is going through a bit of a lull at the moment. But the truth is that Sherry is one of the most distinctive wines in the world.
Whether you're drinking dry or sweet Sherry, it's going to be unlike any of the wines we taste during this challenge.
What is the Tasting Challenge? The challenge is a way to improve your wine palate each week with 34 wines from 12 countries — The Wine Tasting Challenge.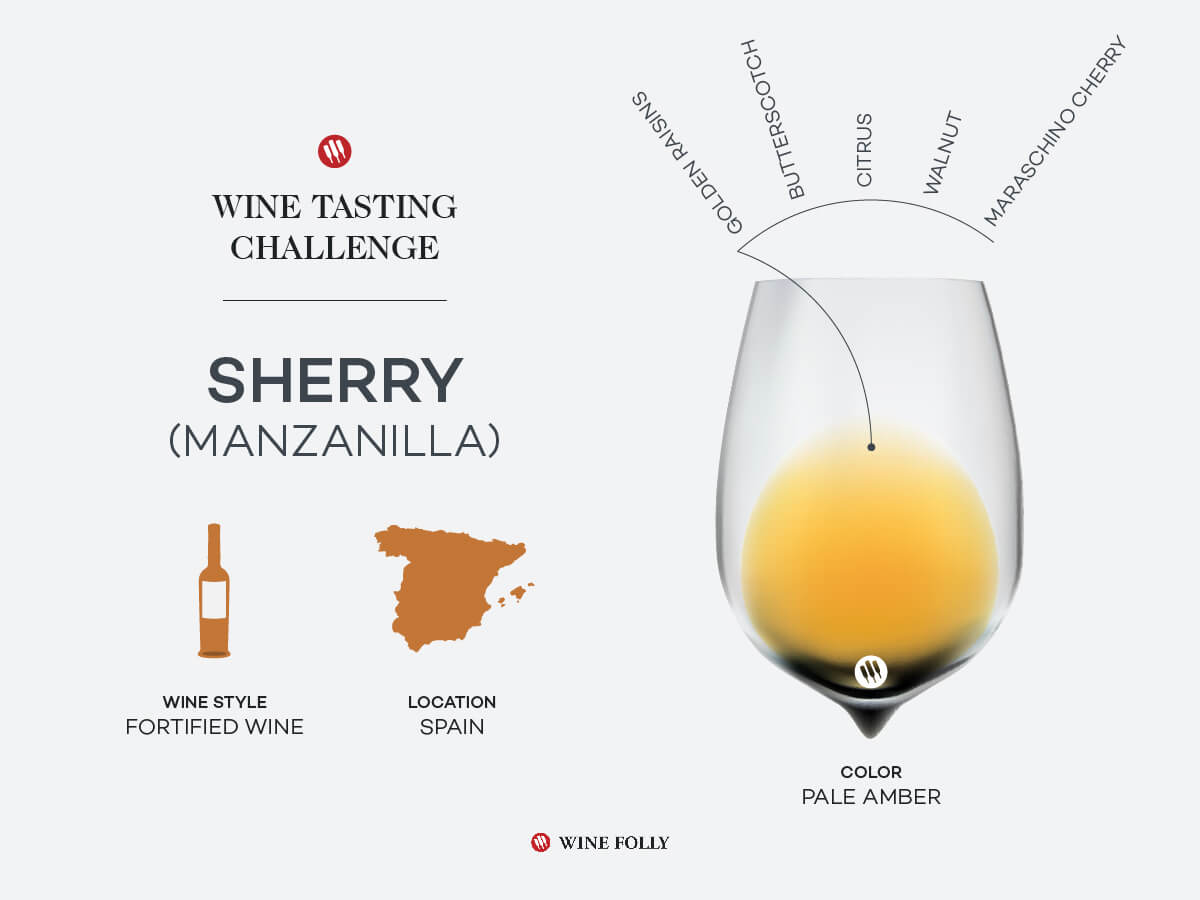 Somewhere along the way, Sherry became known as a sticky-sweet drink that was only really enjoyed by ancient men with monocles, absurd accents, and names like Ambrose or Orville.
But the truth is that sherry runs the gamut from sweet to dry. In fact, most sherry is dry, and the odds are good that there's a style out there that wine lovers of every stripe can appreciate.
Whether you're a fan of Sherry or not, there's really no way to deny that it's unlike any other kind of wine: especially any of the wines we've tried thus far during the Tasting Challenge.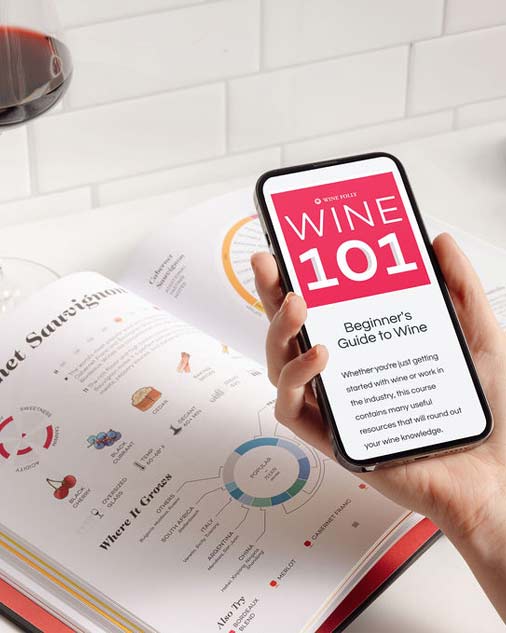 Buy the book, get a course.
Get the Wine 101 Course @ 75% OFF with the purchase of Wine Folly: Magnum Edition.
Shop Now
Dry sherry has a nuttiness combined with an acidity that's truly unique. And certainly unlike anything else on the Tasting Challenge's wine list.
To get a true feel for what dry sherry is really like, we went with a Manzanilla, which is made exclusively in the Spanish wine region of Sanlúcar de Barrameda and is known for being one of the driest forms of Sherry available.
---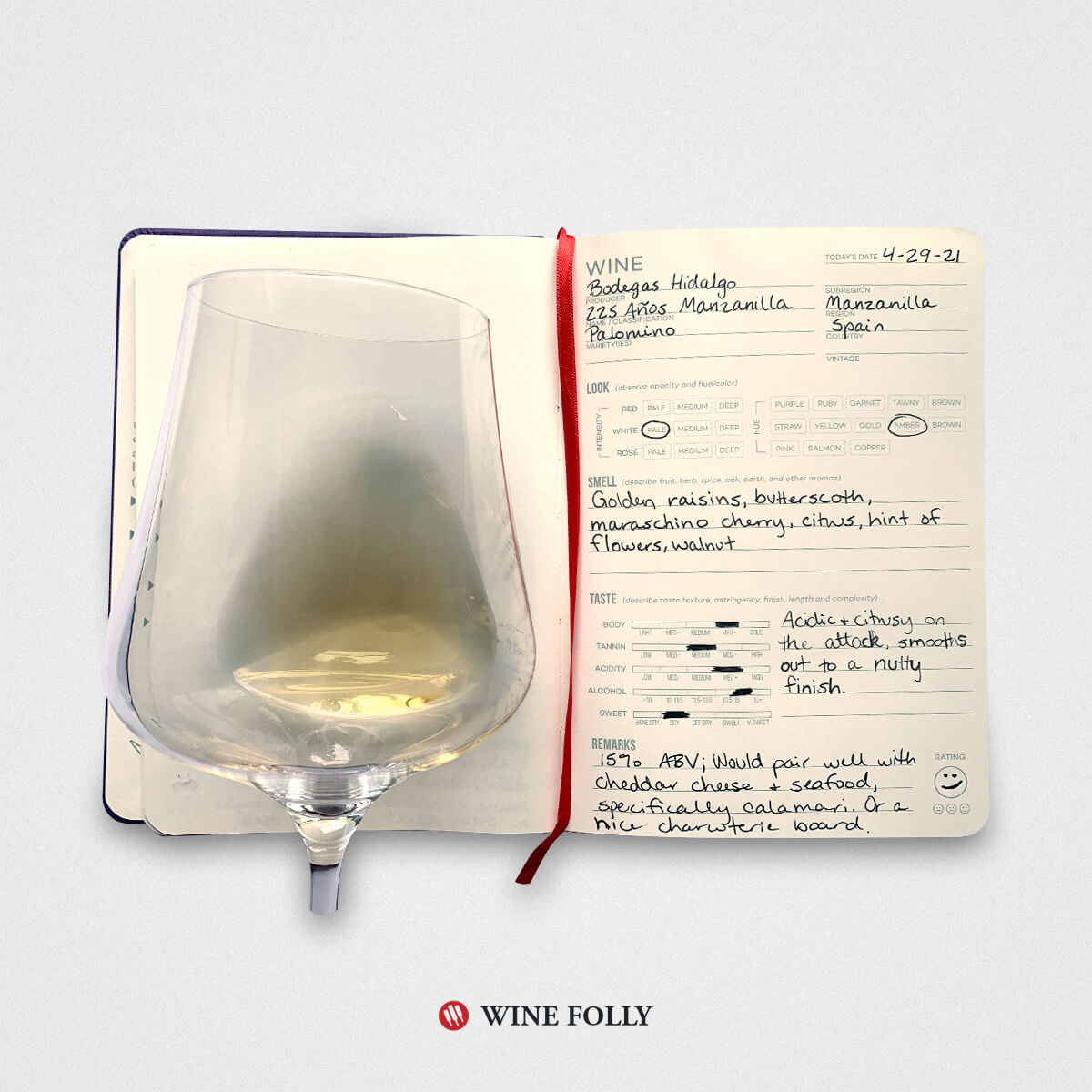 Bodegas Hildago Feria Manzanilla La Gitana
Look: Pale amber.
Aromas: Golden raisins, butterscotch, maraschino cherries, citrus, hint of flowers, walnuts.
On The Palate: Initially, the wine is very acidic and citrusy: like lemon and bitter orange peel. But by the finish it smoothes out to a mild, nutty flavor.
Food Pairing: Would go well with cheddar cheese: a nice charcuterie board in general would have plenty to offer this wine. Especially some olives. Also, seafood would be terrific, as this offers a bit of a saltiness on the finish: maybe fried calamari.
---
What We Learned About Spanish Sherry
The first thing to know about Sherry is that it's a fortified wine.
This means that the wine has brandy added to it: something that gives the wine a serious kick, both in the flavor and alcohol departments. The process also adds some serious longevity to the wine. In fact, that's why the practice started in the first place.
Hundreds of years ago, merchants would add brandy to their wine in order to make sure that it would survive a long sea voyage, and then avoid spoiling in the (typically) tropical sun that they were headed toward.
It's why fortified wines like Madeira were so popular with America's founding fathers!
Like non-vintage Champagne, Sherry is made by blending grapes from various vintages. Dry Sherry is aged under "flor": a layer of yeast that protects the wine underneath from the harsher aspects of oxidation. Flor gives the Sherry a level of tang, and when it dies, it exposes the juice to varying degrees of oxidation, which adds the wine's distinctive nuttiness.
This oxidation is one of the aspects of Sherry's flavor that makes it so distinct: a winemaking practice that might be considered a flaw in other kinds of wine!
This is far more distinct in sweeter styles of Sherry like Oloroso, due to the fact that they don't develop a layer of flor, and therefore become far more oxidized.
---
Last Impressions
Many wine drinkers might turn up their nose and think of cloyingly sweet brown wine when they think of Sherry, but the truth is that it runs from dark and rich to light and dry!
For a real experience, it might be worth trying each of the many styles that Sherry is made in, if only to see where on the Sherry spectrum you fall!
Be sure to dive into our Guide on Sherry so you can track down a bottle of this delicious fortified wine that suits your palate.