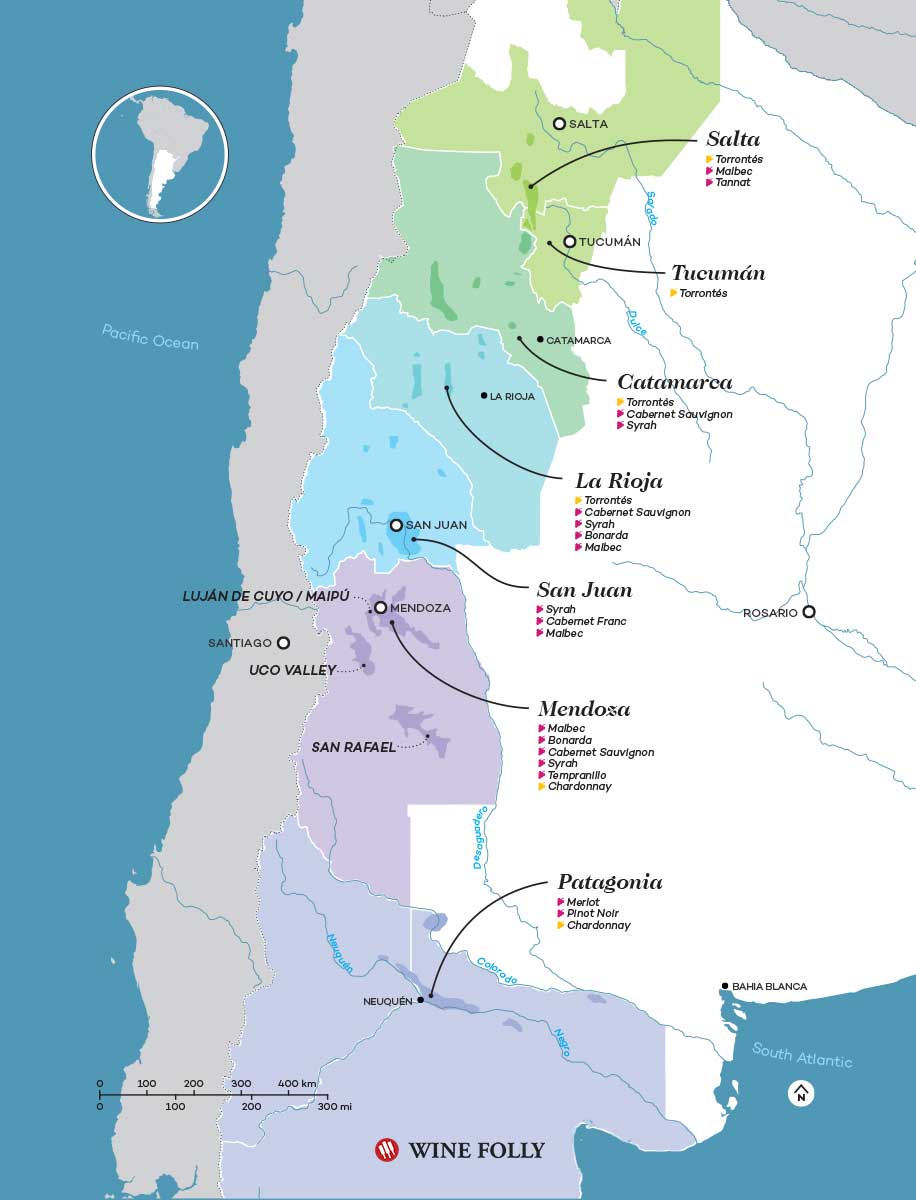 Argentina
Learn about one of the biggest producers of wine in the world, with a unique environment combining the elements of the tropical, deserts, and high-altitude. Argentina is notable for its Malbec wines that have received critical acclaim.
Table of Contents:
Introduction
The land of Malbec.
The majority of Argentina's vineyards are located at the base of the Andes Mountains, in an area with both ample sunshine and snowmelt for irrigation. These conditions result in plump, deep-colored wines of which Malbec is the most important variety. High elevation vineyards (upwards of 7,500 ft!) have cool nighttime temperatures which help to maintain acidity in the wines. Beyond Malbec, Cabernet Sauvignon, Bonarda, Syrah, Cabernet Franc, Pinot Noir and an aromatic white called Torrontés are all well-worth exploring.
Wine Regions
Mendoza is the largest, most important wine region, accouting for 75% of Argentina's vineyards. Red wines are the focus here and certain areas stand out above the rest in terms of quality. For example, the sub-regions of Maipú, Luján de Cuyo and Uco Valley have the highest elevations, which result in wines with higher acidity. The acid adds freshness and age-ability. Other Mendoza regions offer terrific value, including San Raphael and Santa Rosa, where there are many old vines plots producing more concentrated wines.
Good to Know
Single-varietal wines must contain at least 85% of the listed variety.
Wines labeled "Reserva" must be aged for at least 12 months for red wines or 6 months for white and rosé wines.

Full-Bodied Red Wine
Uco Valley Malbec
Some of the highest elevation vineyards in Mendoza are found in the Uco Valley. The elevation results in wines with more savory flavors, dusty tannins, and layered black fruit. You'll often see wines labeled by a subzone such as Tupungato or Vista Flores.
black plum, raspberry, olive, red pepper flake, cocoa

Full-Bodied Red Wine
Luján de Cuyo Malbec
Luján de Cuyo produces Malbec wines with more black fruit flavors in a more lush style. The sub-regions of Agrelo (elegance + power), Vistalba (minerality), Las Compuertas (elegance), and Perdriel (tannin) offer the most distinguishable differences.
blackberry, plum sauce, black cherry, Asian 5-spice, Graphite

Full-Bodied Red Wine
Maipú Malbec
Mendoza's classic wine growing area produces more elegant Malbec wines with lighter red fruit flavors and often a touch of earthy cedar or tobacco. The subzone of Barrancas is slightly warmer, which results in wines with more black-fruit notes.
red plum, boysenberry, cherry, cedar, tobacco

Full-Bodied Red Wine
Cabernet-Malbec Blend
An increasingly popular blend from Argentina features Cabernet Sauvignon with Malbec. Malbec adds a plush and opulent style with explosive berry fruit. Cabernet Sauvignon delivers more complexity with increased tannin and savory flavors.
blackberry, plum, chocolate, Black Pepper, tobacco

Full-Bodied Red Wine
Cabernet Sauvignon
Grapes under Mendoza's sun develop bold, ripe fruit flavors that can handle judicious new oak aging programs (top wines are often aged for 18 months). The region's terroir offers exotic spice notes on top of the variety's flavor profile.
Black Currant Sauce, Black Cherry, Asian 5-Spice, Tobacco Smoke

Medium-Bodied Red Wine
Bonarda
(aka Deuce Noir or Charbono) A rare grape to the rest of the world, Bonarda grows in abundance in Argentina. It offers exceptional value as a single-varietal wine. Overall, Bonarda is similar to Malbec with an explosion of juicy red and black fruit with a slightly lighter taste profile.
Plum, Cherry, Licorice, Cocoa, Graphite

Light-Bodied Red Wine
Patagonia Pinot Noir
Argentina offers a unique take on Pinot Noir with its wines from Neuquén and Rio Negro in Patagonia. Wines balance sweet red fruit flavors with leafy herbal tea-like flavors. Patagonia is an up-and-coming frontier in Argentinian wine.
Red currant, cherry, sandalwood, graphite, earl-gray tea

Full-Bodied Red Wine
Tempranillo
A grape that's well-suited for arid climates, high elevation and clay-dominant soils. These regional traits result in wines with higher intensity and structure (tannin). Argentinian Tempranillo is relatively hard to find and typically offered at great values.
Smoke, Black Cherry, Cinnamon, Cedar, Vanilla

Full-Bodied Red Wine
Cabernet Franc
Often blended into Malbec wines to add subtle herbal notes, Cabernet Franc is increasingly made into single-varietal wines in and around Mendoza. Cabernet Franc takes on a much bolder style here than compared to its French cousins, with more body and tannin.
blackberry, chocolate, green peppercorn, charcoal, plum

Full-Bodied White Wine
Chardonnay
For those who love oaky and creamy styles of Chardonnay, Mendoza offers fruit-forward wines laced with baked pastry and nutmeg notes. Unfortunately, it's difficult to grow Chardonnay in such a hot climate so seek out quality producers.
Baked Apple, Pineapple, Cream, Nutmeg, Tarragon

Aromatic White Wine
Torrontés
An underrated and affordable aromatic white wine that smells sweet but usually tastes dry. The best wines are made from the Torrontés Riojana variety (there are 3 distinct Torrontés varieties in all). Keep your eyes out for Salta and the sub-region Cafayete.
Lychee, Lemon-Lime, Perfume, Peach, Citrus Pith

Sparkling Wine
Sparkling Malbec
Bodegas have begun picking Malbec slightly earlier to make zesty, dry sparkling rosé wines. Malbec as a rosé wine has a delicate, pale pink color with aromas ranging from peach to raspberry and flavors from sweet melon to citrus pith.
White Peach, Raspberry, Chalk, Rhubarb, Tangerine
Dynamic Wine Region Guides
Argentina Guide
If you love Malbec, Argentina is your ultimate wine region. Argentina is renowned for its supple Malbec wines that range from affordable to ultra high end. However, that's not the only wine that Argentina does well!
Recent Argentina Articles
---
Join Our Newsletter
Jumpstart your wine education and subscribe to the Wine Folly newsletter right now. Always awesome. Always free.