You've got to love the classic tale of the underdog who gets out from under their parents' thumb and makes a name for themselves on their own terms.
Maybe that's why Malbec's so popular. It's a grape that went far from its roots and still made one heck of a splash. It's a French wine that more often than not speaks with an Argentinian accent.
What is the Tasting Challenge? The challenge is a way to improve your wine palate each week with 34 wines from 12 countries — The Wine Tasting Challenge.
Tasting Challenge: Argentina's Adopted Child, Malbec
Malbec's story starts in France, where it's still used as a blending grape in Bordeaux. Often called Côt, some great examples of Malbec still come out of Cahors, but its poor resistance to pests and bad weather meant that it was hardly one of France's most popular grapes.
So it definitely wasn't common outside of its homeland.
All of that changed in the 1860s when a homesick French botanist planted Malbec grapes in Mendoza, Argentina.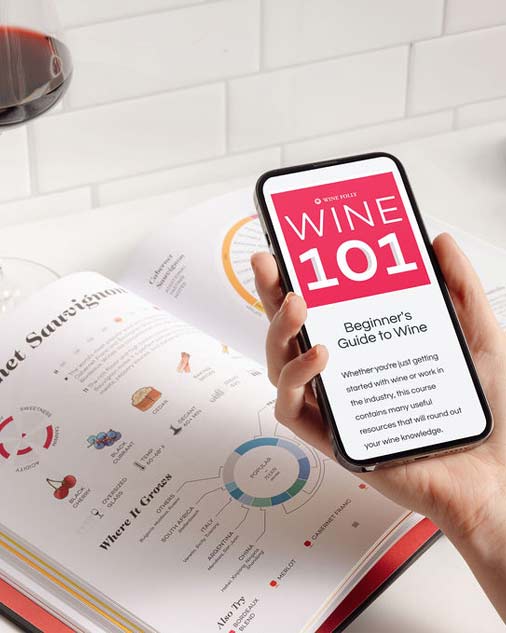 Buy the book, get a course.
Get the Wine 101 Course @ 75% OFF with the purchase of Wine Folly: Magnum Edition.
Shop Now
Today, Argentina produces over 43,000 hectares of Malbec, as opposed to France's 15,000. So when it comes to Malbec, there's an argument to be made that it isn't so much where you came from as where you've been.
Argentinian Malbec is known to be fruit forward, while French Malbec offers a more green and savory character, with a higher acidity.
In the name of finding something that struck every chord, we found a bottle of Malbec from Mendoza, Argentina: the most popular region of this humble grape.
2017 Terrazas de los Andes Malbec Reserva
Look: Medium purple, plus that tell-tale magenta rim that you so often see in Malbec.
Aromas: Very complex and perfumy. Notes of blackberry, plum, pipe tobacco, blueberry, smoke, and even some minerality, which might have to do with the mountainous region where it was grown. There's also a bit of an umami character to the wine: think balsamic or soy sauce.
On The Palate: Holy cow. Those are some aggressive tannins. At first, they're fairly overwhelming, even after an hour of decanting. Past that, you get blackberry, and a lot of green, vegetal notes. New leather, tobacco, and a finish of dark chocolate.
Food Pairing: This might be perfect with that earthy flavors you get from lamb or even duck. A smash burger covered in onions and cheese would stand up beautifully, as well.
What We Learned About Argentinian Malbec
Wow! Not exactly what we expected! When you're told about the lush fruitiness of an Argentinian Malbec and you get bowled over by the bitterness, it's a bit of a shock.
Don't get me wrong, the notes we expected were there: plum, blackberry, and a heavy waft of pipe tobacco. But so were a lot of competing notes that made us curious as to what we'd gotten ourselves into.
Taking a closer look at the bottle gave us a clue as to why: the words "high altitude vineyards."
It turns out, these Malbec grapes were grown at an average of 1070 meters above sea level. That's a seriously cool climate, and it changes things a bit.
The Malbec grapes had to work that much harder to grow, and when they did, they brought a lot of acid, and less of that splashy fruit you'd get in a warmer region.
So in a way, we stumbled upon a Malbec that has the best of both worlds: the fresh fruit notes of Argentina with the more acidic, savory notes of France.
---
Last Impressions
This is a great wine for getting to know a grape's homeland. Where it's grown can tell you an enormous amount about what you're getting.
Like our experiences with Pinot Noir and Sauvignon Blanc, the geography of a grape can be very important to a wine fan. Just saying that you're drinking a Malbec is far from the entire picture.
But this bottle in particular shows us that even knowing the country of origin and the region itself might not be enough! It's a pleasant surprise, and shows you that Argentina's adopted child still has some tricks up its sleeve.
---
Can't find a wine? You don't have to try exactly the same wine, so if you're looking for alternatives to keep your challenge rolling, you can search options at Wine Access.