What is Malbec Wine?
Malbec is a full-bodied red wine that grows mostly in Argentina.
Known for its plump, dark fruit flavors and smoky finish, Malbec wine offers a great alternative to higher priced Cabernet Sauvignon and Syrah. However, there's more to Malbec than just value. Learn the secrets of Malbec wine, some great Malbec food pairing tips, and 4 amazing facts that will change the way you think about this 'lowly' wine grape.

Malbec Wine Guide
Malbec Wine Characteristics
FRUIT: 

Black cherry, Pomengranate, Plum, Raspberry, Blackberry, Blueberry, Raisin

OTHER: 

Cocoa, Milk Chocolate, Coffee, Mocha, Molasses, Leather, Black Pepper, Green Stem, Gravel, Tobacco

OAK: 

Vanilla, Dill, Coconut, Chocolate, Mocha

ACID: 

Medium

TANNIN: 

Medium

TEMP: 

"Slightly Cool" 69 ºF (21 ºC)

ALTs: 

Syrah, Dolcetto, Touriga Nacional, Petit Verdot, Petite Sirah, Bonarda, Lacrima di Moro d'Alba, Nero d'Avola, Merlot, Mourvèdre (see other full-bodied red wines )

BLENDS: 

Blended commonly in Right Bank Bordeaux with Merlot and Petit Verdot. In Argentina, Malbec is occasionally blended with Bonarda, a regional red grape also known as Deuce Noir.
Malbec Tasting Notes by Region
ARGENTINA: The main fruit flavors in a glass of Argentine Malbec are blackberry, plum, and black cherry. The nuanced flavors offer milk chocolate, cocoa powder, violet flowers, leather, and, depending on the amount of oak aging, a sweet tobacco finish.
 
FRANCE: While Argentine Malbec is fruit forward, Malbec from France is quite the opposite. From the Cahors region, it is leathery, with flavors of tart currant, black plum, and savory bitterness often described as green at the start. French Malbecs, from the Loire and Cahors, have higher acidity, which attributes to flavors described as black pepper and spice. Because of their moderate tannin and acidity with lower alcohol, French Malbec wines tend to age longer.
 
A lil' Malbec Wine History
Malbec (sometimes called Côt and Auxxerois) is from France, where it grows in the Sud-Ouest. The thick-skinned grape is a natural cross of two esoteric varieties that are from Montpellier (in Languedoc-Roussilon) and Gaillac in the Sud-Ouest. Today the majority of France's Malbec is found in Cahors, a small town on a switchback river that gently flows towards Bordeaux.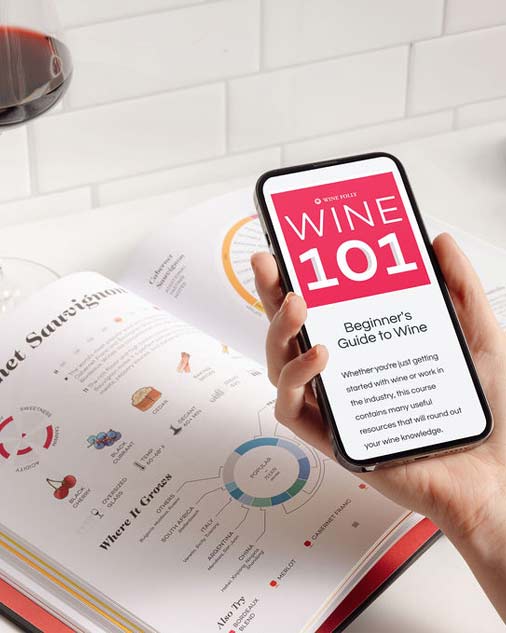 Buy the book, get a course.
Get the Wine 101 Course @ 75% OFF with the purchase of Wine Folly: Magnum Edition.
Shop Now
Malbec quickly became common as a blending grape in Bordeaux's top 5 wine grapes. However, because of the grapes' poor resistance to weather and pests, it never surfaced as a top French variety. Instead, it found a new home in Mendoza, Argentina where a nostalgic French botanist planted it by order of the mayor in 1868.
---
4 Awesome Facts About Malbec
Argentina "Saved" Malbec

Today, Argentina leads production of the grape with over 75% of all the acres of Malbec in the world. In a way, Argentina reinvigorated Malbec as one of the top 18 noble grapes. Now it grows in seven countries and continues to grow in popularity.

Malbec's Blind Tasting Tell

Look for a magenta-tinged rim. Malbec wine is a deep purple-red that is nearly opaque, similar to Syrah and Mourvedre. However, Malbec wines will often have a bright magenta rim. A tell! Host a blind tasting party of your own.

Malbec Loves High Elevation

In lower elevations, Malbec grapes struggle to produce the acidity they need to create great tasting and long lasting wine. High elevation areas with a wide diurnal temperature shift (i.e., hot days, cold nights) make the grapes produce more acidity. Find out why acidity is so important.

Not As Much Oak as You Might Think

Because of Malbec's bold flavors and richness, many wine tasters believe that industrious use of oak is employed. Not true! In the $9-12 range you'll find most Argentine Malbec to have only about 6 months of oak aging. 10-12 months of oaking Malbec will give it that classic 'blueberry' smell. Some Malbec wines are aged for a long time (18-20 months), but you have to pay to play. Expect to spend around $24+ for Reserva Argentine Malbec and more for US Malbec.
Join Wine Folly, the popular weekly newsletter that educates and entertains, and we'll send you our 9-Chapter Wine 101 Guide today! See Details
Malbec Food Pairing
Umami Lover: Unlike Cabernet Sauvignon, Malbec doesn't have a super long finish. Because of this, Malbec is great with leaner red meats (ostrich anyone?). The wine does extremely well with funky flavors like blue cheese and rustic flavors like mushrooms and cumin spice.
Perfect Malbec Food Pairing:
Black pepper buffalo burgers with blue cheese mushrooms and rosemary infused garlic kale chips. Uh, yum!

Meat Pairings:
Dark meat poultry and lean red meat. Malbec pairs well with earthy flavors too, such as beef brisket. Additional recommendations include duck, chicken leg, lamb, beef, ostrich, buffalo, and pork shoulder.
Spices and Herbs:
Look for spices that have earthy or smoky flavors such as: parsley, sumac, thyme, rosemary, porcini powder, smoked paprika, black pepper, cumin, coriander, juniper berry, clove, vanilla bean, garlic, shallot, green onion, and barbecue sauce.
Vegetables & Vegetarian Fare:
Mushroom, roasted vegetables, green and red bell peppers, potato, arugula, kale, chard, grilled endive, onion, beet, tempeh, lentils, black beans, and forbidden rice all pair beautifully with Malbec.
---
Malbec Wine Regions
Just About 100,000 acres of Malbec planted worldwide.
Argentina

76,700 acres

Mendoza, San Juan, Salta

France

~15,000 acres

Sud-Ouest, Bordeaux, Loire Valley (called Côt in Loire)

USA

~3,400 acres

California, Washington, Oregon

Chile

2,500 acres

Colchagua, Curicó, Cachapoal

South Africa

1,100 acres

Australia

1,100 acres

South Australia, Victoria

New Zealand

200 acres

Gisborne, Hawkes Bay
Up Next: Mastering Mendoza Malbec
Let's break down the details of Malbec from Mendoza to better understand how to find great quality wines.
---
Sources
Prunelard is found in Gaillac, France
La Magdeleine de Charentes is found in Montpellier, France
Malbec Guide on wineaustralia.com
Wine Variety Plantings on winesofargentina.com
~600 Acres of Malbec in Washington State estimated by Fidelitas Winemaker, Charlie Hoppes.
California Malbec acres statistics from Wine Business Monthly
Chile's Wine Grape Data (2006) from winesofchile.org