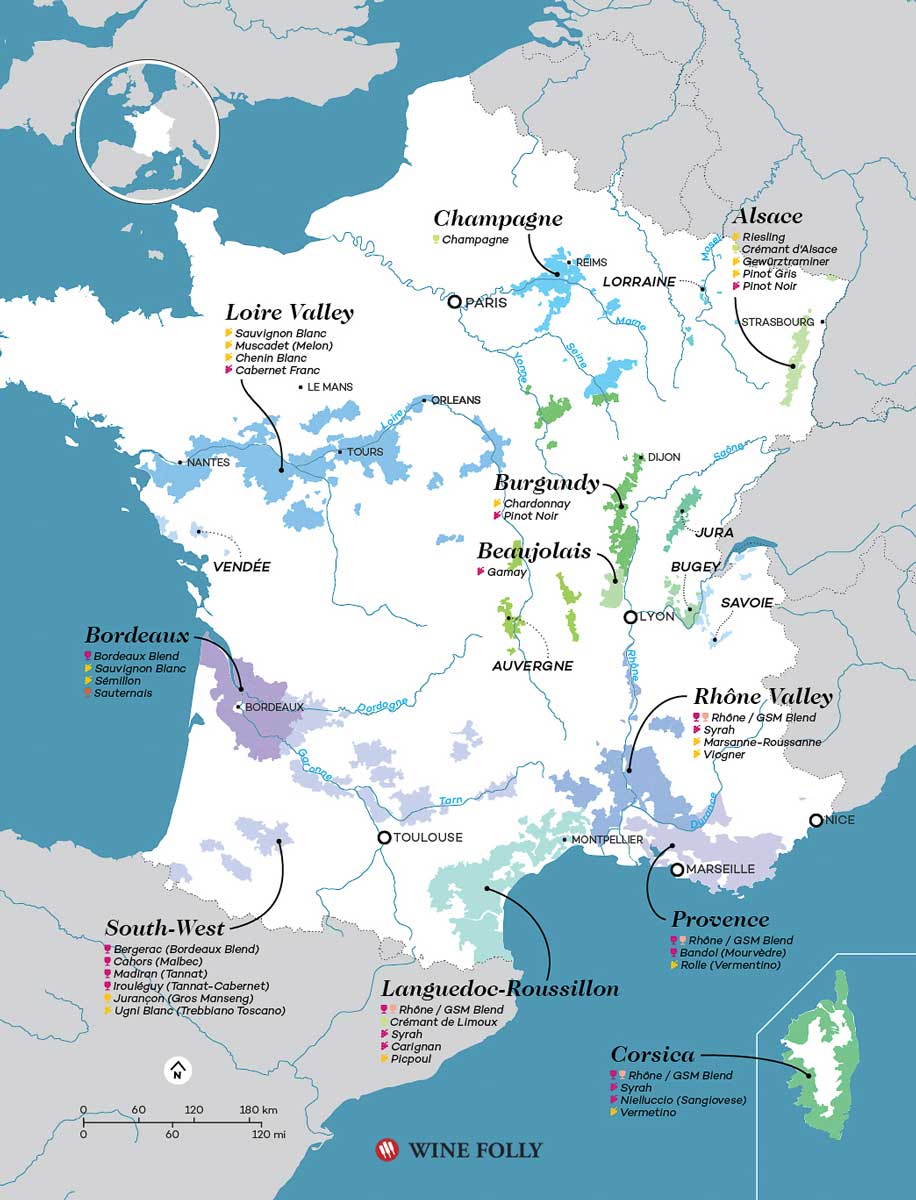 France
Explore the wine regions of France, including Bordeaux and Champagne, currently the world's largest producer of Cabernet Sauvignon and arguably the origins of modern-day winemaking.
Table of Contents:
Introduction
Top Wine Influencer
The wines of France have had a profound influence on new and developing wine countries. So, even if you haven't had a French wine before, you've had one inspired by France. For example, the varieties of Cabernet Sauvignon, Syrah, Pinot Noir, and Chardonnay originated here, and the French versions have a distinct character unlike any other. Tasting French wine offers a valuable perspective on the evolution of modern wine.
Top Wine Influencer
Wine Regions France can be divided into 11 major wine regions that span a wide variety of climates and territories. Some regions are more well-known than others based on production size, or wide-reaching distribution and influence. Arguably the most influential (and famous) regions of France are Bordeaux, Bourgogne, the Rhône Valley, the Loire Valley, and Champagne.
You'll find these aforementioned regions are a great place to explore popular French wine. If there is one takeaway to remember about French wine it's that its climate conditions vary greatly year to year, causing a high amount of vintage variation (where wines taste different year to year). Vintage variation isn't as noticeable in fine wines from quality producers but it does affect value wines a great deal. Thus, a good rule of thumb is to stock up great values on good vintages!
Good to Know
A "vin de terroir" is a regionally labeled wine with rules defining which grapes are used and how it's made.
Most high-end French wines are labeled by appelation ("vin de terroir") and not by variety-except for Alsace.
French Wine Course
Improve your knowledge of French wine with this hands-on course. A 4-part course where you learn from award-winning author, Madeline Puckette, and Master of Wine, Christine Marsiglio.

Sparkling Wine
Brut Champagne
Champagne was the first region to produce sparkling wines made with the traditional method. The non-vintage, Brut Champagne is the most common style; a blend of Chardonnay, Pinot Noir and Pinot Meunier.
Green Pear, Citrus, Smoke, Cream Cheese, Toast

Sparkling Wine
Sparkling Vouvray
The most famous appellation for Chenin Blanc made in all styles from dry and sparkling to sweet and still. The sparkling and tendre (just barely sweet) wines are a great taste of the region.
Pear, Quince, Honeysuckle, Ginger, Beeswax

Light-Bodied White Wine
Sancerre
Sancerre is one of the top appellations for Sauvignon Blanc in the Loire Valley alongside Pouilly-Fumé and greater Touraine. Loire Valley very much typifies what cool climate Sauvignon Blanc is all about with high minerality, herbal aromatics and a tingly finish.
Gooseberry, White Peach, Tarragon, Lemon-Lime, Flint

Light-Bodied White Wine
Chablis
A small northerly region within Bourgogne whose singular focus is Chardonnay, made primarily in an unoaked style that brings out the wine's pure fruit aromas and steely minerality. Expert tip: Many of the high end Grand Cru wines do see some oak.
Starfruit, Apple, White Blossom, Lemon, Chalk

Light-Bodied White Wine
Alsace Riesling
It's no surprise that the region closest to Germany specializes in Riesling. While there are a range of styles found here, the everyday Alsace Riesling is dry, with aromas of lime, green apple, and grapefriut, with smoky minerality and mouth-watering acidity.
Lime, Green Apple, Grapefruit Zest, Lemon Verbana, Smoke

Full-Bodied White Wine
White Burgundy
The Côte de Beaune region in Burgundy produces some of the top Chardonnay wines in the world. Wines are often oak-aged, where controlled oxidation produces wines a with rich nut and vanilla flavors alongside notes of apple, melon, and white flowers.
Yellow Apple, Acacia Blossom, Honeydew Melon, Vanilla, Hazelnut

Rosé
Côtes de Provence Rosé
One of the world's foremost production regions for rosé produces delicate rosé wines with a pale copper hue. Some of the best wines come from the Côtes de Provence appellation and often have a proportion of Rolle (aka Vermentino) in the blend.
Strawberry, Celery, Watermelon, Clay Pot, Orange Zest

Light-Bodied Red Wine
Beaujolais
Just south of Burgundy, you'll find decomposing pink granite soils which produce high-quality Gamay wines. The best wines come from the 10 Crus where the wines can have a striking resemblance to Red Burgundy, but for a fraction of the price.
Cherry, Violet, Peony, Peach, Potting Soil

Light-Bodied Red Wine
Red Burgundy
Pinot Noir from the Côte de Nuits and Côte de Beaune are some of the highest priced wines in the world. What sets them apart are unmistakable earthy and rose aromas. Seek out the Bourgogne regional wines on good vintages for a taste.
Red Cherry, Hibiscus, Mushroom, Potting Soil, Dried Leaves

Medium-Bodied Red Wine
Southern Rhône Blends
The dominant grapes in this Southern French favorite include Grenache, Syrah and Mourvèdre. Red wines deliver bold stewed raspberry, fig and blackberry flavors with subtle notes of dried herbs and cured meats.
Plum Sauce, Anise, Graphite, Lavender, Tobacco

Medium-Bodied Red Wine
Northern Rhône Syrah
The world's obsession for Syrah was inspired by the wines of the Northern Rhône. Vineyards grow along the slopes (or Côtes) of the Rhône river and produce wines with savory fruit aromas and peppery aromas with a lighter body and sometimes grippy tannins.
Olive, Plum, Black Pepper, Blackberry, Meat Juices

Full-Bodied Red Wine
Red Bordeaux Blends
A wine that inspired the world's love affair with Cabernet Sauvignon and Merlot. The best values include the regional Bordeaux Superieur appellation which offers savory flavors of graphite, black currant, black cherry, and cigar supported by firm-but-balanced tannins.
Black Currant, Black Cherry, Pencil Lead, Loam, Tobacco
Reading a Label
The secret to becoming confident with French wine is acknowledge that wines are labeled by region or appellation. Each appellation has a set of rules that dictate what grapes are inside the bottle.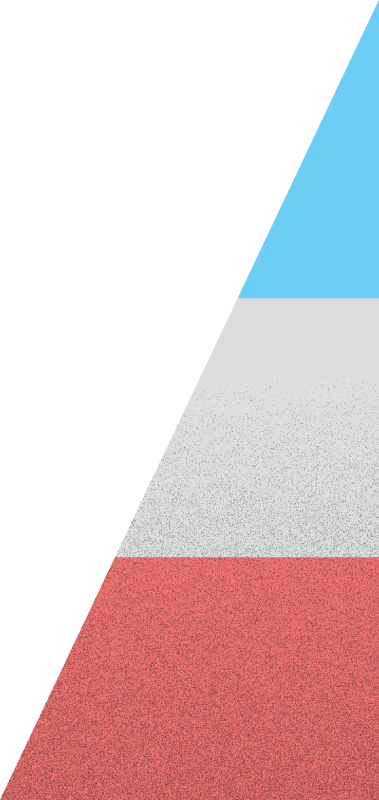 AOP / AOC
Appellation d'Origine Protégée/Appellation d'Origine Contrôlée: France's most rigid classification specifies everything from the geographic area, the grapes allowed in the wine, the quality of those grapes and how the vineyards are planted, to the winemaking and aging processes used. There are over 300 appellations, each with different set of rules overseen by the INAO – The national committee for wine and other alcoholic beverages.
IGP / Vin de Pays
Indication Géographique Protégée: This regional designation represents a group of everyday drinking wines, often with the variety listed on the label. Rules are typically less strict, which can allow for more variable quality. There are around 150 IGPs in France, including Pays d'Oc, Côtes de Gasgogne, and Vin de Pays du Val de Loire.
Vin de France
Basic table wines of France with no regional specificity. These wines represent the lowest quality tier of French wine and often include the variety on the label and occasionally the vintage date.
Dynamic Wine Region Guides
Bordeaux Guide
Wine Folly takes you on a guided experience, while allowing you to explore information about hundreds of wineries and wines from the area. Wineries update information themselves so you can explore what the region has to offer.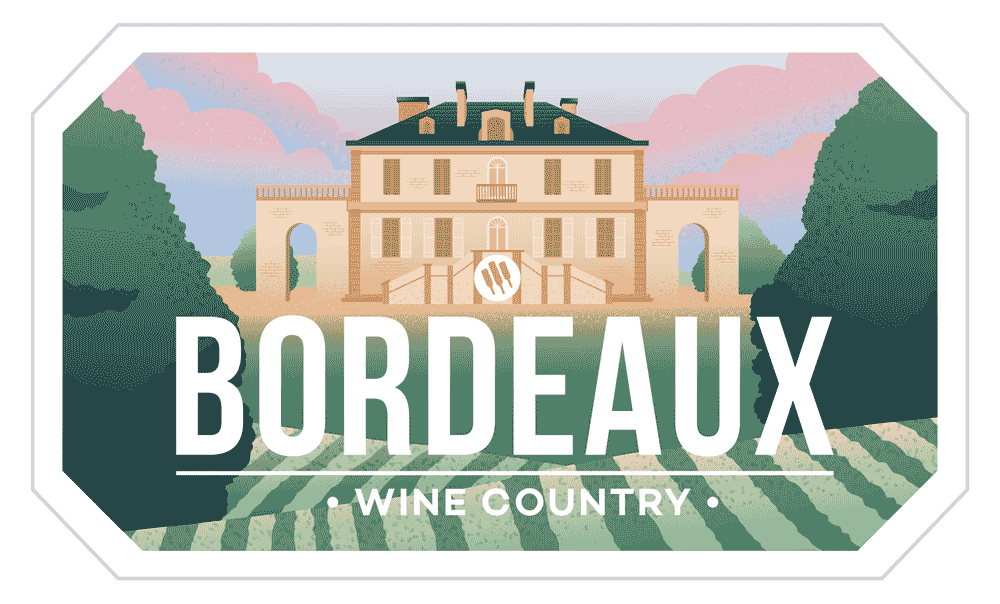 Notable Regions in France
Bordeaux
The vast majority of Bordeaux produces the eponymous red blend, which features Merlot, Cabernet sauvignon, and Cabernet Franc. While the most treasured wineries (aka Château) command top prices, most wines can be found for great prices. You just need to know where to look.
Burgundy
(French: "Bourgogne") Burgundy's vineyards can trace their origins back to medieval times, when Cistercian monks planted grapevines in walled vineyards called clos ("klo"). What did the monks plant? Chardonnay and Pinot Noir, of course! These two grapes are now world renowned and Burgundy is considered the benchmark of quality.
Champagne
As one of the coolest growing regions of France, Champagne has historically struggled with ripening grapes. Perhaps it's because of this that cellar masters in the 1600s, like Dom Perignon, focused on cutting-edge wine production, leading to the popularization of sparkling wines. There are three primary grapes of Champagne: Chardonnay, Pinot Noir, and Pinot Meunier.
Languedoc-Roussillon
The Languedoc-Roussillon combines the Languedoc and Roussillon regions into the largest vineyard area of France, and it's a great place to hunt for values. Languedoc specializes in red blends made of Syrah, Grenache, Mourvèdre, and Carignan. Additional surprises include great sparkling wines (Crémant de Limoux), dessert wines, and zesty whites.
Loire Valley
The Loire Valley is a large region that follows the longest river of France and its many tributaries. As a cooler-climate growing area, the Loire is an exceptional place to find lean, racy white wines including those of Chenin Blanc, Sauvignon Blanc, and Muscadet. Red varieties include Cabernet Franc, Gamay, and Côt (Malbec), which produce herbaceous, rustic reds and fruity, dry rosé.
Rhône Valley
Grenache, Syrah, and Mourvèdre are the primary varieties in the Rhône Valley. In the South, Côtes du Rhône blends (red and rosé) can feature up to 18 different grapes in a blend! In the Northern Rhône, single-varietal Syrah is the focus, along with scant plantings of Viognier.
Common Label Terms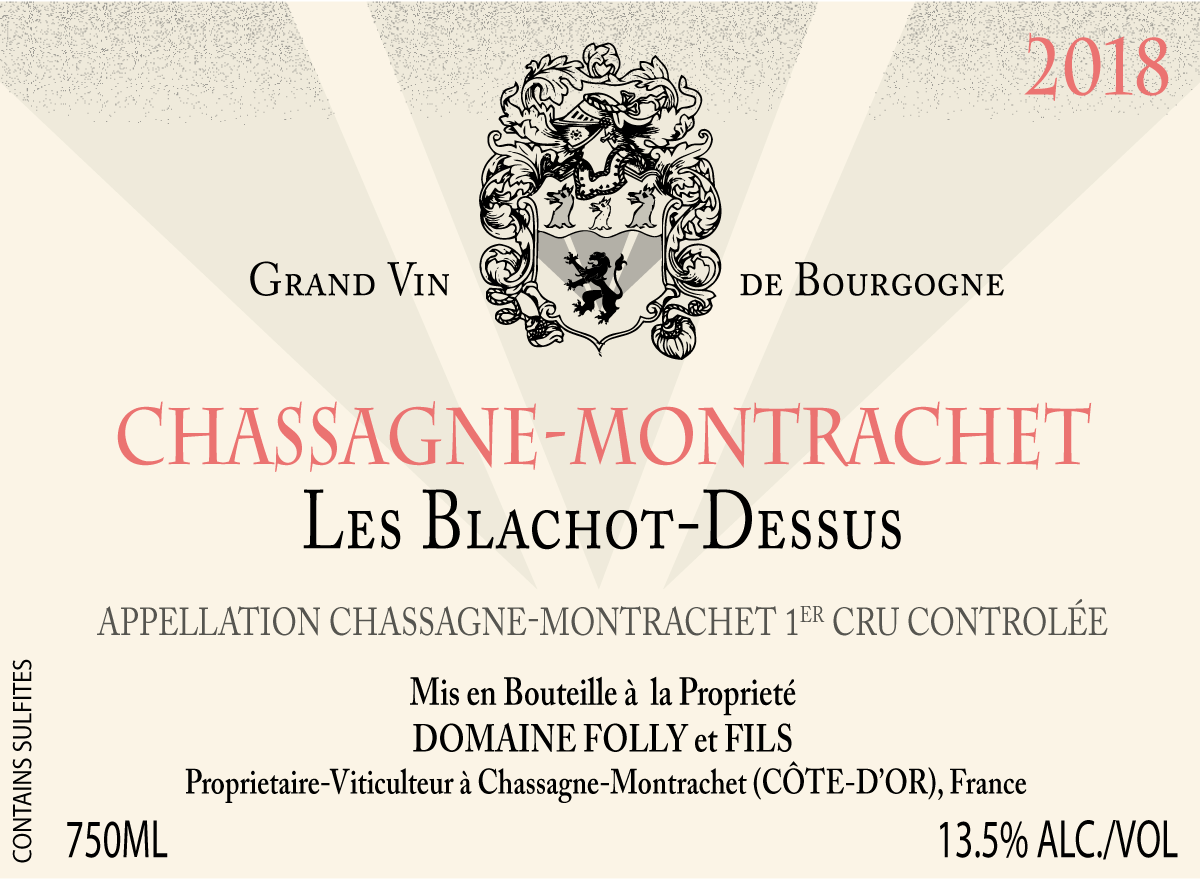 Biologique

Organically produced

Blanc de Blancs

A white sparkling wine made with 100% white grapes.

Blanc de Noirs

A term for white sparkling wine made with 100% black grapes.

Brut

A term for sweetness level in sparkling wine. Brut indicates a dry style.

Cépage

The grapes used in the wine (Encépagement is the proportions of the blend).

Château

A winery

Clos

A walled vineyard or vineyard on the site of an ancient walled vineyard. Commonly used in Burgundy.

Côtes

Wines from a slope or hillside (contiguous)–usually along a river.

Coteaux

Wines from a grouping of slopes or hillsides (non-contiguous).

Cru

Translates to "growth" and indicates a vineyard or group of vineyards typically recognized for quality.

Cuvée

Translates to "vat" or "tank" but is used to denote a specific wine blend or batch.

Demi-Sec

Off-dry (lightly sweet)

Domaine

A winery estate with vineyards.

Doux

Sweet

Élevé en fûts de chêne

Aged in oak

Grand Cru

Translates to "Great Growth" and is used in Burgundy and Champagne to distinguish the region's best vineyards.

Grand Vin

Used in Bordeaux to indicate a winery's "first label" or best wine they produce. It's common for Bordeaux to have a 1st, 2nd or 3rd label at varying price tiers.

Millésime

The vintage date. This term is commonly used in the Champagne region.

Mis en bouteille au château/domaine

Bottled at the winery

Moelleux

Sweet

Mousseux

Sparkling

Non-filtré

An unfiltered wine

Pétillant

Lightly sparkling

Premier Cru (1er Cru)

Translates to "First Growth" and is the top-tier designation for producers in Bordeaux and the 2nd best designation for vineyards in Burgundy and Champagne.

Propriétaire

Owner of winery

Supérieur

A regulatory term commonly used in Bordeaux to describe a wine with higher minimum alcohol and aging requirements than the base.

Sur Lie

A wine that is aged on lees (dead yeast particles) which are known to give a creamy/bready taste and increased body. This term is most commonly found with Muscadet of the Loire.

Vendanger à la main

Hand harvested

Vieille Vignes

Old vines

Vignoble

Vineyard

Vin Doux Naturel (VDN)

A wine that is fortified during fermentation (usually a sweet dessert wine).
Join Our Newsletter
Jumpstart your wine education and subscribe to the Wine Folly newsletter right now. Always awesome. Always free.