If you like Bordeaux but not the prices, then the South West region of France is calling you.
As we'll see, many of the wines are very similar to Bordeaux in varietal, wine making style and quality. Add some unique grapes and 'terroir' into the mix and this is one exciting region for wine lovers.
The South West (or "Sud-Ouest" as the French call it) may be the least known region in France, filled with hidden treasures and breath-taking scenery. Vineyards are planted next to lush forests and both wine and wine making are a way of life.
Where is South West France Exactly?
Known as "France's Hidden Corner" the South West region is tucked away between the Pyrénées Mountains and Spain to the south, Bordeaux to the north, and the Atlantic Ocean on the west.
The South West is the 5th largest wine region of France at 120,000 acres. Despite its large size, the area is the least populated part of the country with only 10 residents per square mile – rural, peaceful and laid back!
NOTE:
The South West is France's 5th largest wine growing region: 2x more vineyards
than Burgundy
and 3x more than
Napa Valley.
South West France Wine Map
Understanding The South West Wine Region
The South West is divided into four "sub-regions," each with its own distinctive character, climate, and grapes.
Bergerac & Dordogne River
Garonne & Tarn
Lot River
Pyrénées
Inside each of these are an array of communal and village appellations or AOP (Appellation d'Origine Protégée). These appellations must adhere to strict regulations regarding the growing of grapes and wine production.
There are also some larger areas with less restrictive vineyard and winemaking regulations referred to as IGPs (Indications Géographique Protégé or Protected Geographical Indication). You can see how they are laid out on the South West France wine map.
---
Bergerac & Dordogne River
If Cabernet Sauvignon, Merlot and Bordeaux blends are your thing, then this is the place for you!
Located just south of Bordeaux, the vineyards of the 80 communes of this region lie along the Dordogne River – the same that flows through its world famous neighbor – and they share the same Atlantic influence to their climate, although temperatures are slightly warmer here.
They use similar grape varieties to make dry reds, whites and rosés, as well as sweet dessert styles.
Look for regional names on the label like Bergerac, Montravel (dry white blends), Pécharment (big, reds), and sweet wines from Saussignac, Rosette and Monbazillac.
White Wines
Sauvignon Blanc
​Ugni Blanc
​Semillon
Chenin Blanc
​​Muscadelle
Ondenc*
Red Wines
Cabernet Sauvignon
​Cabernet Franc
​Merlot
Malbec (called "Côt")
Mérille*
*rare and indigenous grapes
---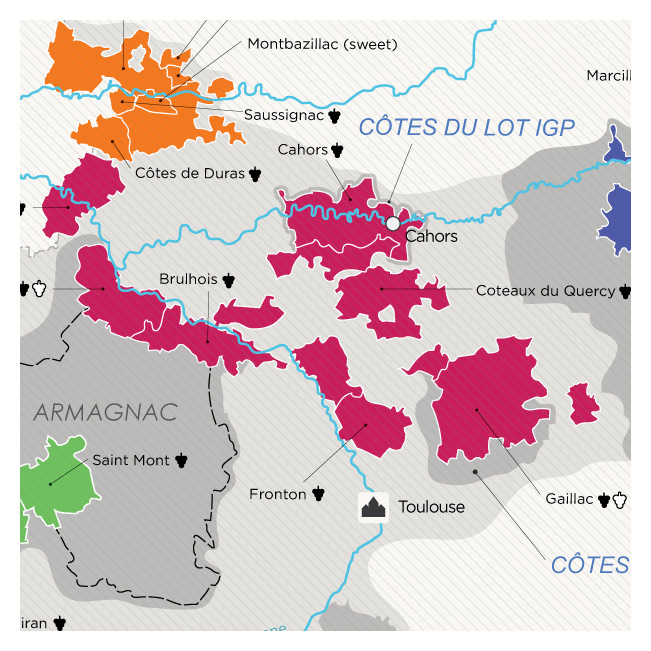 Garonne & Tarn
Diverse flavors and rare indigenous wine grapes
Named after two major rivers, this region reaches a little further east, towards France's fourth largest city, Toulouse. The climate is somewhat varied; the western portion is more influenced by the Atlantic while the Mediterranean climate holds more sway in the eastern environs with less rain and slightly higher temperatures.
As far as grapes go, you'll find the same varieties as in Bergerac & Dordogne, with a few more additions:

Red Wines
​Fer Servadou* – native to Basque region of Spain
​Duras
​Gamay
Négrette* – a floral and fruity wine grown close to Toulouse and Fronton
Syrah
Tannat* – long noted as a component of human longevity
​Abouriou* – nearly extinct due to phylloxera
Prunelard* – ancient native variety & father of Malbec!
Cinsault
​Jurançon Noir
Mouyssagués* – virtually extinct, grown in Aveyron
​Pinot Noir
White Wines
Len de L'el*
​Mauzac Blanc*
​Mauzac Rose
Saint Côme (a.k.a. 'Rousselou')
*rare and indigenous grapes
Brulhois is known for its robust powerful reds aka "Black Wine", while Buzet crafts red, white and rosé from the main Bordeaux grapes. Check out Côte de Duras, Côte de Marmandais, Côte de Millau for the full array of styles and tiny Saint Sardos (just shy of 100 acres) for spicy, licoricey reds and fruity rosé.
Look for Fronton One AOP to hunt down is Fronton, just north of Toulouse. Famous since the Middle Ages as the home of the red grape, Négrette – which is almost exclusive to this AOP. These wines have a distinctive 'animal' character and aromas of violets.
Oldest Vineyards The largest producing appellation is Gaillac. The oldest vineyards in the South West are found here and are also home to some less mainstream local grape varieties: white Len de L'el and the red grapes: Duras, Prunelard and Fer Servadou.
Sweet and sparkling wines are big here and 'Gaillac Primeur', made from Gamay, is similar to Beaujolais Nouveau!
Gaillac Premiéres Côtes AOP is a newcomer, producing white wines only. The vineyards here are a bit higher in elevation (460 – 990 feet) and an underground water system nourishes the vineyards, which are planted on limestone and clay. This region is at the crossroads of Atlantic and Mediterranean influences and is affected by the d'Autun – a speedy, moisture laden wind from the Southeast!
---
Lot River
The original home of Malbec

The Lot River has big switchback curves. source
 
The Lot River Region is influenced by both the Atlantic and the Mediterranean climates and grows the same grape varieties as the Garonne & Tarn.
Ever heard of "Cahors"? This AOC is the most famous of the sub-regions and home to the popular variety Malbec. These inky wines have been adored for centuries, especially by the royal houses of England and Russia and show fabulous notes of plum, tobacco and a touch of green apple.
Try firm tannic reds and round ripe rosés from Marcillac and Coteaux du Quercy. Estaing produces dry delicate whites and smooth reds full of juicy red berry notes – perfect to enjoy when young. Entraygues-Le Fel boasts steep, terraced vineyards on rocky mountain slopes and enjoys the most sunshine in the region. The wines from here are great for aging.
---
Pyrénées
Rare and undiscovered wines

Motorcycle trip through the Pyrénées. source
 
Named after the rugged mountain range that divides France and Spain, the wines from the Pyrénées sub-region are rustic and artisanal, crafted from the indigenous Tannat grape variety.
Other lesser known varieties are grown here:
White Wines
Camaralet — very rare full bodied aromatic white wines
Gros Manseng — zesty white wines
​Petit Manseng
​Lauzet — nearly extinct – only 5 acres in existence (2 ha)
Arrufiac — often blended with Petit Manseng
​Raffiat — principle variety in Béarn AOP with just 22 acres in the world.
Courbu
​Clairette Blanche
​​Baroque
Red Wines
Manseng Noir
​​Tannat
​Courbu Noir
Fer Servadou
*rare and indigenous grapes
The most famous AOP is Madiran where Tannat is king! This is strictly a red wine designation and although the law says you have to have a minimum of 60% Tannat, many of the bottlings are more like 100%! The broody black fruits and notes of baking spice blend with silky tannin to produce a wine that's been popular for centuries.
Covering the same geographical boundaries as Madiran is Pacherenc du Vic Bilh. This AOC is strictly for dry white wines that feature tropical and honeyed, orchard fruit aromas and sweet whites that remind you of fresh stone fruits and white flowers.
The vineyards of Irouléguy, the only AOP in the Basque area of France, are planted in the ancient soils of the steep mountain foothills , producing expressive dry whites and earthy, delicate reds.
The indigenous white grape, Baroque, may be found in Tursan AOP and some of the oldest vines (over 150 years of age) grow in Saint Mont and craft traditional style wines – reds with bold black fruit, fresh minerally whites and red berry rosés.
The AOP of Béarn also grows Tannat along with many other local red and white varieties but the neighboring AOP of Jurançon is strictly white.
Jurançon 'Sec' are dry white wines, but the region is really well known for the sweet wines that go by simply, Jurançon. Made from the same varieties as the drier wines, the grapes are all hand-harvested later in the season when the sugar levels are really high.
---
The IGP's like Côte de Gascogne
These larger designated areas reflect a wide range of soils, grapes, climates and topography. More relaxed rules and regulations allow winemakers to experiment and go 'outside the box' when crafting their wines.
The top producing IGP, Côte de Gascogne , exports about 75% of its whites, reds and rosés. Geographically, it shares the same area as Armagnac.
 
A lil' History
The Romans were the first to bring viticulture to the area way back around the 1st century AD and they exported wine all over their empire. Earthenware wine vessels from the region have been found as far away as Scotland.
Part of Aquataine During the Middle Ages, this region, also known as Gascogne or Gascony, was part of Aquitaine and ruled by the English for over 300 years. They were big fans of the wines produced here and in neighboring Bordeaux and by the 13th century the area was really famous.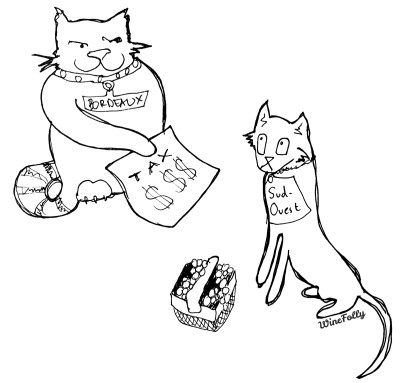 The main rivers that flow through Gascony – the Dordogne, Garonde and the Tarn – were used liked highways, shipping the wines from the South West to the larger port of Bordeaux where the barrels would be sent on to England, Holland, Germany and Russia.
Taxes from Bordeaux All was going swimmingly until Bordeaux started to look at its neighboring regions as 'the competition'. By the 13th-14th century, the Bordelais implemented all kinds of taxes and regulations to monopolize the wine market so that their wines would have to be sold first before those from other areas could be considered.
This protectionist attitude lasted until the French Revolution, but by then the wines of the Southwest were considered 'local' and when you added in the devastating effect on the vineyards from the Phylloxera epidemic in the mid 1800's, the damage was done!
Still in the shadow of their northern neighbor, the region has slowly regained its well deserved reputation.