A wine labeled Bordeaux Superieur AOP is a great place to start when exploring Bordeaux wine.
New Guide: Dive deeper into Bordeaux's Wines and Region with Wine Folly's new Bordeaux Region Guide.
Learn the Tricks to Getting Cheap Bordeaux
Not all Bordeaux wine is out of reach. The majority of Bordeaux wines sell for $15-$25 a bottle.
So, how do you find great cheap Bordeaux wine? Here are 4 simple tips that will hone your wine knowledge to help you find great Bordeaux for less.
1. Affordable Bordeaux Is Often Right Next Door
The Bordeaux region divides into 38 sub-regions with 57 different appellations. Expensive regions in Bordeaux are often right next door to cheaper areas. Why is that? The price variation is affected by regional micro-climates, i.e., the "terroir", but more importantly prices are out of whack because of the Cru Classification system. Take a gander at the most expensive regions in Bordeaux and learn about their neighboring appellations.
 
Region
High-Priced Region
Cheap Neighboring Bordeaux Wine Region
Médoc
Saint Julien, Saint-Estèphe, Margaux
Moulis

(aka Moulis-en-Médoc)

, Listrac, Haut-Médoc, Médoc
Pomerol
Pomerol
Lalande de Pomerol, Fronsac, Canon Fronsac
Saint Émilion
Saint Émilion
Côtes de Castillon, Lussac-St-Émilion, Puisseguin St-Émilion, St-Georges-St-Émilion
Sweet Wines
Sauternes, Barsac
Loupiac, Cadillac, Sainte-Crox-du-Mont, Cérons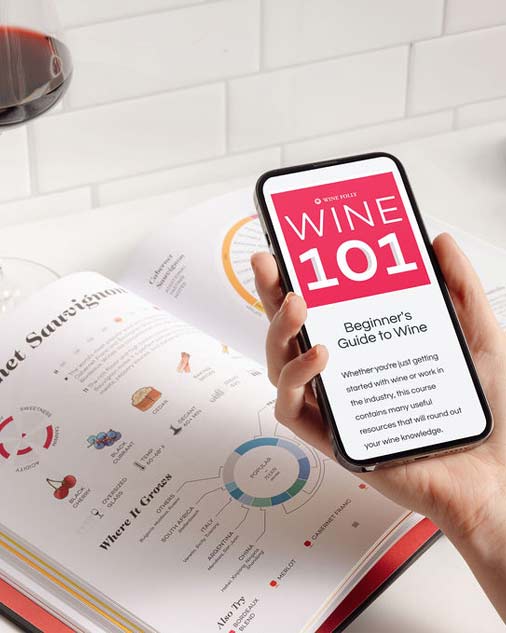 Buy the book, get a course.
Get the Wine 101 Course @ 75% OFF with the purchase of Wine Folly: Magnum Edition.
Shop Now
2. Seek Out Good Vintages When Buying Value Bottles
Vintage variation is a big deal in Bordeaux. There are many vintage charts on Bordeaux available. However, we decided to make one too for the sole purpose of picking cheap Bordeaux wines.
| Good Vintages for Cheap Bordeaux | Avoid Bad Vintages |
| --- | --- |
| 2010, 2009, 2008, 2005, 2003, 2000 | 2012, 2007, 2002, 1997, 1994 |
3. Discover Clues on the Wine Label
Reading in between the lines on Bordeaux wine labels is a skill that every wine expert learns through years of tasting/testing wines. Here are the tips that some wine buyers look for when picking out Bordeaux wines by the label alone.
The Difference Between Basic Bordeaux Appellations
What's the difference between Appellation Bordeaux-Superieur Controllée and Appellation Bordeaux Controllée? Bordeaux-Superieur AOP wines have a minimum of 10.5% ABV (versus 10%) and must age for a minimum of 12 months before release. The difference, although technically small, is a symbol of quality for many wines with the Bordeaux-Superieur AOP label.
Many producers, who classify their wines as Bordeaux-Superieur, age their wines much longer than the minimum.
Check the ABV
This is a bit of an odd hint, but it works. Look for a slightly higher ABV in cheap Bordeaux red wines. Unless there is something particular about the wine (i.e., it's a rose or a unique style of red Bordeaux), then a slightly higher alcohol level usually indicates higher quality grapes. 12.5% – 13.9% ABV is generally a good place to start.
"Mis En Bouteille au Château"
The literal translation is "Put in Bottle at Winery." This means that the Producer listed on the label is the one who made the wine. This handy little statement helps screen out poor quality negotiant-blended supermarket swill. Look for "Mis En Bouteille au Château" or "Mis En Bouteille a la Propriete"
4. Classifications Usually Make Wine Cost More
In addition to the different regions in Bordeaux, there are also several classification levels for producers. Suffice to say that Bordeaux classifications only exist to increase demand and cause prices to rise. Perhaps the best takeaway is to realize that the Bordelais use the word "Cru" rather unstintingly; the word means "growth" and not "the best". Saint-Emilion, Graves, and Médoc all have different classification systems. Médoc even has two!
[superquote]Suffice to say that Bordeaux classifications only exist to increase demand and cause prices to rise.[/superquote]
Heads up!
The Bordeaux Cru Classé of 1855 is a 5-tier selection of the 62 top Chateaus from 150+ years ago. Today wines labeled with "Grand Cru Classé" cost $45-$1,700.
Pay Attention!
Some wines are labeled "Grand Cru" but are unclassified.
Conclusion: Be Experimental
Drink affordable Bordeaux and experiment with lesser-known regions to find new favorites!