What is Bordeaux wine?
Bordeaux ("Bore-doe") refers to a wine from Bordeaux, France. Over 90% of Bordeaux wines are red wines made with Merlot and Cabernet Sauvignon. This article will introduce you to Bordeaux wine including tasting notes, food pairing suggestions, and key details to know.
The first Cabernet Sauvignon and Merlot vines originated in Bordeaux.
New Guide: Dive deeper into Bordeaux's Wines and Region with Wine Folly's new Bordeaux Region Guide.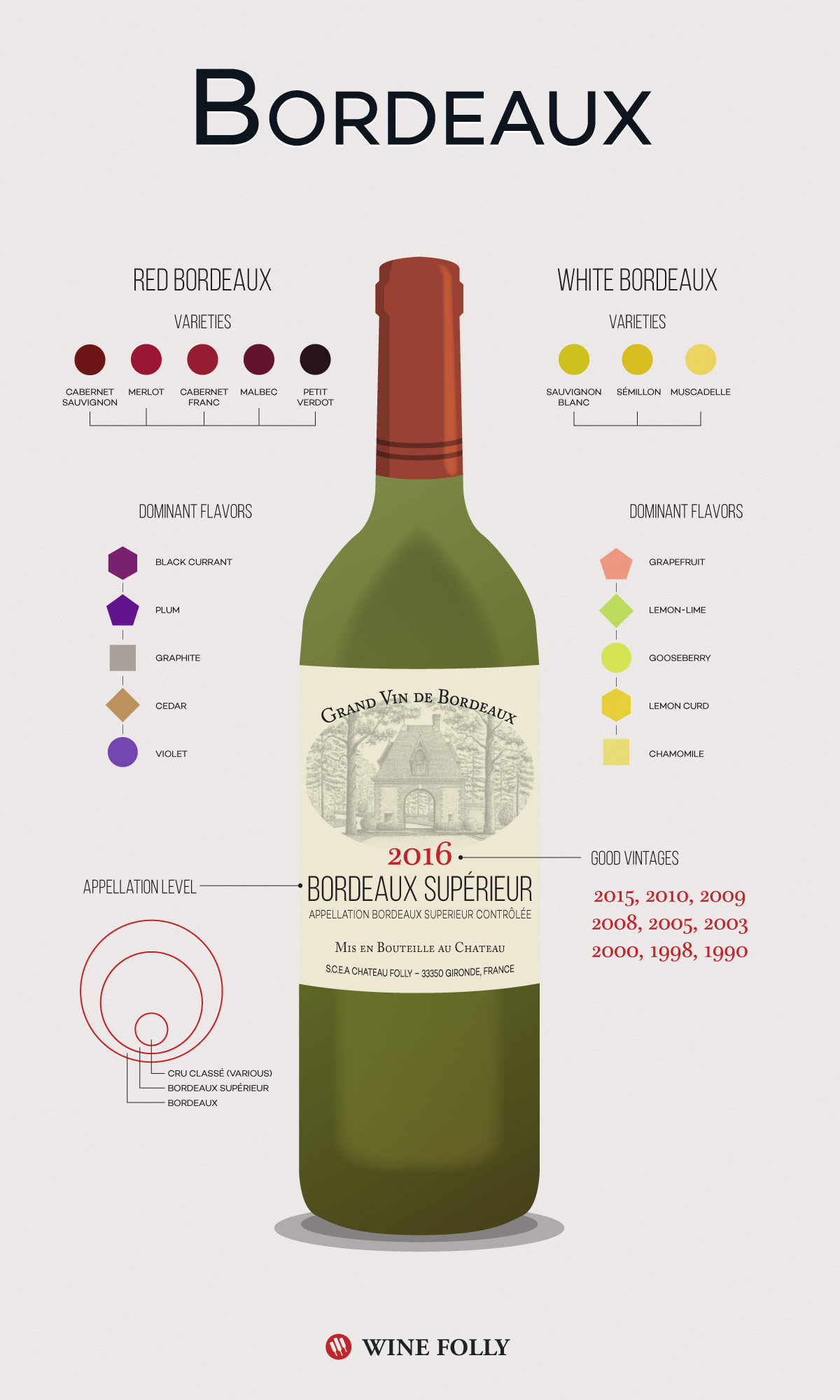 Bordeaux Tasting Notes
Red Bordeaux Primary Flavors: Black Currant, Plum, Graphite, Cedar, Violet
Red wines from Bordeaux are medium- to full-bodied with aromas of black currant, plums, and earthy notes of wet gravel or pencil lead. When you taste the wines, they burst with mineral and fruit notes that lead into prickly, savory, mouth-drying tannins. The tannins are often high enough that wines will age for several decades.
Depending on the quality, vintage, and what region within Bordeaux the wine is from, fruit flavors range from more tart fruit to sweeter ripe fruit. Vintage variation is definitely something to watch for from this area.
Speaking of vintages, one of the secrets to finding great value Bordeaux has a lot to do with vintages. The affordable wines offer outstanding value on a good vintage and will age for years and years!
By the way, great vintages seem to come along about 1–2 times every 5 years. (e.g. 2015, 2014, 2010…)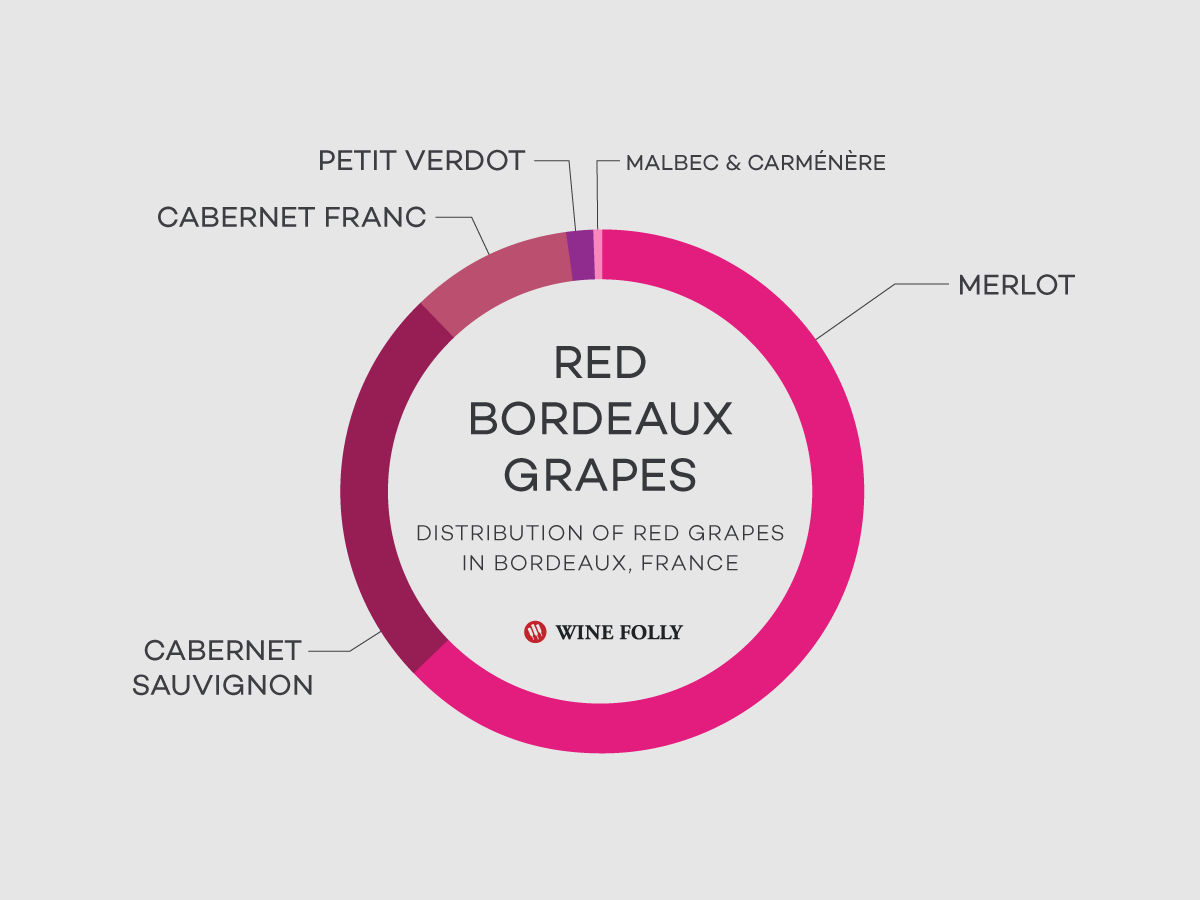 The Bordeaux Blend
One of the most important things to know about Bordeaux wines is that they are a blend of grape varieties. The red Bordeaux Blend is one of the most copied around the world and it includes Cabernet Sauvignon, Merlot, Cabernet Franc, Petit Verdot and Malbec (with tiny amount of Carménère).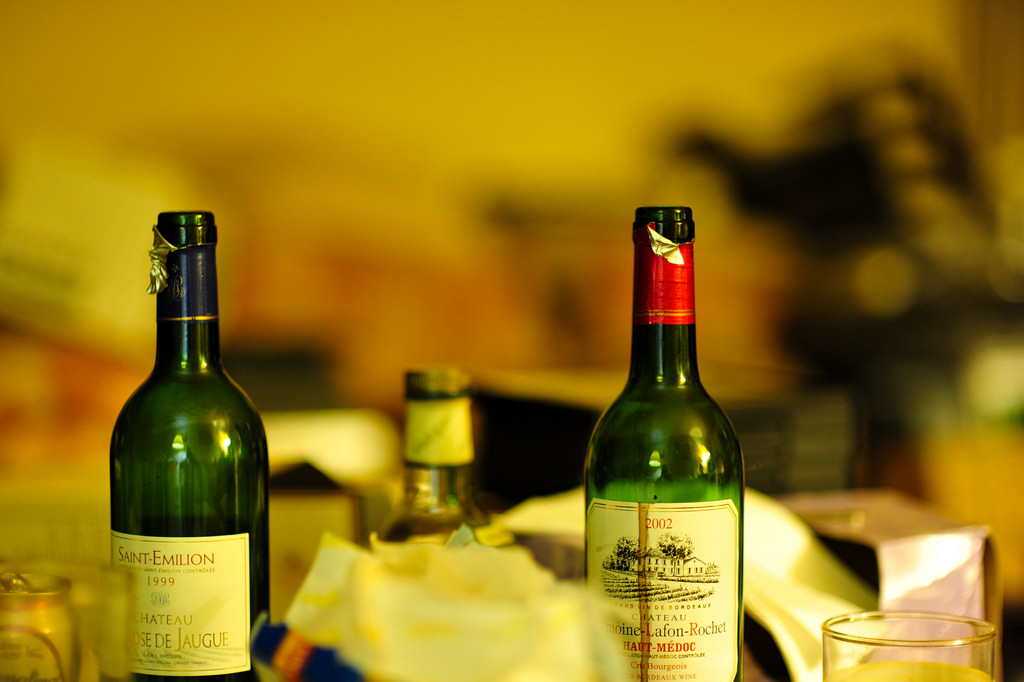 Bordeaux wines taste best after they've opened up (e.g. been decanted). By Eddy Welker
How To Serve Bordeaux
With their beautiful labels and green glass, Bordeaux bottles have an elegant look on the table. Here's what to know about serving this wine:
Serve Red Bordeaux slightly below room temperature (around 65 °F / 18 °C).
Decant red Bordeaux for at least 30 minutes.
Store all your red wines below 65 °F / 18 °C.
Expect to spend around $25–$30 for a great bottle of Red Bordeaux.
Pairing Food with Bordeaux Wine
Steak frites (steak and duck fat fries) might just be the perfect complement to red Bordeaux. The boldness of Bordeaux compliments the umami in the meat and the wine's grippy tannins are smoothed out by the dish's fat content. In fact, Bordeaux wine will taste sweet and fruity against this rich meaty backdrop. The steak frites example shows us that when pairing foods with Bordeaux, you'll want to seek out foods with a.) plenty of umami and b.) enough fat to counteract tannin. Beyond this, you can get creative with your pairings. Here are some examples:
Examples
Meat

Black Pepper Steak, Roast Pork, Filet Mignon, Beef Brisket, Buffalo Burgers, Chicken Liver, Pot Roast, Venison, Duck, Goose, Dark Meat Turkey

Cheese

Ossau Iraty, Basque Cheeses, Manchego, Swiss Cheese, Comté, White Cheddar, Provolone, Pepper Jack

Herb/Spice

Black Pepper, White Pepper, Oregano, Rosemary, Mustard Seed, Cumin, Coriander Seed, Anise

Vegetable

Roast Potatoes, Lentils, Mushrooms, Onion, Green Onion, Green Bean Casserole, Chestnut
The Bordeaux Wine Region
Médoc and Graves aka "Left Bank"
This area is known for its gravelly soils and graphite-driven red wines with a dominance of Cabernet Sauvignon in the blend. The most prestigious sub-regions in the Médoc include Pauillac, Saint-Julien, Saint–Estephe, Margaux and Pessac-Leognan (the areas first classified in 1855). The wines from Médoc are some of the boldest and most tannic of Bordeaux, perfect for aging or matching with red meat. Here is a typical example of a left bank Bordeaux blend in order of proportion:
Left Bank Bordeaux Blend
Cabernet Sauvignon
Merlot
Cabernet Franc
Malbec
Petit Verdot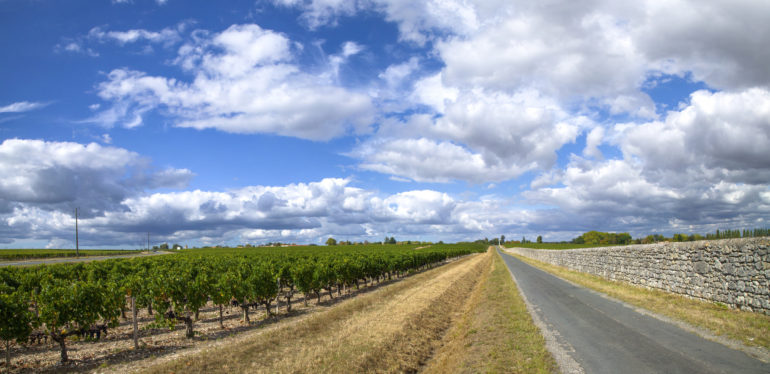 Libournais aka "Right Bank"
This area in Bordeaux is known for its red clay soils that produce bold plummy red wines with a dominance of Merlot. The most well-known and sought after sub-regions including Pomerol and Saint-Emilion. The wines from around Libourne are still moderately bold, but generally have softer, more refined tannins. For this reason, right bank wines are a great way to get introduced to the region. Here is a typical example of a Libournais Bordeaux blend in order of importance:
Right Bank Bordeaux Blend
Merlot
Cabernet Franc
Cabernet Sauvignon
Cru Classifications of Bordeaux
There are several classifications of Bordeaux wines across the region. Several are worth investigating to identify great regional producers.
Entre-Deux-Mers "Between 2 Tides"
The area between the 2 major rivers of Bordeaux (the Garonne and Dordogne rivers) is called Entre-Deux-Mers. This area produces both red (predominantly Merlot) and white wines but is perhaps more well-known for its white wines (a blend of Sauvignon Blanc, Sémillon and the rare Muscadelle). Wines have grapefruit and citrus notes with zippy acidity–a perfect wine for summer and fish.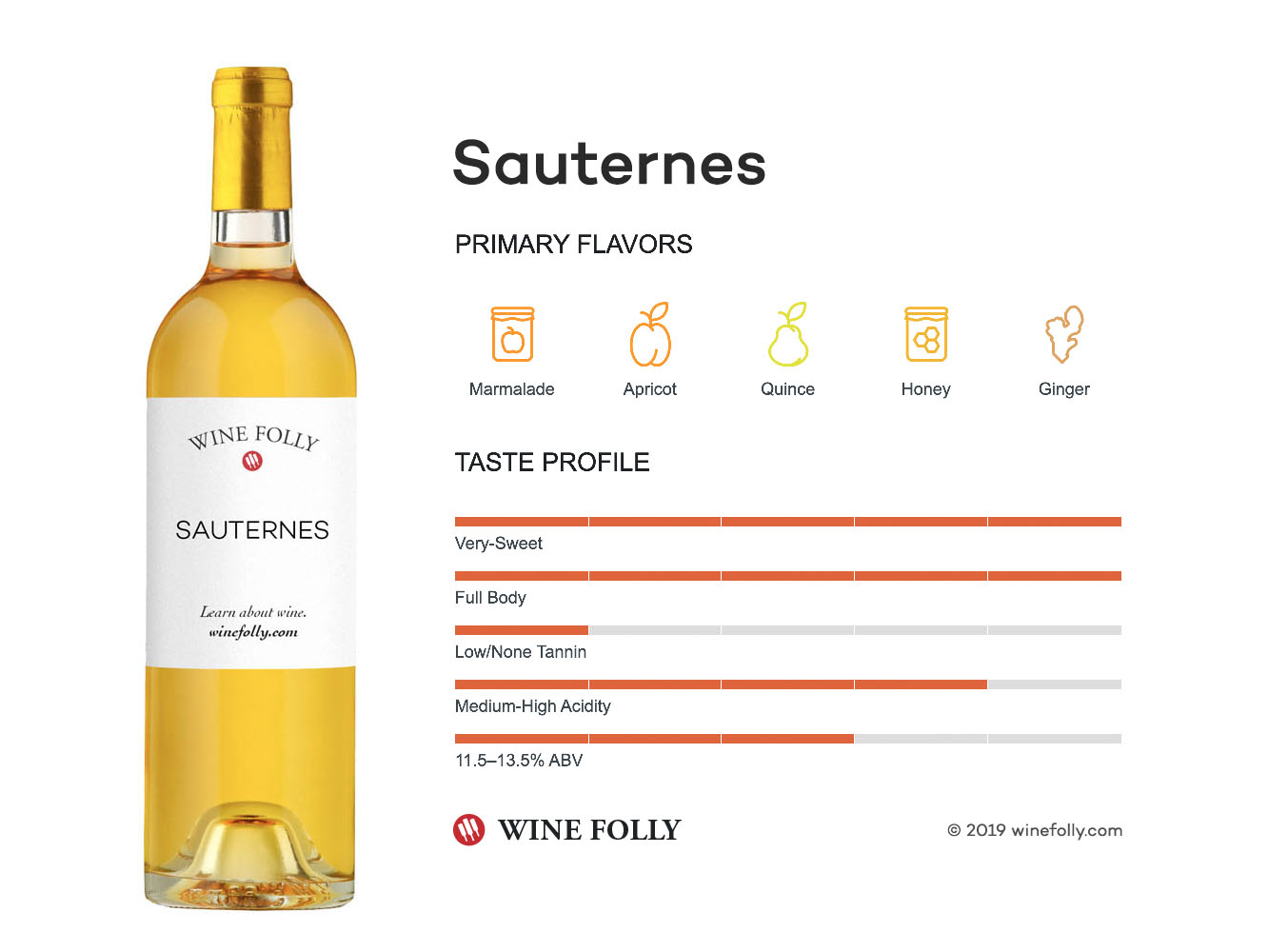 Sauternais Sweet Wines
Sauternes and its surrounding regions of Barsac, Cadillac, etc are along a particularly dank portion of the Garonne River. Morning fog causes the white grapes growing in the area to develop a certain type of fungus called Botrytis. The fungus causes the grapes to shrivel and sweeten making one of the sweetest white wines in the world.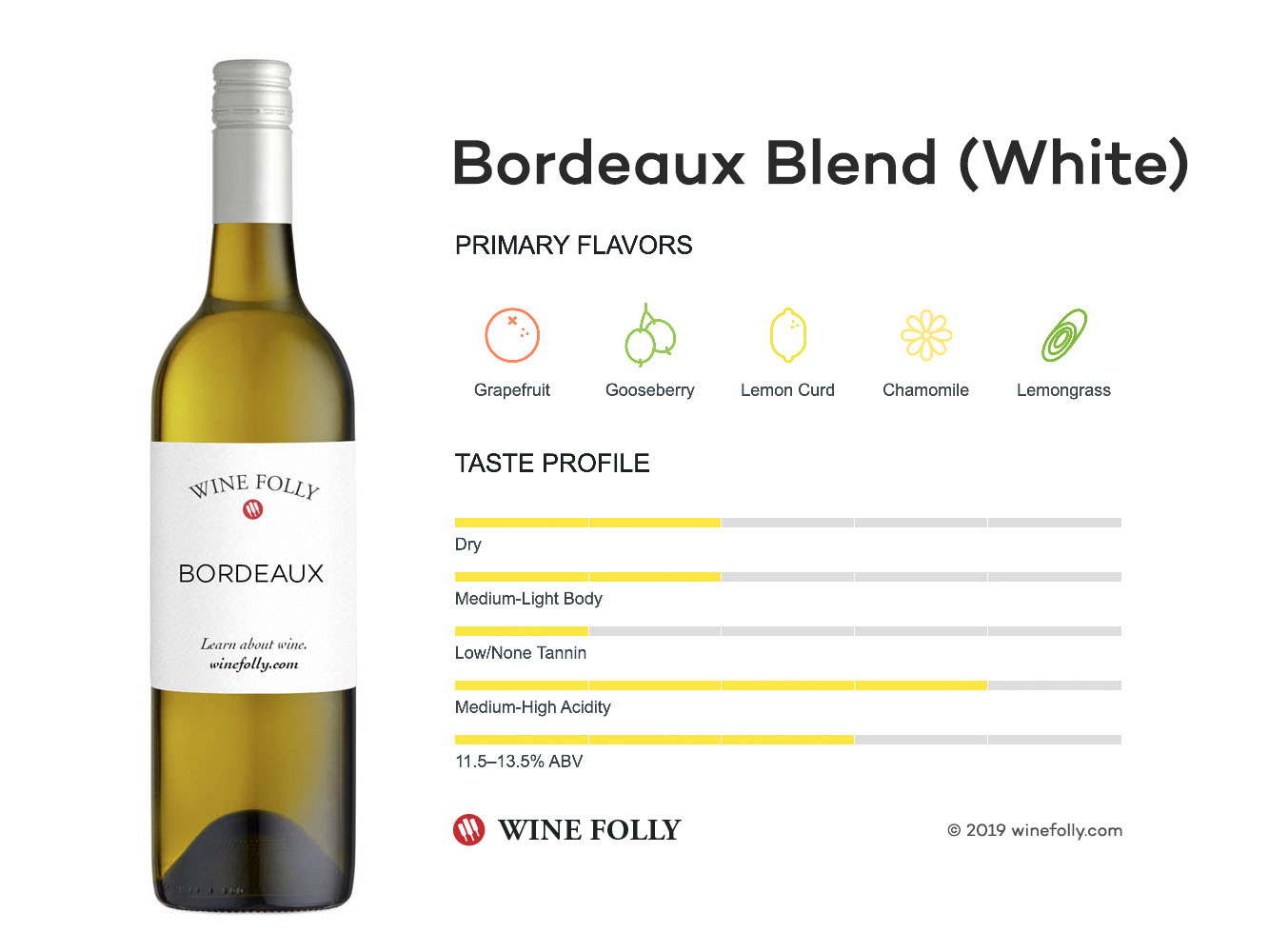 White Bordeaux
A tiny part of Bordeaux's wine production is dedicated to white wines. These wines are made with Sauvignon Blanc and Sémillon and range to zippy and fresh from places like Entre-Deux-Mers to creamy and lemon curd-like from places like Pessac-Leognan. Read more about Bordeaux Blanc.
A lil' History
The Bordeaux region was first loved for its sweet white wines from the sub-region of Sauternes. The wine had prestigious clientele including Thomas Jefferson during an era when sweet white wines were more popular than dry red wines. There was also a rosé popular in the 1700's, particularly with the English, who called it "claret" ("klair-ette") due to the wines translucent red color. It wasn't until the mid 1800's that Bordeaux red wines became more well known from the region. The dramatic moment of this transformation was an official decree that classified the top producers of the day. The classification, now deemed "1855 Classification" identified the best producers in the region and ranked them 1 through 5. The classification hasn't changed (except for one adjustment) even though there are many more producers in the region making outstanding wines. Fortunately, if you know the regions of Bordeaux, you can find great wines without needing to buy according to the Cru Classification.
Last Word
For those of us who love red blends, Bordeaux is a region that was a source of inspiration to many of today's most popular wines. Hopefully, you've been inspired to pick up a bottle or two to taste what Cabernet Sauvignon and Merlot taste like from their homeland–they're quite unique!
---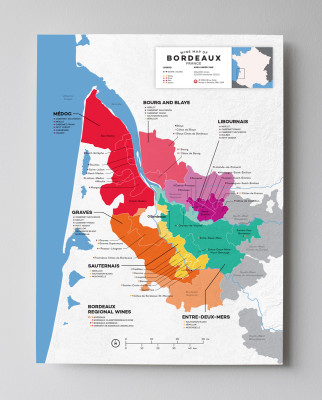 Get The Map
This detailed map of Bordeaux's wine appellations and major varieties is 12×16 and printed on spill and tear resistant paper. Designed by us and made in Seattle, WA.