When it comes to French sparklers, Champagne gets all of the attention. But anyone who's looking for sparkling wine that's just as lovingly crafted can find it all over France in the form of Crémant.
And while Crémant is often largely known for being a more affordable alternative to its expensive cousin, its many styles and specialties truly deserve adulation that has more to do with flavor, and less to do with value.
What is the Tasting Challenge? The challenge is a way to improve your wine palate each week with 34 wines from 12 countries — The Wine Tasting Challenge.
So what the heck's Crémant? The short answer is a mostly French (Luxembourg makes it too) sparkling wine made with the traditional method that isn't Champagne. The longer answer involves various regions, grapes, and the traditions of countless winemakers that don't happen to own land in the Champagne region.
So, while it may be similar to those expensive bubblies you know by heart, Crémant's got it's own thing going on.
And in the spirit of proving that, we went with a bottle from the Loire. And while the Loire Valley might be best known for its Sauvignon Blanc, you won't find a drop of that grape used in their Crémant.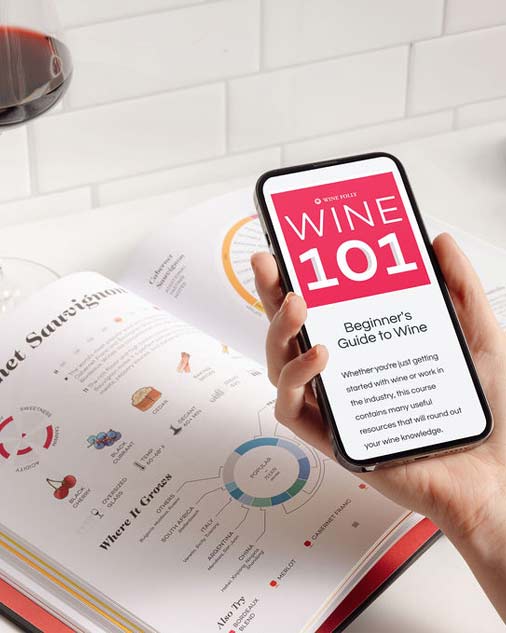 Buy the book, get a course.
Get the Wine 101 Course @ 75% OFF with the purchase of Wine Folly: Magnum Edition.
Shop Now
What will you find instead? Chenin Blanc and a number of other grapes, including Cabernet Franc and Pinot Noir.
However, the bottle we went with eschews the Pinot for another grape familiar to Champagne fanatics: the fuller-bodied Chardonnay.
---
Langlois-Chateau Cremant de Loire Brut
Look: Pale gold.
Aromas: A big whiff of buttered biscuit to start, followed by apple, grapefruit, pear, and toasted almond.
On The Palate: Love those smooth bubbles! Notes of bitter almond, yellow apple (including the peel), and a fuzzy, wooliness on the finish.
Food Pairing: This would be ideal with all kinds of seafood and shellfish, but oysters jumped into my brain immediately.
---
What we learned about Crémant de Loire
Anyone who took part in the Bordeaux week of this challenge should know that the French take their regions and AOCs very seriously, and Crémant de Loire is no different.
In order to receive this designation, specific grapes must be hand harvested. Those permitted grapes include:
Chenin Blanc
Chardonnay
Cabernet Franc
Cabernet Sauvignon
Orbois
Grolleau Gris & Noir
Pinot Noir
Pineau d'Aunis
Plus, the wine must be fermented in the bottle for no less than a year. Sitting on the lees that long would be the culprit of that buttered biscuit aroma we picked up.
The Chenin Blanc brings a body and flavor that is distinctly different from other sparklers.
And when you consider that 9 different grapes are commonly used for Crémant de Loire (as opposed to Champagne's 3), there's plenty of variety to be found from one winemaker to the next. And that's just the one region of Crémant that we're talking about!
---
Last Impressions
Maybe the most interesting part of investigating French Crémant is that it really could be a challenge all on its own. From Alsace to Luxembourg, this collection of traditional sparklers covers a wide swathe of grapes, aromas, and flavors.
We might need to do the 9 Crémants in 9 Weeks challenge next. Who'd be up for that? The only correct answer is all of you.
---
Has your mouth been watering while we talk about Crémant, but you're looking for more info before you lighten your wallet on a bottle? → Learn All About Crémant!