You might have seen the words "sur lie" on a bottle of Loire white wine. Sur lie translates to "on the lees," but what exactly are wine lees, and what do they do?
What are wine lees?
Lees are leftover yeast particles from autolysis, which is the self-destruction of yeast cells by enzymes created from fermentation. As strange as this may seem, lees are used in white and sparkling wines to add beneficial textures and flavors.

Lees are tan-colored dead yeast particles that collect at the bottom of a fermentation vessel.
What do lees do?
As the yeast cells start to break down during the process of autolysis, they release tiny amounts of sugars (called polysaccharides) and amino acids. The presence of these compounds is sensed on our tongues and palates as a textural weightiness or increased body in the wine. White and sparkling wines aged on the lees are often described as creamier, richer, fuller-bodied, or with greater depth and complexity of flavor.
What do lees taste like?
Besides the added textural creaminess, the release of fatty acids (which come from the breakdown of the yeast cell wall) adds to the aromas/flavors in a wine.
Sparkling Wines: Traditional method sparkling wines that are aged for extended periods on the lees will have increased flavors of toast, bread-like aroma, cheese or buttermilk-like aroma, and floral elderflower-like aromas and sometimes sweet, nutty aromas.
White Wines: Still white wines will also have increased yeast-like flavors similar to sparkling wines. Additionally, lees aging in oak barrels will extract additional aroma compounds from the wood, including sweet, caramel-like notes, smoke-like flavors, clove flavors, and umami or meaty flavors vanilla.
How long are wines aged on lees?
Depending on the wine, lees aging can occur for as little as 3–4 months or as long as several years! Some producers of white wines may also stir the lees (called bâtonnage "bat-on-naj" in French) to increase the lee contact's surface area and thus the extraction. Here are a few examples of white wines commonly aged on lees: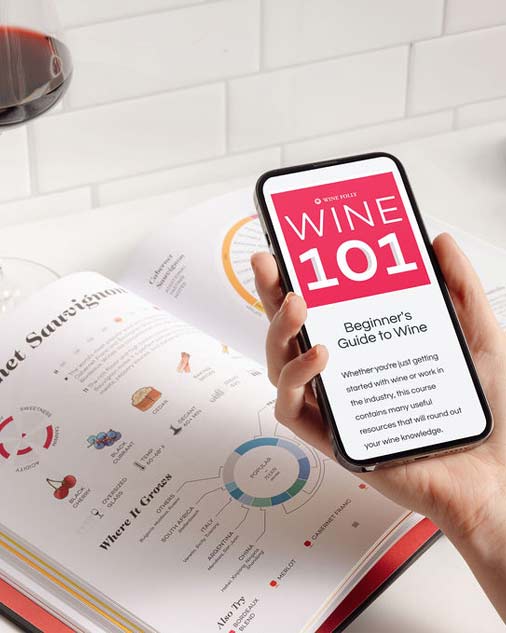 Buy the book, get a course.
Get the Wine 101 Course @ 75% OFF with the purchase of Wine Folly: Magnum Edition.
Shop Now
Albariño
Granbazán "Etiqueta Ámbar" W-S
Region: Val do Salnés, Rías Baixas, Spain
Aged on the lees for 5 months. This fruity Albariño offers up white peach, mandarin orange, and honeydew melon flavors, with a rich mid-palate texture and long tingly lean, mineral-driven finish.

---
Muscadet Sèvre et Maine
Chéreau Carré "Château de Chasseloir" W-S
Region: Saint-Fiacre-sur-Maine, Muscadet Sèvre et Maine, Loire Valley, France
Aged on the lees for 6–9 months with bâtonnage. This lean, herbaceous Muscadet offers flavors of citrus pith, young peach, with an oily mid-palate and a long tingly saline finish.

---
Chardonnay
Jean-Claude Boisset "Les Ursulines" W-S
Region: Bourgogne Blanc, Bourgogne, France
Aged on the lees for 15 months with no bâtonnage. A richer style of Bourgogne AOC with ripe starfruit, lime, and apple flavors with a round mid-palate and light citrusy finish.

---
Vintage Champagne
Champagne Deutz Rosé Vintage 2009 W-S
Region:Ay, Cotes des Blancs, and Montagne de Reims in Champagne, France
Aged on the lees for 60 months (5 years) in the bottle. This rosé Champagne offers red currant, raspberry, and strawberry fruit flavors that are accented with secondary flavors of toast, ginger, and lemon curd with delicate creamy bubbles that finish on a smoky note.