If there is French wine that everyone deserves to taste, it's probably Châteauneuf-du-Pape. It's like the gateway drug to French wine.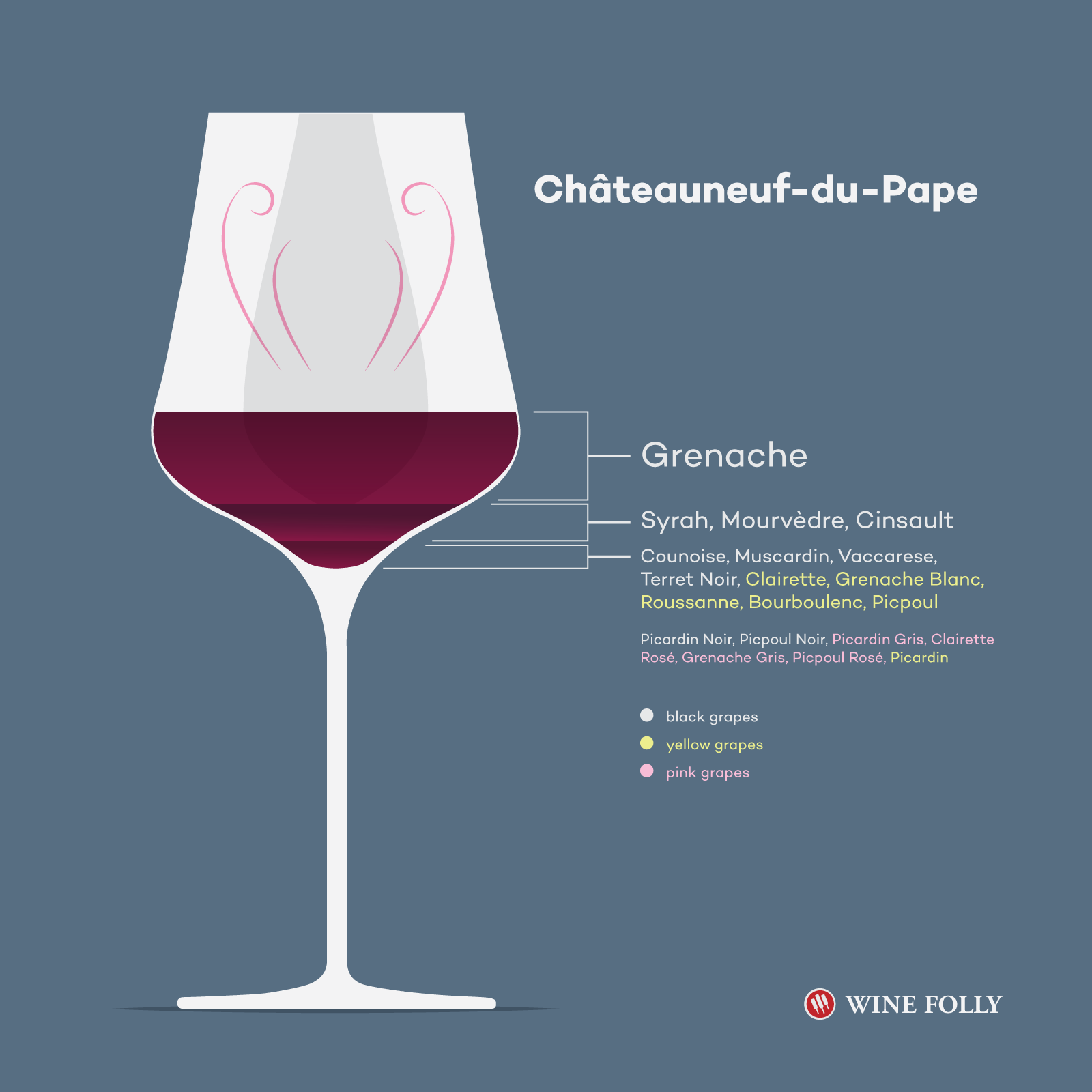 Pronunciation: "shat-toe-nouf due pap"
What Type of Wine is Châteauneuf-du-Pape?
Châteauneuf-du-Pape is a French wine appellation known for its bold Grenache-based red blends. Officially, the region makes both red and white wines with up to 13 different grapes. (Unofficially, there are 20 varieties used in the region!).
Let's dig into the details of this historic wine and find out why Châteauneuf-du-Pape is the Southern Rhône's most exclusive appellation.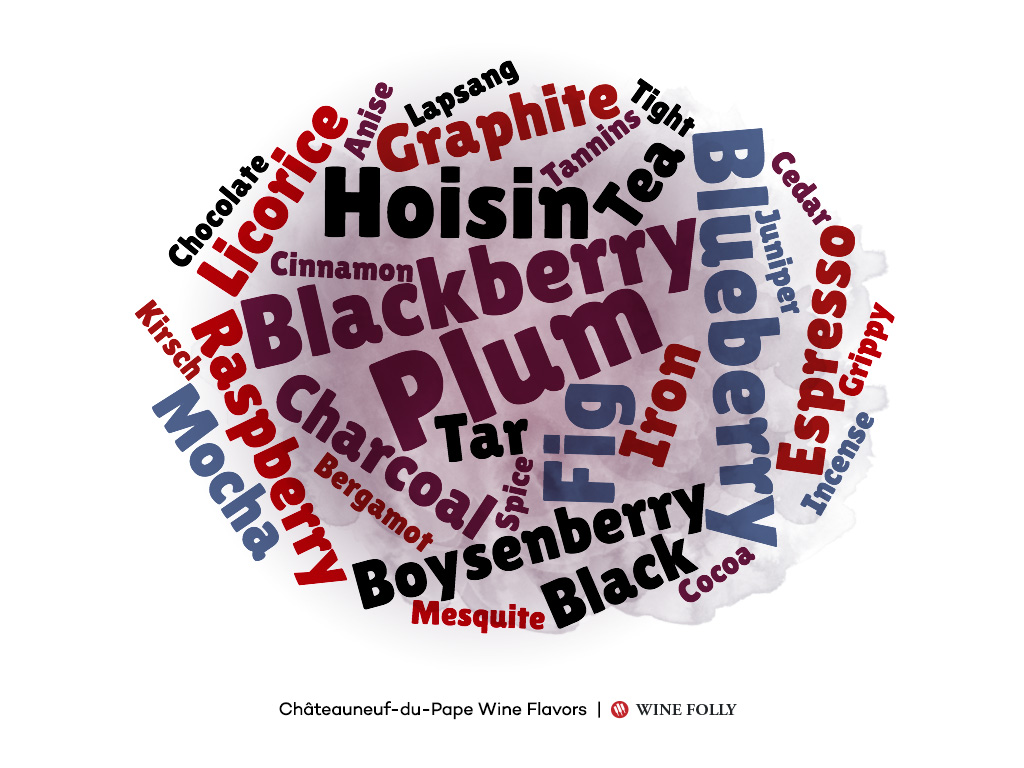 Tasting Châteauneuf-du-Pape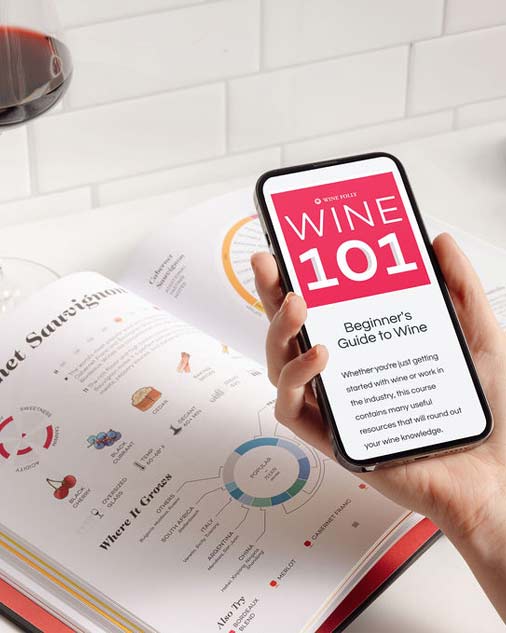 Buy the book, get a course.
Get the Wine 101 Course @ 75% OFF with the purchase of Wine Folly: Magnum Edition.
Shop Now
A great bottle of Châteauneuf-du-Pape Rouge bursts with rich raspberry and plummy fruit flavors. As it evolves, you'll taste notes of dusted leather, game, and herbs. The Francophiles – and the actual French – call this herbal play "garrigue," after the region's scrubland of sage, rosemary, and lavender.
As if that wasn't enough, CdP Rouge often finishes on a sweet-strawberry tingle that glows in the back of your throat from elevated alcohol. The finish ranges from sweet to savory, depending on the vintage.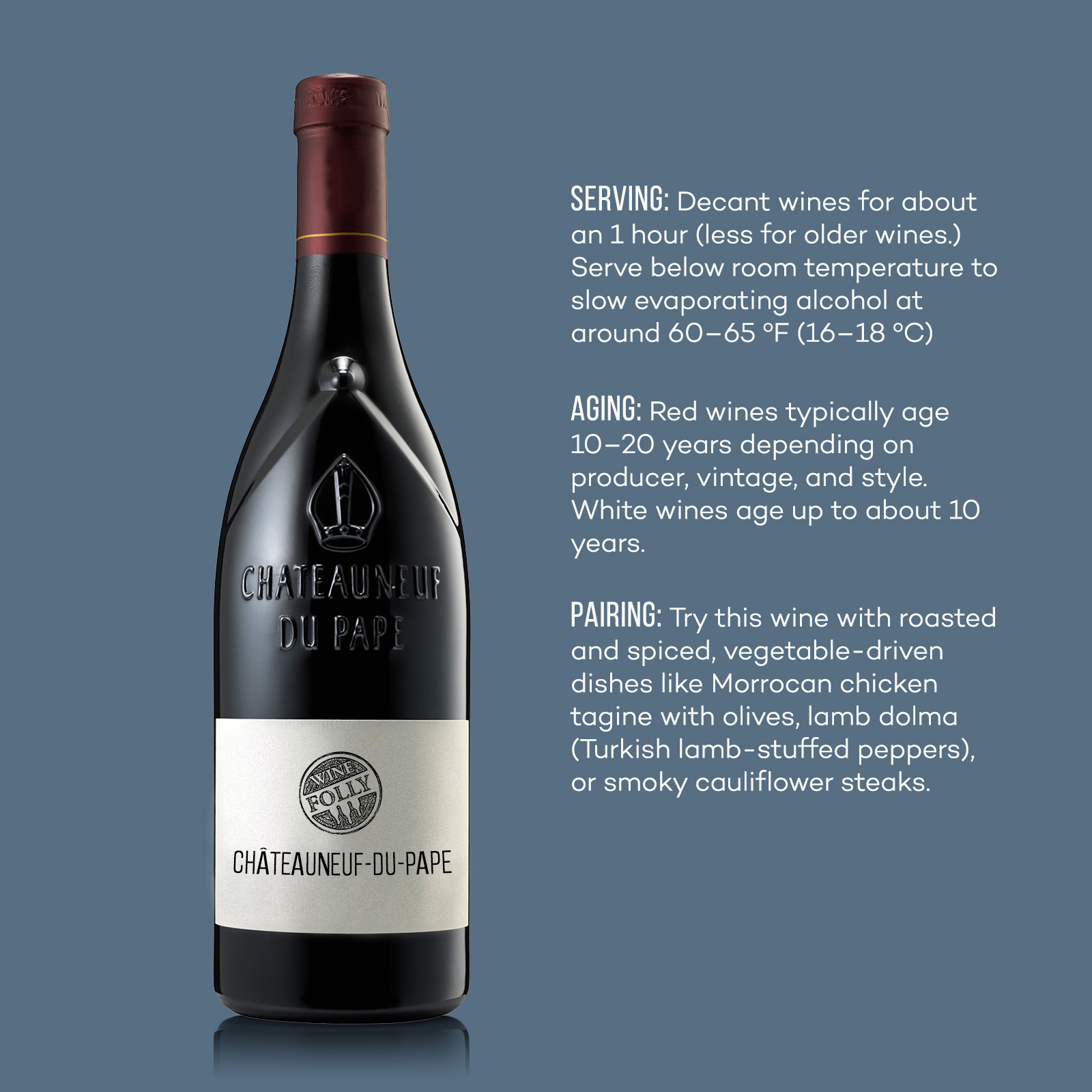 Serving Châteauneuf-du-Pape Rouge
Serving: Decant wines for about one hour, and less for older wines. Serve cool, below room temperature to slow evaporating alcohol at around 60–65 ºF / 16–18 ºC.
Aging: Red wines typically age 10–20 years, depending on producer, vintage, and style. White wines age up to about 10 years.
Food Pairing: Try this wine with roasted and spiced vegetable-driven dishes like Morrocan chicken tagine with olives, lamb dolma (Turkish lamb-stuffed peppers), or smoky cauliflower steaks.
Châteauneuf-du-Pape Vintage Chart
2011 Exceptional, high yield vintage. Concentrated, dense, fruity wines.
2012 Good. Average yields and late season rains caused some more bitter tannins. Still, increased acid levels suggest age-ability.
2013 Okay. Reduced yields from cooler temperatures throughout the season. Look for quality producers; these will age.
2014 Okay. This was a tricky vintage that required a lot of work in the vineyards. Look for quality producers; these should age.
2015 Good. This was a bombastic fruity vintage. Less herbal and bitter tannins overall. Great drinking wines.
2016 Exceptional. Happy grapes, good wines.
2017 Good. Smallest vintage in 40 years (only 9.6 million bottles). Extremely difficult harvest due to drought.
2018 Good. A rainy, cooler year.
2019 Good. This was a big fat generous year. Expect ripe fruit notes and lower acidity in white wines.
What About the Blanc?
Châteauneuf-du-Pape Blanc is harder to find because only about 7% of the region's vineyards are white grapes. Still, you'll find many producers make small amounts that are usually a blend of the region's white grapes, most notably, Grenache Blanc, Clairette, and Roussanne.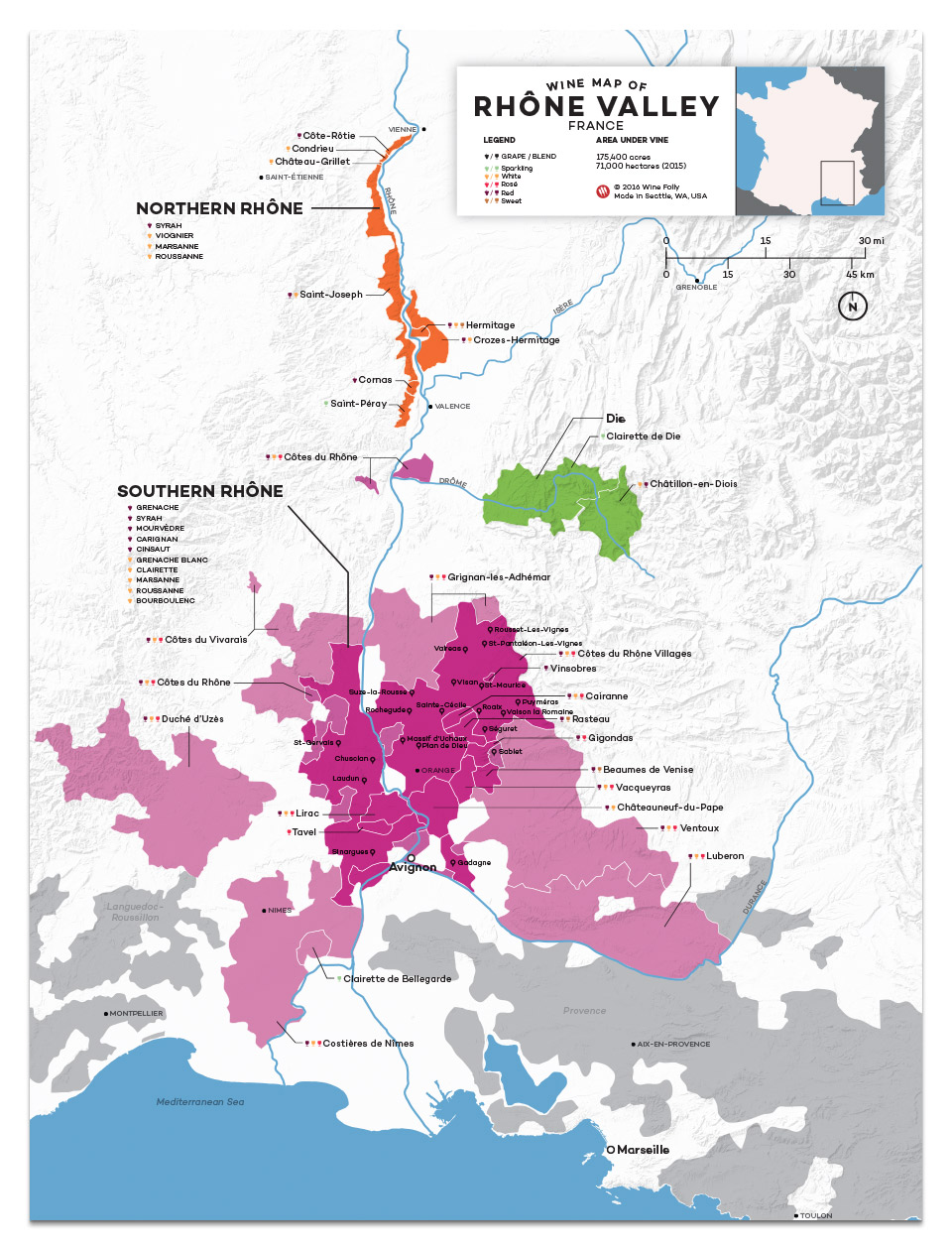 Where is This Place?
Châteauneuf-du-Pape sits towards the bottom of the Rhône Valley, close to the border of Provence. The name means "pope's new castle," and refers to a time when the seat of the Roman Catholic Church was in Avignon (between 1309–1377). The region has written records of vineyards dating back to 11–, but winemaking has been here longer than that!
Châteauneuf-du-Pape is one of 19 official crus or "growths" of the Côtes du Rhône wine region. If you didn't already know, these 19 crus represent Côtes du Rhône's top wine-growing zones.
Châteauneuf-du-Pape is considered –by most– to be the benchmark of the Southern Rhône.
Châteauneuf-du-Pape Wine Facts
Châteauneuf-du-Pape was the very first French wine appellation; created in 1936.
There are 320 wine growers in Châteauneuf-du-Pape's syndicate of vignerons.
There are 7,746 acres of vineyards (3134 hectares) in the region, which produce an average 14 million bottles each year.
Nearly 75% of the vineyards are dedicated to Grenache (aka Garnacha).
Almost 30% of the wineries are organically certified by the EU.
Châteauneuf-du-Pape is made up of five communes: Châteauneuf-du-Pape, Courhézon, Orange, Bédarrides, and Sorgues (ordered from largest to smallest).
---
Going There?
Vinadea Maison des Vins de Châteauneuf-du-Pape
If you get the chance to visit Châteauneuf-du-Pape, the fastest way to see most of the region's wines is through the appellation's wine shop, Vinadea.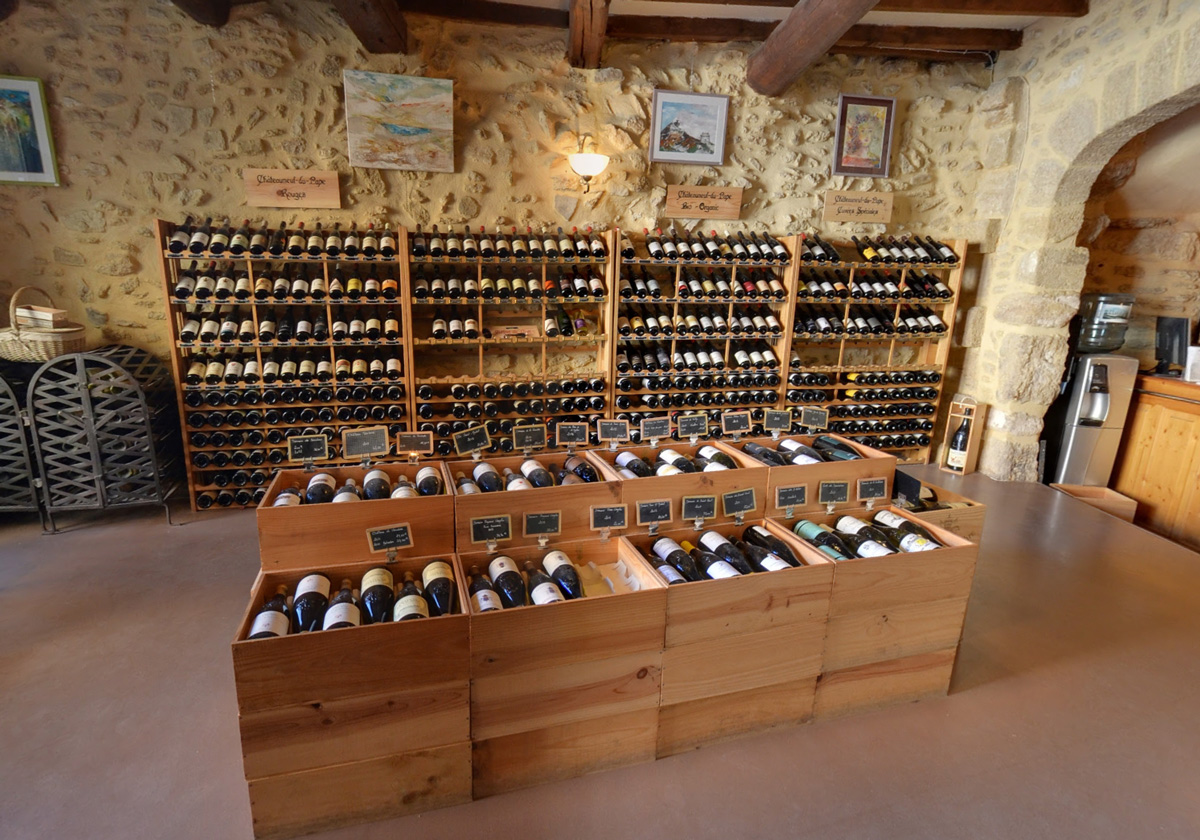 While it's not a free-for-all tasting shop, there are often tastings available. The staff is extremely knowledgeable regarding the region and can help you plan your winery stops or ship wines back home for you.
---
Châteauneuf-du-Pape Wineries to Know
With over 200 to choose from, you can bet there are many great wines to explore from Châteauneuf-du-Pape. That being said, here's a snapshot of 9 top-rated estates and their stories.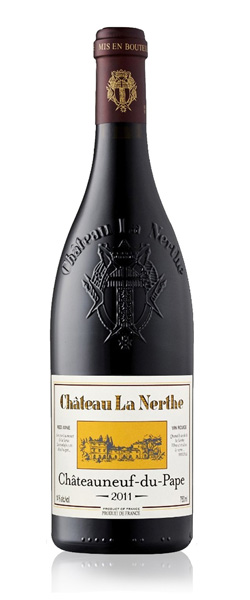 Château La Nerthe
This is one of the older wineries in Châteauneuf-du-Pape with records that date back to 1570 and a winery built in 1736. Though La Nerthe has had a rocky history, things changed in 1986 when it was sold to the Richard family and partnered with Burgundy negotiant duo, Tony David & Léon Foillard.
After the sale, quality improved greatly and the estate expanded its vineyard holdings to become one of the largest in Châteauneuf-du-Pape with 550 acres (222 hectares) – organically farmed starting in 1998.
---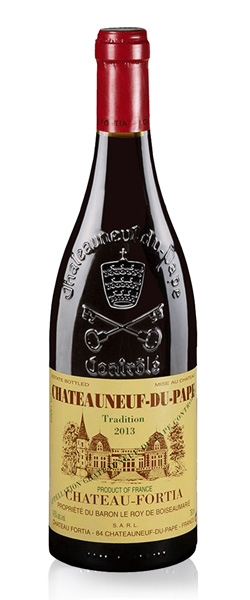 Château Fortia
After World War I, fighter pilot Baron Le Roy returned to find his wife's family winery struggling with wine provenance issues. The problem plagued not just Château Fortia, but the entire Châteauneuf-du-Pape region.
So in 1923, Le Roy started work on a proposal (along with Joseph Capus) for a French wine appellation system which eventually became adopted into law in 1936. France's appellation system (INAO) has served as a model for quality regulations throughout the world.
---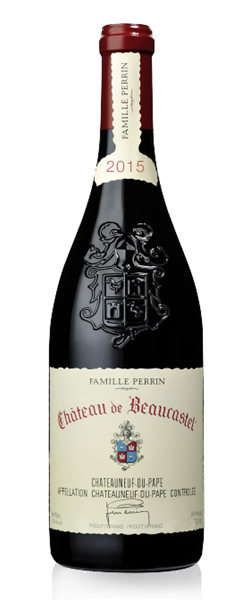 Château de Beaucastel
This estate is owned by Famille Perrin and has a historical land-purchase record dating back to 1549. In 1980, Château de Beaucastel partnered with Tablas Creek Winery in Paso Robles to send cuttings of CdP vines to the United States. Tablas Creek went on to set up a nursery, sharing their vines with the rest of the United States.
It was through this estate's generosity that we now have the unique Châteauneuf-du-Pape grape varieties spread throughout the world.
---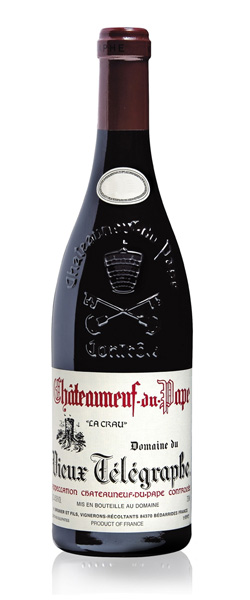 Domaine du Vieux Télégraphe
A vineyard estate that has managed to stay family owned (by the Brunier family) since 1898 – in the midst of the wine phylloxera epidemic. Vieux Télégraphe is positioned on an elevated plateau called "Le Crau," which is famous for its deposits of large rounded, river stones (aka "galets roulés"). To many, the vineyards on the La Crau plateau represent the top wines from Châteauneuf-du-Pape.
The assemblage (wine blend) is typically 90% Grenache with a splash of Mourvèdre, that's partially destemmed and aged in concrete tanks and large wooden foudres. Wines are unfined and unfiltered and are known to age for 25 or more years.
---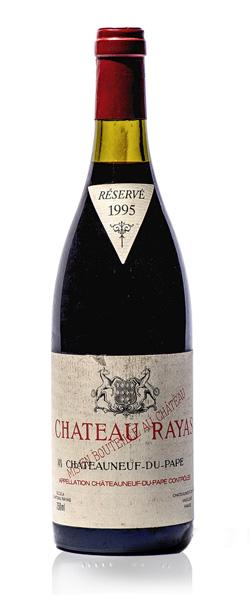 Château Rayas
This is a single climat (vineyard area) of 32 acres (13 hectares) that was purchased by Albert Reynaud in 1880 and originally used as a polyculture farm of grapes, olives, and apricots. The vineyards barely survived the phylloxera epidemic and were slowly revitalized by Albert's son, Louis. Then in 1920, Château Rayas released their first wine! Louis Reynaud was successful with wines and eventually purchased two other estates, Château des Tours in Vacqueyras (in 1935) and Château Fonsalette (in 1945). He passed the estate to his youngest son, Jacques.
Château Rayas has long been a darling of American wine critics, thanks to the work of the current owner, Emmanuel Reynaud (a nephew of Jacques). The flagship wine is usually 100% Grenache and grows on sandy clay soils with no galets roulés (rounded stones). It is made in a traditional fashion in concrete tanks and aged in old 60 hectoliter foudres (that's 1585 gallons – the size of 3 large hot tubs!).
---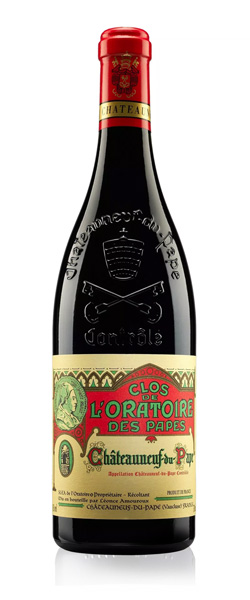 Ogier Clos de l'Oratoire des Papes
This internationally popular Châteauneuf-du-Pape estate is not to be confused with Clos de l'Oratoire, a Merlot-based wine from Saint-Emilion! The winery was purchased in 2000 by an old Châteauneuf-du-Pape negociant, Ogier, which is part of a larger wine group, Vignobles Jeanjean.
The new owners preserved the original 1926 label design and trusted their wine director, Didier Couturier, to improve the wine. These 62 acres (25 hectares) of vineyards include all three of Châteauneuf-du-Pape's soil types including galets roulés (rounded stones over sandy-clay), safres (sandy soils), and eclats calcaires (limestone-based clays). Ogier converted to organic farming in 2006 and uses a horse-drawn plow.
Grapes for Clos de l'Oratoire des Papes are fully destemmed to increase lush flavors, and wines age in large, used oak barrels. The blend is typically about 80% Grenache (from sandy soils – so more aromatic) and blended with about 10% Syrah, 5% Mourvèdre, and 5% Cinsault.
---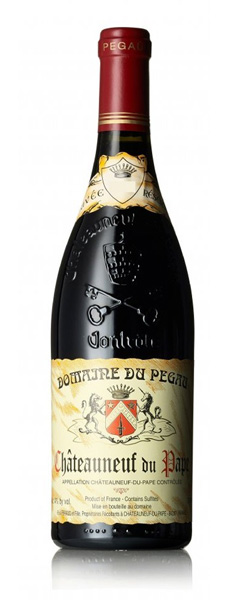 Domaine du Pegau
The Féraud family has a long history in the region as farmers since 1670. The first property titles in Châteauneuf-du-Pape date back to 1733 and were said to be planted to cherries, olives, and grapes. Even though the family produced grapes for generations, Domaine du Pegau did not exist until 1987, when Laurence Féraud approached her father about making a winery.
The name "Pegau" comes from the antique terracotta jars that were once used to store wine in the region. In Châteauneuf-du-Pape, Domaine du Pegau has 52 acres (21 hectares) of vineyards. (Forty-eight acres of red grapes and three acres of white grapes).
The winery struggled and sold most of its early vintages to make ends meet. Then in 1992, Domaine du Pegau finally broke through after being ranked in the top three for quality in Châteauneuf-du-Pape.
The rouge is usually a blend of 80% Grenache, 6% Syrah, 4% Mourvèdre, with the remainder being a blend of the 13 regional grapes. Grapes are not destemmed and go into cement vats for a natural fermentation. Afterwards, wines are transferred into large, old oak barrels (perhaps 158 gallon / 600 liter demi-muids) where they age an additional two years.
---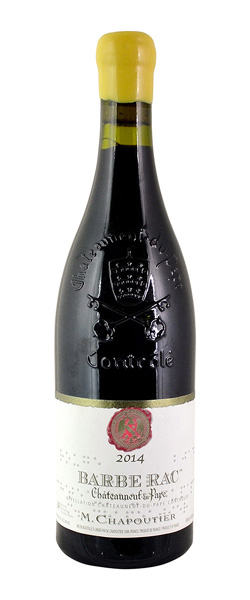 M. Chapoutier
Marius Chapoutier was the original "M" of M. Chapoutier. Marius purchased a winery estate in Tain l'Hermitage in the Northern Rhône Valley (Syrah country!) in 1808. The holdings of the Chapoutier's continued to grow and now have property all over the Rhône Valley.
Since Michel Chapoutier has taken over, estates have been converted to biodynamic winegrowing and they have eliminated fining and filtration.
There are seven Châteauneuf-du-Pape labels by M. Chapoutier, including a 100% Grenache Blanc. The most well-known are the two top rouge wines called "Barbe Rac" and a younger-vineyard wine, "Croix de Bois." Both wines are 100% Grenache which are destemmed, fermented naturally, and held in vats for at least three weeks (this polymerizes tannins). Then, the wines are aged for over a year in oak barrels or concrete vats (respectively).
---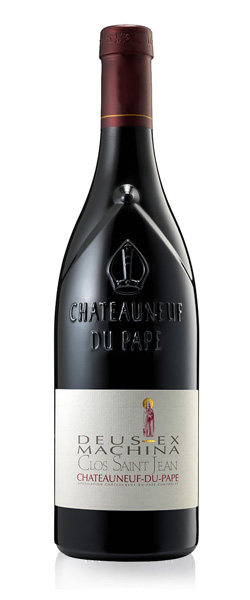 Clos Saint-Jean
This is a family owned and operated estate with 99 acres (40 hectares) planted in Châteauneuf-du-Pape and 49 acres on the exceptional La Crau Plateau, where the vineyards are covered with galets roulés (round river stones) over iron-rich red clay. This wine rose to fame with their label "Deus Ex Machina," which garnered a 100 point score from Robert Parker in 2005.
Grapes are almost completely destemmed and fermented in concrete vats. Grenache is aged more anaerobically in concrete, whereas the Syrah and Mourvèdre are aged in barriques and demi-muids (larger 600 liter barrels). Wines are often lush with rich blackberry and blueberry notes.
---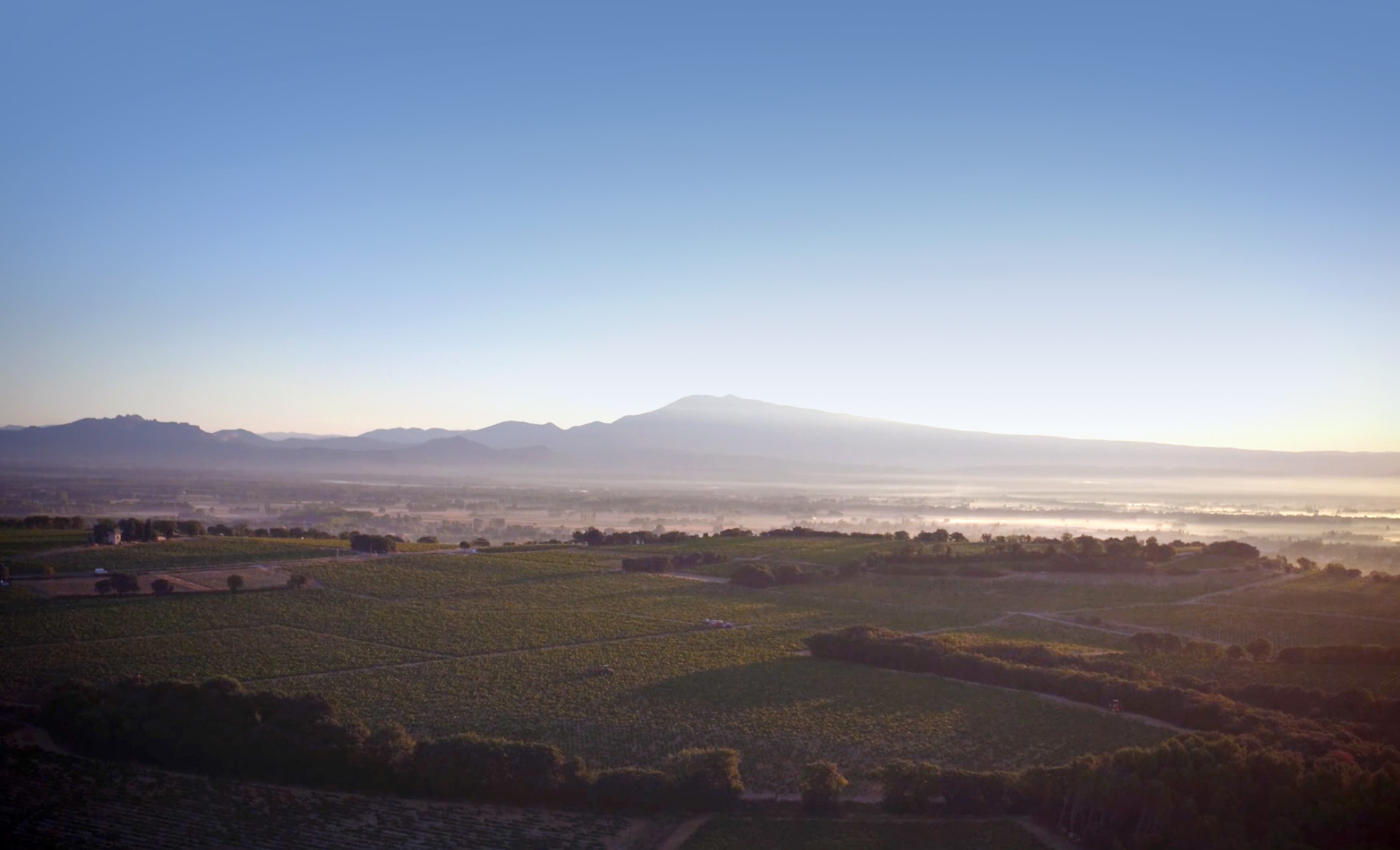 Terroir of Châteauneuf-du-Pape
From an outsider's perspective, Châteauneuf-du-Pape is nothing more than a plateau and a few low, undulating hills that that slink into the Rhône River. But to the expert, the region is a complex myriad of soils, subtle slopes, and micro-terroirs that define the appellation's best wines.
Soils: There are three main soils found in Châteauneuf-du-Pape, including galets roulés (rounded stones over sandy, iron-rich red clay), safres (sand-dominant soils), and eclats calcaires (more chalky-colored, limestone rich clays). More robust wines with higher tannin tend to come from the clay-based soils. More aromatic and elegant wines tend to grow on the soils with a higher prevalence of sand.
Sunshine: Châteauneuf-du-Pape receives an average of 2,800 hours of sun per growing season, making it one of the sunniest of France. (This is as sunny as Los Angeles!).
La Crau Plateau: One notable feature in the region is the La Crau Plateau. This raised area is home to some of the region's most famous Châteaux and it is marked by round stones over iron-rich red clays left during the Villafranchian Age (in between the Ice Age and Pliocene Epoch – around 1–3 million years ago).
Winemaking here has evolved over several centuries and today uses a combination of classical techniques paired with modern cleanliness. You'll find there are some stylistic differences between producers, which is achieved through winemaking techniques.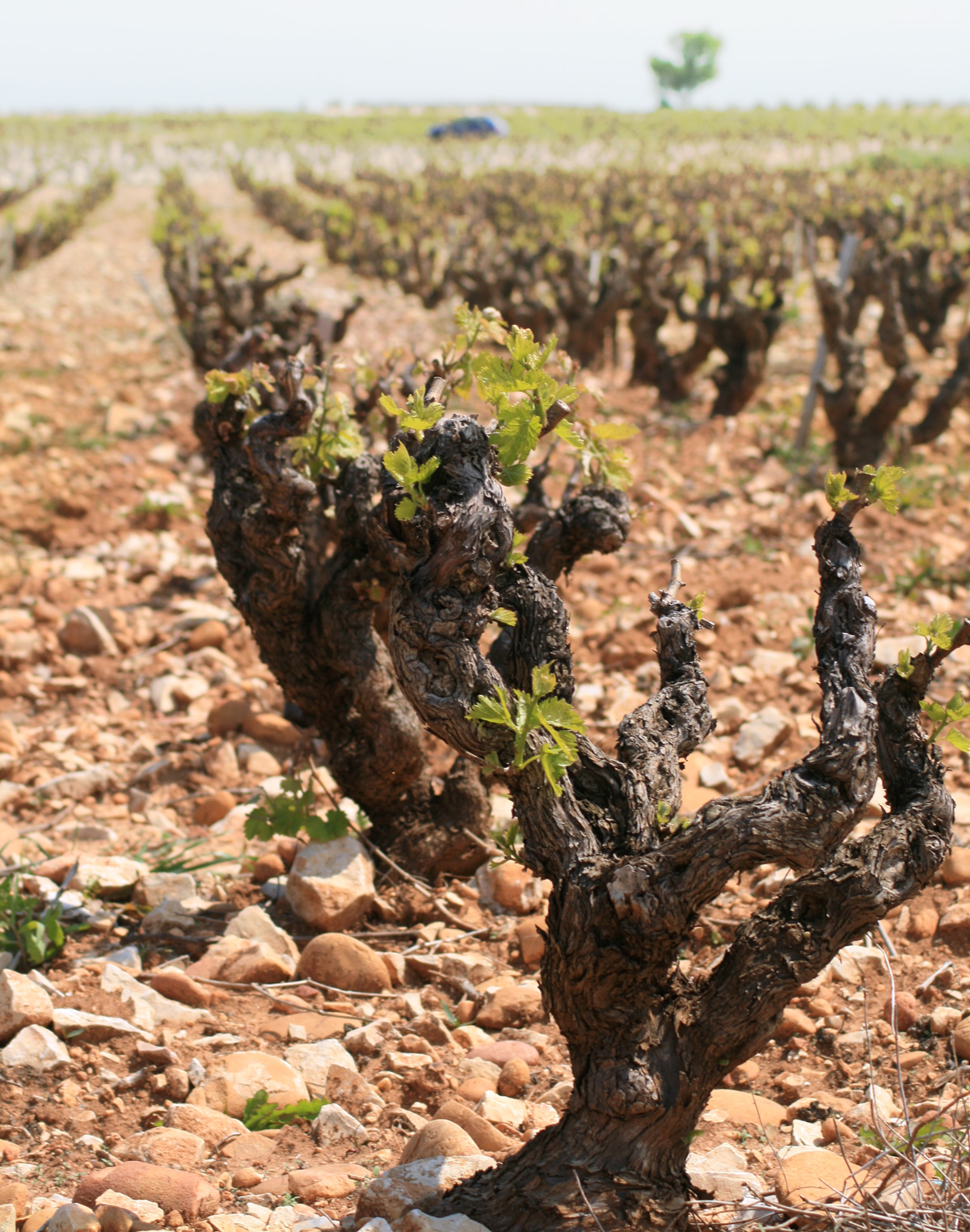 Handling Grenache in the Winery
Traditionally, Grenache bunches aren't destemmed (they go into the fermenter whole). Leaving stems adds some bitterness, but it also increases age-worthiness. You'll find that some producers do partial or full destemming, especially on tough vintages, to make a softer, fruitier wine. (Be sure to look for this in winemaking notes!).
Winemaking: Oak vs. No Oak?
The region has long used concrete vats to ferment wines and you'll also see a lot of stainless steel vats. These tools keep temperatures low as the fermentation heats up. A few producers opt for oak barrel fermenters, although this isn't as common. Grenache is very sensitive to oxidation, so the use of oak fermenters is more-than-likely used for other varieties.
During elevage ("aging") you'll find that some producers use new oak, but this is often for varieties other than Grenache. Truthfully, Grenache is capable of producing a lovely rich wine without the need for new barrels. That being said, you can expect wines aged in new oak to have even more smoky-sweet, clove-like overtones and will often include bolder varieties like Syrah and Mourvèdre.
Nearly all red wines go through malolactic fermentation whereas, most white wines do not.