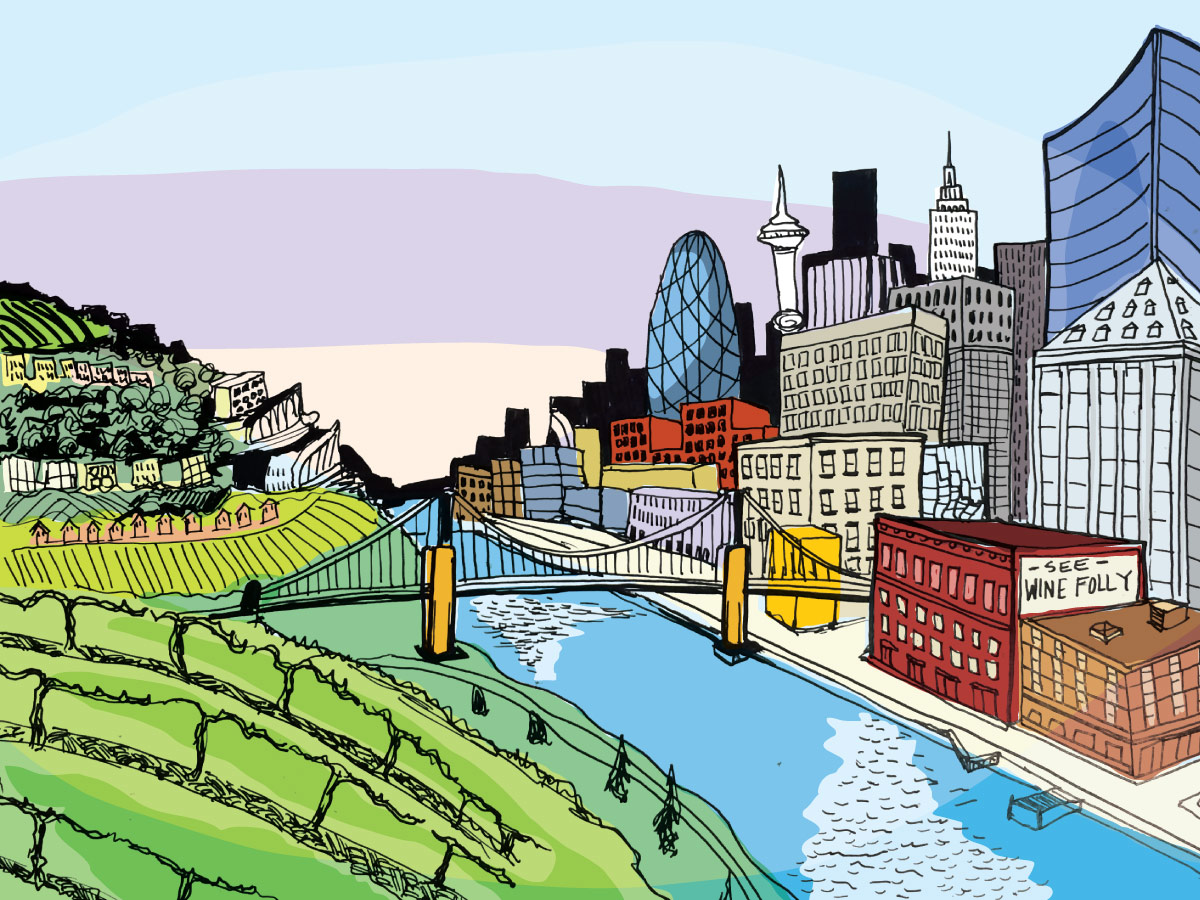 There are plenty of local city breweries, but urban wineries seem to be only just catching on. For example, you can find 90 craft breweries in Portland that offer fresh growlers to city dwellers on a person-to-person basis. If you think about it, this is a local business dream come true.
There are city wineries in places like Austin, Seattle, Brooklyn, Indianapolis, Chicago and even Chattanooga. Of course, an urban winery isn't what most of us imagine, because there are no rolling hills of vineyards. Don't let this deter you, many of these wineries make amazing wines. Now, if only there could be local vineyards, something you could visit and walk through in the city… Sound crazy? Well, we'd like to blow your mind:
3 Urban Vineyards Show That Anything is Possible
Neighborhood Vineyard – San Francisco

Neighborhood Vineyards sits on vacant parkland in Bernal Heights. photo by California Uncorked
Founded: 2013
Acres: 0.5
Wines produced: Pinot Noir
To start a vineyard in San Francisco not only seems highly unlikely but also extremely expensive. Despite all this, Elly Hartshorn,–a regular 33 year-old– did it on public park land. Elly had loved the idea of a city vineyard after being inspired by Clos Monmartre (see below), and set about to make the impossible a reality.
She'd been volunteering at an urban farm (Alemany Farms in San Francisco) and made friends with another volunteer whose husband is SF's Rec & Park general manager. To convince the city of her plan, she looked into the history of San Francisco and discovered that actually there used to be many vineyards in the city around the 1900's started by French and Italian immigrants. This, along with an attainable plan that included help from friends, wine experts, and passionate volunteers, made Neighborhood Vineyards a reality. Its first vintage of Pinot Noir will come out in 2016 and funds from the sale of wine and vine sponsorships pay for the project.
If you think it's impossible to start a vineyard in your city, just remember, Elly did it!

---
Wien – Vienna

There are 1500 acres of vineyards and over 600 wineries in Vienna. by AWMB / Gerhard Elze
Founded: 500 BC
Acres: 1500
Wines produced: Gemischter Satz–a white wine blend, Grüner Veltliner, Riesling, Zwiegelt (a light red) and Pinot Noir
There have been vineyards in Vienna ever since the city was established. The vineyards encircle the city and there are over 600 Viennese producers who have taverns, called Heurigen, throughout the city. Originally, these Heurigen were not known for producing quality wines however, nowadays, there many high end producers that even stock the city's best restaurants. Vienna's wine culture runs deep, much like our beer culture does in the states, which leads us to believe that if they can do it, so can we.
---
Clos Monmartre – Paris

Clos Monmartre faces North and is surrounded by homes, but it's the last remaining vineyard of what was once thousands of acres. by Tory
Founded: 1933
Acres: 0.37
Wines produced: Gamay and Pinot Noir
The story of Clos Monmartre is a classic French tale of clever accident. Long ago, the grapes from Monmartre (a hill) were praised by the kings and the area may have earned the name Goutte d'Or "golden droplet" because of its wines. Of course, the vineyards in Paris have long since disappeared. That is, until 1933.
The space where Clos Monmartre currently sits was to be annexed into buildings starting in 1921. This infuriated local residents who created a petition to turn the space into a park for local children instead. They won, but within 10 years the park had become overrun so it was decided that it would be planted with vines in 1933 to honor the area's vine history. Of course, the location was not exactly ideal for grape growing. It's in the shade, facing north, and the members who created it didn't realize that they'd have to wait 3 years for their first harvest. So, when the first year passed and they had planned a commemoration party, they ended up using Beaujolais wines to celebrate. Even though its beginnings started roughly, the Fête des Vendanges or "The Harvest Festival" is still quite popular today.
---
Thinking of Starting Your Own Urban Winery/Vineyard?

Do it.
There already are vineyards all over the United States, so chances are that somewhere close to you, someone is growing grapes. Albeit, due to climate differences, other regions use different grapes (ever heard of Chamborcin, Muscadine, Mourvèdre or Seyval Blanc?). So, if you want to start an urban vineyard/winery, you need to figure out what grapes grow best in your area. If you're in Austin, you might like to consider arid climate grapes like Garnacha and Tempranillo and if you're in Chicago maybe look into cool climate grapes like Seyval Blanc (a white) and Norton (a red). Then, team up with a community garden or some winemaking experts and make wine local again. Thank you.

Sources:
Oregoncraftbrew.org – number of Breweries in Portland Metro
The story of Clos Monmartre (in French)
Austrian wine – Wien Region
If you want to read more about the story of Neighborhood Vineyard, Jon Bonné wrote a fantastic article about it in SFGate