A detailed wine map of Alsace, descriptions of the region's wine classifications and a chart displaying the distribution of wine varieties planted in the region.
The next addition to Wine Folly's maps is here. Please welcome the region of Alsace, the 6th map in the France map series. Alsace lies on the border between France and Germany and is most famously known for its elegant, dry Riesling wines, off-dry Pinot Gris and luscious, rich Gewürztraminer. If you watched Somm: Into The Bottle, you saw the region's beautiful green valleys and may have yearned for a bottle of Clos St. Hune (a Riesling made from a vineyard in Grand Cru Rosacker).
The region of Alsace refined its classification system in 2011 and we consulted with local resident and regional expert, Thierry Meyer, to advise on the map. Below, you'll find a detailed account on the classification of Alsatian wines.
Alsace Wine Map

A 12×16 spill resistant map of Alsace is available for purchase in the Wine Folly Store. The digital version above is for personal use only*
Alsace Wine Classification
There are 53 AOP's of Alsace which include: 1 encompassing regional designation called Alsace AOP (shown in orange on the map), 1 regional sparkling designation called Crémant d'Alsace AOP and 51 unique Grand Crus (each Grand Crus is labeled and shown in red on the map).
Alsace AOP
Alsace AOP makes up about 74% (2015) of the region's wine production and it is nearly all white wine. Unlike the rest of France, most Alsace AOP wines list the grape variety on the label, which means the wine will contain 100% of the listed variety. If a variety isn't listed, the wine is likely a blend and labeled as "Edelzwicker" or "Gentil" or a made-up/fantasy name by the brand. Wines are required to be bottled in the region's official "vin du rhin" bottle shape–also called a flute. Some Alsace AOP labels include a geographical commune name of which there are 13. These wines have more stringent qualifications than standard Alsace AOP: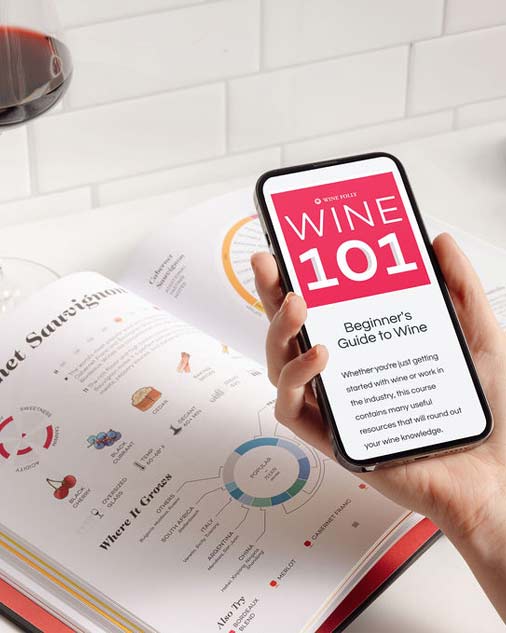 Buy the book, get a course.
Get the Wine 101 Course ($100 value) FREE with the purchase of Wine Folly: Magnum Edition.
Shop Now
Bergheim
Blienschwiller
Saint-Hippolyte
Côtes de Barr Scherwiller
Côte de Rouffach
Côteaux du Haut Koenigsbourg
Vallée Noble
Klevener de Heiligenstein*
Val Saint-Grégoire
Ottrott
Wolxheim
Rodern
Klevener de Heiligenstein is for wines from Bourgheim, Gertwiller, Goxwiller, Heiligenstein and Obernai made with Savagnin Rose. See below.
Additionally, some Alsace AOP wines are labeled with a lieu-dit ("lou-dee") or named place which indicates the wine is from a smaller plot or vineyard within the appellation. Lieu-dits also have more strict qualifications than communal wines including specifications like the varieties allowed, vine density, harvest requirements, and yields.
Crémant d'Alsace AOP
Representing 22% (2015) of the region's wines, Crémant d'Alsace is a sparkling wine made with the traditional Champagne method. There are 2 styles, a rosé, which is made with 100% Pinot Noir, and blanc, which is made primarily with Pinot Blanc blended with the other allowed grapes of Riesling, Pinot Gris, Pinot Blanc, Pinot Noir, Auxerrois and Chardonnay.
Grand Crus
Just 4% (2015) of the region's wine production is dedicated to the 51 unique Grand Cru AOP's. Each AOP has its own standards including allowed varieties, planting, yield, and harvesting restrictions. There are 4 "noble grapes" allowed in all 51 Grand Crus and they are Riesling, Muscat, Gewürztraminer and Pinot Gris. Just one appellation, Grand Cru Zotzenberg, also allows the use of Silvaner as a single varietal wine. Because the regional terroir of Alsace is so varied (including granitic, sandy, clay-limestone, and schist) you'll notice subtle differences in the tastes of the wines from the different grand cru sites.
Other Wine Styles
Late Harvest
Vendage Tardives (meaning "late harvest") is a late harvest style of Alsatian dessert wine allowed in Alsace AOP and the 51 Grand Cru AOP's. Wines are made from Muscat, Gewürztraminer, Pinot Gris or Riesling grapes. Wines are made in part with noble rot grapes.
Noble Rot Wine
Sélection de Grains Nobles is a noble rot style of Alsatian dessert wine allowed in Alsace AOP and the 51 Grand Cru AOP's. Noble rot grapes of Muscat, Gewürztraminer, Pinot Gris or Riesling are hand-selected often over several passes through the vineyard to produce a very sweet wine reminiscent of Eszencia in Tokaj.
Pinot d'Alsace
A bright copper-colored white wine made with a blend of the Pinot (Pinot Blanc, Pinot Gris and Pinot Noir) varieties in a white wine style.
The Grapes of Alsace
Grape Notes:
Seyval Blanc is a French-American hybrid variety that is known more from wineries in Canada and the northeastern United States.
Savagnin Rose is the non-aromatic variant of Gewürztraminer available labeled as Klevener de Heilgenstein and only grows in the communes of Bourgheim, Gertwiller, Goxwiller, Heiligenstein and Obernai.
Chasselas is a very ancient variety producing lean white wines more known from the Savoie region of France and Switzerland.
The Muscat varieties in Alsace include Muscat Ottonel, Muscat à Petit Grains Roses, and Muscat Blanc à Petit Grains.
Auxxerois and Silvaner (aka Sylvaner) are commonly found in Alsace AOP blends.
---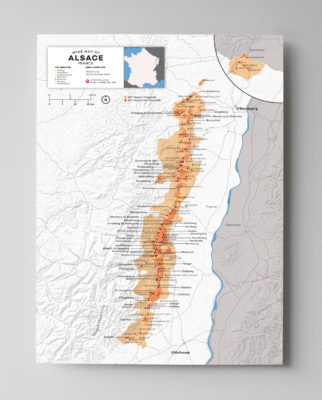 12×16 Alsace Wine Map
Maps are durable and printed on spill and tear resistant paper. Designed and printed in Seattle, WA, USA.
Buy Alsace Map