French wine just got a major boost on July 4th, when UNESCO approved 2 new World Heritage sites in wine regions within Burgundy and Champagne. Getting UNESCO status is kind of like getting first dibs in the lunch line, or picking first for your soccer team… you've got the odds on your side. Of course, getting tagged with UNESCO status has a few interesting caveats.
Burgundy

A climat in Burgundy: the walled vineyard of Chevalier-Montrachet by Yohan
The climats of Burgundy in Côte de Nuits and Côte de Beaune are now UNESCO World Heritage sites. A Climat is a vineyard plot that has been officially recognized and named. There are over 1200 climats in Burgundy and the ones with UNESCO status are predominantly Pinot Noir with a little Chardonnay. Although the region isn't particularly stunning to look at with an untrained "wine eye" it is arguably one of the most popular/important wine regions in the world right now. Interestingly enough, the Burgundians are rather discreet about it. Even if a single well-placed vine is capable of producing a $3000 bottle of wine.
UNESCO areas in Burgundy:
Precisely delimited "climats" (vineyard parcels) on the slopes of the Côte de Nuits and the Côte de Beaune south of the city of Dijon.
---
Champagne

looking up the hill in Épernay by Rhodeson
Champagne can finally sit back a little and relax a little, now that it has convinced the rest of us that bubbly is indeed, wine. The UN approved the historic Champagne making process, also referred to as Methode Traditionelle, by making vineyards around Épernay and Reims, and cellars in famous Champagne houses official UNESCO heritage sites. We wondered if this might have been hard for Champagne to pull off, because both England and Languedoc-Roussillon have proof that sparkling wines didn't originate in Champagne. Regardless of who was first, Champagne's contribution to bubbly wine has been profound.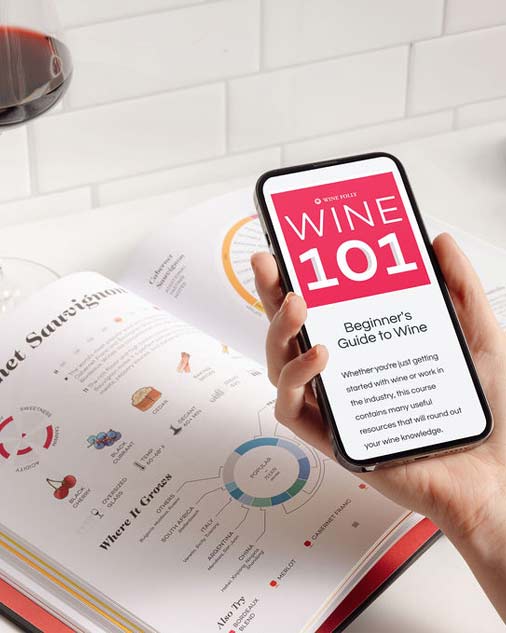 Buy the book, get a course.
Get the Wine 101 Course @ 75% OFF with the purchase of Wine Folly: Magnum Edition.
Shop Now
UNESCO areas in Champagne:
The historic vineyards of Hautvilliers, Aÿ and Mareuil-sur-Aÿ, Saint-Nicaise Hill in Reims, and the Avenue de Champagne and Fort Chabrol in Épernay.
---
Committing to stay the same… for all time
Now that these regions have UNESCO status, they won't be changing anytime soon. You can't just go in, buy a piece of land and build something on it. Being UNESCO is like owning a house with really restricting CC&Rs and HOA bylaws. Each UNESCO site must comply with 14 primary threats to their status including everything from industrialization and new construction to the condition of the roads and tourist accommodations. While this is great for tourism and maintaining "quaintness," it doesn't really provide a lot of room for innovation and growth. For example, I doubt there are many space-related start ups in Vosne-Romanée.