In this week's tasting challenge we're sipping on Bordeaux. Through one of the world's most popular blends, you'll discover how different grapes complement each other to make something exciting and unique.
What is the Tasting Challenge? The challenge is a way to improve your wine palate each week with 34 wines from 12 countries — The Wine Tasting Challenge.
Tasting Challenge: Bordeaux – France's Famous Red Blend
Bordeaux is a little puzzle for your palate to crack because the Bordeaux region producers are allowed six different types of grapes in their red blends.
It's a testament to the skill of these producers that so much variation is allowed but they consistently produce wines that maintain such a reputation for quality.
We chose a bottle of Bordeaux Superieur from the subregion of Entre-Deux-Mers which, while better known for its white blends, has been gaining a reputation for affordable red Bordeaux in recent years.
We also wanted to keep it simple, so despite Bordeaux allowing six grapes in their blends, this particular bottle only makes use of the two most popular and widely grown: Merlot and Cabernet Sauvignon.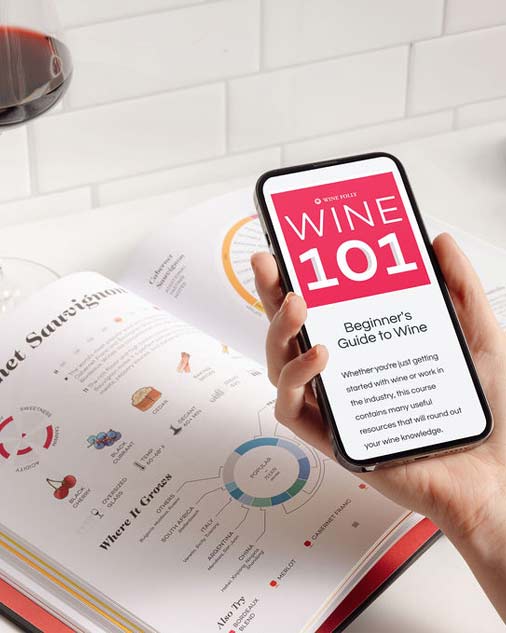 Buy the book, get a course.
Get the Wine 101 Course @ 75% OFF with the purchase of Wine Folly: Magnum Edition.
Shop Now
But in other Bordeaux blends, Petit Verdot, Malbec, Cabernet Franc, and Carménère can be used: that's a whole lot of combinations!
2018 Chateau de Camarsac Bordeaux Superieur
Look: Deep ruby.
Aromas: Blackberry, raspberry, black pepper, pencil shavings, menthol, black cherry, and fresh herbs. Very juicy and jammy.
On The Palate: A whole lot of body, but smooth and velvety, with a good balance of acidity and tannins. Notes of chocolate covered cherries, peppermint leaf, cedar, and some bitter greens on the finish.
Food Pairing: Any sort of smoky meat would be perfect for this. Think steak and fries, ribs, or barbeque brisket.
---
What We Learned About Bordeaux
When it comes to finding a Bordeaux you like, getting to know the sub-regions is important. The first step is finding out the difference between the banks. The Bordeaux region is settled on the Gironde Estuary, which splits it in half.
On the Left Bank, you have regions that generally use Cabernet Sauvignon for the biggest portions of their blends.
On the Right Bank, Merlot is favored as the major grape. And since this bottle is made up of 65% Merlot and 35% Cabernet Sauvignon, you can correctly assume that it's a Right Bank blend.
That Merlot makes for a smoother, fruit-forward experience, with a more juicy jamminess than you'd generally expect from something that's heavier in Cabernet Sauvignon. On the other hand, that 35% of Cab pulls its weight, adding spiciness and zest with black pepper and its telltale menthol notes.
By themselves, they're good.
But when these grapes work together, the wine is far more complex and interesting. This is a partnership that's led to these two being the most widely grown red grapes in the world. Where you see one, you're probably going to see the other!
---
Last Impressions
The fun thing about tasting red Bordeaux is that there are so many different ways to make it. It basically guarantees that you'll be able to find a subregion or at very least a Bank that you can rely on to produce something you'll love.
Variety is the spice of life, and Bordeaux has spice to spare.
Can't find a wine? You don't have to try exactly the same wine, so if you're looking for alternatives to keep your challenge rolling, you can search options at Wine Access.
---
What Bordeaux did you go with? I want to hear percentages! Did that 2% of Petit Verdot really make a difference? Right Bank or Left Bank? Let's get into all the nerdy details.