This week, we're going to taste one of the boldest rosé wines out there. For many, rosé is a wine that is light, simple, and not too interesting.
Clearly, those people haven't been tasting Tavel rosé. We'll see who makes it, who loves it, and what makes it so rich and complex.
What is the Tasting Challenge? The challenge is a way to improve your wine palate each week with 34 wines from 12 countries — The Wine Tasting Challenge.
There's more to rosé than just the stuff your weird aunt gets tipsy on while watching Grey's Anatomy.
In recent years, the rosé that most people have grown to enjoy comes from France's Provence region. And no wonder: there's a ton of it. In fact, 86% of Provence's wine production is rosé.
But if you need any proof that rosé isn't weak sauce, just remember that Tavel's dark colored pink wine was a favorite of macho man and six-toed cat enthusiast Ernest Hemingway.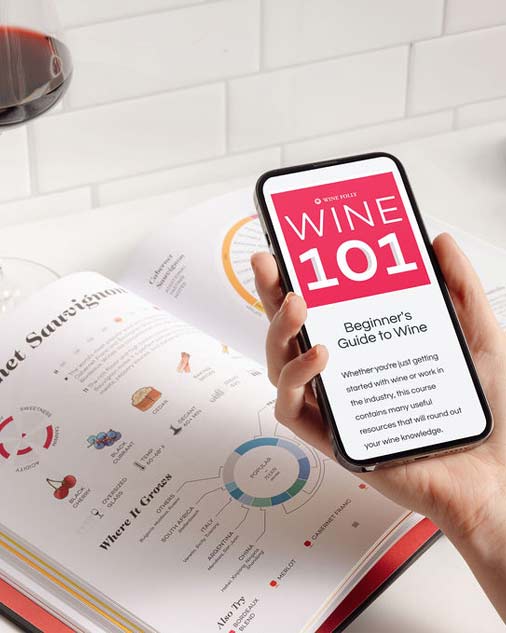 Buy the book, get a course.
Get the Wine 101 Course @ 75% OFF with the purchase of Wine Folly: Magnum Edition.
Shop Now
And like Bordeaux or Burgundy, Tavel's name refers to an AOC region in France as opposed to any particular grape.
So that narrowed down the search perimeters a little bit. And while Tavel isn't nearly as popular as some of its paler cousins, we still managed to find a bottle well within our price range.
---
2019 Chateau de Trinquevedel Tavel Rosé
Look: Deep salmon. A little unusual: most Tavel is closer to deep pink!
Aromas: Strawberry, cherry, wet stone, watermelon, roses, clean linen, and garden hose.
On The Palate: Notes of red berries and watermelon, with some floral perfume on the finish. This wine is hot. You can feel the burn of the alcohol positively fuming off your throat long after you've had your first sip. No wonder Hemingway liked this.
Food Pairing: The full experience of this is similar to a light red, so duck, quail, pork, and even salmon would pair wonderfully here.
---
What We Learned About Tavel Rosé
Tavel specifically refers to a small region in the southern portion of France's Rhône region, an area perhaps better known for that Beastie Boys favorite Châteauneuf-du-Pape.
And like CdP, Tavel is a blend that is largely made up of Grenache, Cinsault, Syrah, and Mourvedre, though 9 grapes in full are permitted.
Warm climates in southern France make the grapes grown for Tavel huge and full of sugar, leading to darker, more alcoholic wines.
Because of its booming alcohol, this blend might be one of the only rosé wines out there well known for its ability to age, which gives it savory, nutty flavors over time.
Until recent years, Tavel had a reputation as one of France's most beloved and important rosés.
And while that claim to fame has been sullied by copious amounts of bubblegum pink wine, this style still holds up: whether you're doing a tasting or enjoying a hearty meal.
With its bolder, summer fruit flavors, Tavel is known for its ability to pair well with a wide variety of foods: meat and fish alike.
Basically, anything that red wine can do, Tavel can largely keep up.
---
If there's any region out there that can prove that rosé deserves a fuller appreciation from "serious" wine lovers, it's Tavel. It's light, but full. Complex, but fun. Rosé, but honestly: sort of red.
It's not the sort of pink stuff you'll see with Sunday brunch, but maybe it's better that way: more for the rest of us.
---
Dive deeper into Rosé wines, and discover delicious depth and variety – The 4 Rosé Wine Varieties to Know (and Love).