Provence is growing in popularity, including its flagship subregions like Bandol and Cassis. Hands down, one of France's most underrated wine regions (check out the other most underrated region: Languedoc-Roussillon).
Ah, Provence! The name conjures up visions of lavender, sunflowers, olive trees, and wine – lots of wine – white, red, and rosé!
88% of Provence wine production is dedicated to rosé!
This fascinating region sits along the Mediterranean coast of France, bordered by the Rhone River to the west and the Côte d'Azur on the east. Physically, it's only about 150 miles long and 100 miles North to South, but its impact is profound.
Wine has been made here for over 2600 years, making Provence the oldest wine-producing region of France. It is also the only place to focus on Rosé and is home to the only research institute dedicated to the style. Rocky mountain racing roads, wine, and lavender are the distinctive hallmarks of Provence.
---
Getting a Lay of the Land: Provence Wine Region
Provence is blessed with a fantastic climate, especially for grapes! The region gets lots of sunshine and not too much rain with warm days and cool evenings. The Mediterranean moderates the temperatures, and the famous "Mistral" wind keeps the vineyards dry, free of pests, and the skies clear.
Tons of Sun: Vines need a minimum of 1400 hours of sunshine (degree days) to produce ripe fruit. Provence averages 2700-3000 hours per year.
The geography is diverse with numerous mountain ranges that texture the landscape providing gentle slopes (vines love hills!) and sheltered valleys. The soils are diverse as well. The western countryside is veined with limestone, where the land was covered in ancient times by a warm, shallow sea. Travel east, and the soil is mostly crystalline schist (granite) and volcanic in one small area.
Throughout Provence, wild, resinous shrubs like rosemary, juniper, thyme, and lavender grow almost everywhere. Many say these plants, collectively called "Garrigue" (on limestone/clay) or 'Maquis" (when growing on crystalline schist), influence the character of the wines.
With all these different soils, climate, altitude, and historical influences, it only makes sense that Provence is home to many varieties of grapes. Some of them will be familiar and some not so much as they are found only here.

---
White Wine Grapes
White grapes of Provence include:
Rolle (aka Vermentino)
Ugni Blanc (aka Trebbiano)
Bourboulenc
Clairette
Marsanne
Roussanne
Grenache Blanc
Also familiar are the Bordeaux varieties of Sauvignon Blanc and Semillon, which are sanctioned in some regions. Regional grapes such as Pascal, Terret Blanc, Spagnol (aka Mayorquin), and Pignerol are still used but are quickly vanishing.
Red Wine Grapes
Most of the traditional red grapes are found elsewhere in France and the Mediterranean; these include:
Grenache Noir
Carignan
Counoise
Tannat
Have you heard of Tibouren, Braquet, Calitour, Folle Noir and Barbaroux? These are some of the more obscure and unique red varieties of Provence.
About 36 wine varieties
are allowed in Provence. They originate from France, Spain,
Italy
, Greece and Hungary.

Buy Map
---
The Wine Regions of Provence
Viticultural Provence is comprised of 9 main regions or AOC (Appellation de'Origin Contrôlée).
 
---
What is an AOC? It's a specific area for growing grapes defined by many factors that establish its unique character –such as type of soil, climate, and geography. Being within an AOC has rules, too. A grower is restricted as to what kinds of grapes they can grow, how they are grown, and how many tons can be harvested. Wines must be made to specific blending percentages with regulated levels of alcohol and residual sugar. They also must follow strict labeling protocol.
---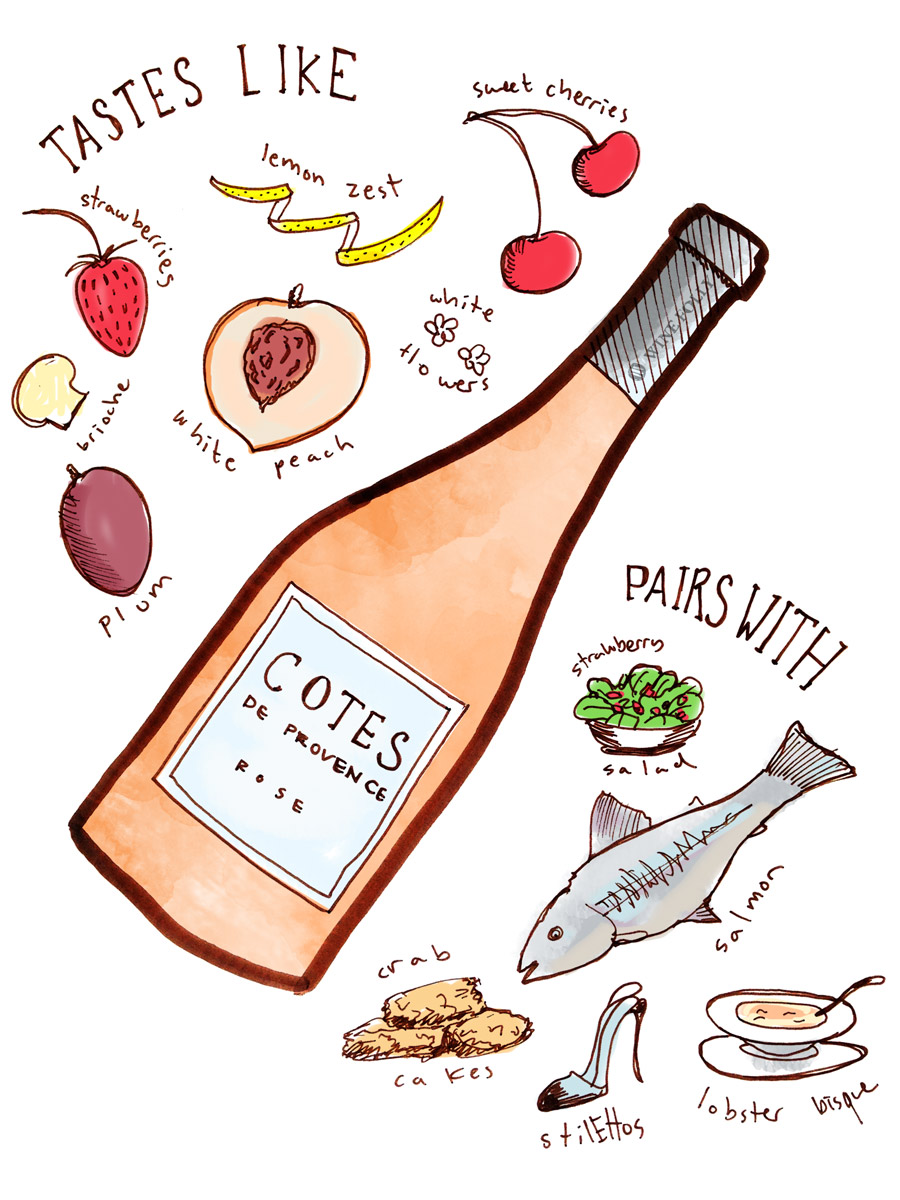 Côtes de Provence
The largest AOC, and the biggest producer with about 75% of wine production (of which 89% is Rosé), this region is also the most diverse.
Because of the region's size, there are a variety of influences at work: differences in climate, altitude of vineyards, soils and rainfall, for example, can be so varied that there's actually a difference of 60 days between the start of harvest in the southern coastal vineyards and their cooler, inland counterparts.
There are four geographical "Sub Regions" in the Côtes de Provence, and they're easy to identify as they are allowed to add their names to the label. Sainte-Victoire, La Londe, Fréjus, and Pierrefeu. Each of these sub-regions has distinct characteristics that affect the grapes and wines made in them.
---
Coteaux d'Aix en Provence
Second in size, this region is heavily influenced by the famous Mistral winds. The vineyards here date back as far as 600 BC and were prized by the Royal Courts of Europe in the 15th century.
Today, Rosé is king and is usually a blend of Grenache, Mourvedre, Cinsault, Syrah and Counoise. Cabernet Sauvignon is grown here too. The first plantings of this Bordeaux varietal were brought to the Provencal vineyards of Georges Brunet (owner of Chateau LaLagune) just after World War II.
Brad Pitt and Angelina Jolie
have a Côtes de Provence Rosé from Correns (by Brignoles)
called Miraval, a blend of Cinsault, Grenache, Syrah and Rolle (Vermentino).
---
Coteaux Varois de Provence
AKA "The Heart of Provence", this region in the middle of Provence features undulating limestone mountain ranges so there are a multitude of 'meso-climates'.
Vineyards at these slightly higher altitudes are cooler so the grapes benefit from longer, slower ripening, giving the finished wines good acidity, complex flavors and structure. Again, Rosés rule, crafted from Cinsualt, Mourvedre, Grenache and Syrah with whites dominated by Rolle.
---
Les Baux de Provence
This is probably the toastiest part of Provence; so hot it's home to the Val d'Enfer or "Valley of Hell". Located north of the ancient city of Arles, the area is named after the fortified 13th century town of Baux. Vineyards lie on the hillsides of the Alpilles mountains and, although the climate and rugged terrain are inhospitable, it's perfect for grapes.
The region is also perfect for biodynamic and organic viticulture. The Mistral wind keeps everything dry so rot is not a problem and the average 3000 hours of sun doesn't hurt either! In fact, 41% of the growers have gone 'green'.
Les Baux also sets itself apart by producing predominantly red wines, with Granache, Syrah, Cinsault and Cabernet Sauvignon taking center stage.
---
Cassis
Along the Mediterranean coast of Provence, just east of Marseille, the steep, white limestone cliffs of the Massif des Calanques meet the sea and this is where you find the very first AOC of Provence (1936); Cassis.
The vineyards were pretty much destroyed by the Phylloxera epidemic in the 18th century, but were replanted and now Cassis is the region of Provence for white wines.
Marsanne is the main grape, along with Clairette, so the wines have wonderful elegance and intense aromas of citrus, peach, honey and dried herbs. Many say you can even taste the salt of the nearby sea!
The traditional bottle of Provence is called a skittle and is shaped like an hourglass.
---
Bandol
If Cassis is all about whites, then its neighbor to the east is the perfect opposite. Bandol, named after the ancient Phocaean port, also suffered at the hands of phylloxera, but when replanting took place the vignerons knew that the arid, infertile, well drained sandy marl and limestone soils were perfect for heat loving, late-ripening Mourvèdre.
The hillside vineyards form a natural amphitheater where the terraces are supported by walls made of river stone called "restanques." Bandol produces amazing whites from Clairette blended with Ugni Blanc or Bourbouenc, and structured, flavorful rose but its signature wines are the rich, intense, red wines made with up to 95% Mourvedre and aged in oak for at least 18 months.
---
Palette
Nestled below Coteaux d'Aix-en-Provence and coming in at only 100 acres, Palette is the smallest AOC of Provence. The vineyards were planted on the limestone and clay soils by the Romans around 100 BC and the area is now home to over 25 grape varietals (some obsure), all hand harvested and subject to specific blending rules and aging requirements.
 
Mourvèdre is the main varietal in both rosé and red along with Cinsault, Grenache, and a host of unusual grapes like Castet, Muscat de Hamburg, Petit Brun, and Téoulier. There is a mandatory aging of 18 months in oak and many find the wines similar to those of Bandol.
Whites represent about 37% of the area's production and are often a blend of Clairette Blanche, Picardan, Bourboulenc and unusual grapes like Panse Muscade, Terret Gris, Piquepoul Blanc, and Aragnan! Both white and rosé wines must be aged at least 8 months prior to release.
It may be small in size, but Palette is big on preserving the traditions of Provence wine.
Mistral trivia: Farm houses are built with their doors facing South, away from the Mistral winds.
---
Bellet
The vineyards of Bellet dot the steep hillsides surrounding the city of Nice on the far eastern edge of Provence. This is another area that uses some uncommon grape varietals. The dominant white varietal is Rolle (Vermentino) and it's the only AOC in Provence that is allowed to use Chardonnay. Red and Rosé are mostly made with Braquet and Folle Noire. Rosé from Bellet has a distinctive aroma of rose petals!
---
Pierrevert
Pierrevert is the newest (1998) and the most northerly of the Provence AOCs. Located in the Alpes de Haute Provence , next to the Luberon, there is a definite Rhone influence both in the grape varieties and style.
You'll find red blends of Grenache and Syrah with perhaps some Cinsault and Carignan, and whites such as Grenache Blanc, Rolle (Vermentino), Roussanne and Marsanne. Rosé is a big deal here, made from the same varietals as the reds but it differs from the other parts of Provence.
The rules of the area dictate that a minimum of 50% of the wine must be made in the "saignée" method, the only place where this technique is allowed.
---
As you can tell, Provence has diverse wines and a storied history. The map of Provence is available from us, but you can also get the full France Regional Map Set and that will help you connect with the other wines around the country. Be warned, once you start to love the wines of France, you will end up buying a beach bike with a wicker basket on the front. We warned you!