This is an advanced article discussing the nuance of French Syrah wines from the Northern Rhône. If you'd like to find out more about the Rhône Valley and Côtes-du-Rhône in general, check out this article.
The Northern Rhône may not be the exact epicenter of where the first Syrah vine appeared (which supposedly is about 35 miles Southeast of this region), however it is the benchmark by which all other Syrah wines are measured.
Whether or not French Syrah is "the best" is entirely up to you, but one thing is for certain: The Northern Rhône produces Syrah very unlike other regions in terms of style.
It's a fascinating region to try to understand. Beyond just reds, 3 other grapes are a big deal here: Viognier, Marsanne, and Roussanne.
"Mecca for Syrah"
Let's explore the Northern Rhône region from top to bottom and give you enough ammo to find great Rhône wines on your own.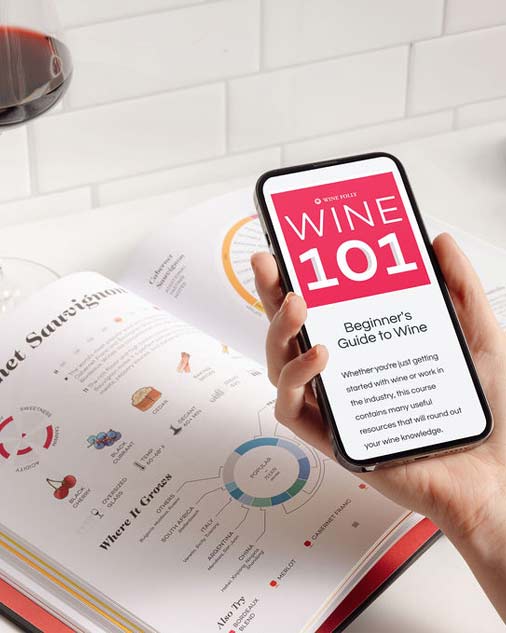 Buy the book, get a course.
Get the Wine 101 Course @ 75% OFF with the purchase of Wine Folly: Magnum Edition.
Shop Now
Wines of the Northern Rhône
Côte Rôtie
Côte Rôtie or "roasted slope" is one of the most important French appellations for Syrah (alongside Hermitage and Cornas). The best wines offer up flavors of black raspberry, black currant, violet, and chocolate along with savory hints of olive, bacon fat, white pepper, and powerful charcoal smoke. They are bold yet precise with fine-grained tannins.

A vineyard in Côte Rôtie showing the preferred head-training method and decomposing schist-clay soils. by Ed Clayton
What defines the greatest wines from Côte Rôtie is the vineyard's position on steep southern-facing slopes that protect from northern winds. The soils producing the boldest wines are clay-based with decomposing schist and mica, primarily in the center and north of the appellation. In the center and south, you'll find more sandy-granite soils producing more floral aromatics. There are 73 registered vineyard "Crus" so if you find a wine labeled with a cru, look into where that site is located within Côte Rôtie
100% Red Syrah with up to 20% Viognier blended in (although most do no more than 5%)
Expect to spend: $60–$400
Area under vine: 276 ha
Established: Oct. 18, 1940
---
Condrieu
The largest white wine appellation in the Northern Rhône produces rich, opulent wines made with 100% Viognier. The wines of Condrieu are rather hard to source. Still, when you do find one (primarily from Guigal, the largest negotiate), you can expect rich oily flavors of tangerine, papaya, lime peel, and green almond with rich toasted oak notes of gingerbread, macadamia nut, and allspice.
Due to the primarily clay-and-decomposed granite soils, Condrieu wines are often plump with lower acidity and thus are best enjoyed within 2–4 years of release. The vineyards themselves are on narrow, steep terraces with the first villages to be included in the appellation (Condrieu, Vérin, and Saint Michel) in the northernmost part of the region.
100% White Viognier
Expect to spend: $50–$150
Area under vine: 110 ha
Established: April 27, 1940
---
Chateau Grillet
The tiny single-producer appellation of Chateau Grillet consists of just one producer, Neyret-Gachet, who releases 10,000 bottles each year. This wine is produced partially with oak aging, which adds richness similar to a full-bodied Chardonnay. Wines from Chateau Grillet express a little less ripe fruit than Condrieu with notes of starfruit and white peach along with a smoky hint of gunpowder and butterscotch. The wines have lower acidity, like Condrieu, so it's usually best to drink them within a few years of release.
100% White Viognier
Expect to spend: $100+
Area under vine: 3.8 ha
Established: 1936
---
Saint-Joseph
Some of the best values of the Northern Rhône exist along this 30-mile stretch that is Saint-Joseph. Of course, due to the large size of the region, you'll want to be choosy. The wines of St.-Joseph range in taste from spicy flavors of black olive and black pepper to richer, more complex wines similar to those found in Côte Rôtie (see tasting description above!).
"Some of the best values of the Northern Rhône"
The differences in the wines of the region certainly depend on the quality of the producer. There's also a slow change of soils from the northernmost part of the appellation to the south. In the north, there are many of the same clay-granite soils, as are found in Condrieu or Chateau Grillet. Depending on the position of the vineyard (on a slope or in a valley tributary to the Rhône river), you can find some terrific values here. As they say, "Syrah likes a view," so if you happen to see the wine coming from a sloped vineyard, it's going to be a pretty sure bet. Meanwhile, in the southern part of Saint-Joseph, south of Sarras, there are more thin soils of marl (clay + lime) and acidic granite. These wines tend to get a bit spicier and fresher as well as more floral (in this case like black peppercorn); due to the spice, it's fun to seek out something a little older to try.
The white wines from the region are also well worth a try with the medium-bodied flavors of lemon, pear, quince, honeycomb, and orange zest and a long subtle herbal finish. They often have quite a rich, bold aroma that's just fun to smell.
91% Red / 9% White Syrah and Marsanne/Roussanne blend
Expect to spend: $28–$90
Area under vine: 1211 ha
Established: June 15, 1956
---
Crozes-Hermitage
The largest appellation in the Northern Rhône and also easily confused with Hermitage (the fine wine micro-region), Crozes-Hermitage wines range in quality from simple food wines to awesome Syrahs. The major difference you'll see here is in tartness due to Crozes-Hermi's position on the East bank of the river. While this doesn't at all affect the east-facing and southern facing sloped vineyards in the region (which are known for outstanding wines), facing west tends to deliver more dried herbal notes and tobacco (and less fruit) in the Syrah.
Still, the wines here are quite perfumed with suave notes of violet and fresh berries along with keen acidity and tannin. Many vineyards in the region are on pebble-covered terraces with granite-clay soils with a blend of sand (sand usually bumps up the floral aromatics and also seems to lighten the color).
92% Red / 8% White Syrah and Marsanne/Roussanne blend
Expect to spend: $20–$60
Area under vine: 1514 ha
Established: March 3, 1937
---
Hermitage Ermitage

A view from the Rhone river looking up towards Tain l'Hermitage and Hermitage hill by Richard Pearson
The hill of Hermitage is famous for its emboldened Syrah wines that usually need around 5–10 years before you open them. When you do, you'll be greeted with heady aromas and layered flavors blackberry, black currant, licorice, coffee, candied cherry, and smoke. Besides Syrah, the hill also produces some outstanding age-worthy white wines that are a blend of Marsanne and Roussanne. Wines from L'Ermitage do not come cheap for two reasons: one, the wines are consistently ranked as the best in the Northern Rhône, and two, Hermitage has a storied history, which can make tasting these wines feel a bit mystical.
The vineyards on Hermitage hill, which are more like a set of 3 adjacent south-facing hills, have been planted since the times of ancient Greece in 500 B.C. The popular story of Hermitage, though, is of a 13th century (1200's) crusader who was wounded and sought refuge on the hill. He built a chapel and lived out his life in complete solitude. Thus the hill was named "hermit's hill" or Ermitage. Today, there is a tiny reconstructed chapel on Hermitage called Saint-Christopher that sits alone towards the crest of the hill and looks out over the village below.


A view looking up towards the Chapel on the top of Hermitage hill. by Ed Clayton
The soils of the 3 hills change from more granitic clay soils and some loess (windblown yellow-gray micro soils) to more sandy clay with glacial deposits (e.g., little rocks). So you can expect the wines from the more sandy/glacial soils to have a little less tannin out of the gate and probably be more lush and drinkable early on, whereas the granitic clay and clay/limestone sections should produce wines with more tannin and body. It will all depend on the producer (and what they do in the cellar) and the viticulture in the vineyard.
76% Red / 24% White Syrah and Marsanne/Roussanne blend
Expect to spend: $60–$350
Area under vine: 136 ha
Established: March 4, 1937
---
Cornas
Typically the boldest and most tannic of all the Northern Rhône Syrah wines, Cornas delivers tongue-staining flavors of blackberry jam, black pepper, violet, charcoal, chalk dust, and smoke followed up with grippy intense tannins. Most will recommend waiting about a decade for the tannins to soften and the wines to reveal more kirsch and licorice flavors. However, some of the producers have started practicing more modern techniques to deliver a softer, smoother wine right on release. You can expect these wines to have received new oak.
"the boldest and most tannic of all the Northern Rhône Syrah"
The highest-rated vineyards are up the hill behind the city of Cornas, where primarily granitic clay soils support steep terraces. As you move south of the city towards Saint-Peray, the hills become more shallow, and soils contain a lot more sand. As you can probably already imagine, the sandy soils are capable of delivering the most early approachable Cornas Syrah.
100% Red Syrah
Expect to spend: $30–$200
Area under vine: 131 ha
Established: August 5, 1938
---
Saint-Péray
White Rhône wines made with Marsanne and Roussanne range in taste from lean citrus-y notes of lemon, linseed oil, pear and fennel to richer flavors from being fermented in oak barrels that can deliver baked quince, Meyer lemon, beeswax, and butterscotch. These wines are medium- to full-bodied and, depending on the acidity, can develop more nutty almond and hazelnut flavors from just a few years of aging.
Saint-Peray is the southernmost appellation of the Northern Rhône and is a tiny valley located beyond a forested hill in front of the Rhône river. Sparkling wines comprise about one-third of the production, made with mostly Marsanne. If you talk to the producers of the Rhône, you'll find they tend to prefer Marsanne to Roussanne for its citrus, floral, and beeswax flavors with balanced acidity. Most wines will contain nearly all Marsanne and a touch of Roussanne can add a lovely orange-rind like flavor to the blend. The best vineyards are on a limestone outcropping, which increases the longevity of these wines due to higher acidity.
100% White Marsanne and Roussanne
Expect to spend: $18–$50
Area under vine: 75 ha
Established: December 8, 1936
---
Final Thoughts on Northern Rhône and French Syrah
Hopefully, you've now whet your appetite to the wines of the Northern Rhône and perhaps have a few thoughts on where to start. As a recommendation, a great affordable way to taste these wines might be to look into the declassified regional wines labeled as Collines Rhodaniennes. Oftentimes, wines labeled as a Syrah from Collines Rhodaniennes are a blend of several of the Northern Rhône appellations, which will give you a little preview of what to expect.
One thing to keep in mind when searching for these wines is how much French Syrah is affected by vintage variation. While expensive producers will produce great wines year in and out, the value wines are where you want to seek out great vintages.
Good Vintages for Value Reds:
Awesome: 2010, 2009, 2003
Good: 2011, 2013
Avoid: 2014