Wine has been part of daily life in the south of France for a long time –as in over 2000 years.
The Phocaeans and the Greeks were the first to cultivate the grape vine when they arrived on the Mediterranean coast around 600 BC, and the Romans really expanded things when they turned up about 400 years later. So what, you might ask, could possibly be 'new' or 'under-the-radar' in this area? Have we got a treat for you!
Wine Regions of Southern France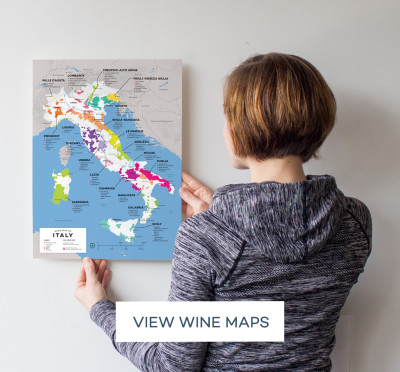 2016 Wine Map Update
Now Available: Appellation maps to explore all of the major wine producing regions of the world. Discover art made to be handled.
Bandol Wine Region
The Black Wine of France
This little corner of Provençal heaven is small in size but immense in character and quality. The locals have known for decades that the Mourvèdre-based reds and rosés from this region are amongst the best in France. As a red wine, Bandol makes some of the deepest, darkest reds in all of France.
The best vineyards are nestled on hilly east/west slopes, forming a semicircle facing the Mediterranean. Mourvèdre, it's said, grows best with its "head in the sun and feet in the sea".
The winemaking laws dictate that 50–95% of the red blends be Mourvèdre with the remaining portion balanced with mostly Grenache and Cinsault. Winemakers here are so into Mourvèdre, that they are often tempted to stretch the limits of legality.
Profile: Bold, fruity, red wines that are hand harvested and oak aged for at least 18 months.
Consistently outstanding Bandol Wineries:
Find out more about the producers in Bandol at vinsdebandol.
Coteaux Varois Wine Region
Rich and Deep Salmon Colored Rosé
Most of us are familiar with Côtes de Provence, especially when it comes to delicious dry rosé, but the terroir of this part of the world is so incredibly diverse that there are some interesting 'sub-regions' that often go unnoticed.
In the hilly 'greener' part of Provence, known as 'Provence Verte', you'll find the Coteaux Varois en Provence AOC. The higher elevation of these vineyards give the grapes a little bit longer to ripen and develop which means deliciously deep Rosés!
You may have heard of one of the wineries from this area – Chateau Miraval (the Branjolina rosé), but there are over 90 producers, including biodynamic Chateau Marguis, Chateau Real Martin, and Chateau Routas.
Profile: Deep, rich, dry rosé from high elevation, delicious, juicy, ripe grapes.
Gigondas & Ventoux Wine Region
Earthy and Affordable Reds from The Rhône
The Southern Rhone has a few 'break-away' regions, too. Once just lowly Côtes-du-Rhône Villages, both Ventoux and Gigondas are now their very own independent regions.
Ventoux is named after the famous landmark of Mont Ventoux
Profile:
Deep, dark, earthy, flavors similar to those found in the wines of
Chateauneuf-du-Pape
.