Chablis ("Shah-blee") is a Chardonnay making wine region in the northwest corner of Burgundy, France. Unlike other Chardonnay wines, Chablis rarely uses oak-aging, resulting in a very different style and taste profile. It's because of Chablis' renown that the unoaked Chardonnay style is popular worldwide.
What Does Chablis Taste Like?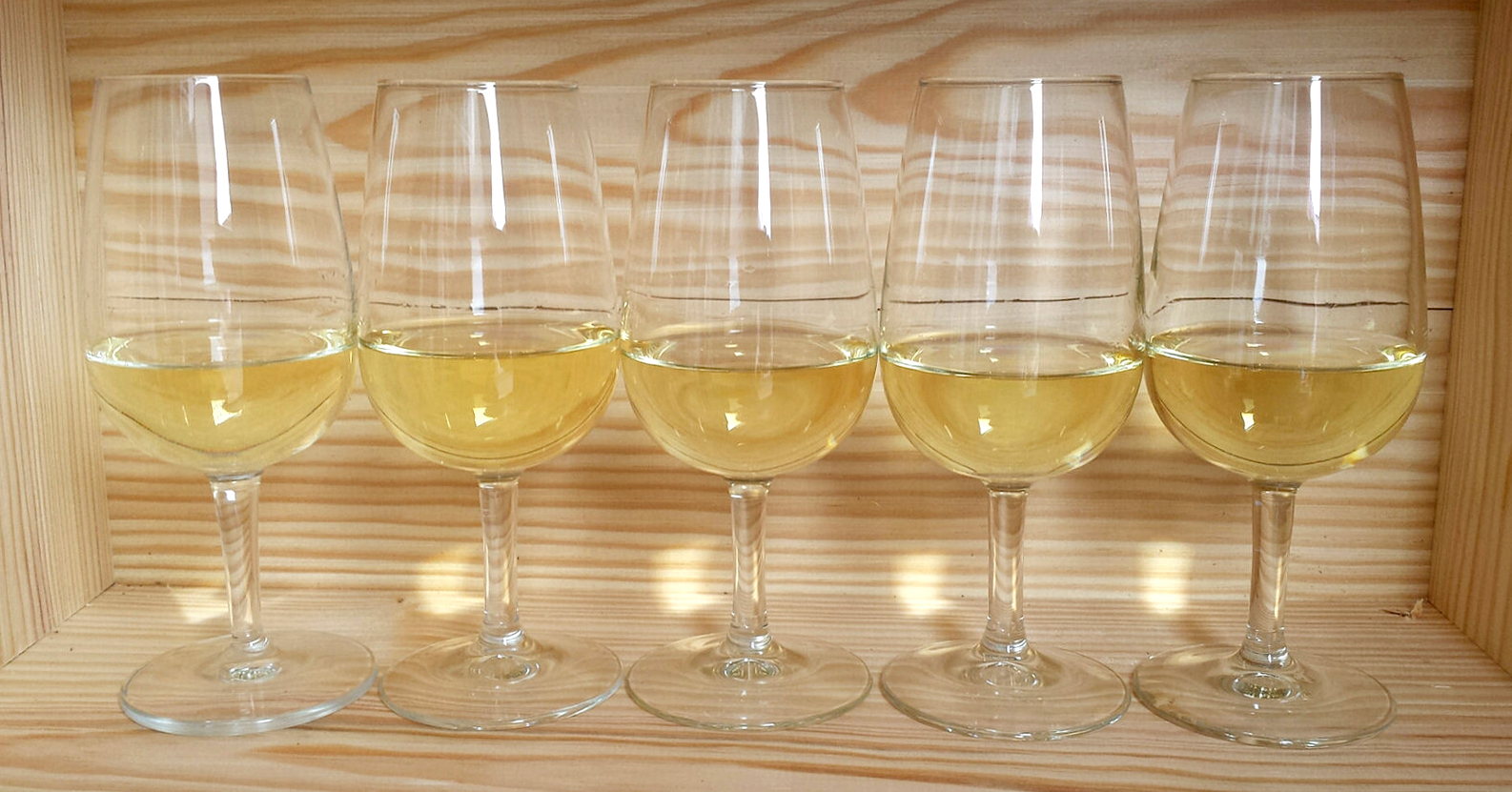 Chablis is 100% Chardonnay made in a lean style with minerality unlike any other. by Dominic Lockyer
Wines from Chablis are frequently described as having citrus and white flower aromas with dry, lean, light-bodied flavors of citrus, pear, minerality, and salinity. Chablis rarely displays flavors of butter – an indication of oak-aging. One of the most desirable traits in quality Chablis is a long, tingly finish of high acidity, and flint-like minerality. Much of the lean and elegant taste of Chardonnay from Chablis is attributed to the qualities of the soil, climate, and traditions of the region. Knowing the peculiarities of this area (and there are a few) will help you find better Chablis wine.
The regional characteristics of Chablis are represented in the wines. It's a great wine to try to understand minerality in French wines.
Chablis Food Pairing

Poulet à l' Estragon is French for Chicken Tarragon. This recipe from Food52 by Tom Hirschfeld calls for 1/2 cup dry white wine–Chablis will work perfectly.
Chablis was once the go-to choice for a dry white wine for cooking and can still serve this purpose well.
The best food pairings take advantage of the wine's naturally high acidity to act as a palate cleanser and work well with delicately creamy sauces. Due to the lighter, more delicate taste profile of Chardonnay, you'll want to stick to lighter meats and fishes as your base ingredient, including chicken, quail, trout, bass, halibut, cod, clams or scallops. The high acidity and salinity in Chablis also means it will do well alongside raw fish and sushi. In terms of spice profiles, lean towards fresh herbs, white pepper, and low overall spiciness.
A few great pairings for inspiration:
chicken tarragon (see the recipe for dish above)
escargot
clam chowder
black truffle fricassée over creamy polenta
---
The Chablis Climate

The best Chablis vineyards have chalky light-colored clay marl soils from the Kimmeridgian age in the late Jurassic period. The soils were once an ancient sea bed covered in shells. by Adnan Yahya
The region of Chablis is what they call semi-continental, which means growing high-quality grapes is very challenging. Chablis does have idyllic hot summers, but poor weather in the spring or fall commonly wreaks havoc on the vintage. For example, spring frosts may kill the vines, and rain in the fall will stop grapes from fully ripening. Fortunately, (and oddly enough) we can thank climate change for giving Chablis a running streak of highly delicious vintages. So, if you're on the lookout for your next bottle, now is the time.
---
Chablis Classification Information
Chablis Overview
Wine: 100% Chardonnay
Size in Acres/Hectares: 100% Chardonnay
Size: 13,497 acres / 5462 hectares (2012)
Appellations:

Petit Chablis AOP
Chablis AOP
Premier Cru Chablis AOP (40 climats or "named plots")
Grand Crus Chablis AOP (7 climats)

Serving Temperature: 42–50 °F (5–10 °C)
Aging: 2–6 years (top tier wines will age 10+ years)
Expect to Spend: $20+ will get you great quality Chablis
Understanding how French wines are classified is crucial to find great wines from Chablis. The region also has a specific set of rules. To sum up, the more focused the regional designation (appellation), the higher the quality.
One useful tip to know about Chablis is that Grand Cru designation (the top tier Chablis classification) means the wine is commonly aged or fermented in oak. This winemaking procedure creates a different flavor profile from the other designations (it also can be found in some Premier Cru wines). So, don't be surprised if your fine Chablis has just a touch of oxidation from aging in neutral oak.
 
Petit Chablis AOP

The outer areas around the town of Chablis are part of the Petit Chablis appellation. Because of the variable landscape (slopes, valleys, and or north-facing vineyards), Petit Chablis wines tend to have higher acidity and more tart, citrus-like flavors. The wines are best enjoyed cold and within a year or two of release to champion the refreshing dry taste.

---

Chablis AOP

Closer in towards the village of Chablis is the main Chablis appellation. The majority of the wines we see available are basic Chablis, and they can be quite good. Flavors deliver citrus, pear, and more exaggerated mineral notes, a taste thought to be derived from the more prevalent chalky-white limestone soils (aka Kimmeridgian soils).

---

Premier (1er) Cru Chablis AOP

Better positioning towards the sun and higher presence of limestone marl soil are the requisites of Chablis premier cru vineyards. Wines have slightly richer fruit profiles with starfruit and lemon flavors along with stronger distinct flinty minerality. Only 15% (780 ha) of Chablis vineyards have premier cru status, of which there are a total of 70 lieu-dits (named vineyard plots). Of the 70 lieu-dits, there are 40 officially recognized climats (official named vineyard plot) that may appear on Chablis wine labels. As much as this can be overwhelming to know, only about 20 of the climats see use. A few well-known examples of 1er cru climats include Montée de Tonnerre, Mont de Milieu, Vaillons, and Fourchaume.

---

Grand Cru Chablis

There is just one slope (~257 acres/~104 hectares) with 7 climats (i.e., officially designated vineyard plots). The grand cru vineyards sit across the Serein River from the village of Chablis. The vineyards have southern exposure, ideal for ripening Chardonnay, and the slope has clay marl soils (the same vein of Kimmeridgian soil as the Cliffs of Dover). Grand cru Chablis vary widely in taste, depending on the climat and winemaking technique. Some producers opt to oak-age Chablis, which adds a savory unctuousness to Chablis that can be both oily and smoky. The fruit in the Grand Cru wines range from intense orange-rind, apricot and passion fruit to more savory aged flavors of bruised apple and peanut shell. Again, the taste of a Grand Cru Chablis is highly dependent on the producer, so look into tasting notes carefully to find what you want.