When tasting Sauternes, many people focus on this legendary white wine's sweetness and concentration. They're generally not thinking about the main thing responsible for the golden wine: a fungus called Botrytis cinerea.
In this week's Tasting Challenge, you'll discover how the Sauternes region of France can go from moldy grapes to one of the most treasured dessert wines in the world.
What is the Tasting Challenge? The challenge is a way to improve your wine palate each week with 34 wines from 12 countries — The Wine Tasting Challenge.
While Sauternes is a sub-region of Bordeaux, it's about as far as you can get from the red blend we tried all the way back in Week 5.
Why? For starters, it's a dessert wine, which is generally far more concentrated than normal wine, and served in small portions to be slowly savored.
Sauternes is actually a form of White Bordeaux, which is traditionally made with Semillon, Sauvignon Blanc, and Muscadelle. This style of White Bordeaux, however, is concentrated with a little help from the Botrytis cinerea fungus: more commonly known as "noble rot."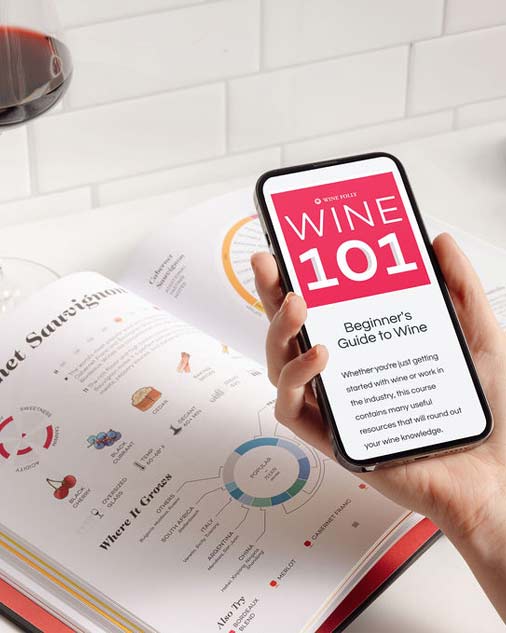 Buy the book, get a course.
Get the Wine 101 Course @ 75% OFF with the purchase of Wine Folly: Magnum Edition.
Shop Now
Because the process of making Sauternes is incredibly costly, we went with a second growth bottle for this week's challenge.
Second growth wines could easily be called a vineyards "2nd place wine," but the experience is similar to their grand cru older sibling, at a fraction of the cost.
FUN FACT: When you're looking for Sauternes, don't be surprised if most of them are 375 ML half bottles! Because the juice squeezed from Noble rot-infested wine is so precious, wine producers have found it far more economical and consumer-friendly to sell them in smaller doses. Besides, drinking a full 750 ML bottle of Sauternes is either the goal of someone with lots of friends, or very little sense.
---
2016 Château Guiraud "Petit Guiraud" Sauternes
 
Look: Deep yellow.
Aromas: Honey, ginger, lemon curd, white peach, cinnamon, and beeswax.
On The Palate: Sweet and concentrated, with bright flavors of honey, lemon, dried apricot, and dried pineapple. A "hot," high-alcohol finish.
Food Pairing: This is that sort of sweet wine that you need to pair with salty, funky cheeses. Think Stilton or blue cheese (after all: one good fungus deserves another). Oh, and apple pie!
---
What We Learned About Sauternes
The key players in this Sauternes were Semillon and Sauvignon Blanc. While Semillon lends the wine its sweetness and fuller body, Sauvignon Blanc adds a zap of acidity that keeps the sweetness well balanced.
But make a wine with those grapes alone, and you've just got White Bordeaux. Which, don't get me wrong, is a good problem to have. But it's noble rot that takes this dessert wine to the next level.
This fungus attaches itself to the grapes, and slowly wicks away moisture from the flesh of the berries themselves, causing the grapes to shrivel. What you're left with is a field full of seemingly useless rotten fruit.
But when you squeeze those grapes, what comes out is the concentrated juice that leads to Sauternes.
And the fungus itself even leaves its own flavors like beeswax or ginger! So while it might sound a little gross to the layperson, without that moldiness, you miss out on something truly delicious.
---
Last Impressions
If you're going to treat yourself to something nice at the end of a meal, why not consider a glass of dessert wine like Sauternes?
It's delicious while still remaining complex. It's basically proof positive that just because a wine is sweet, doesn't mean it can't be taken seriously.
---
Is your mouth watering from the sound of this delicious wine? Check out the 2016 Chateau Haut Bergeron Sauternes at Wine Access and take your dessert to the next level.