Skip the heavy dessert option for something that makes tastebuds twinkle! Learn about the 5 major types of dessert wine, from delicately fizzy Moscato d'Asti, to rich-and-brooding vintage Port.
Dessert wines are meant to be enjoyed in small glasses and treasured like a glass of Scotch.
Types of Dessert Wines
Sparkling Dessert Wine
Lightly Sweet Dessert Wine
Richly Sweet Dessert Wine
Sweet Red Wine
Fortified Wine
A Guide to Dessert Wines
Sweet wine comes from extra-sweet grapes! To make a sweet wine, the fermentation is stopped before the yeast converts all grape sugars into alcohol. There are several ways do stop fermentations, including super-cooling the wine or adding brandy to it. The result is a rich wine sweetened with natural grape sugars.
There are hundreds of different types of dessert wines available in the market, but most fall into 5 main styles. This guide outlines the 5 styles and includes examples of each. Explore all five styles for a deep dive into dessert wines.
---
Sparkling Dessert Wine

The carbonation and high acidity in sparkling wine makes it taste less sweet than is actually is! Certain grape varieties smell sweeter than others. This tricks our brain into thinking they taste sweeter too! For instance, a Demi-Sec (aka "Semi Secco") Moscato tastes sweeter than a Demi-Sec Champagne even though both may have the same amount of sugar.
When looking for sweet dessert wine Champagnes and other sparklers, keep your eyes peeled for these words on the label:
Demi-Sec* (means "off-dry" in French)
Amabile ("slightly sweet" in Italian)
Semi Secco* ("off-dry" in Italian)
Doux ("sweet" in French)
Dolce / Dulce ("sweet" in Italian / Spanish)
Moelleux ("sweet" for some French wines)
*not to be confused with "Sec" or "Secco" which is the term for dry in French and Italian.

---
Lightly-Sweet Dessert Wine

Lightly sweet wines are refreshingly sweet; perfect for a warm afternoon. Many of these sweet wines pair well with spicy foods like Indian or Southeast Asian cuisine. Lightly-sweet wines are best enjoyed as close to the vintage date as possible, save for rare examples, like German Riesling, which age quite well!
Expect these wines to be exploding with fruit flavors and well suited for fruit-based and vanilla-driven desserts. For instance, consider Gewürztraminer: this wine is known for its lychee and rose petals aromas. A Gewürztraminer pairs excellently with fruit tarts.
---
Richly Sweet Dessert Wine

Richly sweet wines are made with the highest quality grapes in an unfortified style. Many of these wines can age 50+ years because sweetness and acidity preserve their fresh flavor. Some of these wines are historically important including Hungarian Tokaji ('toe-kye') which was loved by the Tzars of Russia; South African Constantia which was an obsession of the Dutch and English; and French Sauternes which was loved by Americans in the early 1800's.
There are several ways to produce richly sweet dessert wines and you can understand them better by how they're made.
Late Harvest
Late harvest means exactly what it's called. As grapes hang on the vine longer in the season they become even sweeter and more raisinated, resulting in grapes with concentrated sweetness. In Alsace, late harvest is called "Vendage Tardive," and in Germany it's referred to as "Spätlese."
Any grape left on the vine can be used for late harvest wines. That being said, it's popular to find late-harvest wines using Chenin Blanc, Sémillon, and Riesling grapes.
Noble Rot
Noble rot is a type of spore called Botrytis cinerea that eats fruits and vegetables. While it sounds (and looks) disgusting, noble rot adds unique flavors of ginger, saffron, and honey to sweet wines. There are many popular types of dessert wines made from noble rot grapes.
Sauternais
A group of French Appellations in and around Bordeaux including Sauternes, Barsac, Cadillac, and Monbazillac that use Sémillon and Sauvignon Blanc in a rich, golden-hued sweet wine.
Tokaji
Tokaji Aszú is a wine from Hungary made with Furmint grapes.
Auslese, BA, and TBA Riesling
(BA = Beerenauslese and TBA = Trockenbeerenauslese) In the German Pradikat system (a sweetness labeling system), Auslese is the first level with a higher proportion of botrytis-affected grapes. Besides being sweeter than "QbA" and "Kabinett" German Rieslings, they also typically feature higher alcohol.
Straw Mat
(aka "Passito") Grapes are laid out on straw mats to raisinate prior to winemaking.
Italian Vin Santo
is made with Trebbiano and Malvasia grapes and has rich nutty date-like flavors. There are several styles of Vin Santo made throughout Italy.
Italian Passito
Another straw wine made with several different kinds of grapes, both white and red. For instance, Passito di Pantelleria is Muscat-based and Caluso Passito is made with the rare grape Erbaluce from Piedmont.
Greek Straw Wines
Greece also produces Vinsanto, which is made with high-acid white Assyrtiko grapes; Samos is a sweet wine made from Muscat grapes; and Commandaria is a sweet wine from Cyprus that dates back to 800 B.C.E.
German Strohwein/Austrian Schilfwein
Schilfweins are increasingly rare sweet wines made from Muscat and Zweigelt grapes in Austria and Germany.
French Vin de Paille
Most notably from the Jura region of France, which is adjacent to the alps, these Vin de Paille are produced using Chardonnay and ancient Savagnin grapes.
Ice Wine (Eiswein)
True ice wine is extremely rare and expensive for two reasons. One, it only occurs in bizarre years when a vineyard freezes. And two, ice wine must be harvested and pressed while grapes are still frozen!
The largest ice wine producer in the world is Canada. You can find ice wines in cooler regions like Germany, Austria, and Switzerland.
Most ice wines are made with Riesling or Vidal grapes, although anything, even Cabernet Franc, can be used to produce an ice wine. You'll find them to be honeyed and richly sweet, similar to a noble rot wine.
---
Sweet Red Wine
Sweet reds are on decline except for cheap commercial production. However, there are still a few well-made historically interesting sweet reds worth trying. The majority of these awesome sweet red wines are from Italy using esoteric grapes.
Lambrusco
A region producing a refreshing bubbly wine in both dry and sweet styles. Since it's a sparkling wine, it will have a yeasty undertone along with raspberry and blueberry flavors. Sweet versions are labeled as "Amabile" and "Dulce".
Brachetto d'Acqui
A still and bubbly red or rosé wine made with Brachetto grapes from the Piedmont region. Famous for its floral and strawberry aromas as well as its affinity to pairing with cured meats.
Schiava
A rare variety from Alto-Adige that is nearly wiped off the map. Smelling sweetly of raspberry and cotton candy while being refreshing and only a touch sweet.
Freisa
Once one of the great red varieties of Piedmont, Freisa is related to Nebbiolo with lighter tannins and floral cherry notes.
Recioto della Valpolicella
Made in the same painstaking process as Amarone wine, Recioto della Valpolicella is lush, bold and rich.
Late-Harvest Red Wines
There are many red dessert wines in the US made with grapes such as Zinfandel, Mourvedre, Malbec and Petite Sirah. These wines explode with sweetness and heightened alcohol content.
---
Fortified Wine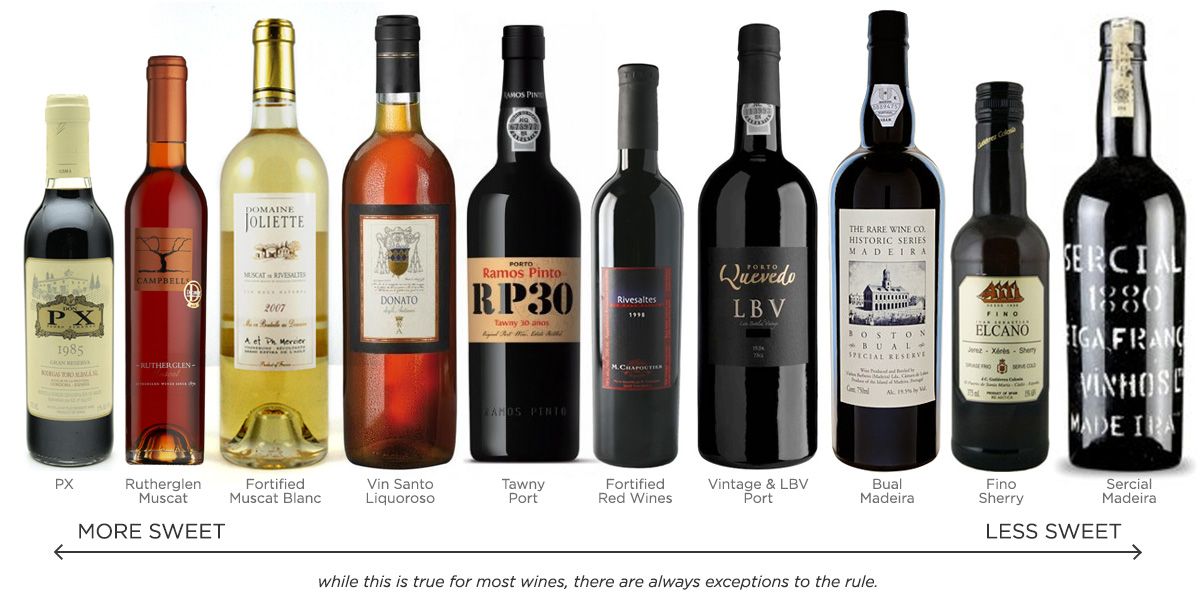 Fortified wines are made when grape brandy is added to a wine and can either be dry or sweet. Most fortified wines are higher in alcohol content (about 17-20% ABV) and have a longer shelf life after they are opened.
Port
>Port wine is made in the Northern part of Portugal along the Douro river. These rare sweet red wines are made with dozens of Portuguese traditional grapes including Touriga Nacional, Touriga Franca, and Tinta Roriz. The grapes are collected and fermented together in open tanks where the grapes are stomped daily as the wine begins to ferment.
At a point during the fermentation, the wine is strained and blended with a clear grape spirit (with nearly 70% ABV) that stops fermentation and fortifies the wine. After this process, there are a series of winemaking steps that lead into the different styles listed below.
Ruby & Crusted Port (sweet)
This is an introductory style of Port wine that tastes of freshly minted port and is much less sweet than Tawny Port.
Vintage & LBV Port (sweet)
LBV and Vintage Port are made in the same style but LBV are designed to be enjoyed in their youth (due to the style of cork enclosure) and vintage Ports are meant to be aged about 20-50 years before drinking.
Tawny Port (very sweet)
The process of aging a Tawny Port happens at the winery in large wooden casks and smaller wooden barrels. The longer the Tawny Port ages, the more nutty and figgy it becomes. A 30-40 year Tawny is the best.
Port-Style Wines a.k.a. Vin Doux Naturel (sweet)
Port can only be made in Portugal although many producers all over the world make port-style wines such as Zinfandel 'Port' or a Pinot Noir 'Port'. We refer to these wines as vin doux naturel(see below).
Sherry
Sherry comes from Andalusia, Spain. The wines are made using Palomino, Pedro Ximénez (a grape, not a person), and Moscatel grapes. Wines are produced using varying amounts of the three grapes and are purposefully oxidized so that they develop nutty aromatics.
Fino (dry)
The lightest and most dry of all the Sherries with tart and nutty flavors.
Manzanilla (dry)
A specific style of Fino Sherry from a more specialized region that's even lighter than Fino.
Palo Cortado (dry)
A slightly richer style of sherry that is aged longer producing darker color and richer flavor. These wines are typically dry but will have fruit and nut aromas with salinity.
Amontillado (mostly dry)
An aged sherry that takes on nutty flavors of peanuts and butter.
Oloroso (dry)
A very aged and dark sherry that has higher alcohol content due to the evaporation of water as the wine ages. This is more like the scotch of Sherry.
Cream Sherry (sweet)
A sweet style of Sherry made by blending Oloroso with Pedro Ximénez Sherry.
Moscatel (sweet)
A sweet sherry with fig and date flavors.
Pedro Ximénez (PX) (very sweet)
A very sweet sherry with brown sugar and figlike flavors.
Madeira
Madeira is a wine produced using up to 4 different grapes on the island in the middle of the Atlantic Ocean. Madeira is very unlike other wines because, in order to produce it, the wines undergo a heating and oxidation process – techniques that would traditionally "ruin" a wine.
The result is a rich fortified wine with walnut-like flavors, salinity and an oiliness on the palate. Because of the 4 different grapes used, Madeira range from dry to sweet making them work well alongside a meal or even as a pre-dinner drink. Learn more about Madeira here.
Rainwater & Madeira
When the label just says "Madeira" or "Rainwater" assume that it's a blend of all 4 grapes and somewhere in the middle in terms of sweetness.
Sercial (dry)
Sercial is the driest and the lightest of all the grapes in Madeira. These wines will have higher acidity and be dry with notes of peaches and apricot. It's not too uncommon to see Sercial Madeira aged for 100 years.
Verdelho (dry)
Verdelho has citrus notes and will develop nutty flavors of almond and walnut with time.
Bual (sweet)
Bual leans on the sweet side with notes of burnt caramel, brown sugar, fig, rootbeer and black walnut. It's common to find 10 year old 'medium' (meaning: medium sweet) Bual Madeira although there are several well aged 50-70 year old Bual as well.
Malmsey (sweet)
Malmsey Madeiras have orange citrus notes and caramel to their taste along with the oily oxidized nutty flavor.
Vin Doux Naturel (VDN)
Vin Doux Naturel are made in a similar style to Port where a base wine is created and finished with neutral grape brandy. The term vin doux naturel comes from France, but this classification could be used to describe a wine from anywhere.
Grenache-based VDN
Typically from the south of France, such as Maury, Rasteau and Banyuls from Languedoc-Roussillon
Muscat-based VDN
Muscat de Rivesaltes, Muscat de Frotignan, Muscat de Beaumes de Venise, Ruthernglen Muscat (Australia), Orange Muscat and Vin Santo Liquoroso (Italy).
Malvasia-based VDN
Mostly from Italy and Sicily such as Malvasia delle Lipari Liquoroso
Mavrodaphni
From Greece, Mavrodaphni is a sweet red wine with many similarities to Port.