Sauvignon Blanc
A popular and unmistakable white wine that's loved for its "green" herbal flavors and racy acidity. Sauvignon Blanc grows nearly everywhere and thus, offers a variety of styles ranging from lean to bountiful.
Primary Flavors
Gooseberry

Honeydew

Grapefruit

White Peach

Passion Fruit
Taste Profile
Dry
Medium-light Body
None Tannins
High Acidity
11.5–13.5% ABV
Handling


SERVE
45–55°F / 7-12°C


GLASS TYPE
White

DECANT
No

CELLAR
3–5 Years
Food Pairing
When in doubt, go green. Sauvignon Blanc makes a wonderful choice with herb-driven sauces over chicken, tofu, or fish dishes. matched with feta or chèvre, or paired with herb-driven asian flavors such as Thai or Vietnamese cuisine.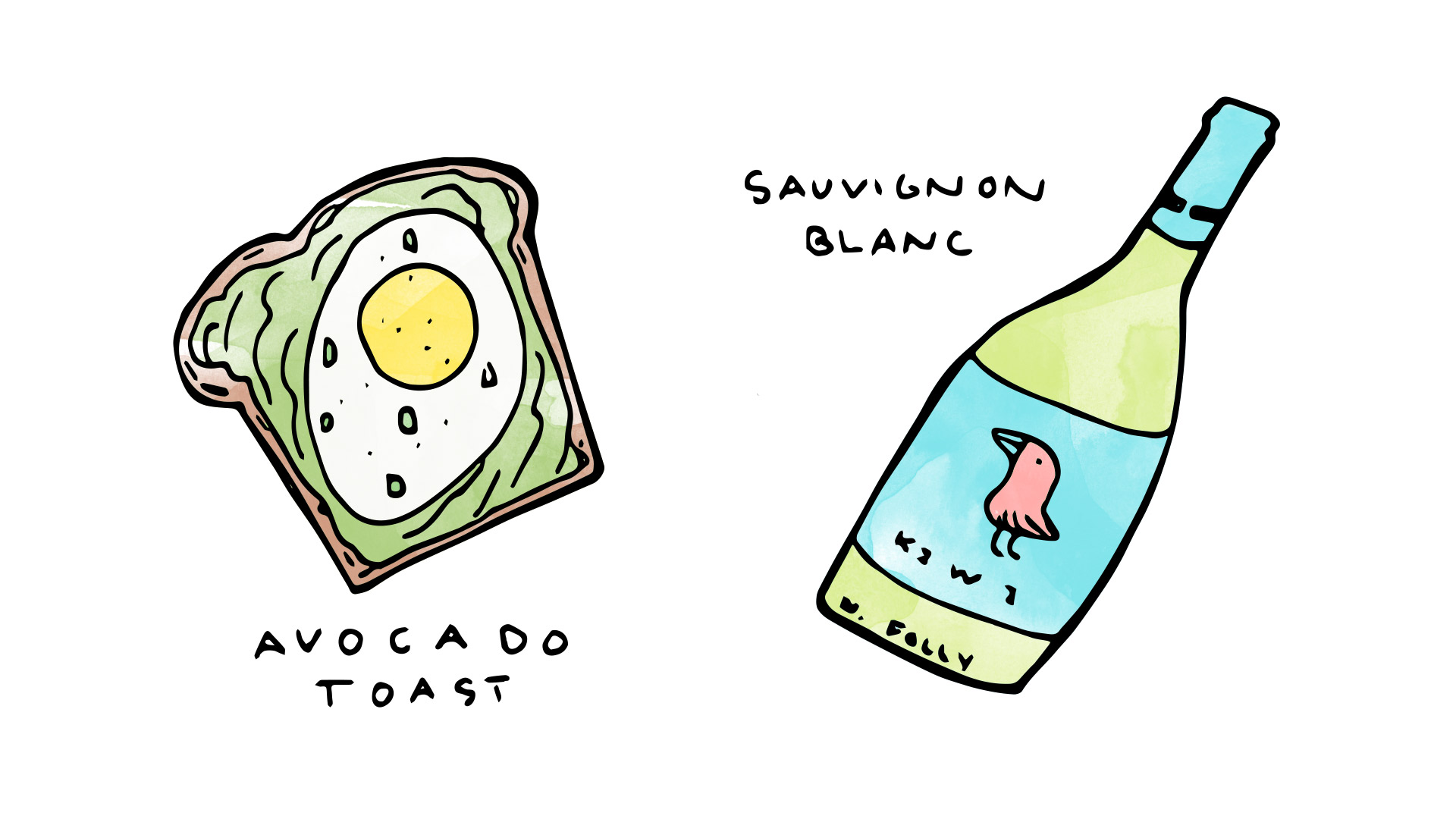 Meat Pairing: Keep your preparations light and try chicken, turkey, pork, halibut, crab, lobster, haddock, bass, cod, salmon, oysters w/ mignonette, calamari, or smoked salmon
Cheese Pairing: Seek out soft, flavorful cheeses like this warm goat cheese salad. Goat cheese, burrata, mozzarella di bufala (in a caprese salad), goat gouda, feta, parmesan, ricotta salata, yogurt, crème fraîche, or sour cream.
Vegetable Pairing: Inspirations include cucumber dill salad, fried zucchini, asparagus risotto, and Greek pasta salad. Try green peas, arugula, tomato, artichoke, lemon, lime, zucchini, bell pepper, eggplant, leek, and green bean.
Spices & Herbs: Mint, dill, cilantro, chive, rosemary, basil, thyme, bay leaf, caper, pesto, garlic, and green olive.
6 Fun Facts About Sauvignon Blanc
On the Wine Day Calendar, May 3rd is International Sauvignon Blanc day.
Sauvignon Blanc likely derived its moniker from the french word "Sauvage," meaning wild, as the vines are reminiscent of wild grapevines.
Surprisingly, Sauvignon Blanc is a parent (progenitor) of Cabernet Sauvignon (the other is Cabernet Franc)!
The "green" aromatics in Sauvignon Blanc come from compounds called Methoxypyrazines. By the way, Cabernet Sauvignon also has these same flavors (it runs in the family!)
Until the 1980s, most of the "Sauvignon Blanc" in Chile turned out to be rarer Sauvignon Vert (aka Sauvignonasse), mistakenly brought over from Bordeaux.
A real tasting note for Sauvignon is "cat pee!" Caused by a unique chemical compound, "4MMP," there aren't many other scents like it!
---
Tasting Sauvignon Blanc
On the nose, expect pungent, in-your-face aromas ranging from freshly cut grass, peas and asparagus, to tropical and ripe passion fruit, grapefruit, or even mango.
On the palate wines taste light bodied with racy acidity and moderate alcohol.
Occasionally, Sauvignon Blanc ages in oak. This rounded, more lush style offers more creamy or waxy aromatics and an oily feeling on the palate. Wines made in this way are often blended with bolder Sémillon.
---
Where Does Sauvignon Blanc Grow?
France: ~69,300 acres / 27,931 hectares – Loire Valley, Bordeaux (2013)
New Zealand: ~49,500 acres / 20,027 hectares – Marlborough, Nelson (2015)
Chile: ~37,100 acres / 15,000 hectares – Coastal Chile (2016)
South Africa: ~23,600 acres / 9,551 hectares – Coastal Region, Breede River Valley (2013)
Moldova: ~20,100 acres / 8,151 hectares (2013)
United States: ~16,300 acres / 6,584 hectares – California, Washington (2013)
Australia: ~16,000 acres / 6,467 hectares – Adelaide Hills, Margaret River, Victoria (2013)
Others: Romania, Spain (Rueda), Argentina, Hungary, Russia, Austria (2013)
The roots of Sauvignon Blanc are thought to lie in the Loire valley, where the grape was first mentioned in 1534 by writer François Rabelais (it was called "Fiers"). Apparently it was a good cure for constipation – really!
---
Wine Regions to Explore