Cab Franc is a parent grape of Merlot, Cabernet Sauvignon, and Carménère and gives them a hint of mint or green bell pepper. It can be lighter or bolder depending on where it's grown, but it is always tasty.
Also known as: Breton, Bouchet
Primary Flavors
Strawberry

Raspberry

Bell Pepper

Crushed Gravel

Chili Pepper
Taste Profile
Cabernet Franc has proven to be very robust and produce good quality wines in a range of climates. This is a clue to its diversity of tastes. From tart red fruit flavors in cooler climates such to more dried fruit flavors and fuller bodied wines in warmer areas such as Tuscany and California. You'll also find a mixture of savory, tart, and herbal flavors in moderate climates, such as Bordeaux.
On the nose, Cabernet Franc has a distinctive herbaceous and bell-pepper aroma. It can also smell like red fruits and even like pencil lead. With cooler climates you'll find violet notes and warmer climates expect dried fruit flavors, and cayenne pepper notes.
On the palate Cabernet Franc has high levels of zesty acidity. It also can have relatively high tannins, though less than Cabernet Sauvignon. Wines from cooler climates have slightly lower tannin whereas in warmer climates you'll find more tannin.
Dry
Medium Body
Medium-high Tannins
High Acidity
11.5–13.5% ABV
How to Serve Cabernet Franc Wine
Cabernet Franc should be served at just below room temperature, between 60-68°F (15-20°C). This will allow the aromas to open up, but will keep it cool enough to prevent higher alcohols from interfering with the aromas.
A universal wine glass, or standard red wine glass is perfect for Cabernet Franc to ensure you get enough air into the wine, also so the aromas are funneled directly to your nose. Lighter styles don't need much decanting, but fuller bodied wines, such as Bordeaux and Tuscan wines need at least 30 minutes.
Cabernet Franc gets very savory with age. The lighter styles can improve over 2-5 years but the fuller bodied more tannic wines can last 5-10 years or even longer if you get a really great example.


SERVE

60–68°F / 15-20°C




GLASS TYPE

Universal


DECANT

30 minutes


CELLAR

5-10 Years
Cabernet Franc Food Pairing
Cabernet Franc can pair with a wide variety of foods due to its range of styles and naturally high acidity. Higher acidity makes it possible to pair with tomato-based dishes, vinegar-based sauces (smoky BBQ anyone?) or rich veggies like black beluga lentils. If you learn only one tip about pairing Cabernet Franc, it is to match it with real herbs in your dish.
Depending on the style of Cabernet Franc, you can have a wide range of pairing opportunities. THe lighter bodied styles from the Loire Valley are great with goat's cheeses, eggplant parmigiana, tomato based dishes and light meats, like chicken or turkey.
The fuller bodied styles from Bordeaux and Italy work well with roasted meats such as roasted lamb, wild game, and even works well with rich lentil stews.
The herbaceous nature of Cabernet Franc means it works well with dishes that have fresh herbs too.
5 Fun Facts About Cabernet Franc
Cabernet Franc is a parent to Cabernet Sauvignon.The crossing occurred sometime during the middle 1600's around Bordeaux, France.
One of the most treasured Cabernet Franc wines comes from the Saint-Émilion appellation in Bordeaux, made by Château Cheval Blanc.
The herbaceous character in Cabernet Franc is caused by a group of aroma compounds called methoxypyrazines or "pyrazines" for short.
The specific methoxypyrazine that contributes to the distinct flavor is 3-isobutyl-2-methoxypyrazine (IBMP), which is also found in Sauvignon Blanc.
Cabernet Franc is also the parent grape of Merlot and Carménère.
Where it Grows
Cabernet Franc is originally from France, most likely from somewhere near Bordeaux. It still remains very popular in Bordeaux, particularly on the Right Bank where it produces some of the world's most age-worthy wines. It has a second home in the Loire Valley, where it produces lighter styles thanks to the cool climate. Outside of France you'll find fuller bodied, premium examples in Tuscany, California, and Chile.
France: 79,881 acres (32,327 hectares)
Italy: 13,813 acres (5,590 hectares)
USA: 5,433 acres (2,199 hectares)
Chile: 3,900 acres (1,578 hectares)
Total Vineyard Area – 121,845 acres (49,309 hectares) (data from 2016)
Bordeaux, France
What to expect: Normally found in a blend with Merlot and possibly Cabernet Sauvignon, you won't find much single varietal Cabernet Franc in Bordeaux. However, it does contribute intense floral notes, acidity, and a finesse not seen with the other Bordeaux varieties. Look to the Right Bank to find Cabernet Franc dominant wines. Many of these are fuller bodied, high in tannin, and can age for a decade.
Loire Valley, France
What to expect: The Loire Valley, in northern France is a cool-climate growing region, so you'll find a lighter bodied version of Cabernet Franc here, with lighter tannins and a focus on red fruit flavors, floral notes, and a herbal side. If you like Pinot Noir, or Beaujolais, give Loire Cabernet Franc a try.
Chinon AOC: This is the best known appellation in the Loire Valley for Cabernet Franc. A great example will smell of roasted red pepper, raspberry sauce, jalapeño, fresh raspberry, and wet gravel.
On the palate you'll taste high acidity and moderately low tannin. Flavors of sour cherry, smoky tomato, dried oregano, and sweet pepper dominate. The taste will burst through your palate and drop out quickly with a subtle tingle from the acidity.
Tuscany, Italy
What to expect: Italy is the second largest producer of Cabernet Franc. Much of it is made in Friuli-Venezia Giulia but perhaps the most well-known Italian Cabernet Franc wines come from Tuscany.
Since Cabernet Franc is not indigenous to Italy and declassified out of the Italian DOCG system these wines are lovingly referred to as Super Tuscans.
Bolgheri DOC: This denomination produces amazing Super Tuscans, many of which are based on Cabernet Franc. A great example of a "Super Tuscan" Cabernet Franc will have ripe and rich aromas of black cherry, blackberry, cocoa, red pepper flakes and a hint of chalky dry gravel and leather. This is due to the warmer climate.
On the palate there will be boldness from elevated alcohol with mocha, cinnamon, and plum flavors complimented by medium-high acidity and moderately high tannin. It's common to find Cabernet Franc from Tuscany aged in French oak for additional body and richness. These are age-worthy wines.
California, USA
What to expect: There is Cabernet Franc growing throughout California, but few regions champion it as a single-varietal wine. Enter the Sierra Foothills! This off-the-radar region in the foothills of the Sierra Nevada Mountains typically produces an opulent, fruit-forward style of Cabernet Franc, thanks to its sunny and warm climate.
Sierra Foothills: A great example of Sierra Foothills Cabernet Franc will have bold aromas of sweet strawberries, raspberry, mint, and roasted jalapeño. On the palate you'll taste bold fruit from elevated alcohol and flavors of chocolate and baking spices from oak-aging.
Chile
What to expect: Only recently has Chile started to offer single-varietal Cabernet Franc wines. Before, the wines had always been blended into Chile's ubiquitous Bordeaux blend.
Chile itself is quite warm and sunny but due to the induction effect Pacific Ocean breezes being sucked in towards the Andes Mountains, Chilean wines maintain freshness and elegance. That said, the Colchagua Valley is farther inland and offers a riper style of Cabernet Franc.
Colchagua Valley: A great example of Colchagua Chilean Cabernet Franc will have bolder aromas of black cherry, milk chocolate, and green peppercorn. The taste will burst with an initial bolt of acidity and juicy berry fruit that is smoothed out on the finish with baking spice-like flavors from oak aging. Tannins taste moderately high but ripe. Expect to spend $25-$35 for a great example.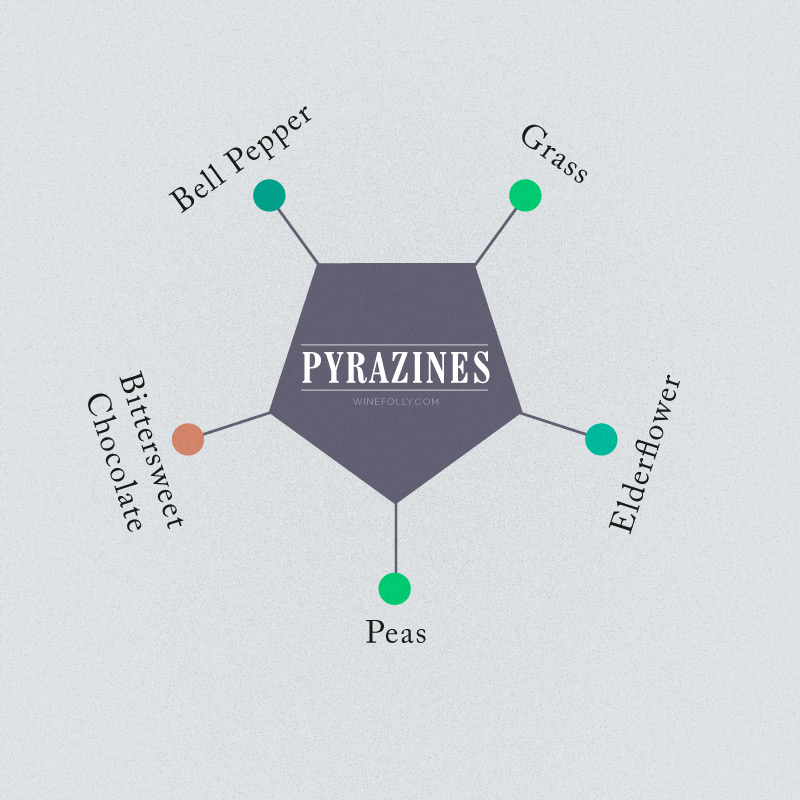 In-Depth Knowledge
Take a deep dive into understanding the complex nature of Cabernet Franc.
The Green Machine
Methoxypyrazines are responsible for Cabernet Franc's distinctive bell pepper and herbal aromas. These compounds occur naturally in Cabernet Franc grape skins as a natural defense system against pests. And, it's part of the reason why this grape successfully grows in such a diverse range of places.
Cabernet Sauvignon, sharing genetic heritage with Cabernet Franc, also exhibits this trait, though the expression can vary based on factors such as climate and ripeness at harvest. Sauvignon Blanc, too, is known for methoxypyrazine-driven aromas, though its profile leans more towards fresh-cut grass or gooseberry. The common thread among these varieties is the critical role of methoxypyrazines, specifically IBMP, in defining their unique aromatic identities.
The Parent Grape
Cabernet Franc is the progenitor (the parent) of some of the most celebrated grape varieties in the world. This work has been done by grape scientists, called ampelographers, through DNA-profiling.
Cabernet Franc with Sauvignon Blanc created Cabernet Sauvignon.
Furthermore, the same Cabernet Franc parentage is responsible for the development of Merlot.
And finally, Carménère has its lineage tracing back to Cabernet Franc as well.
Therefore, while Cabernet Franc may not always be the main focus in viticulture, its genetic influence underpins the lineage of several widely recognized and valued wine grape varieties.