Learn more about this unofficial category of Italian wine and how to find them.
The Unofficial Star of Italy: Super Tuscan Wine
The term Super Tuscan was coined in the early 1980s to describe a red blend from Tuscany. What makes "super Tuscan" wine different from other Tuscan wines (like Chianti) is the use of wine grapes that are not indigenous to Italy. Learn about super Tuscan wine and how to seek them out.
What is a Super Tuscan wine?
"Super Tuscan" is a term used to describe red wines from Tuscany that may include non-indigenous grapes, particularly Merlot, Cabernet Sauvignon, and Syrah. The creation of super Tuscan wines resulted from the frustration winemakers had towards a slow bureaucracy in changing Italy's wine law during the 1970s. Winemakers began mixing 'unsanctioned' wine varieties (like Merlot) into their blends to make high-quality wines. The legal system eventually yielded in 1992 with the creation of IGT, a new designation that gave winemakers the ability to be more creative.
The First Super Tuscan
The most famous super Tuscan wine was called "Tignanello" and was created by Antinori in 1971. It was the first super Tuscan wine, and today Tignanello is a blend of 80% Sangiovese 15% Cabernet Sauvignon and 5% Cabernet Franc. Tignanello commands about $120 a bottle, but you can find many other great valued super Tuscan wines today. Let's find out how.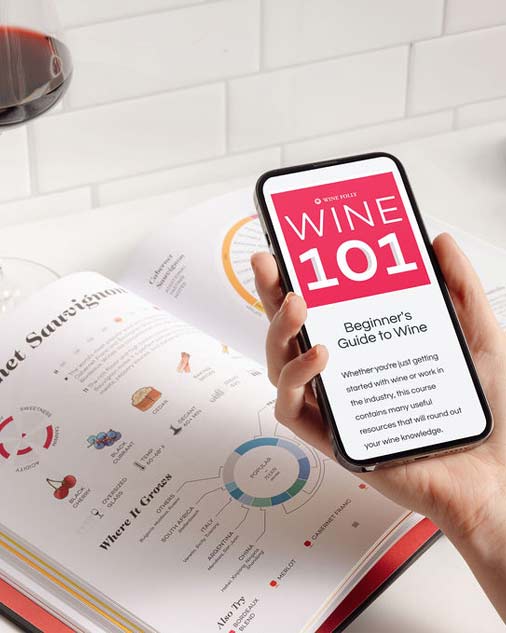 Buy the book, get a course.
Get the Wine 101 Course @ 75% OFF with the purchase of Wine Folly: Magnum Edition.
Shop Now
How to Identify an IGT
There's a bit of a misnomer as to what a super Tuscan wine is because the flavor profile ranges quite a bit. You can find everything from fruity and racy 100% Sangiovese-based wines to deep, opulent Syrah-based wines. The Toscana IGT classification ties them together, and this notation will always be on the label.
Another strange but effective way of sussing out a super Tuscan on a wine list is to look for "named" wines. Named wines have parentheses around the names, such as Luce Della Vite "Lucente" Toscana. Many producers use an original name instead of a variety (e.g., Sangiovese) or region (e.g., Brunello di Montalcino) name on the bottle. If you know a little Italian, you'll be able to pick these out without any difficulty. Veni, vidi, vici!
TIP: There are now IGT Italian wines from all over Italy. They use a wide variety of both indigenous and non-indigenous wine grapes. Maybe we can call them "Super Italians?"
Why do we call them Super Tuscans?
Super Tuscan is a phrase that was coined in the early 1980's.
We asked wine critic James Suckling where the term may have originated. He said it might have come from a several sources including the famed Luigi Veronelli, an Italian wine/food writer and intellectual, or from Burton Anderson, a writer who moved to Tuscany in 1977 to write about its bright future, or it could have been David Gleave, a Master of Wine and one of the UK's leading experts on Italy. Regardless of who coined the phrase, producers in Italy were turning heads, making wines that didn't fit in!
---
Need some Super Tuscan wine recommendations?
Here are a few great wines to seek out on your adventure into "Super Tuscany."


Tenuta Luce Della Vite "Lucente" Toscana IGT
A blend of about 50% Merlot, 25% Sangiovese and 25% Cabernet Sauvignon. ~$20
It consistently gets high praise, year in and year out. It's fruit-forward with dried cherry and plum flavors and a sweet tannin finish. This wine is by the Frescobaldi family.


Uccelliera "Rapace" Toscana IGT
60% Sangiovese, 30% Merlot and 10% Cabernet Sauvignon. ~$26
Sweet plums and cherries with tobacco-like oak spice and a rich long finish. This wine is by an independent producer imported by Michael Skurnik wines.


Tenuta Sette Ponti "Oreno" Toscana IGT
A blend of Merlot, Cabernet Sauvignon and Petit Verdot. ~$60
Strikingly similiar to the red blends of Bordeaux and Napa but with the classic clay-like funk from Italian terroir. Tenuta Sette Ponti makes two other super Tuscans by the names of "Crognolo" and "Poggio al Lupo Maremma". Tenuta Sette Ponti is part of the Kobrand Wine and Spirits Portfolio.

Castello di Fonterutoli "Siepi" Toscana IGT
50% Sangiovese and 50% Merlot. ~$50
See tasting note quote below:
"Moderate to intense ruby red colour with gorgeous fragrances rising from the glass. Aromas of bing cherry, satsuma plum, and crushed violets are dominant, with softly emergent notes of candied rose petal, chalk dust, baking spice, lavender and fennel pollen with aeration.

Supremely elegant on the palate, the Siepi is wonderfully nuanced and long in the mouth. Medium to full-bodied in style, the wine displays leading flavours of Ariel Plum, boysenberry, and perfectly ripe Rainier cherries. Tertiary notes of cassis, roasted hazelnut, and macadamia praline emerge as it evolves on the palate.

The Siepi has a wonderfully lithe acidity and supple crushed gravel tannins, allowing the wine to literally float across the palate with seductively descending cherry, cedar, and plum fruit tones." Jamie Stewart, US Rep for Ferrari Sparkling Wines