What is White Bordeaux? Well, the major grapes include Sauvignon Blanc, Semillon and Muscadelle. Find out what this famous white wine blend has to offer including food pairing recommendations.
New Guide: Dive deeper into Bordeaux's Wines and Region with Wine Folly's new Bordeaux Region Guide.
Smart Finds: White Bordeaux Wine
White Bordeaux Grapes
The grapes of White Bordeaux include Sauvignon Blanc, Semillon and Muscadelle. There are a few other less-known varieties used in White Bordeaux such as Colombard and Ugni Blanc (the grape used in Cognac), but most White Bordeaux are made of Semillon and Sauvignon Blanc.
Bordeaux is where Sauvignon Blanc originated and it's very old. In fact, it's older than Cabernet Sauvignon.
Hot Value: $12-$16
Looking for a great value white wine that's green like New Zealand Sauvignon Blanc and zesty like Italian Pinot Grigio? Expect to spend about $12-$16 on a totally quaffable bottle of White Bordeaux.
White Bordeaux Taste
There are two major styles of White Bordeaux: Light & Fruity or Rich & Creamy. Light & Fruity styles make up the majority of White Bordeaux and are generally cheaper. Rich & Creamy White Bordeaux wines are made in a specific region (Pessac-Leognan) and tend to be expensive. So what do the two styles of White Bordeaux taste like?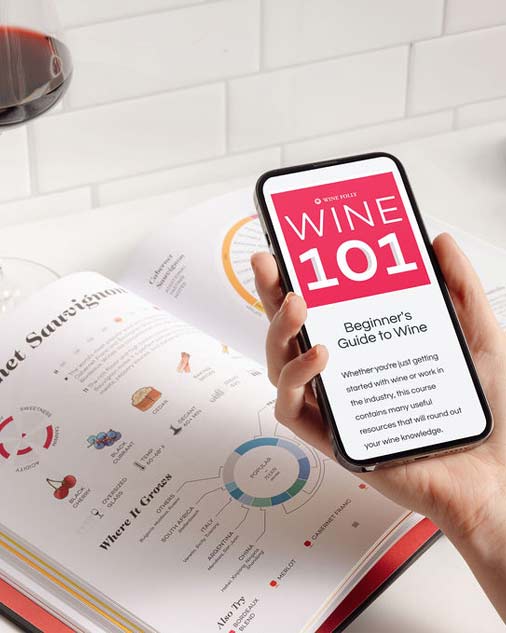 Buy the book, get a course.
Get the Wine 101 Course @ 75% OFF with the purchase of Wine Folly: Magnum Edition.
Shop Now
Light & Fruity
This is the most readily available style of White Bordeaux. Expect big flavors and aromas of citrus, grapefruit, lemon, gooseberry and lime along with grass, freshly-wet concrete, honey, passionfruit and honeysuckle flower.
Rich & Creamy
This is the most highly sought-after style of White Bordeaux. These wines tend to be predominantly Semillon which offers a much richer, more oily feeling on the tongue than Sauvignon Blanc. Expect flavors of baked apples and pears, crème brûlée, carmelized grapefruit, orange zest, ginger, figs, lemon butter and even chamomile.
---
Food Pairing
If there's basil, lime, avocado or garlic in your food, you will enjoy a bottle of White Bordeaux.
Of all the Sauvignon Blancs in the world, White Bordeaux tends to be more citrus and floral vs. grassy and herbal. The acidity is not as high as Pouilly-Fumé (a Sauvignon Blanc from the Loire Valley) and the flavor is not as tropical or peachy as California Suavignon Blanc. Remember to be careful pairing White Bordeaux with overly acidic foods that will overshadow the wine.
White Bordeaux Food Pairing Ideas
Arugula Salad with Lemon and Parmesan
Asparagus Risotto
English Pea Ravioli with Crab or Lobster
Angel Hair Pasta with Basil Pesto
Yellowtail Sushi with Avocado
White Fin Fish, such as Cod or Halibut, with Beurre Blanc
Learn More About Bordeaux

White Bordeaux only makes up about 7% of wines sold from the region, the rest is red. While the region is famous for its high-priced collector wines, they make up less than 5% of the region's production. The remaining wines of Bordeaux offer exceptional value, if you know where to look!