One of the first classic French sauces you'll learn how to make enlists one of our favorite ingredients: wine! Beurre blanc (white wine butter sauce) tastes amazing with chicken and fish.
Of course, making Beurre Blanc feels tricky because the acid in the wine can cause the butter to separate. We asked Seattle chef, Michael Heaps, to show us how to make Beurre Blanc and he offered a secret to making this sauce taste creamy and delicious every time.
Beurre Blanc Ingredients
2 teaspoons minced shallots
1-2 oz. (1/4 cup) white wine
1/2 cup unsalted butter cut into cubes (one stick)
1-2 Tablespoons of heavy cream (so sauce wont "break")
salt
white pepper
splash of canola oil (for sautéing shallots)
How to Make Beurre Blanc
Use a small pan at medium high heat. Coat the pan with a little oil and sauté the shallots. Gently release the flavors of the shallots in the pan without browning.
Next, pour in wine (about 1/4 cup–see this guide on selecting a great white wine for cooking) and reduce to just barely wet. Pour in cream and reduce until thick.
Pull pan from heat and add pats of butter while whisking the pan. Make sure that the temperature doesn't get above 130° F as it will cause the butter to separate. If the sauce separates or "breaks" it will lose its thickness from the emulsion. So to control the temperature, pull the pan on and off the heat while whisking.
Add salt and pepper to taste. Done!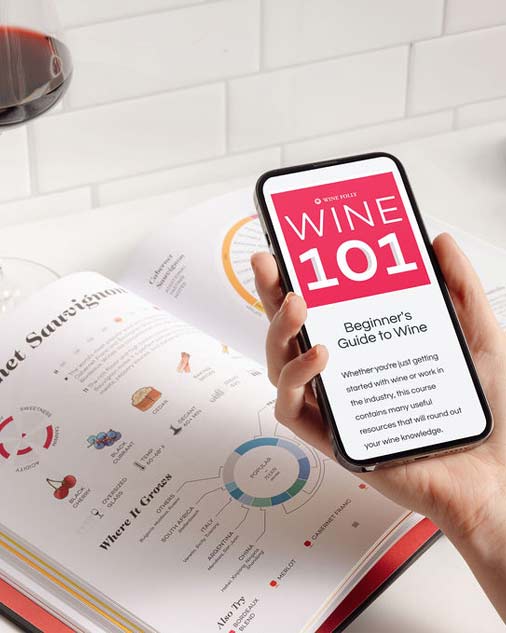 Buy the book, get a course.
Get the Wine 101 Course @ 75% OFF with the purchase of Wine Folly: Magnum Edition.
Shop Now
Selecting a Wine For Beurre Blanc
The key to creating a perfect sauce is having balance of acid, fat and seasoning. A wine with higher acidity won't require you to use additional lemon juice to reach the balance. Since you can taste the wine in the food, pick a decent wine and pair it with dinner. The beurre blanc recipe calls for 2 ounces, there's plenty more to enjoy!
When I select a cooking wine, I look for a value wine (wine under $10) such as Côté Est from Catalan in the Langeudoc Rousillon wine region on the France & Spain border. Cote Est is a blend of 50% Grenache Blanc, 30% Chardonnay and 20% Marsanne. The Grenache Blanc adds acidity to the blend, while chardonnay and marsanne add lemon notes and body. The wine is not too complex, however it pairs really nicely with the sauce and tastes great with food.
 
Other Great Value White Wines for Cooking Beurre Blanc
Trebbiano from d'Abruzzo, Italy
Ugni Blanc from Southern France
Muscadet (Melon de Bourgogne) from the Loire Valley, France
Chenin blanc (dry style) such as Saumur from the Loire Valley, France
Albarino from Spain
Vihno Verde from Portugal
Vermentino from Sardegna