Wine holidays might not be necessary to get us celebrating our favorite wines. But let's face it: any excuse is a good one.
What follows is a list of some of the biggest wine days out there, in chronological order.
Bookmark this page for future reference -OR- subscribe to the google calendar of official wine days below!
---
January
January is the month of starting over (and hangovers), so it's no wonder that we couldn't really find any major wine holidays. Perhaps you should start a keto diet.
---
February
Winter's still going strong, but the memory of bleary eyed mornings is starting to fade. So the wine holidays are finally on their way!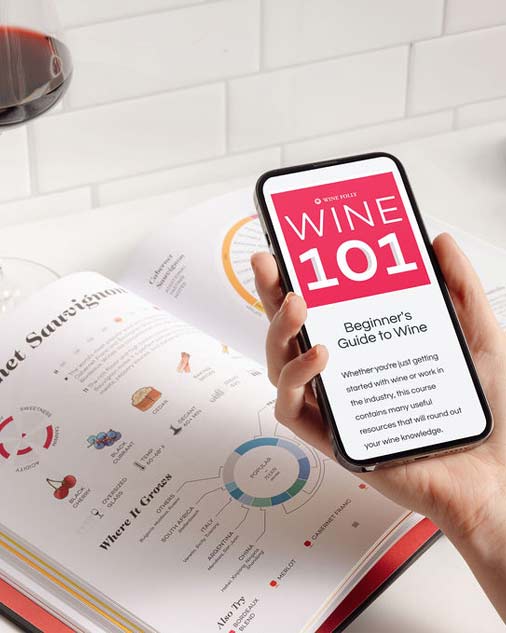 Buy the book, get a course.
Get the Wine 101 Course @ 75% OFF with the purchase of Wine Folly: Magnum Edition.
Shop Now
---
Furmint Day
February 1st: For those who don't know, Furmint is a Hungarian grape! Start the month off with something delicious and Hungarian! An underrated holiday for an underrated wine.
---
Open That Bottle Night
Last Saturday in February: Have you been sitting on a special bottle of wine, looking for the perfect excuse to crack it open? Tonight's your night!
---
March
In like a lion, out like a lamb, March's wine holidays are the perfect combination of the chill of winter and the warmth of spring.
---
Mulled Wine Day
March 3rd: It might seem funny to celebrate this cold weather treat in March, but we see it as a final hurrah.
---
Riesling Day
March 13th: Whether you like them dry or sweet, Riesling is a constant crowd pleaser.
---
April
April might not be flush with wine holidays, but the one it does have is a doozie.
---
Malbec Day
April 17th: Whether you're celebrating with something French or Argentinian, there are no limit of ways to make a toast to Malbec.
---
May
This is when the big holidays start coming: hope your cellar's stocked. There's plenty to celebrate!
---
International Sauvignon Blanc Day
First Friday in May: Sauvignon Blanc wears many different faces: so celebrate in the way that makes the most sense. From the big and fruity Kiwi wines to the more mineral French.
This official day originated from the Wines of New Zealand where Sauvignon Blanc is the country's most important grape!
---
Moscato Day
May 9th: Moscato is about way more than just the painfully sweet stuff. Take the opportunity to learn more about this Italian classic.
---
Chardonnay Day
Thursday Before Memorial Day in May: Show the "Anything But Chardonnay" crowd what they're missing out on. Get to know Chardonnay's many flavors.
It was born with the idea of being on the Thursday before Memorial Day weekend by Rick Bakas: "Naturally, we needed something on the Thursday before LaborDay. So #CabernetDay was born that same year."
---
Anniversary of the Judgement of Paris
May 24th: Get to know the day that the United States finally made their mark in the wine world. Try out a couple of our favorite wine movies that cover the subject: Bottle Shock and Somm 3.
---
National Wine Day
May 25th: No need to get too specific on this day. Just find a bottle of your favorite winery, grape, or style, and enjoy. The perfect wine holiday!
---
June
The summer's here (for those of us in the Northern Hemisphere), and there are no limit of cold, crisp wines to celebrate this month with.
---
Prosecco Week
June 11th – 16th: For all its popularity and variety, there's something too appropriate about Prosecco getting an entire week all to itself.
---
Rosé Day
June 13th: The best part about celebrating rosé is that there are so many different styles to choose from! Pick your favorite and drink up. (apparently, there are 2 competing "rosé days" – one is the Fourth Friday in June and the other is June 13th.)
---
Drink Chenin Blanc Day
June 20th: Never had a Vouvray or a Quarts de Chaume? Now's your chance. Also, if you're looking for the country that pours the most effort into Chenin Blanc, look for something from South Africa.
---
Lambrusco Day
June 21st: Another much-maligned wine, today's the day to try one of the many variations that this refreshing Italian offers.
---
July
The quantity of wine holidays found in July is undeniably replaced with quality.
---
Sparkling Wine Week
First Week of July: There are so many sparklers out there that a whole week to get through them all seems more than appropriate.
---
Shiraz Day
Fourth Thursday of July: The name of this day suggests a more New World approach, but we won't tell if you choose to celebrate with Syrah!
---
August
Summer months aren't just for crisp, white wines (though there's plenty of those days to celebrate, too!)
---
Albariño Week
August 1st – 5th: You don't have to be in Rías Baixas to celebrate the second oldest wine festival in Spain (though it doesn't hurt!)
---
National White Wine Day
August 4th: Celebrate everything from Airén to Viognier: just make sure it's crisp and cold.
---
Pinot Noir Day
August 18th: Pinot Noir ranks among the most beloved red wines in the world: this is the day to rediscover why!
---
National Red Wine Day
August 28th: One good wine color deserves another! Pour yourself anything from a GSM to a Port.
---
Cabernet Sauvignon Day
Thursday Before Labor Day: Finally: a holiday for the most popular red grape in the world! Take the time to try a Napa Cab or even a Left Bank Bordeaux.
Rick Bakas, the NoCal native and twitter guru, came up with the idea of Cabernet Day back in 2010.
---
September
Fall is here: time to settle down and taste your way toward the end of the year.
---
International Grenache Day
Third Friday of September: Finally: a wine holiday that both the French and the Spanish can get equally excited for!
---
October
Time for the harvest! The perfect time for more wine celebrations.
---
Pinotage Day
Second Saturday of October: There's no question that Pinotage deserves a closer look these days: this is the perfect opportunity.
---
Carignan Day
Last Thursday in October: If you're not terribly familiar with Carignan, you're not alone. Take advantage of a day like today!
---
November
The year's coming close to an end, but there are still lots of opportunities for wine celebration.
---
Merlot Day
November 7th: Have you ever uttered the words, "I'm not drinking any f@$!ing Merlot?" Use today to atone!
We can't find any mention of this day prior to 2011 and the person who seems convinced that it's on November 7th is winecellarinsider.com.
---
Tempranillo Day
November 9th: Make some tapas and celebrate Spain's most famous grape: perhaps a little Rioja is in order?
Tempranillo Day was started by TAPAS or Tempranillo Advocates in the hopes of getting even more attention on this splendid Spanish grape.
---
Zinfandel Day
Third Wednesday of November: Whether your wine's from Puglia or Lodi (or Croatia), there are countless ways to celebrate Zin!
National Zinfandel Day is advocated by ZAP (Zinfandel Advocates and Producers) who also hold a huge Zinfandel tasting in San Francisco every year.
---
Beaujolais Nouveau Day
Third Thursday of November: Whether you see it as a tradition or a clever marketing ploy, this is the day for drinking something truly young and fresh.
---
Carménère Day
November 24th: Carménère might originally be from France, but we'd recommend celebrating today with one of the great bottles from Chile.
---
December
Another year down! But never fear: you've got a whole new year of celebrating wine to look forward to!
---
Cabernet Franc Day
December 4th: Not to be outdone by its more famous child: Cabernet Franc definitely deserves some celebration of its own.
---
Prohibition Repeal Day
December 5th: Another holiday where it doesn't matter what you're drinking, so long as you are drinking.
---
Sangria Day
December 20th: You might think of Sangria as more of a hot weather drink, but any opportunity to mix a pitcher is a good one in our eyes!
---
Champagne Day (aka NYE)
December 31st: There truly couldn't be a more perfect day to celebrate Champagne than New Year's Eve. Cheers!
---
Add Wine Days to Your Calendar
Want to keep track of all these days with ease? Add wine days to your calendar!
Add to your own calendar iCal Link
---
How Did Wine Holidays Come To Be?
Official wine days are actually pretty unofficial. They are usually a movement started by a variety of individuals or organizations with a passion for the good juice. Based on our research, National Wine Day started in 2009 and, since then, a variety of wine appreciation days have popped up in the calendar.
Wish There Were More Wine Holidays?
No doubt you noticed that there are many unrepresented wines as well as many remaining open days (that could be wine drinking days!). So, now that you know how easy it is to make an official wine day, what should we add?