Here are 12 facts about Cabernet Sauvignon that might surprise you.

Cabernet has its own official holiday–the Thursday before Labor Day
The first official #CabernetDay started in 2010 when marketing guru, Rick Bakas gathered a group of wineries in Napa (he was working for St. Supéry at the time) to promote it on social media. So, remember to pick up a bottle of Cabernet the week before Labor Day (US)!
---
Cabernet Sauvignon is the offspring of Cabernet Franc and Sauvignon Blanc
Dr. Carole Meredith and her research group at UC Davis were the first to use DNA typing to identify the parentage of different wine varieties. It wasn't until 1996 that the world learned Cabernet Sauvignon was indeed the child of Cabernet Franc and Sauvignon Blanc. Meredith went on to identify the origins of over 50 other grape varieties (including Zinfandel's origin in Croatia). She was inducted into the Culinary Institute of America's Vintner's Hall of Fame in 2009. Well deserved!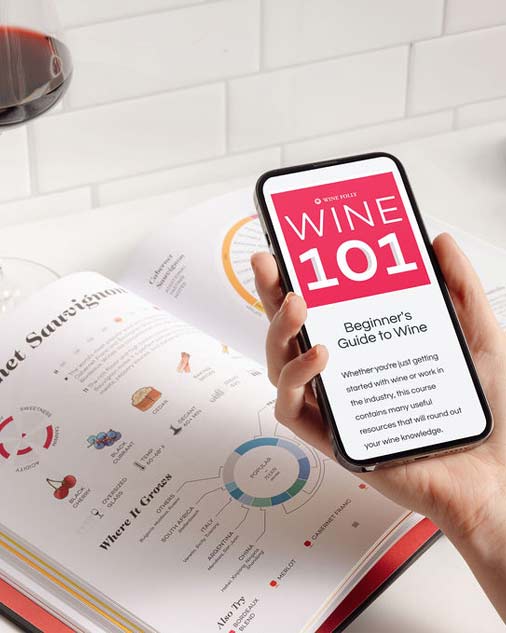 Buy the book, get a course.
Get the Wine 101 Course @ 75% OFF with the purchase of Wine Folly: Magnum Edition.
Shop Now
---
Cabernet Sauvignon is the most planted wine grape in the world (~720,000 acres)
After the detailed work at University of Adelaide by Kym Anderson and his team in 2013, we now know that Cabernet Sauvignon and Merlot are the two most planted wine varieties in the world. See the rest of the top planted vines here.
---
It has higher levels of an aroma compound called Methoxypyrazine which is why it's noted for aromas of black pepper, green peppercorn, black currant and sometimes even bell pepper
Methoxypyrazine or pyrazine is present in higher levels in Cabernet Sauvignon. In smaller amounts this compound is quite positive and adds savory aromas of black pepper, green peppercorn or sage. In larger amounts, pyrazines are seen as a negative and make Cabernet wines taste vegetal and "green." Scientists determined that excessive growth of the leafy part of the vine directly correlates to a wine's increased vegetal aromas. Now that we know this, viticulturists are adjusting their strategies to manage the way Cabernet Sauvignon vineyards grow.
---
Cabernet Sauvignon is a half-sibling of Merlot, Hondarribi Beltza (from Basque Country) and Carménère
If you've ever had trouble differentiating between a glass of Merlot and Cabernet Sauvignon, don't feel bad. Since the two are closely related, it is very difficult to tell the difference. Also, if you've never had Carménère or Hondarribi Beltza (the red Txakoli wines of Basque country) you might find you like them based on their similarities to Cabernet!
---
It is included in the Bordeaux blend, Meritage blend, Supertuscan blend, and CMS blend
Wine blends are not as creative and free as one might think, there are actually a group of core wine blends that have been time-tested to perfection. However, because Cabernet Sauvignon is planted all over, it's been showing up in some unique blends around the world:
Bordeaux/Meritage: Cabernet Sauvignon, Merlot, Cabernet Franc, Malbec, Petit Verdot and Carménère
Supertuscan: Sangiovese, Cabernet Sauvignon, Merlot, Cabernet Franc, Syrah
CMS Blend: Cabernet Sauvignon, Merlot, Syrah
Australian: Shiraz-Cabernet
---
Wineries in Napa Valley pay more on average for Cabernet Sauvignon grapes than they do for other grapes
Cabernet Sauvignon may be the most planted grape variety in Napa but that hasn't hampered the demand for this grape.
---
Cabernet Sauvignon-based wines are tracked and traded like stocks
Sites like Liv-ex and Cavex track wine values over time like stocks. Worth magazine has mentioned that an investment in wine offers returns similar to that of gold or jewelry. One of the top regions right now for proven wine investments is Bordeaux.
---
It is the most planted variety in Chile
Chile has taken seriously to Cabernet Sauvignon. The cooling breezes from the Pacific Ocean and the induction effect of the Andes Mountains produces Bordeaux-style (cool-climate) Cabernet Sauvignon-based wines. The French took note of Chile's amazing agricultural potential and several large chateaus have invested in the region. This is why you'll find many Chilean bottles of wine labeled in a similar fashion to Bordeaux.
---
It is one of the most important varieties in China
The Chinese have a penchant for red wine; it was recently reported that China is the largest consumer of red wine on earth. Cabernet Sauvignon is one of the most popular grapes in China and the chateaus go to painstaking efforts to produce wine. At Chateau Hansen on the western side of the Gobi Desert, vineyards are buried by hand to survive the icy winter.
---
It is the most reviewed red wine variety in Wine Spectator's database
A brief search on Wine Spectator's rating database will reveal nearly 24,000 tasting notes dedicated to wines with Cabernet Sauvignon. This is the highest number of ratings dedicated to a red wine. There was only one variety with more: Chardonnay!
---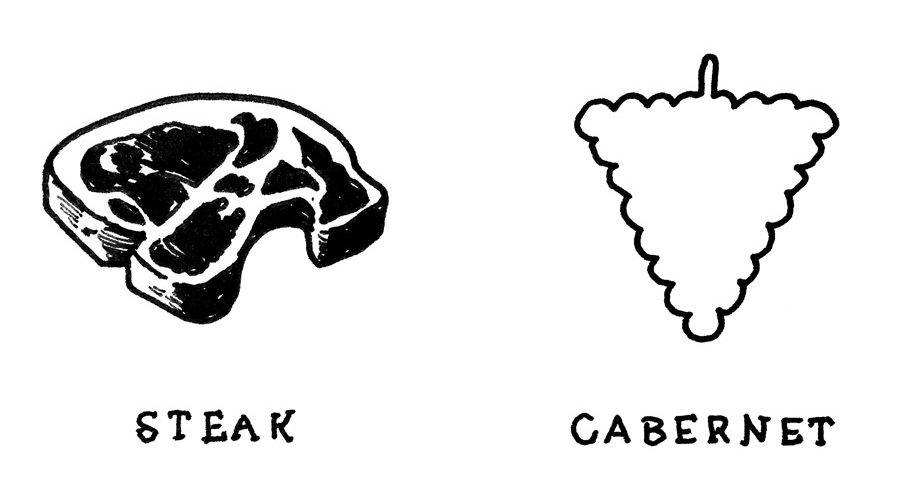 There's a reason why it tastes great with steak…
Researchers studying the effects of certain foods on the tongue found that the tannins in Cabernet Sauvignon act as "scrapers" to fats and proteins that collect on your tongue from the food you eat. Steak has higher levels of proteins and fats and thus need a wine with higher tannin. Just so you know, the study was conducted with iced tea!