Viognier ("Vee-own-yay") is a full-bodied white wine that originated in southern France. Most loved for its perfumed aromas of peach, tangerine and honeysuckle, Viognier can also be oak-aged to add a rich creamy taste with hints of vanilla.
If you love to brood over bolder white wines like Chardonnay, Viognier is definitely something you'll like to swirl.
Guide to Viognier Wine
Viognier is for those who love to stop and smell the flowers. Viognier ranges in taste from lighter flavors of tangerine, mango and honeysuckle to creamier aromas of vanilla with spices of nutmeg and clove.
Depending on the producer and how it's made, it will range in intensity from light and spritzy with a touch of bitterness to bold and creamy. If you like Chardonnay you'll like the weight of Viognier and notice it's often a little softer on acidity, a bit lighter and also more perfumed.
On the palate, the wines are typically dry although some producers will make a slightly off-dry style that embellishes Viognier's peachy aromas.
Viognier wines are almost always noted for an oily sensation on the middle of the tongue which is a characteristic of wines made with this grape. The drier styles come across less fruity on the palate and deliver subtle bitterness almost like crunching into a fresh rose petal.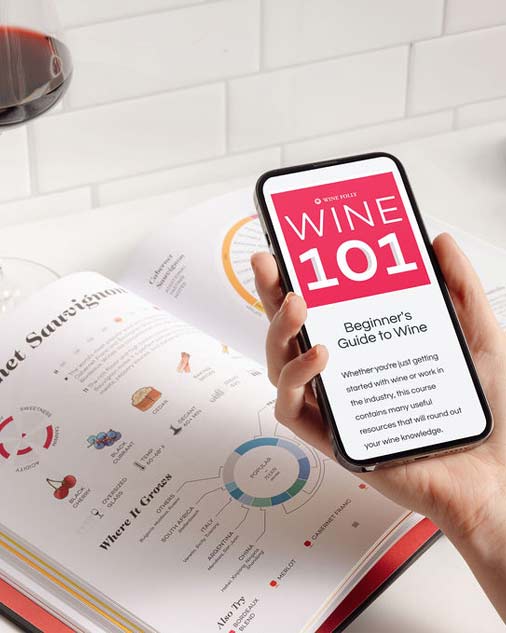 Buy the book, get a course.
Get the Wine 101 Course @ 75% OFF with the purchase of Wine Folly: Magnum Edition.
Shop Now
If you love Viognier
If you love the floral notes of Viogner definitely seek out dry Moscatel from Portugal, Torrontés from Argentina and dry styles of Müller Thurgau.
If you love the richness of a creamy oaked Viognier, you'll also be keen on oak-aged versions of Marsanne, Roussanne, Trebbiano (from Italy!) and Chardonnay.
Expect to Spend: $17–$25 for a good bottle of Viognier from South Australia and California and $40+ for a decent Viognier from the Rhône Valley of France or an excellent Viognier from South Australia or the United States.
---

This roasted Gunea fowl with lemon, fennel, herbs and potatoes would be a lovely match with a vibrant neutral oaked Viognier. By Stijn Nieuwendijk
Food Pairing with Viognier
The trick to pairing foods with Viognier wine is to fully respect its delicate floral notes and medium acidity. Thus, as a general rule, focus on embellishing and expanding the wine's core flavors while making sure that the foods you pair with it aren't too acidic or bold.
A great example might be to match a bolder weight Viognier from Paso Robles, CA with chicken tangine with apricots and almonds served over a saffron rice. The aromas in the dish should heighten the fruit flavors and creaminess in the wine.
Examples
Meat

Roasted Chicken, Chicken Curry, Quail, Pork Chop with Apricot Sauce, Roast Turkey Breast, Teriyaki Tofu, Sesame Tempeh, Pan Seared Tilapia with Avgolemono Sauce, Halibut, Sea Bass, Lobster, Crab, Shrimp, Poached Salmon, Savory Orange Chicken

Cheese

Fondue, Farmer's Cheese, Comté, Baked Brie with Apricots, Gruyere, Young Sheep's Milk Cheeses

Herb/Spice

Orange Zest, Lemon Zest, Marjoram, Tarragon, Fresh Dill, Fresh Sage, Herbs de Provence, Coriander, Lemongrass, Ginger, Galangal, Shallot, Green Garlic, Green Onion, Chives, Nutmeg, Allspice, Mace, White Pepper, Pink Peppercorn, Saffron, Turmeric, Fennel Seeds, Ajwain seeds

Vegetable

Leeks, Fennel, Green Olives, Capers, Cauliflower, Butternut Squash, Delicata Squash, Pumpkin, Kabocha Squash, Currants, Cranberries, Polenta, Leeks, Onions, Sesame Seeds, Yellow and Orange Bell Pepper, Passion Fruit, Apricots, Orange, Mango
---
When Buying Viognier Wines
There are a few things to pay attention to while searching tasting notes online when you're buying Viognier:
ABV

Viognier ranges from about 13.5%–15% alcohol by volume (ABV). This might not seem like a big jump but, on the palate, the extremes will taste like 2 very different wines. If you prefer a lighter, leaner Viognier, seek out wines that range from about 14% ABV or less. And if you want to have a richer, bolder, fruit-forward style, get a higher alcohol style.

fresh picked Viognier grapes before fermentation by Greg Hirson

Stylistic Differences

Generally speaking, there are 2 stylistic differences that winemakers choose between when producing Viognier: new oak aging vs neutral/no oak aging. New oak aging delivers a richer creamier taste, lower acidity and aromas of clove, nutmeg and vanilla. Neutral and no oak aging (made in Stainless steel) will deliver more floral and tropical fruit flavors in the wine while maintaining its acidity and often a subtle bitter note.

Regions

Viognier produces the best wines when it grows in sunny regions with temperatures moderated by cool nights or nearby bodies of water. The importance of cool weather is to maintain Viognier's precious acidity. When seeking out fine Viognier wines you'll notice these regional traits. Here are a few examples of where to look:

Northern Rhône Valley in France (Condrieu and Château-Grillet)
Walla Walla and Columbia Valley in Washington
Virginia
Stellenbosch, Franshhoek and Elgin in South Africa
Eden Valley (Barossa) and Adelaide Hills, South Australia
Paso Robles, Central and North Coast of California