Upon the boisterous expression of the beauty of Lambrusco, you may be remonstrated with something like,
"You mean that cheap, sweet red wine that tastes like soda?"
Well not exactly, but yes, that one. Apparently, Lambrusco still has a long way to go since it tarnished its reputation nearly 40 years ago (blame the wine boom of the 1970s). Fortunately, this means you can find great wines for obscenely good prices. Lambrusco is awesome and its story is more fascinating than probably imagined.
Lambrusco Wines Worth Drinking
Lambrusco is actually a family of very old grape varieties native to Italy. Most wines are a blend of several distinct varieties, each with a unique taste profile. It is unclear exactly when these varieties manifested, but Cato may have mentioned them in De Agri Cultura in 160 BC – humanity's oldest printed farming manual. So when you drink Lambrusco, you are drinking some O.G. juice (several millennia older than Cabernet).
Today, the best Lambruscos are dry (secco) and barely sweet (semisecco) and are almost always made in a semi-sparkling, frizzante, style. There are about 10 different varieties (8 closely related varieties, to be exact). That said, there are the 4 high quality varieties you should know: Lambrusco di Sorbara, Lambrusco Maestri, Lambrusco Grasparossa, and Lambrusco Salamino. These four offer the complete range of styles and they'll match with an incredible array of foods from Korean barbecue to Argentinian empanadas.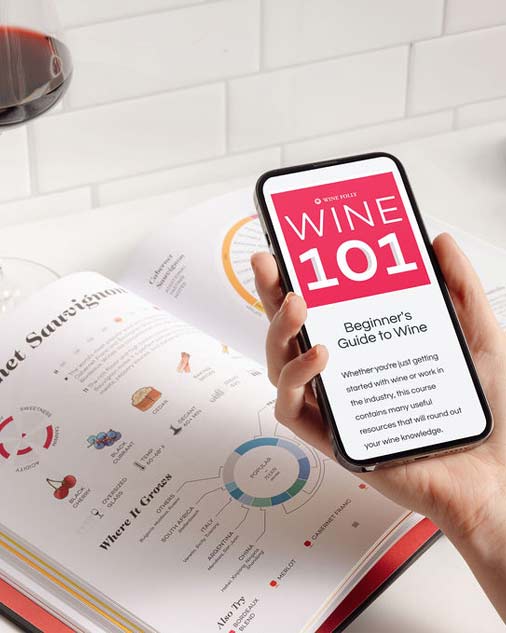 Buy the book, get a course.
Get the Wine 101 Course @ 75% OFF with the purchase of Wine Folly: Magnum Edition.
Shop Now

A glass of Lambrusco di Sorbara, the lightest and most floral of the Lambrusco grapes.
Classy Lambrusco Wines to Try
Lambrusco di Sorbara
This grape produces the lightest and most delicate and floral of the Lambrusco wines, often in a light, pink-rose hue. The best versions are in a dry and refreshing style but have delightfully sweet aromas of orange blossom, mandarin orange, cherries, violets, and watermelon. You'll find these wines labeled primarily as Lambrusco di Sorbara and they pair extremely well with spicy Thai and Indian cuisine.
Lambrusco Grasparossa
This is the grape that makes the boldest Lambrusco wines with flavors of black currant and blueberries, supported by moderately high, mouth-drying tannin and a balancing creaminess from the Charmat sparkling production process. You'll find this wine labeled as Lambrusco Grasparossa di Castelvetro (which includes 85% of this grape) and is great to pair with fennel-infused sausages, lasagna, or even barbecue ribs.
Lambrusco Maestri
Wines of Lambrusco Maestri are more grapey with soft and creamy bubbles and subtle notes of milk chocolate. L. Maestri is actually the most well-travelled of all the Lambrusco varieties and there are some excellent examples coming out of Australia (Adelaide Hills) and Argentina (Mendoza). It's a little harder to find a single-varietal Lambrusco Maestri in Italy, although to quote Italian wine expert, Ian d'Agata,
"Try: Cantine Ceci, Nero di Lambrusco Otello, guaranteed to change your mind about Lambrusco forever and turn you into a believer." Ian d'Agata, Native Wine Grapes of Italy
Lambrusco Salamino
This Lambrusco has cylindrical salami-shaped bunches (which is what the grape is named after). These wines have the delightful aromatic qualities of Lambrusco di Sorbara (imagine cherries and violets) with the structure (tannin), creaminess, and deep color of Lambrusco Grasparossa. Expect Lambrusco Salamino to be made in sweetest styles, including semisecco and and dolce to counterbalance its tannin – oddly enough, the sweetness makes it a great match for burgers. This variety can be found labeled as Reggiano Lambrusco Salamino and Lambrusco Salamino di Santa Croce.

This is an organic Lambrusco wine made with a blend of L. Salamino, L. Maestri, L. Montericco and L. Marani.
Last Word: Eat, Drink, and Be Merry
The majority of Lambrusco production occurs in Emilia-Romagna, a region in Italy that is home to many famous delicacies. Balsamic vinegar from Modena, Prosciutto, and Parmesan-Reggiano cheese are all specialities of Emilia-Romagna. It so happens that a dry or off-dry Lambrusco wine with firm acidity is the perfect match to these locally made treasures. For a match good enough for locals, serve a Lambrusco alongside your next charcuterie and cheese spread. Make sure to include Prosciutto di Parma and Parmigiano-Reggiano for true authenticity!
---
Taste the Rainbow
We created a wine flavor chart that's designed to help people practice identifying flavors in wine and see where they come from. Get yours today and start tasting like a pro.