What is Moscato Wine?
Moscato wine is famous for its sweet flavors of peaches and orange blossom. The word Moscato ("moe-ska-toe") is the Italian name for Muscat Blanc – one of the oldest wine grapes in the world! So, lets find out more about this fascinating wine.
NOTE: Moscato is made with Muscat Blanc grapes.
Moscato Flavors
One of the most popular Moscato wine styles is based on the Italian wine called Moscato d'Asti from Piedmont.
Wines have perfumed aromas of mandarin orange, ripe pear, sweet meyer lemon, orange blossom, and honeysuckle. The wine's unique floral aroma is from an aromatic compound called linalool which is also found in mint, citrus flowers, and cinnamon.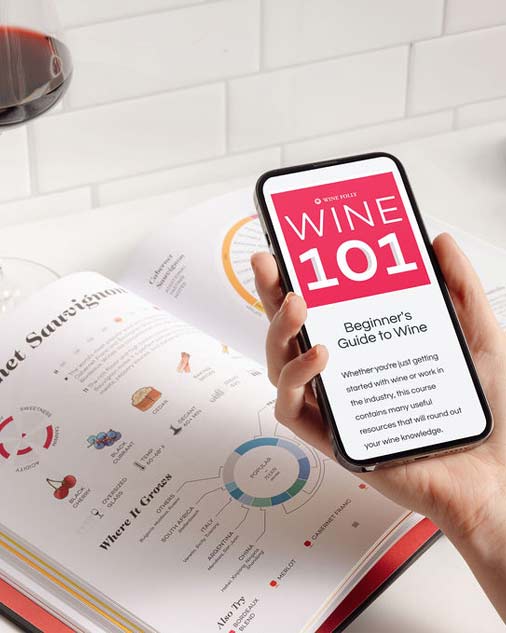 Buy the book, get a course.
Get the Wine 101 Course @ 75% OFF with the purchase of Wine Folly: Magnum Edition.
Shop Now
Moscato d'Asti tastes light-bodied and sweet, with tropical fruit flavors, light bubbles (the Italians call this frizzante – "frizz-ont-tay"), and low alcohol at around 5.5% ABV (btw, regular wine has about 13% ABV).
Moscato Wine Styles
Muscat grapes are quite old (thousands of years!) and thus, you can find it growing throughout the world. For example, there are Muscat-based wines in France, Italy, Austria, Greece, Israel and even Australia. Each region has a its own style. Here are the most well-known Moscato styles:
---
Calories in Moscato Moscato d'Asti ranges from 110-170 calories per 6 oz serving. Some of these calories are carbs from the grape sugars.
---
Moscato Food Pairing
Two words: "Asian Food". If I had to choose just one wine for pairing with sichuan, Thai and Vietnamese cuisine, it'd be Moscato. It handles spicy foods with grace since alcohol levels tend to be low and sweetness tends to be high. Moscato loves aromatic spices like ginger, cinnamon, cardamom and chile peppers. For proteins, try lighter meats like chicken and light flaky fish. That said, a sparkling Moscato would match with BBQ Pork just as well as an ice cold Coke.
Meat Pairings

Chicken, Turkey, Duck, Light Flaky Fish, Pork Tenderloin, Shrimp, Crab, Lobster, Halibut, Cod, BBQ Pork

Spices and Herbs

Cinnamon, Ginger, Galangal, Basil, Lime, Mint, Cardamom, Chili Peppers, Cayenne Pepper, Clove, Shallots, BBQ Sauce, Teriyaki, Sweet and Sour, Orange, Marjoram, Cashew, Peanut, Fennel, Cilantro

Cheese Pairings

Medium to firm cheeses will pair excellently. Look for sheep and cow's milk cheeses

Vegetables (and Vegetarian Fare)

Carrots, Celery, Fennel, Tofu, Red and Yellow Bell Pepper, Mango, Pineapple, Orange, Green Onion