Learn the taste differences and tips to find value and quality New Zealand Sauvignon Blanc from the 7 regions from a wine pro who lived and breathed Sauvignon Blanc on the South island.
Even though New Zealand (NZ) produces just 1% of the world's wine, it still reigns as the "Sauvignon Blanc capital of the world." This small country, comprised of the North and South Islands, is an area slightly larger than Oregon and home to nearly 50,000 acres of Sauvignon Blanc.
Taste of New Zealand Sauvignon Blanc

You'll recognize New Zealand Sauvignon Blanc in your glass almost instantly with its jaw-dropping herbaceous-yet-floral aroma that's complimented by a juicy, yet zesty, citrus zing in your mouth. (Your lips will pucker from the high acidity, too.)
 
Primary Fruit Flavors:
Lime, Gooseberry, Grapefruit, Passion Fruit, Mango, Pineapple, Guava
Primary Herbal Flavors:
Lemongrass, Fresh-cut Grass, Bell Pepper, Tomato Leaf/Stem, Green Bean, Jalapeño
7 Regions of New Zealand Sauvignon Blanc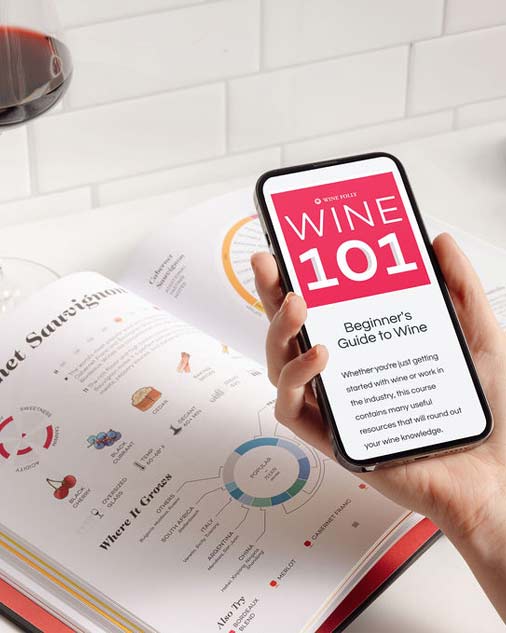 Buy the book, get a course.
Get the Wine 101 Course @ 75% OFF with the purchase of Wine Folly: Magnum Edition.
Shop Now
New Zealand Wine Map
Own the detailed, printed wine map of New Zealand. Made in Seattle, WA, USA. Ships worldwide.
FACT
About 90% of NZ Sauvignon Blanc comes from Marlborough.
New Zealand's North Island and South Island are separated by a 3-½-hour ferry ride across the Cook Strait. These two islands have their own geographies and climates that produce distinctive wines. Learn more of the 7 largest regions to find your style.
North Island Sauvignon Blanc
Expect to sip on riper, fruity styles of Sauvignon Blanc from this milder and warmer island climate. (Think stone fruit and nectarine flavors.)
Hawke's Bay Region: The oldest New Zealand wine region, most known for Merlot blends, makes tropical fruit-forward Sauvignon Blanc that often gain creaminess from time in oak.
Wairarapa (Martinborough) Region: Expect intense aromatics of stone fruit and herbaceous jalapeño herbal character mixed with a freshly-wetted-concrete-like minerality from this region.
Gisborne Region: These wines will have very ripe in tropical fruit in the realm of pineapple and guava with a little bit of citrus zest.
TIP: Serve unoaked Sauvignon Blanc at 45 °F (7 °C) . Bring it out 20 minutes before you pour.
South Island Sauvignon Blanc
With a longer and cooler growing season, the South Island produces more pungent, acidic, and crisper Sauvignon Blancs. (Think vibrant tropical fruits with tingling acidity.)
Marlborough Region: The main growing area in all of New Zealand delivers the benchmark style Sauvignon Blanc. Wines have intense aromatics of passion fruit, gooseberry, along with grassy-lemongrass flavors.
Nelson Region: Just Northwest of Marlborough, Nelson makes slightly more restrained Sauv. Blancs that lean towards the tropical fruit side.
Canterbury/Waipara Region: Further south from Marlborough, the Sauvignon Blanc is citrusy with more minerality, acidity and dryness.
Central Otago Region: The world's southernmost wine region where Sav Blancs start with passionfruit and pineapple and finish dry and stony.
---
Tips on Finding the Best New Zealand Sauvignon Blanc
Without name-dropping producers and hyped ratings, here are some intelligent guidelines to follow to explore New Zealand Sauvignon Blanc on your own.
Vintages to Seek Out
2016 –very good, passion fruit driven flavors abound.
2015 –good, smaller production but high quality all around.
2014 –very good, particularly in Hawke's Bay.
2013 –very good
2011 –good
2010 –excellent (Look for oak-aged Sauvignon Blanc and Chardonnay from this vintage.)
Pay attention to vintage. Vintage variation is common in cool climate growing regions.
 
$16–17 (retail) will get you into a much higher quality bracket with NZ Sauvignon Blanc.
 
Keep your eyes peeled for tech sheets. Many producers add up to 6 grams of residual sugar (per bottle), this is fine, but many high quality Sauvignon Blancs have less than 3 g/L RS.
 
Close-out wines are very appealing, but most New Zealand Sauvignon Blanc should be enjoyed within 1-3 years of release.
 
Even Hipsters Like New Zealand Sauv. Blanc
Fiona Beckett is a self-professed anti-NZ Sauvignon Blanc critic at The Guardian. Even she was impressed with the Greywacke's 2013 "Wild Sauvignon." This wine is quite different from the styles we've described above due to being fermented by wild yeast.

Love New Zealand Sauvignon Blanc? What to try next:
From New Zealand: If you already love New Zealand wines, you'll fall in love with their Pinot Gris and dry Riesling; they are undervalued and loaded with white peach flavors and dry minerally acidity.
Other Regions: This style is also popular in South Africa, Chile, Languedoc-Roussillon (France) and Friuli-Venezia Giulia (Italy).
We also recommend that if you love Sauvignon Blanc, you've just gotta try White Bordeaux.