France is the place of origin of Malbec, but Argentina is now home to nearly 70% of the Malbec vineyards of the world. Thus, your very first taste of Malbec could have been from Mendoza, Argentina. There is a dramatic difference in taste between the two regions and this is because Malbec really shows how terroir affects wine.
Argentinian Malbec vs. French Malbec

An instant definition of 'terroir'
Terroir encompasses all the regional factors that define the taste of a wine grape including sun, soil, the slant of a hillside, proximity to a body of water, climate, weather and altitude. Terroir happens before a winemaker even touches the grapes. Any winemaker worth his/her salt will tell you: great wine is made in the vineyard, not in the cellar. Read more about Terroir
 
Malbec taste by region
Argentina Malbec

= Fruit-forward, plummy with a velvety texture

French Malbec

= Savory, tart, firm tannins, plum, meat and blackberry

This uber-popular varietal is a household name thanks to Argentina, but it still has a foothold in southwest France where it originated. Same grape, two very different wines. A Malbec from Argentina tends to be plummy and fruit-forward, with a velvety soft texture. In France, Malbec tends to have more structure, firmer tannins, and an inky dark, brooding quality.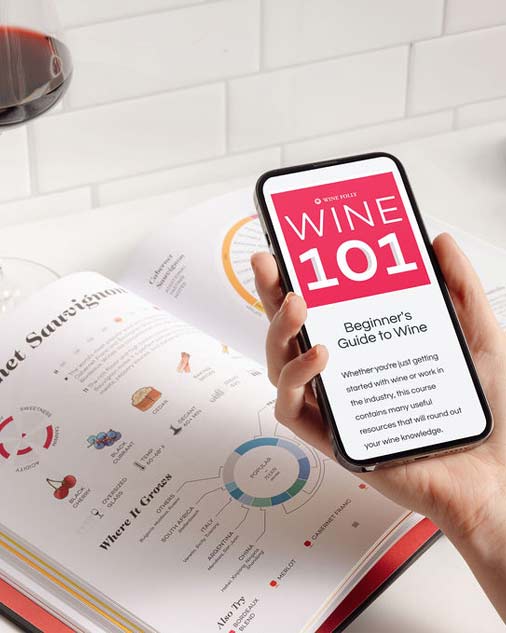 Buy the book, get a course.
Get the Wine 101 Course @ 75% OFF with the purchase of Wine Folly: Magnum Edition.
Shop Now
Why does Malbec show Terroir better than other grapes?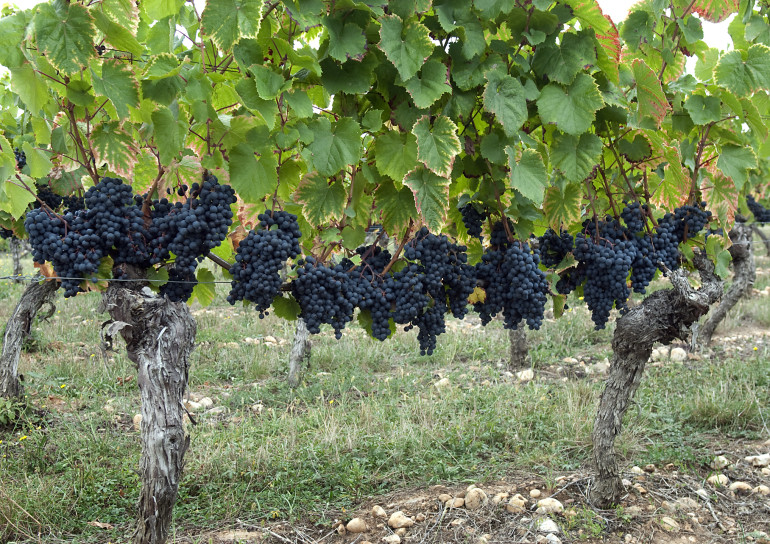 Malbec growing in limestone soils in Cahors, France. source
 
This thin-skinned "black grape" is something of a rustic relative of Merlot so it shares its sensitivity to rot, frost, and pests. Thus, having ideal growing conditions are extremely important to the final product. Perfect conditions include ample sunshine and a dry climate to thrive. Too much sunshine, however, will turn wines into flabby fruit bombs with little structure (alcoholic soda pop, anyone?). In short, Malbec is a fickle grape and it's more sensitive to the climate.
 
Other sensitive red wines?
Merlot, Pinot Noir, Zinfandel, Malbec and Sangiovese are sponges to their environments.
Tip:
Young Malbec has a hot pink-tinged rim. Find out more
about Malbec
Limestone gives Malbec high tannin and color
In the limestone soils of the Cahors region, Malbec produces its darkest, most tannic manifestation, showing blackberry fruit in its youth, and tobacco, coffee, and meaty notes as it ages. This is partly due to the calcium component in limestone, which helps maintain acidity late into the growing season for the grape, and contributes to structure in the glass. The vines thrive in the arid, limestone plateau called the Causses, which has a thin topsoil that forces the roots to dig deeply for nutrients. Hardworking roots equate to more concentrated grapes and a deeper wine.
Sunshine gives Malbec a fruitiness
In Mendoza, where 70 percent of Argentina's wine — mostly Malbec — is grown, conditions are even sunnier and even drier. Here, at the foot of the Andes, the grape makes rich, robust wines with brambly black mountain fruit and sweet floral notes. With scarce rain, early summer hail, and a forceful gale called the Zonda, the vines here have to dig deep into the alluvial sand and clay soils which have formed over time from mineral deposits left by snow melt running down the Andes. The clay allows the vines to root deeply and thus soak up more of the soil's minerals. The sand provides for good drainage, an important factor in keeping rot at bay.
One of the most significant factors in Mendoza's terroir are the jagged Andes that dominate the skyline. Mount Aconcagua tops out at over 23,000 ft. and is the tallest in the Americas. The mountains provide altitude and cooler air, which slows down the ripening process and is essential to ensure the grapes develop enough acidity in this very sunny region. The grapes have the chance to develop full, ripe, fruity characteristics, while still building acid to ward off the soda-pop effect. The big temperature swings between day and night help enhance this ripeness/acidity tango. The resulting wine shows riper, fruitier notes thanks to the longer time in a more intense sun that high altitude provides.
A lil' history of Malbec's Origins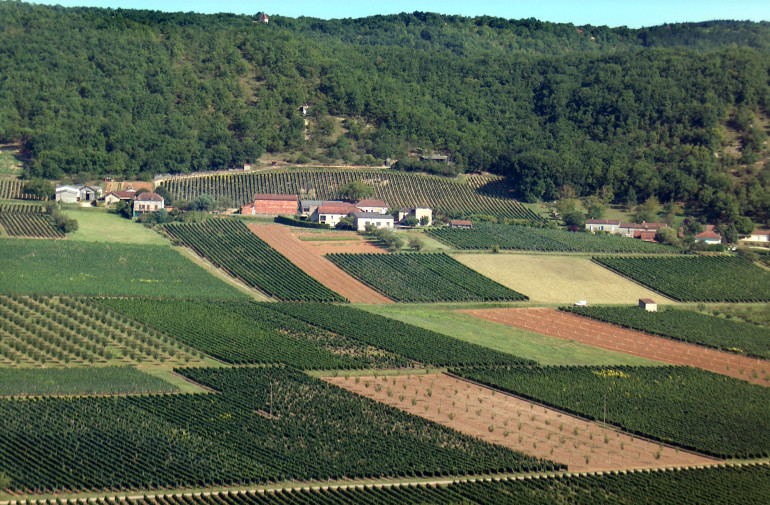 Vineyards in Cahors along the Lot River. source
 
For centuries, Malbec played a supporting roll in Bordeaux blends but it often underperformed because of its sensitivity. Further up the Garonne River from Bordeaux, Malbec has done very well in southwest France, particularly the Cahors appellation. The cooling breezes from the Atlantic keep the vines rot-free, while warm daytime temperatures and Mediterranean influence allows grapes to ripen. In Cahors, Malbec is called 'Cot' and in the Middle Ages it was called "black wine" for its deep, purple-ebony hue.
---
About the Author
Kate Soto is the manager of
winegoddess.com
a wine retail store that offers wine classes, a wine club and private events in Evanston, Illinois.