Spanish red wine offers exceptional value and a bold entry into the red wines of Europe.
You can find great sub-$15 fruity crowd pleasers but there are also bolder, high end red wines that easily match the best collector's wines of the world.
Spanish red wines are striking and unique. They also match very well with rich foods, so next time you're having thick-cut cheddar burgers, empanadas, bbq skewers, and pork roast go for something Spanish.
One theory about their unique nature is that wine was introduced to Spain by the Phoenicians around 800 BC. Because of this, the wines of the Iberian peninsula are not the same French varieties that are common in the United States.
7 Types of Spanish Red Wine
Young Tempranillo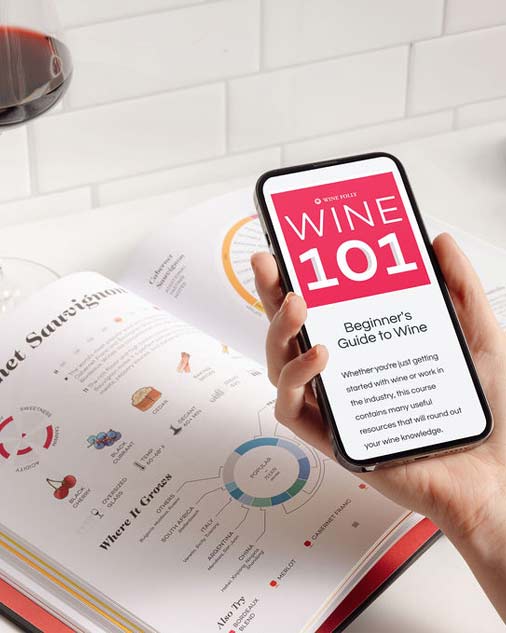 Buy the book, get a course.
Get the Wine 101 Course @ 75% OFF with the purchase of Wine Folly: Magnum Edition.
Shop Now
Tasting Notes: Sour Cherry, Plum, Spicy Black Pepper and Bay Leaf
Average cost: $10–20
Regions: Rioja Crianza, Ribera del Duero Roble and Crianza, Valdepeñas, Tinto de Toro, La Mancha, Castilla-León, Extremadura
A juicy and spicy style of Tempranillo that typically receives less than a year of aging. Because wines are not aged long, they are spicy, fleshy, and tart. Most value-driven Tempranillo tastes lighter-bodied and lacks the complex flavors of brown spices from oak-aging.
In Central Spain, there are sub-$10 wines which are ideal for traditional Spanish Sangria.

---
Aged Tempranillo
Tasting Notes: Cherry, Dried Fig, Vanilla and Cedar
Average cost: $25–35
Regions: Rioja Reserva, Ribera del Duero Reserva, Toro Reserva, Aged Castilla-León
Bold high tannin wines that embellish Tempranillo's best qualities that are aged for several years in oak and bottle. The aging of Tempranillo softens the variety's spiciness and flavors become almost sweet and dried.
The extended cost of aging explains why this style typically costs more. Keep your eyes peeled for wines labeled with Reserva and Gran Reserva.

---
Young Garnacha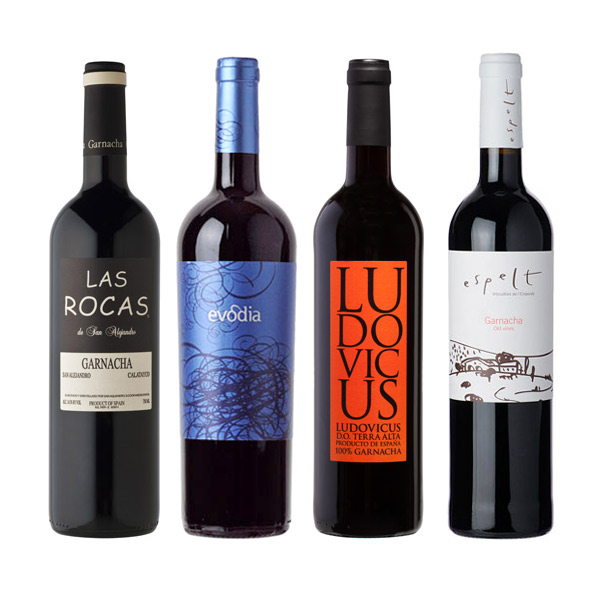 Tasting Notes: Strawberry, Ruby Red Grapefruit, Hibiscus and Black Tea
Average cost: $12–18
Regions: Calatayud, Somotano, Navarra, Cariñena, Campo de Borja, La Mancha
Garnacha is known as Grenache in France, but the grape originated in Spain. This fresh and juicy style of Garnacha is a bouquet of sweet red fruit and a smooth iced tea like finish.
You'll find this style of Garnacha in Northern Spain close to the border of France in the encompassing regions of Aragon and Navarra. Young Garnacha typically makes a wonderfully candied red fruit flavored Sangria.

---
High-End Garnacha and blends
Tasting Notes: Grilled Plum, Red Licorice, Juniper and Crushed Gravel
Average cost: $25–35
Regions: Vinos de Madrid, Campo de Borja, Priorat, Méntrida
High-end Garnacha wines are bold and complex with high tannin and dark raspberry flavors. Wines are aged longer and typically come from old vines.
You can find single varietal Garnacha around Madrid, where old vines in high elevation vineyards produce concentrated wines. In Spain, the Priorat region also uses Garnacha blended with Syrah, Cabernet Sauvignon, Merlot and Cariñena and delivers bolder styles with blackberry and licorice. Incredible stuff.
---
Monastrell
Tasting Notes: Blackberry Sauce, Chocolate, Potting Soil and Smoke
Average cost: $10–18
Regions: Jumilla, Alicante, Valencia, Bullas, La Mancha, Yecla
Monastrell is the same wine as Mourvèdre in France, but it's actually a wine of Spanish origin. (Perhaps we should all be calling it Monastrell!)
Wines are intensely bold with high tannin, black plum, chocolate, and black pepper flavors. Monastrell is primarily produced in Central Spain.
Most wines are produced in affordable style and offer excellent value. Investigate the regions of Valencia, Alicante, Jumilla, Bullas and Yecla for amazing options.
---
Mencía
Tasting Notes: Pomegranate, Black Licorice, Crushed Gravel and Graphite
Average cost: $20–30
Regions: Bierzo, Ribeira Sacra, Monterrei, Valdeorras
Mencía (pronounced Men-THEE-ah) is a unique medium bodied wine that grows in Spain and Portugal. Wine collectors have likened Mencía it to Grand Cru Burgundy because of its' layers red fruit, floral aromas and moderate mouth-drying tannins.
The wines are made in Northwest Spain around the encompassing region of Galicia and in Portugal in the Dão region.
Wines from Bierzo and Monterrei tend to be more full bodied and wines from Valdeorras tend to be lighter. The Monterrei and Ribeira Sacra regions sometimes blend Mencía with other local grapes including Bastardo.

---
Bobal
Tasting Notes: Black Cherry, Dried Green Herbs, Violet and Cocoa Powder
Average cost: $15–18
Regions: Utiel-Requena, Manchuela
A relatively unknown grape outside of Spain due to the fact that very little exported. Still, Bobal is one of Spain's most planted grapes. It grows mostly in Central Spain where it's prized for its deep opaque purple color, high tannins, and black fruit flavors.
Some producers have figured out how to manage the bold tannins in this wine and deliver smooth reds with blueberry notes.
Be sure to pair with a richly flavored meat, like carne asada.
Master Spanish wine
Find your next bottle of Spanish wine with this information rich map.