The fortress known as Rioja Wine is built on a foundation of Tempranillo. This grape is hugely popular around the world but its true homeland is on the Iberian Peninsula.
Grounded in Spanish wine making, Rioja has a strict set of rules regarding its classification, and these produce a beautiful result: a big wine with high tannin that pairs up well with meat, delivering structure and fruitiness.
Rioja Wine
Rioja Wine enjoys a broad selection of flavors depending on how its made and aged. Across all versions you can expect a big flavor wine with high tannins – younger wines have zippy fruit, while the longer aged wines pick up oak flavors from the barrel.
Rioja Classification
Rioja has a wine control board, called the Consejo Regulador DOCa Rioja, who inspects the quality of producers to ensure consistency. There are 4 different main styles of Rioja wine. The best way to taste the range would be to taste all 4 next to each other – perhaps a perfect excuse to host a wine tasting party.
Rioja
Wines in their first or second year, which keep their primary freshness and fruitiness.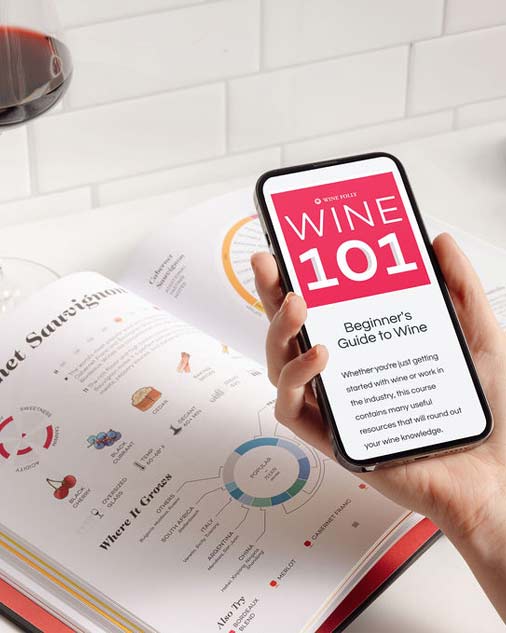 Buy the book, get a course.
Get the Wine 101 Course @ 75% OFF with the purchase of Wine Folly: Magnum Edition.
Shop Now
Rioja used to be called "vin joven" which literally means "young wine." Now when a wine is labeled Rioja you can assume it's a base-model Tempranillo.
These wines don't have the tannin structure or oak flavors that are common in the higher end wines.
What they don't have in structure they make up for in zippy fruit. Try this level of Rioja as a great example of the true varietal characteristics of Tempranillo wine.
Crianza
A minimum of one year in casks and a few months in the bottle. For white wines, the minimum cask aging period is 6 months.
Crianza is perhaps the most accessible level of Rioja wines, especially since most can be found for less than $15.
At the Crianza level, the wines are most commonly aged in used oak, so the oak flavors are not as strong. The goal of Crianza is a high-quality daily drinking wine.
It's not too rich, but with Tempranillo's natural high tannin it has quite a bit more body than Merlot. It's like a great valued Cabernet Sauvignon.
Reserva
Selected Red wines of the best vintages with an excellent potential that have been aged for a minimum of 3 years, with at least one year in casks.
This is where Rioja tastes serious. At the Reserva level, winemakers often age their wines longer than the minimum and select better grapes. Many Rioja wine enthusiasts swear by Reserva level because they are a medium between super fruity Crianza and oakey-bottle-aged Gran Reserva.
Gran Reserva
Selected wines from exceptional vintages which have spent at least 2 years in oak casks and 3 years in the bottle. For white wines, the minimum aging period is 4 years, with at least one year in casks.
The Gran Reserva level of Rioja experiences the most oak-aging. This gives Rioja wine the most tannin structure and age-worthy potential.
What's interesting about Gran Reserva is that most winemakers select the best grapes for this level and age them for as long as the wine needs. This means most of the new release Gran Reservas are around 10 years old or older when you first see them available.
---
Rioja Region
Rioja is in North Central Spain. It's about 2 hours drive from Bilbao in a valley along the Ebro River.
The entire valley is moderated by the Sierra Cantabria, a small but jagged mountain range that stops clouds from coming into the Rioja valley. Besides wine, the area is known for its delicious tiny artichokes, white asparagus and piquillo peppers.
For wine, the area is split into 3 sections: there's Rioja Oriental (formerly Baja), Rioja Alta and Rioja Alavesa (next to Alava).
Rioja Oriental: Formerly the Rioja Baja, the name was changed to indicate this region being the most eastern of the three (which is the meaning of Oriental). The wines from this region are more fruit-forward and the new wineries in the region focus on a richer style wine that's rounder and more lush. You can still find the characteristic fig flavors in older wines from this region, but generally the wines are designed to drink right away.
Rioja Alta: Thanks to elevation and cool temperatures, wines from Rioja Alta have higher tannin and acidity than Rioja Oriental – they also tend to be more elegant.
Rioja Alavesa: This region's wines bear a high resemblance to the wines of Rioja Alta – high tannins and acidity.
---
Food Pairing with Rioja Wine
Wines from Rioja Alta and Alavesa pair up well with baked pasta and other tomato-based dishes where the natural acidity is already being balanced with cheese and grains.
High-fat meats like roasted pork and chorizo sausage, or nearly anything lamb (a popular choice in many areas of Rioja) will do well.
The richer, more lush wines from Rioja Oriental will pair up well with spicier foods like chili con carne or richer foods like paella, where the structure of the wine can provide a backbone to complement a mixture of flavors and textures.
The older more mellow drinking wines can't say no to a well provisioned board of hard cheeses.
---
This gets you the overview of Rioja, but there's so much more to learn and delicious wine to taste. Check out the new Rioja Classifications to help narrow down the tasty Spanish red you'll open next.