Hone Your Blind Wine Tasting Skills
Blind wine tasting is the skill of determining the varietal, region, vintage, and producer by only using your senses. To be an expert blind wine taster you need to build keen senses. For that you'll either need:
A lot of money – OR – A couple of good friends who like drinking.
Read the guide below on how to format your own blind wine tasting party. Becoming great at blind wine tasting takes experience, so we're revealing the secrets of our best 'tells' to wine varietals. If you want to know more about the secrets of wine, check out our posts on the color of red wine and the color of white wine.
Grab our handy guide for setting up a killer blind tasting.
Setting up a Wine Tasting Party
Secret to getting great wines
The best way to share the cost of the wine is to have each person bring a bottle. This way everyone involved will only know one of the wines. When we host a blind wine tasting party, we're always surprised by how people go above and beyond because they want to share something they love.
What Are Ideal Wines for a Blind Tasting Party?
Even in Master Sommelier exams they have a list of wines you can and can't use. Nowadays, many wines will 'trick' even a seasoned sommelier. With that in mind, here is a great list of recommended wine varietals: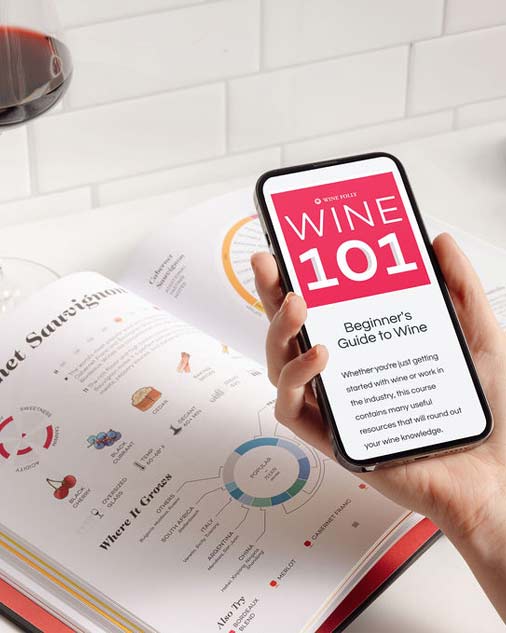 Buy the book, get a course.
Get the Wine 101 Course @ 75% OFF with the purchase of Wine Folly: Magnum Edition.
Shop Now
No Wine Bags? No problem!If you don't have enough wine bags you can use aluminum foil to disguise the bottles.
RED WINES
Pinot Noir, Malbec (from Argentina), Merlot (from US), Nebbiolo, Cabernet Franc (from France), Grenache, Syrah/Shiraz (From Australia or France)
WHITE WINES
Sauvignon Blanc (from New Zealand), Chardonnay (From California), Riesling (from Germany), Moscato, Grüner Veltliner, Pinot Grigio (From Italy), Viognier
Blind Tasting Wine Party Format
An awesome party host will have an array of snacks, water, a spittoon, and glassware. If you don't have enough fancy glassware, identical clear glass/plastic cups will do fine.
At our first blind wine tasting party we had a bag of pita chips, plastic cups, water-from-the-sink, and a nasty old 5-gallon paint jug for a wine spittoon. Today the only difference is glassware.
– Madeline
Wrap wine bottles with aluminum foil
Hand everyone a glass
Separate the whites from the reds and number them. Start with white wine.
Pass wines round robin and deliberate results after each wine (before you forget!)
Use the spittoon as much as you can because you will get drunk
How Do You Taste Wine To Identify It Blind?
Check out 5 Steps to Tasting Wine. Awesome.
---
Blind Tasting Tricks and Hints
These hints are based on observations of thousands of wines. Although sometimes the wine doesn't show these traits, more than often it will.
Info: Need to review the 5 basic wine characteristics?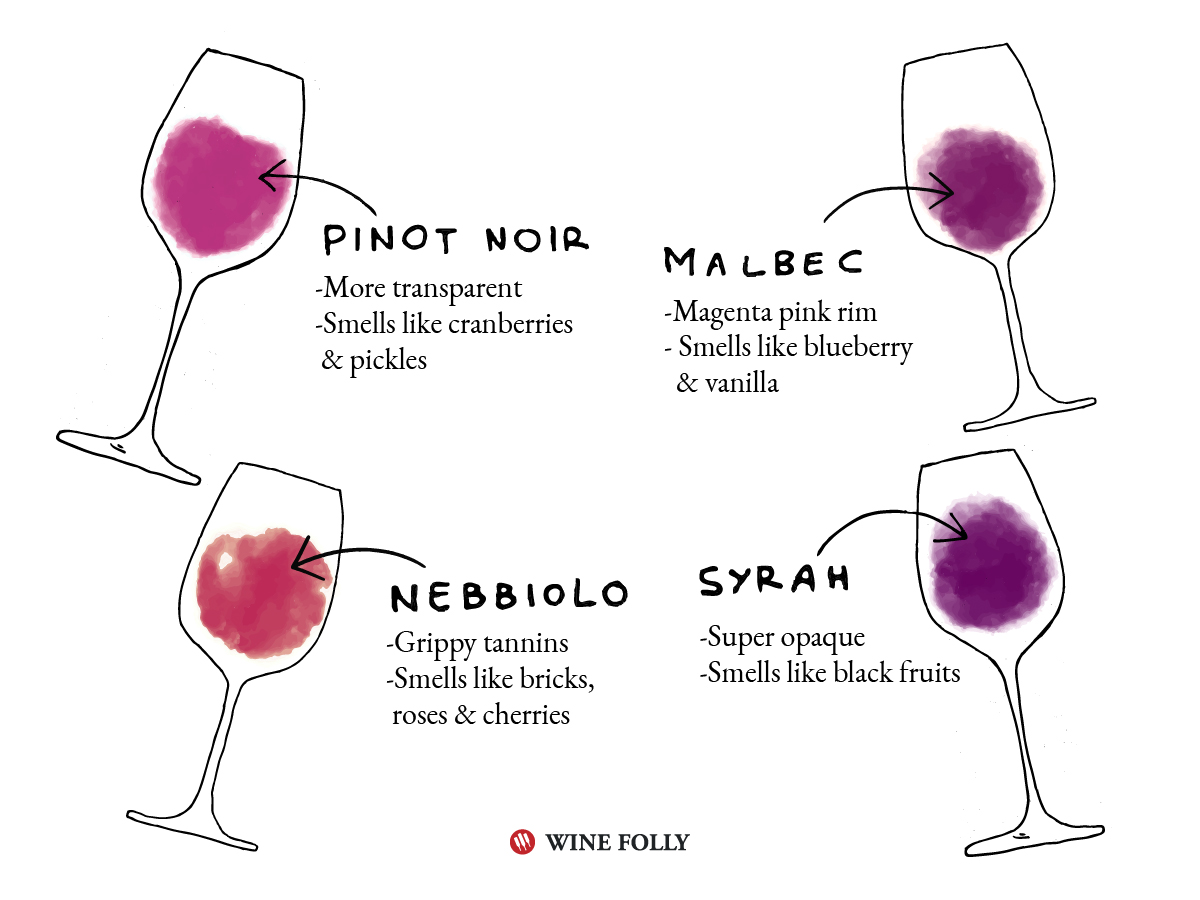 Pinot Noir

Pinot Noir is one of the lightest of light red wines. If you have a wine that's extremely transparent and the meniscus is more ruby than purple, you may have a glass of Pinot Noir in front of you. Pinot Noir smells like cranberries and pickles… and most of all: wine.

Malbec

I love blind tasting Malbec because it's usually very opaque. It also has one 'tell', a bright pink-magenta rim. Malbec commonly smells like blueberries and vanilla.

Merlot

Merlot is very confusing because it often tastes and smells like young Cabernet Sauvignon and Cabernet Franc. Merlot's 'tell' is that it has a slightly orange rim at a young age whereas Cabernet Sauvignon does not.

Nebbiolo

Nebbiolo is one of the most high-tannin wines out there, yet it still is very translucent. Nebbiolo is a grippy wine while staining orange and being very light-colored. Nebbiolo is from Italy and tastes of bricks, roses and cherries. Yum.

Cabernet Franc

I like to select Cabernet Franc over Cabernet Sauvignon because it's more obvious. Cabernet Franc has more peppery and savory characteristics than Cabernet Sauvignon. It's easy to identify because no matter what region it grows in, it has this classic bell-pepper aroma.

Grenache

Grenache is also known as Garnacha in Spain and is a bit of a chameleon. Grenache produces ruby-colored translucent light red wines. Grenache's 'tell' is candied fruit. Spanish Garnacha smells of candied grapefruit.

Syrah / Shiraz

Syrah and Shiraz are more opaque than other wines. A Shiraz often tastes of black fruits whereas a French Syrah tastes of black olives. Either way, look for black fruits in a Syrah.
---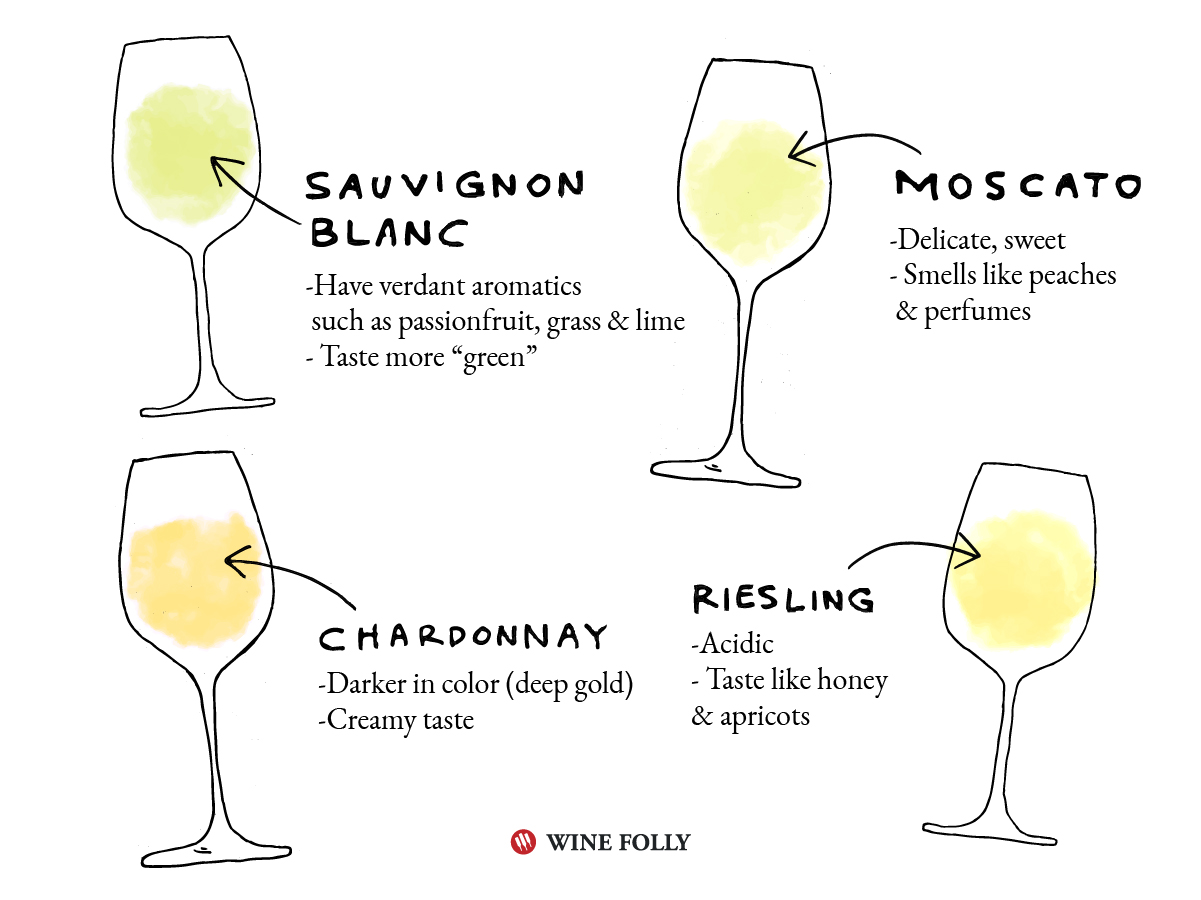 Sauvignon Blanc

Sauvignon Blanc tastes like green bell pepper, grass, limes and gooseberries. Even when Sauvignon Blanc tastes more peachy and passion fruit-y such as many California Sauvignon Blanc's do, it still tastes a little green.

Chardonnay

Chardonnay is one of the most full-bodied white wines out there. It will fill your mouth with its flavor. An oaked chardonnay has a smooth creamy taste and a much darker color than other wines. Try to get an oaked Chardonnay for a blind tasting, it will be the easiest to identify.

Riesling

High acidity, honey and apricots are the main flavors of a Riesling. Most Rieslings are also slightly sweet. Watch out for Australian Rieslings, they are usually dry (with no residual sugar).

Moscato

Moscato is usually delicate and sweet, tasting of peaches and perfume. The smell of Moscato is very strong, it will fly out of the glass at you.

Grüner Veltliner

An Austrian wine with high acidity and very green flavors. While some Grüner Veltliner are richer in style, most $10-15 wines have major lime zest and pepper flavors.

Pinot Grigio

When I'm blind tasting Pinot Grigio, it's more a question of what it's not versus what it is. It's high acid and very pale in color, but not as high as Grüner Veltliner. Pinot Grigio tastes like lemons and limes.

Viognier

The lowest acid of most white wines it feels heavy on the middle of your tongue. Most viognier are dry and smell like jasmine perfume and apples.
---
And have fun! No matter how you do in the blind tasting, your most important goal is to enjoy great wine, good company, and the pleasure of learning to tune your palate.
The Wine Tasting Method
Want to brush up on technique so you can win your next tasting? Refresh yourself on the Wine Tasting Method and tackle the next wine night like a pro.