Change in the wine world is slow going.
For example, most wine snobs still prefer corks even though screw caps have been proven successful for over 50 years. Also, did you know we still value Bordeaux wine based on a 160 year-old ruling?
So, when the Rioja Consejo Regulador (wine commission) announced a new classification system in 2018, you can bet it was a big –effing– deal!
Rioja Wine Classification Changes
The new system moves Rioja wines away from oak-aging as the primary indication of quality. Instead, wineries are encouraged to champion regional microclimates and singular vineyard sites.
For those in the know, the new system has similarities to how they do things in Burgundy. Our opinion? This is going to be a big, positive change for Rioja (and Tempranillo!)
Quick Facts on Rioja Wine Rules
Rioja can be labeled by its three official zones: Rioja Alta, Rioja Alavesa, and Rioja Oriental (aka Eastern Rioja – originally called Rioja Baja.)
The Rioja aging classification still uses the same levels of generic, Crianza, Reserva, and Gran Reserva, but there is also Gran Añada, which can be used for sparkling wine.
Rioja wines can now add the name of the village/municipality to the front label. That said, don't try to memorize all the municipio names – there are 145 in Rioja!
Rosé (aka "rosado") wines are now allowed to be made in a lighter color. It's about time!
There is a now a new sparkling wine designation called Espumosos de Calidad de Rioja (with similarities to Champagne!)
Winemakers may now offer single-varietal white wines under the Rioja Blanco label.
Revised Rioja Aging Classifications
Generic Rioja (aka "Joven")
Generic Rioja wines do not have aging requirements. Expect these wines to use minimal oak-aging and have a fleshy style. In the past, this was Rioja's lowest quality indication.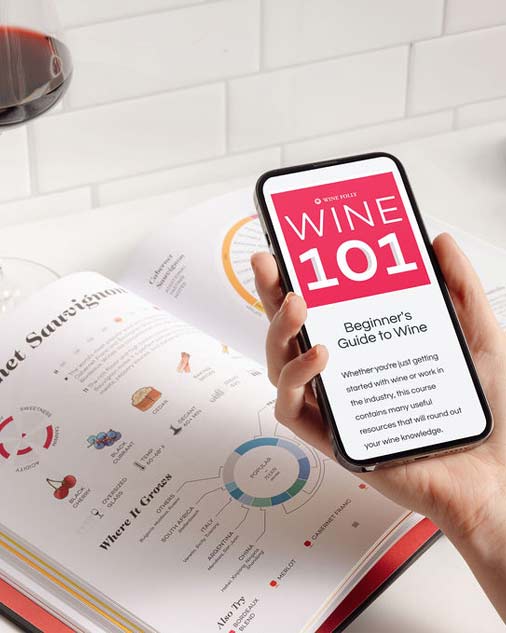 Buy the book, get a course.
Get the Wine 101 Course @ 75% OFF with the purchase of Wine Folly: Magnum Edition.
Shop Now
Today however, we're likely to see some exceptional wines (especially Rioja Blanco made with Viura) using this aging regime.
Crianza Rioja
Crianza ("kree-ahn-tha") was formerly where quality started for Rioja wine. The increased aging allows Tempranillo-based wines to develop more complexity. Expect red fruit flavors and subtle spice.
Red wines: Aged for a total of two years with at least one year in oak barrels.
White and rosé wines: Aged for a total of two years with at least six months in barrels.
Reserva Rioja
Reserva is where things start to get serious with Rioja. We suspect this classification will continue to be the benchmark moving forward because it also includes the new sparkler, Espumosos de Calidad de Rioja.
Red wines in this classification typically have fantastic balance between fruit and structure (e.g. tannin and acidity), with subtle aged flavors of baking spice and dried fruit. This is one of those bottles you must try aging in a cellar to see how it evolves!
Red wines: Aged for a total of three years with at least one year in oak barrels and at least six months in bottles.
Sparkling wines: Wines must be aged "en tirage" (on the lees) for no less than 24 months. Vintage-dated espumosos must be hand-harvested.
White and rosé wines: Aged for a total of two years with at least six months in barrels.
Join Wine Folly - the free weekly newsletter that educates and entertains. Your trusted wine resource.
Gran Reserva Rioja
Red wines: Aged for a total of five years with at least two years in oak barrels and two years in bottles.
White and rosé wines: Aged for a total of five years with at least six months in barrels.
Gran Añada Rioja
What was once a bygone category has new life, thanks to the creation of Gran Añada bubbly!
By the numbers, these wines mimic the production methods and aging requirements of vintage Champagne.
We have a sneaking feeling that these wines won't hit the market until 2020.
Sparkling: Wines must be aged "en tirage" (on the lees) for no less than 36 months. Vintage-dated espumosos must be hand-harvested.
New Regional Labeling for Rioja is Finally Here!
The biggest change to Rioja wines, by far, was the addition of a regional labeling regime.
Of course, there's still quite a bit of discussion about whether or not this was the right thing to do.
Some argue that the best Rioja wines have traditionally been blends of multiple sites so regional specificity won't help quality. Others say the new regulations are not stringent enough and Rioja should hold itself to higher standards.
Regardless, if you travel through Rioja, you cannot deny that there are a myriad of soils and microclimates. The idea that you can now officially notate a singular vineyard is going to make forward-thinking producers (and wine collectors) very excited.
Rioja
You can assume that all wines labeled "Rioja" are a blend of grapes from all over La Rioja.
Zonas (Zones)
The largest Zona is Rioja Oriental, followed by Rioja Alta, and then Rioja Alavesa. Most wine books will tell you that Rioja Alta and Rioja Alavesa make the best wines, but that's not always true.
In fact, I'd wager to say that if you're a fan of richer styles of Tempranillo, you're going to love a few producers in Rioja Oriental (for example, check out Ontañon and Barón de Ley.) The problem with Rioja Oriental is that a sizable proportion of its production is bulk wine.
Rioja Alta and Rioja Alavesa tend to have more minerality and elegance. Many of these wines are built to age 20 or more years.
Municipios (Municipalities)
Rioja can now label wines after the village or municipal area where they're grown. If a vineyard straddles two municipalities, it's allowed to blend up to 15% of the neighboring village's grapes into the wine.
One problem with this new regulation is we have yet to see which villages will emerge as standouts. In Rioja, there are 145 municipalities (77 in Rioja Alta, 50 in Rioja Oriental, and 18 in Rioja Alavesa.) That's a lot to remember!
Viñedo Singular (Unique Vineyards)
Viñedo Singular reminds us of lieu-dits (named vineyard sites) of Burgundy. For this classification, the producer must appeal to the Consejo Regulador to recognize a vineyard and allow it to be listed on the label.
On one hand, Viñedo Singular is really cool because we'll finally get to learn the names of places where special vines are grown. With Viñedo Singular, wineries are encouraged to make single-vineyard wines (something that's still quite rare in Rioja).
On the other hand, if you know Burgundy, you know there are well over one thousand lieu-dits. Thousands of Viñedo Singular will make this region more complex and difficult to understand.
Regardless, Rioja's move towards site-specificity has inspired positive change to a slow-moving industry.