White Rioja, or rather Rioja Blanco, is a style of wine from the Rioja region of Spain made entirely with white grapes, the most important of which is Viura. This white wine ranges from light to full-bodied and is treasured for its ability to age for 10 or more years. Rioja Blanco wines are exceptionally rare, making up only about 10% of the region's production. So, if you're interested in knowing what a serious white wine is all about, look no further, this is your gem.

Two white Rioja wines from the same producer (Valserrano); one is a fresh or "joven" style without aging, and the other is called Gran Reserva and is the longest aging tier for Rioja Blanco.
Tasting Notes
You'll find 2 primary styles of White Rioja wines based on a difference in aging. Most white Rioja wines are released a year after vintage in a "fresh" style leaving just a few designed to age at least 7–15 years where they develop nutty, oxidative flavors. You can try cellaring a "fresh" Rioja Blanco to see how they change after 4-6 years.
Aged Rioja Blanco
Aromas are bold and heady with notes of roasted pineapple, caramelized honey, preserved lime, candied tarragon, hazelnut, whisky and horehound candies. On the palate, wines are dry and subtly reveal layers of lemon curd, creamed pine nuts, praline, tarragon and lemonade with a long finish of oily minerals, saline and mouth-watering acidity.
Fresh Rioja Blanco
Aromas are lean and citrusy with notes of lime peel, lemon verbana, honeydew melon, fresh tarragon, marjoram and a chalky mineral note. On the palate, wines are dry and burst with ample acidity and sweeter fruit flavors of honeydew melon, lemon curd, and honeycomb with a long finish of minerals, saline, and tingly acidity.
Aging Requirements of White Rioja
Young/Joven: Wines are under 15 months with no oaking requirements
Crianza: 12 months aging with 6 months in cask (casks are typically 225 liter French oak barrels)
Reserva: 24 months aging with 6 months in cask
Gran Reserva: 48 months aging with 6 months in cask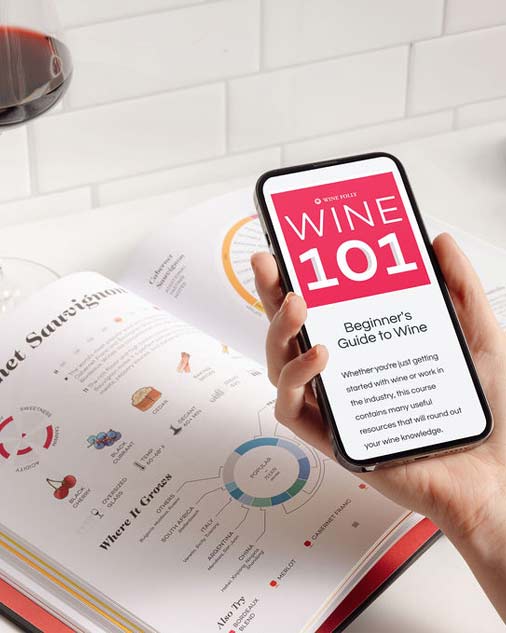 Buy the book, get a course.
Get the Wine 101 Course @ 75% OFF with the purchase of Wine Folly: Magnum Edition.
Shop Now
There are 6 indigenous wine grapes and 3 other wine grapes allowed in Rioja Blanco. The indigenous grapes include Viura (a minimum of 51% of the blend), Malvasía de Rioja, Garnacha Blanca, Tempranillo Blanco, Maturana Blanca and Turruntés de Rioja. The other grapes allowed include Chardonnay, Sauvignon Blanc and Verdejo and may be added up to 49% of the blend.
Despite the law change in 2007 to include non-indigenous varieties, many of the classic white Rioja blends include a dominance of Viura and Malvasia. Here are a few real world examples:
Bodegas Conde Valdemar Finca Alto Cantabria 2014: 100% Viura
Bodegas Taron Blanco: 100% Viura
Viña Tondonia Blanco Reserva 2003: 90% Viura, 10% Malvasia
Bodegas de la Marquesa Valserrano Blanco Gran Reserva 2009: Viura and Malvasia
A lil' history

Old vineyards at Bodegas Castillo de Sajazarra in Rioja Alta. by Justin Hammack
The Rioja region has been a winemaking region for thousands of years but the modern style we know as Rioja today came about with French influence–and perhaps directly from Bordeaux.
The Rioja region is located along the Camino de Santiago which is an ancient religious path leading to Santiago de Compostela in Galicia. The first pilgrimages date back to the 9th and 10th centuries and the pathways run from France into northern Spain. One of these routes runs directly from Bordeaux. It's been theorized that the tradition of aging wine in oak barrels was carried by the connection between the city of Haro in Rioja and Bordeaux in France (and perhaps the French oak forests in Limosin). There is, in fact, some evidence of this. As far back as 1780, a Rioja winemaker, named Manuel Quintano, aged his wine in French oak. However, the French oak was expensive, and around the mid 1800's the Spanish resourcefully started to import American oak and cooper the barrels themselves.
By the mid 1800's, Rioja wine was booming. With the vine diseases of odium and phylloxera devastating the vineyards of France, French merchants traveled to the region to source an alternative. Many of these exporters stayed in Rioja and started their own bodegas (wineries) until 1901 when phylloxera finally came into the region and destroyed 70% of the vineyard area.
The loss of the vineyards to phylloxera, then World War I, and then the Spanish Civil War set Spain and Rioja into destitution. Vineyards were ripped out and replaced with wheat to fight starvation. Slowly the remaining steadfast producers (including Marques de Murrieta, R. López de Heredia and Marques de Riscal) continued to make outstanding aged wines and, by the 1980's, investors began to reinvigorate the region.
Today, the importance of aging wine is present throughout the entire region of Rioja. Bodegas are built pragmatically and maintain massive deep underground storage areas filled with millions of bottles and thousands of barrels of aging wine. And while many winemakers complain that the classification system of Rioja is restrictive and increasingly expensive to accomplish, it is at the core of the style to the region's greatest wines.
Read More
Find out more about the details and differences in Rioja wines by understanding the region in