How to choose Champagne? I'll be honest… it isn't easy.
In the first place, Champagne is not cheap, so you can't fool around. Additionally, Champagne's production methods, regional differences, and labeling jargon can make it quite intimidating to most of us.
This article helps identify the important things to pay attention to on the label (or while researching) to choose Champagne. So, whether you love a creamy, toasty style of "shampy" or like it dry and lean, you'll be able to find what you're looking for!
Let's get one thing out of the way first: not all sparkling wine is Champagne. Champagne refers explicitly to sparkling wine made in the region of Champagne, France.
If you'd like to learn more about choosing sparkling wines, read this article!
---
Champagne Sweetness Level
All Champagne is labeled with a word to indicate sweetness level.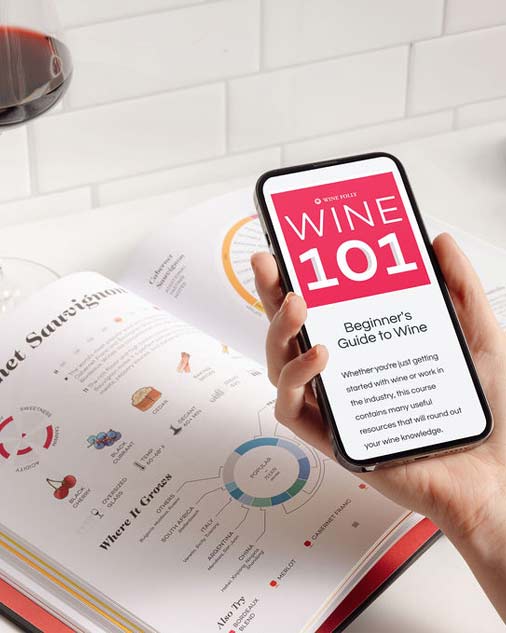 Buy the book, get a course.
Get the Wine 101 Course @ 75% OFF with the purchase of Wine Folly: Magnum Edition.
Shop Now
Brut Nature, Extra Brut, Brut, Extra-Dry, Dry, and Doux
The sweetness in Champagne is unlike sweetness in wine. It comes in the form of a sweetened "dosage" (a mixture of wine and sugar or grape must) that's added at the end of the second fermentation (the part that makes the bubbles).
The dosage is essential because acidity is so high, it would be undrinkable (or like drinking straight lemon juice).
So that you know, most Champagne is produced at a Brut level of sweetness.
See Complete Sweetness Levels
Learn the exact numbers of dosage (sweetness) levels in Champagne.
---
Style
Standard, Blanc de Blancs, Blanc de Noirs, Rosé
There are 3 primary grapes used to make Champagne, and they are Chardonnay, Pinot Noir, and Pinot Meunier. For those in the know, there are also 4 much rarer grapes of Champagne: Arbane, Pinot Blanc, Petite Meslier, and Fromenteau (aka Pinot Gris).
How these grapes are used (or not used) gives us a clue towards the style. If Champagne doesn't have a style listed, you can assume that the producer made a blend of all three grapes in a blanc (white) style.
Blanc de Blancs
(white of whites) This is a blanc style Champagne made with 100% white grapes. In Champagne, this means the wine is 100% Chardonnay. Blanc de Blancs typically have more lemon and apple-like fruit flavors.
There are, of course, a few rare exceptions to this rule with a few very rare grapes (in the same region), including Pinot Blanc, Petite Meslier, and Arbane, but for the most part, Blanc de Blancs is 100% Chardonnay.
Blanc de Noirs
(white of blacks) This is a blanc style Champagne made with 100% black grapes.
In Champagne, this means some combination of just Pinot Noir and/or Pinot Meunier. Blanc de Noirs typically have more strawberry and white raspberry flavors.
Rosé
The pink style is usually made by blending blanc Champagne with a teensy bit of red Pinot Noir or Pinot Meunier wine.
The red wine made for Champagne is very different from Pinot Noir you might think of. Its purpose is to provide pure fruit flavors such as strawberry and raspberry in the taste. Wines are tart, with low tannin and very high acidity.
It doesn't take a lot red wine to make rosé, and several producers use 10% or less Pinot Noir for their rosé Champagne.
TIP For those in the know, a few producers are making still red wines in Champagne. Look to the Valley de la Marne!
---
Aging
Vintage vs. Non-Vintage Champagne
One of the least talked about, and the most important factor that plays into the taste of Champagne is how long it's aged.
Aging Champagne on "tirage" (on the lees) gives it more bready, toasty, and nutty aromas – highlights of great Champagne.
The best producers, with the nuttiest wines, are known to age their wines on "tirage" for as long as 5–7 years before release. Even though tirage time is usually not listed, seeing a vintage on the label is a clue.
By the way, if you want to know more about how Champagne is made, check out this other article.
Non-Vintage: Aged for a minimum of 15 months. Non-vintage (NV) Champagne exists for producers to make a consistent house style each year (regardless of the quality of that year's harvest). Most NV Champagne is fruitier and less bready than their vintage styles.
Vintage: Aged for a minimum of 3 years. On special years when the harvest is particularly good, producers create single-vintage wines. Most opt for a creamy and yeasty style in this aging category.
---
Regional Classification
Premier Cru, Grand Cru, Autre Cru
Another feature on many bottles of Champagne is the commune name signifying where the grapes were grown.
There are hundreds of communes, but only 42 have Premier Cru vineyards, and just 17 have Grand Cru vineyards!
Premier Cru and Grand Cru classifications are an indication that the vineyards have demonstrated an ability to produce exceptional wine grapes that make high-quality Champagnes.
Of course, many experts believe that there are several autre crus (other crus), which are equally worthy, but if you have a wine with one of these classifications listed, it's going to be a safe bet.
---
Producer Classification
Récoltant Manipulant (RM), Négociant Manipulant (NM), etc.
How to choose Champagne based on the producer is something you can find on the label.
So, if you're one for supporting independent producers, you can do this. Champagne classifies its producers, and there are essentially 3 types: Maisons (the big guys), Cooperatives (medium guys), and Vignerons (the little guys).
Types of Producers in Champagne
Maisons
Maisons are the big Champagne houses (Moët, Veuve Clicquot, Perrier, Bollinger, etc.), and they source their grapes from all over Champagne. Here are the label terms often associated with Maisons and other large producers:
NM "Négociant Manipulant" A producer who buys all or some of his grapes from other growers. Anything less than 94% estate fruit must be labeled NM. Maison Champagne is labeled with this producer class, but it's not entirely uncommon to see grower Champagne under this classification as well.
MA "Marque d'Acheteur" aka 'Buyer's Own Brand' is a large retailer or restaurant that buys a finished wine and sells it under their private label. If you've ever seen a supermarket have their brand or a fashion brand, this is probably MA.
ND "Négociant Distributeur" A buyer who labels and distributes Champagne that they neither grew nor produced.
Cooperatives
Cooperatives are in specific villages in Champagne and make a cuvée with multiple growers in the same region (btw, Nicolas Feuillatte, aka "Nicky Foo," is the largest cooperative in Champagne!).
CM "Coopérative Manipulant" A grower's co-op that pools resources and produces wine under a single brand.
Vignerons
Vignerons are grower-producers or a single-family/person who grows his own grapes in a specific place and makes his own wine.
RM "Récoltant Manipulant" A grower-producer who uses a minimum of 95% estate fruit. This is classically considered the Champagne grower-producer type, although, a Maison can use this classification on a sub-label or brand.
SR "Société de Récoltants" A union of growers who shares resources and collectively markets their own brands.
RC "Récoltant Coopérateur" A grower-producer who has their own Champagne brand made at a co-op facility.
---
Regional Terroir
Montagne de Reims, Côte des Blancs, Côte des Bar, etc.
The last and most in-depth discussion about choosing Champagne relates to where the grapes were grown. There are 5 main growing regions of Champagne, and each is known for some distinct qualities. Of course, there are many exceptions to these rules, but for the most part, you'll find Champagnes from the various regions to follow these traits.
Montagne de Reims
A hill south of Reims with many sloping vineyards that face south or southeast that allow wine grapes to achieve optimal ripeness. The focus here is on Pinot Noir which leads to a more full-bodied style of Champagne with bigger, richer flavors. The area contains 10 of the 17 Grand Cru vineyards including Ambonnay, Bouzy, Verzy, Verzenay, and Mailly-Champagne. For example, the prestigious Champagne brand, Krug, uses grapes from the Montagne de Reims.
Vallée de la Marne
The valley along the Marne river has many slopes planted with vineyards. There is just one Grand Cru vineyard here, Aÿ, which is located right outside of the city called Épernay. The focus in Vallée de la Marne is on the Pinot Meunier grape, which has an easier time ripening here (because it can be cooler), and produces a rich style of Champagne with more smoky and mushroomy flavors.
Côte des Blancs
This is a slope that faces east and collects the sun. Côte des Blancs is primarily planted with Chardonnay and contains the remaining 6 Grand Cru vineyard areas of Champagne. This is Blanc des Blancs country, producing some of the finest single-varietal Champagne wines on the market.
Côte de Sézanne
South of the Côte des Blancs is another slope that has many vineyards on it, with a similar dominance in Chardonnay. Despite the potential to this region, you'll mostly find these wines blended into larger Maisons.
Côte des Bar
This region is far from the rest of the Champagne on the border between Champagne and Burgundy.
This area is mostly planted with Pinot Noir and produces a richer style of Champagne, similar to that of Montagne de Reims.
Because the area is a relative newcomer in making Champagne, it doesn't have a single Grand Cru or Premier Cru vineyard to demarcate its quality. Thus, the Côte des Bar is a great place to look for exceptional value.
---
Last Word: Nothing To Lose
If you are a fan of sparkling wine, Champagne is the benchmark of quality and well worth a taste. Regardless of what you buy, just remember this: the worst-case scenario is you hate it and turn it into a delicious mimosa. We won't tell anyone. Promise.
Have more questions on how to choose Champagne? Ask them below!