Explore the Spain wine map to reveal the country's most famous wines.
Somehow, Spanish wines continue to fly under the radar. What's surprising, is Spain is the 3rd largest producer of wine with the largest land area dedicated to vineyards in the world! (2.4 million acres)
Spanish wines range the gamut from great values to collectible treasures, and from delicate whites to opulent reds.
Spain Wine Map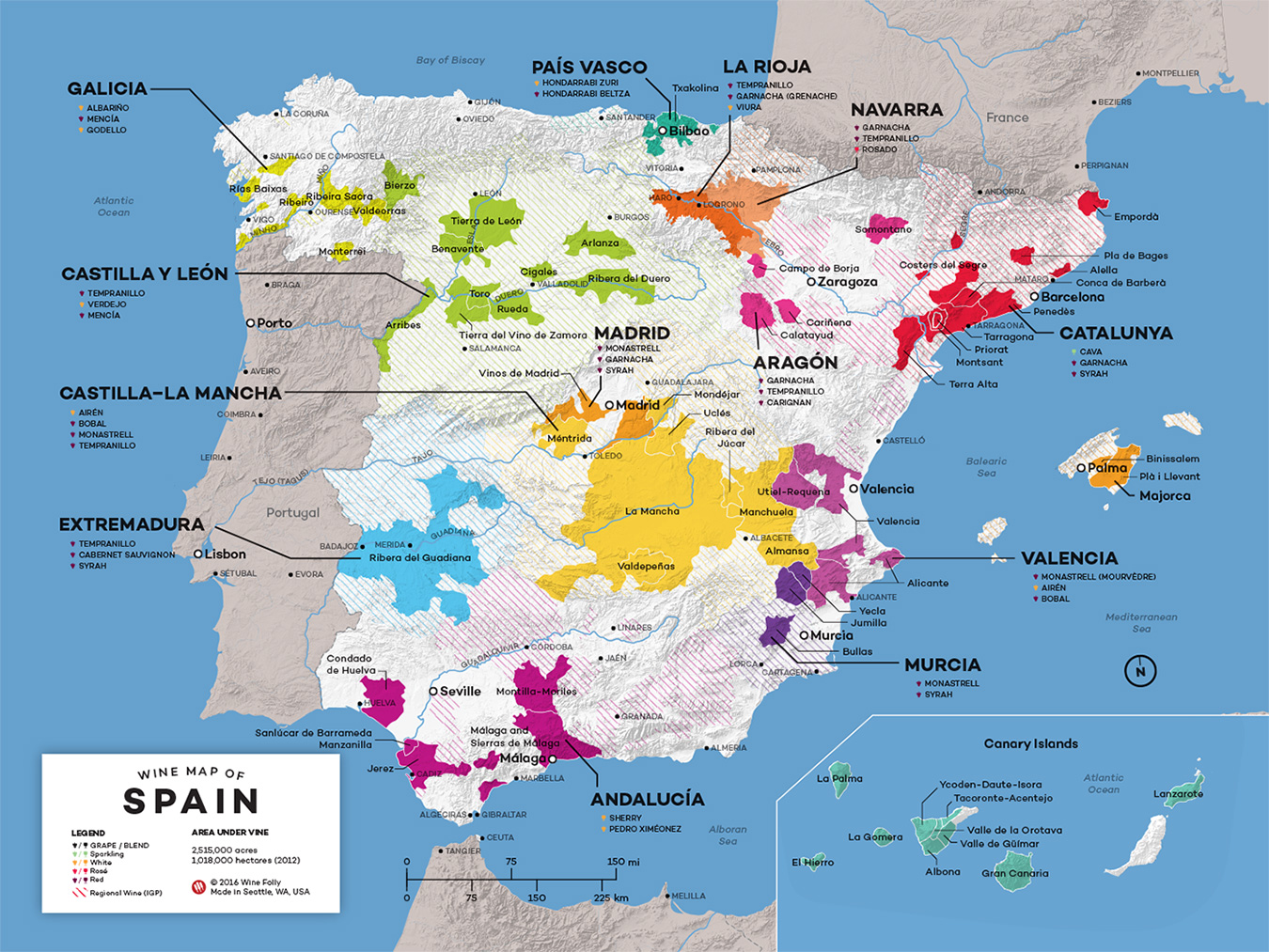 Buy Map
Because Spain is so diverse, it helps to get a lay of the land. Let's explore the major wine producing areas and understand what they're best known for.
Spanish Wine Regions
There are 138 official wine designations in Spain (as of 2020). The regions are incredibly diverse, producing everything from zesty Albariño to inky, black Monastrell. So, the best way to learn about Spanish wine is to break up the country into 7 distinct climates.
Northwest "Green" Spain
Regions to Know: Rías Baixas, Ribeira Sacra, Bierzo, Txakolina
Key Grapes: Albariño, Mencía, Godello
Galicia feels very unlike the rest of Spain. Lush green valleys in the mountains lead to cities along the water where the cuisine includes lots of fresh fish.
Albariño is the champion grape of Rías Baixas (REE-us BYE-shus), found in the extreme Northwest of the Spanish wine map. Expect to drink mineral-driven, zesty white wines along with a few tart, elegant and aromatic red wines made with Mencía ("men-THEE-yah").
---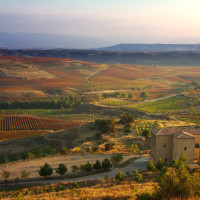 Ebro and Duero River Valleys
Regions to Know: Rioja, Ribera del Duero, Toro, Rueda, Cariñena
Key Grapes: Tempranillo, Garnacha, Carignan, Verdejo, Viura
The Ebro and Duero River Valleys produce some of Spain's most noteworthy Tempranillo wines.
In Rueda, there grows an exceptional, minerally Spanish white wine grape called Verdejo.
The Ebro River Valley is lucky to get a more Mediterranean influence with less intense climate swings. Because of this, Tempranillo and Garnacha produce fruitier, more elegantly styled wines. Rioja is famous for its long-standing bodegas, like Lopez de Heredia, who turn consistently turn out age-worthy reds.
---
Northern Mediterranean Coast
Regions to Know: Cava, Priorat, Montsant
Key Grapes: Carignan, Garnacha, Cava Grapes: Macabeu (aka Viura), Parellada, and Xarello
Few places in the world have a more perfect Mediterranean climate.
Many grapes grow well in Catalunya because of the many unique microclimates from coast to inland hills. Along the coastline, Cava is the reigning queen. Cava is Spain's answer to Champagne. However, instead of using the same ol' French grapes, they incorporate indigenous ones which make for savory wines with finesse.

The powerhouse red wine area is definitely Priorat. A once forgotten plot (decimated by Phylloxera), Priorat went on to become a red wine hotspot coveted by critics. Old vine Carignan and Garnacha hold the key to their fruity-yet-slate-y reds.
---
Southern Mediterranean
Regions to Know: Utiel-Requena, Yecla, Jumilla, Bullas
Key Grapes: Monastrell, Bobal, Cabernet Sauvignon
The southern Mediterranean on the Spain wine map, offers great options for fruit-forward wine fans. The two most worth noting are Monastrell (aka Mourvèdre), a rich, mouth-coating red, and Bobal, a blueberry-juice-like daily drinking red.
Interestingly enough, Bordeaux varieties (like Cabernet Sauvignon) seem to perform well here too and make for great blending grapes with Monastrell. In Jumilla, Bodega El Nido puts out a consistently high-rated Monastrell-Cabernet blends.
---
Central Plateau
Regions to Know: Méntrida, Uclés, Vinos de Madrid, etc
Key Grapes: Tempranillo, Garnacha, Albillo, Petit Verdot
The central plateau or Meseta Central is the inner plateau of Spain and home to capital city, Madrid. Average elevation here is about 2,500 feet (762 meters) and it's sunny and dry. To survive these arid conditions, vines are spaced far apart and grow close to the ground.
While there is a great deal of white Airén growing here, the real interesting stuff comes from old vine Garnacha and Petit Verdot growing at even higher elevations in the hills. In fact, there are many designated vineyard sites here, called "Vino de Pago" which show real promise.
---
Andalucía
Regional To Know: Sherry, Sierras de Málaga, Montilla-Moriles
Key Grapes: Palomino, Pedro Ximénez, Muscat de Alexandria
Andalucía is most famous for Sherry. Stark white albariza soil makes the Palomino vineyards in Cádiz look like a moonscape. The Sherry wines everyone ought to try are those on the dry side, including Manzanilla and Amontillado.
Montilla-Moriles on the other hand, produces one of the sweetest wines of them all. It's called "PX" and it's made from Pedro Ximénez grapes. An aged PX, like those from Bodegas Toro Abala, is sweet enough to be poured over pancakes (making it the most luxurious breakfast syrup in the history of the world).
Finally, Sierras de Málaga makes dry, still wines. The dry Moscatel (Muscat de Alexandria) wines from this area suggest at how things are changing in Andalucía.
---
The Islands (including The Canary Islands)
Key Regions: Islas Canarias, Illes Beleares
Key Grapes: Palomino, Listán Negro, Callet
The Islands of Spain offer a wide range of wines from Listán Negro-based reds to sweet whites made with Moscatel. Wines from the Canary Islands are perceived as gritty and rustic because of the volcanic soils.
Currently, there are few exporters of the rare island wines. Perhaps it's a reason to make the trek.
---
Spain Wine Map Design (2013 edition)
In 2013, we launched our first edition of the Spain wine map for free. You can still download it, although user beware: Many map corrections and regulatory changes have happened since the release of this edition.