Quick Answer
A red Bordeaux blend is primarily composed of Cabernet Sauvignon, Merlot, and Cabernet Franc, with smaller portions of Malbec and Petit Verdot (and very occasionally, Carménère).
The white Bordeaux blend is primarily made of Sauvignon Blanc and Sémillon, with a splash of Muscadelle in the mix (not the same grape as Moscato).
New Guide: Dive deeper into Bordeaux's Wines and Region with Wine Folly's new Bordeaux Region Guide.
Many American culinary traditions are borrowed from the French (omelette anyone?), and wine making is no exception. The most popular grapes in the United States (Chardonnay and Cabernet Sauvignon) are both French varieties, and many of the techniques practiced in the States were learned from French winemakers.
So, it's not a surprise that we would create a wine blend and name it after the blends' place of origin, if for no other reason than to don respect.
3 Bordeaux Blends To Try
Bordeaux is divided by a large river estuary called the Gironde. This is where we get the terms "Left Bank" and "Right Bank," which refer to winemaker's use of different dominant grapes in their red Bordeaux wines. There is also a third Bordeaux blend, rarely mentioned, made of white grapes.
"Right Bank" Bordeaux
The Libournais area, or "Right Bank" as it's informally named, makes wines with Merlot as the primary blending grape. Wines from the Right Bank are known for their bold style, but because of the proportions of Merlot, they tend to be slightly smoother, with more subtle tannin.
Libournais region grapes (in order of importance):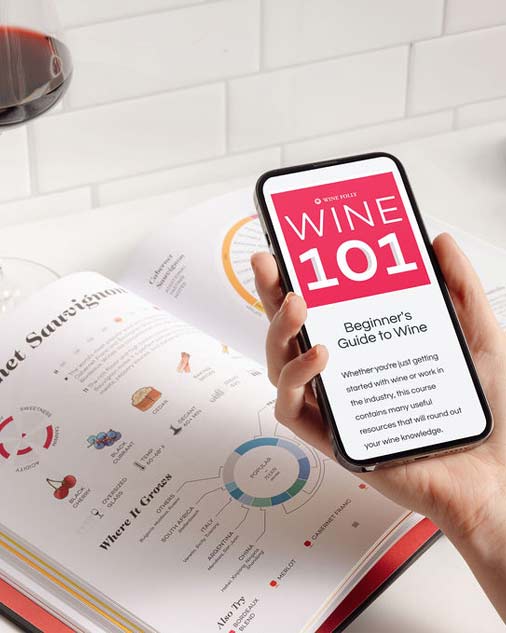 Buy the book, get a course.
Get the Wine 101 Course @ 75% OFF with the purchase of Wine Folly: Magnum Edition.
Shop Now
Merlot (usually over 60% of the blend)
Cabernet Franc
"Left Bank" Bordeaux
The "Left Bank" of Bordeaux contains two main regions, Médoc and Graves, each with several smaller appellations. On the Left Bank, Cabernet Sauvignon is the primary blending grape, lending the wines a peppery flavor and bolder tannins.
Médoc and Graves region grapes (in order of importance):
Cabernet Sauvignon (usually over 60% of the blend)
Merlot
Cabernet Franc
Malbec
Petit Verdot (usually under 2% of the blend)
White Bordeaux
The last blend of Bordeaux wine is not red at all. Bordeaux Blanc is a zesty blend of primarily Sémillon and Sauvignon Blanc (with a tiny bit of Muscadelle and/or Sauvignon Gris).
Bordeaux blanc wines account for less than 10% of Bordeaux wine production, but they're still famous, especially for the rich golden-hued sweet wine called Sauternes.
Changes Like This Never Happen in Bordeaux
In December 2020, the Council of Wine in Bordeaux (CIVB) decided to allow several additional wine grapes into Bordeaux blends. This was a huge deal because changes like this rarely happen!
In Red Bordeaux: You may now see up to 10% Arinarnoa, Castets, Marselan or Touriga Nacional.
In White Bordeaux: You may now see up to 10% Alvarinhho (aka Albariño) and Liliorila.
Why Would Anyone Change The Bordeaux Blend?
If it's not broke, don't fix it, right? As it turned out, several wine growers in Bordeaux would disagree. These winemakers have found forgotten varieties planted throughout the region. Grapes like Castets, Mancin, Bouchalès, St-Macaire, and Peloursin (all red) could have been more common before phylloxera hit Bordeaux in the late 1800s.
Producers like Chateau de la Vielle Chapelle, Clos Puy Arnaud, and Chateau Cazebonne have made efforts to establish these old, rare varieties back into the region.
Another concern is the changing climate means adjustments must be made. Perhaps that's why we see the addition of Alvarinho and Touriga Nacional (which are both Portuguese varieties) added to the list as well.
Read more about Bordeaux and find the producers in Wine Folly's Bordeaux Wine Guide.